What is a manufacturing execution system (MES)
Successful manufacturing requires monitoring, controlling, and tracking your entire manufacturing operations and other business responsibilities.
Manufacturing operations management may seem complicated, but with integrated manufacturing systems, you can take control of your production and maximize production efficiency. This is where MES (manufacturing execution systems) come in.
This article investigates MES systems, how they work, and how to get the most out of them.
What is an MES system?
Manufacturing execution systems or manufacturing execution software (MES) is a dynamic information system that monitors and controls manufacturing operations and information flow on your shop floor.
In other words, an MES system helps to track and record the transformation of raw materials to finished goods on the shop floor. This allows manufacturers to control all activities and operations on their shop floor. An MES aims to ensure the effective execution of production operations and improve output production.
MES has real-time features to help you control all aspects of your shop floor, including:
Inventory
Workers
Machines
Support services
Along with handling your shop floor operations, MES can help you with:
Managing the entire product life-cycle
Benefits of MES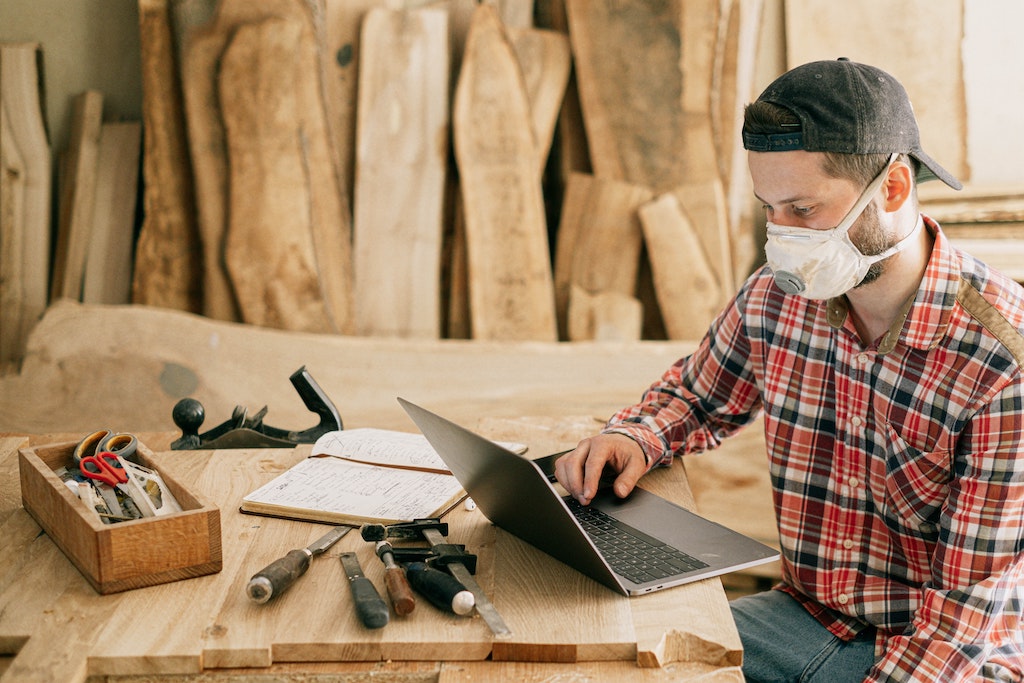 Manufacturing execution systems offer a wide range of short- and long-term benefits. So, let's go over the benefits of using this software within your business.
1. Reduce costs
MES allows you to track costs in real-time from the shop floor, such as:
Labor

Downtime

Maintenance
This data at hand will help you increase productivity and minimize your manufacturing costs. A better understanding of your expenses helps your business make informed decisions and identify saving opportunities.
2. Minimize inventory
MES provides information about the materials and products you need on hand. That makes keeping your inventory levels optimal and reducing your carrying costs easy. With a real-time view of your inventory levels, you also know precisely what you need to reorder and when.
3. Reduce waste
Easily identify inconsistencies on your production lines, so you can immediately halt them to limit the number of faulty products or manufacturing waste that appears on the shop floor. MES helps you achieve this through:
Full traceability of your raw materials, production, and fulfillment

More reliable and precise process planning

Data-based operational and strategic decisions
4. Eliminate paperwork
It's not just a dream — paperless manufacturing is a reality. Adopting manufacturing execution systems eliminates paperwork and manual data-entry processes from your daily operations. Using an MES allows you to improve your production efficiency effortlessly.
Core MES features
Let's look at some of the core features a manufacturing execution system has.
Collecting data —

Collect valuable information on your production lines to improve your manufacturing processes.

Labor management —

Easily manage your staff, overall equipment effectiveness, and other resources from the shop floor to maximize their utility.

Product traceability —

Effortlessly track your production progress and see the status of operations in real time.

Quality control — An MES makes it easy to follow your quality control checklist for improved

quality control

, helping to address production variations and enhance product quality.

Performance analysis —

As you can see the entire production process, you can quickly identify areas of your production that are lacking in productivity.

Maintenance management —

Perform predictive maintenance to avoid hindering or stopping your production flow.
How MES systems relate to other systems?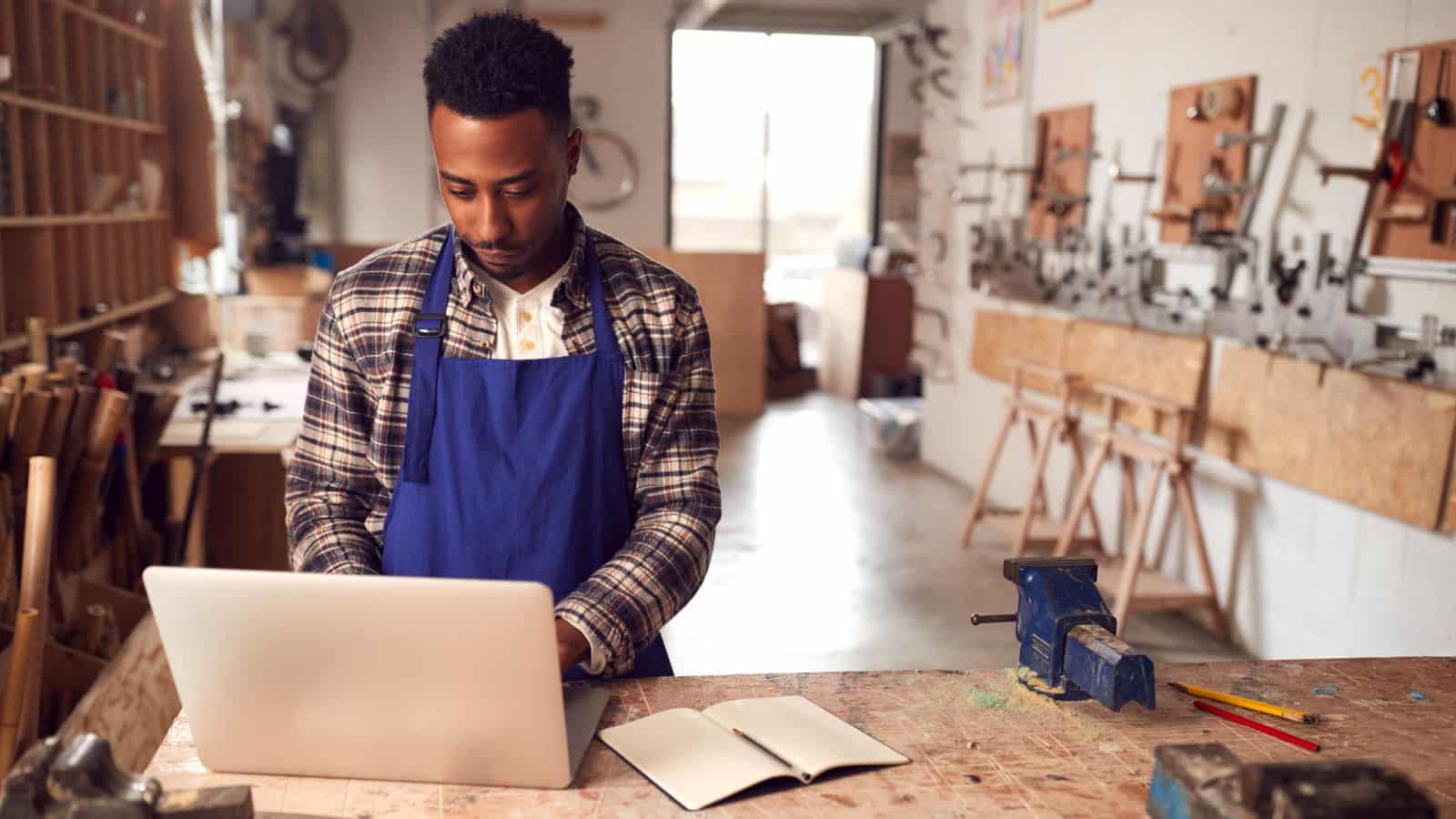 An MES helps a product developer manage the actual manufacturing of a product and collect, store, and make production data available for the entire manufacturing process.
However, MES doesn't exist in a vacuum. It's part of a complex system of levels that allows you to ensure your manufacturing processes are optimized for maximum efficiency and productivity. Smart manufacturing is underpinned by the ISA-95, the international standard for developing automation in manufacturing between enterprise and control systems, based on the Purdue Reference Model for CIM (hierarchical form).
Within this, a manufacturing execution system is a level 3 system, otherwise known as a manufacturing operations management system (MOMS).
It can receive and send information to level 4 systems, such as an ERP software responsible for manufacturing planning and logistics. Level 1 and 2 systems control production processes, including continuous and discrete control and batch automation systems to track production. Finally, level 0 refers to physical manufacturing production at your shop floor level.
Having all these systems communicating and working together is vital to increase your productivity.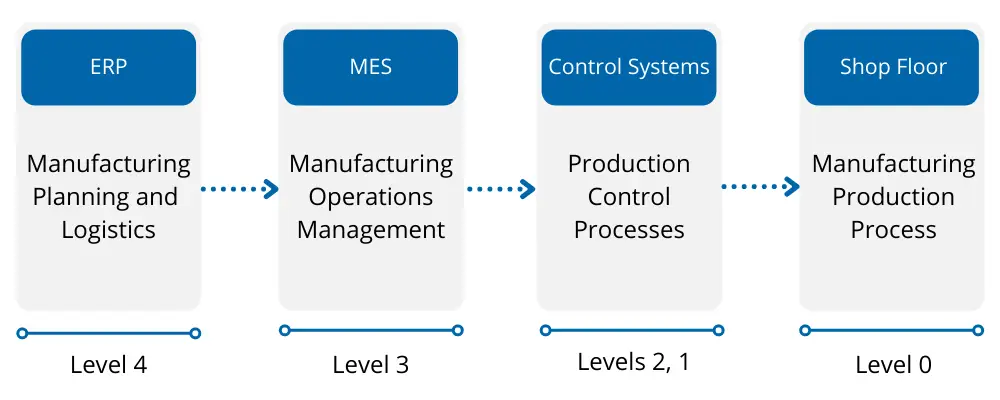 MES vs. ERP: what's the difference?
ERP —

Create and manage your basic schedules for production, along with material use, your deliveries and shipments, and gathering information about your business

MES —

Manage your shop-floor manufacturing operations, as well as report on production line activities in real time
Enterprise resource planning (ERP) can be used for:
Accounting

Human resources

Customer relationship management (CRM)
There might be some confusion between MES and ERP, but MES is basically the step between ERP and analyzing the performance of machinery and resources.
Though as systems improve, the boundaries between the different software become blurred. There's some overlap in MES vs. ERP, as some ERPs on the market perform similar functions as MES solutions, such as batch inventory management.
MES and ERP integration
If you're already set up with an ERP or material requirements planning (MRP) system, the big question on every manufacturer's lip, is can your MES work with your other systems?
If your system isn't already performing the tasks that all three systems need to achieve, which some cloud-based manufacturing software do, here's how MES systems can benefit your other software.
MES and ERP
With your ERP tools, you can prepare your operations, from schedules to deliveries needed, and with your MES systems, you can monitor the progress of jobs from the floor level.
MES and MRP
MRP is software for handling inventory, planning, and scheduling details. So, in the same manner, as MES and ERP systems, your MRP is going to help you prepare your inventory ready for production, and your MES will help you track your raw material consumption on the shop floor.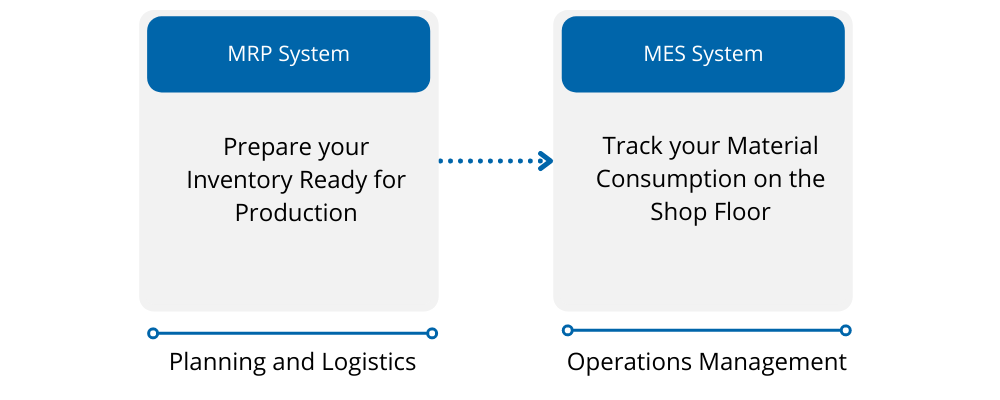 Variations on the shop floor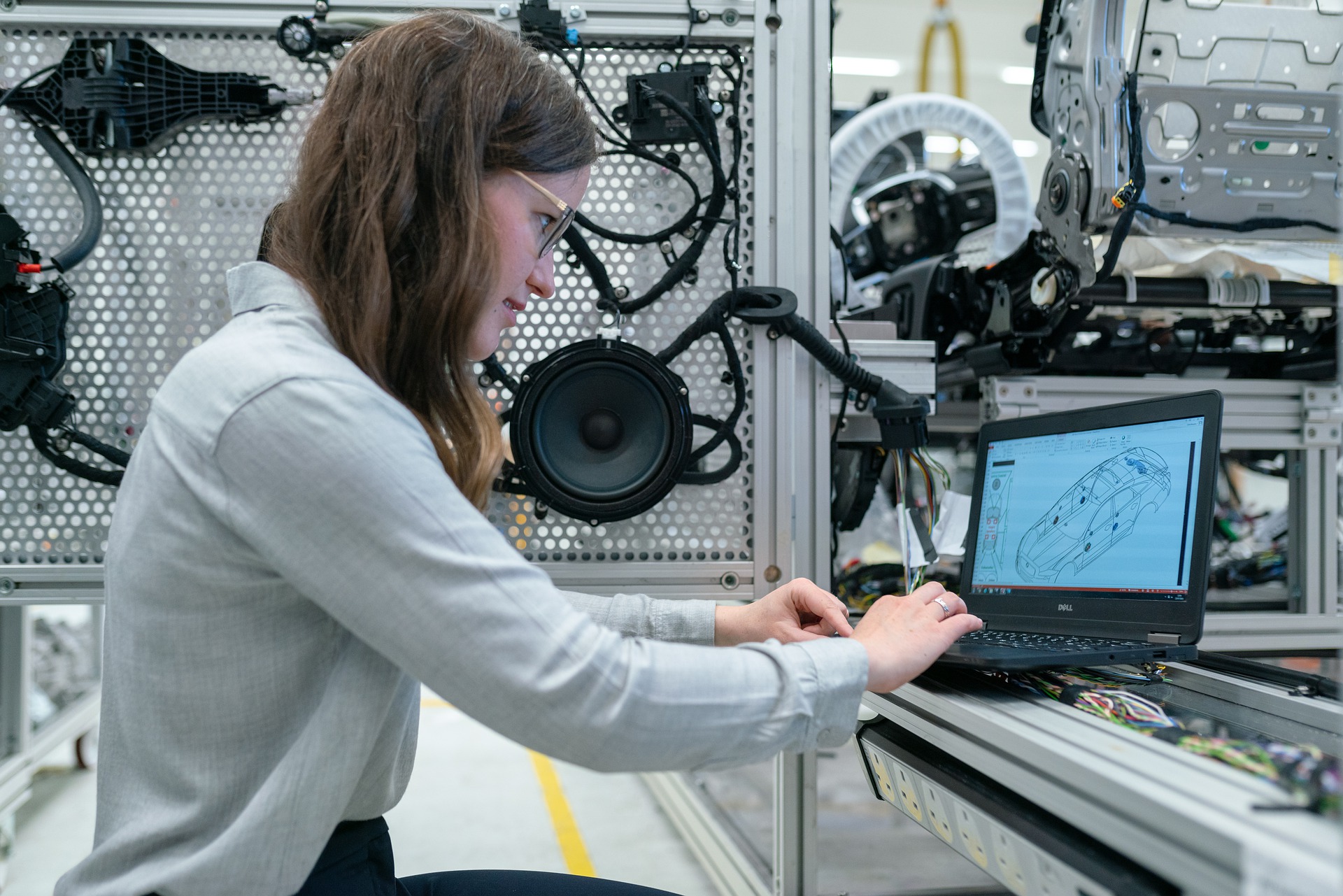 A manufacturing execution system will be one of the most important tools in your arsenal for controlling and managing your shop floor scheduling.
There can be a high level of variation on your shop floor so it presents a great opportunity for you to find areas of your manufacturing operations to optimize and improve production. Knowing the variations which can appear on the shop floor will allow you to use your MES to mitigate these issues. But what are the shop floor variations?
There are two types of shop floor variations in manufacturing:
Common cause
Common variations are a part of the process, such as natural wear and tear, old machinery breaking down, and other expected factors.
Special cause
Special variations are unexpected issues, like something external to your production lines. Special variations include:
An operator making a mistake

Parts breaking

Power outages
This is why an MES is perfect for manufacturers using Statistical Process Control to observe the performances of their processes to predict, identify, and remove these sources of variations. Let's go over some of the ways an MES achieves this.
How does MES help to eliminate variations?
Let's explore how an MES can help you identify and get rid of the issues causing product variations.
Real-time data
Having a real-time overview lets you detect problems immediately to make corrections and minimize faulty finished goods going into circulation.
Shop floor control rules
MES solution allows you to detect out-of-control or non-random problems by setting rules highlighting issues on the shop floor.
Corrective actions
Once you have a system that can identify variations, you can then start implementing solutions, which can be things including:
Training staff
Process standardization
Refining your processes
So, that's everything you need to know about what MES is. But is MES the right tool for your business?
Is a manufacturing execution system right for your business?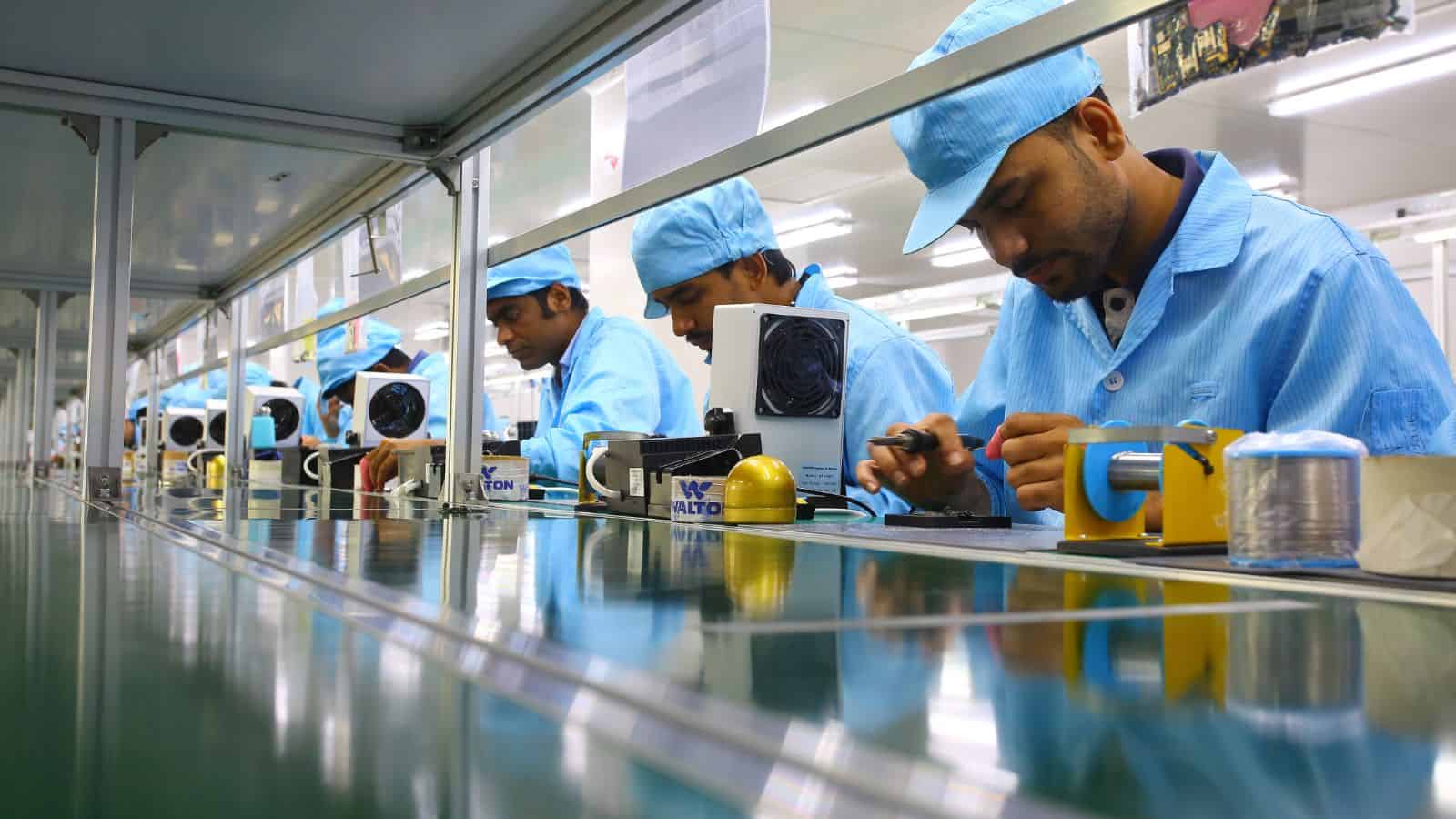 MES systems are crucial for industries regulated due to perishable inventory.
However, understanding how an MES system can benefit your business will depend on your needs and what you want to achieve. Before choosing and using an MES, you need to ask yourself some questions.
What does your business need?
Understanding your business' short- and long-term goals is vital before choosing to use any tools or systems. An MES system will allow you to improve your manufacturing operations — but what exactly are you looking to improve? Without a clear understanding of your goals, a management system will not bring you the benefits you seek. Spend time defining your goals and asking yourself what issues you want to solve.
This brings us to the next consideration.
What pain points can an MES solve?
Identifying your manufacturing pain points allows you to use the MES you choose to solve them. This may be removing bottlenecks from your production by providing real-time inventory updates or optimizing your shop floor operations through product bill of materials (BOM). Look at the benefits section for a complete overview of how an MES system can help your business.
Available integrations
The whole purpose of MES implementations is to work within a manufacturing structure integrated with your other systems and tools to ensure full control of your logistics, operations, and production — constantly improving your processes.
That's why you need to choose an MES that integrates with your other business tools. Choose an MES software with seamless integration into an ERP solution or MRP system to manage and improve your manufacturing planning and logistics, shop floor control, and manufacturing operations effortlessly.
The future of MES
The use of MES in manufacturing will change with new technological manufacturing trends such as Industry 4.0, the Internet of Things (IoT), and artificial intelligence (AI).
These developments will enable MES to provide real-time visibility and control over the entire manufacturing process, from raw materials to finished products. The use of smart sensors and predictive analytics will allow manufacturers to optimize production, minimize downtime, and improve quality control.
Additionally, MES will become more integrated with other enterprise systems, such as ERP and PLM, to provide a comprehensive view of the manufacturing operations and supply chain. The increasing demand for customization and personalization will drive the need for MES to be highly flexible and scalable to accommodate the changing needs of manufacturers.
Cloud manufacturing software that does everything MES does and more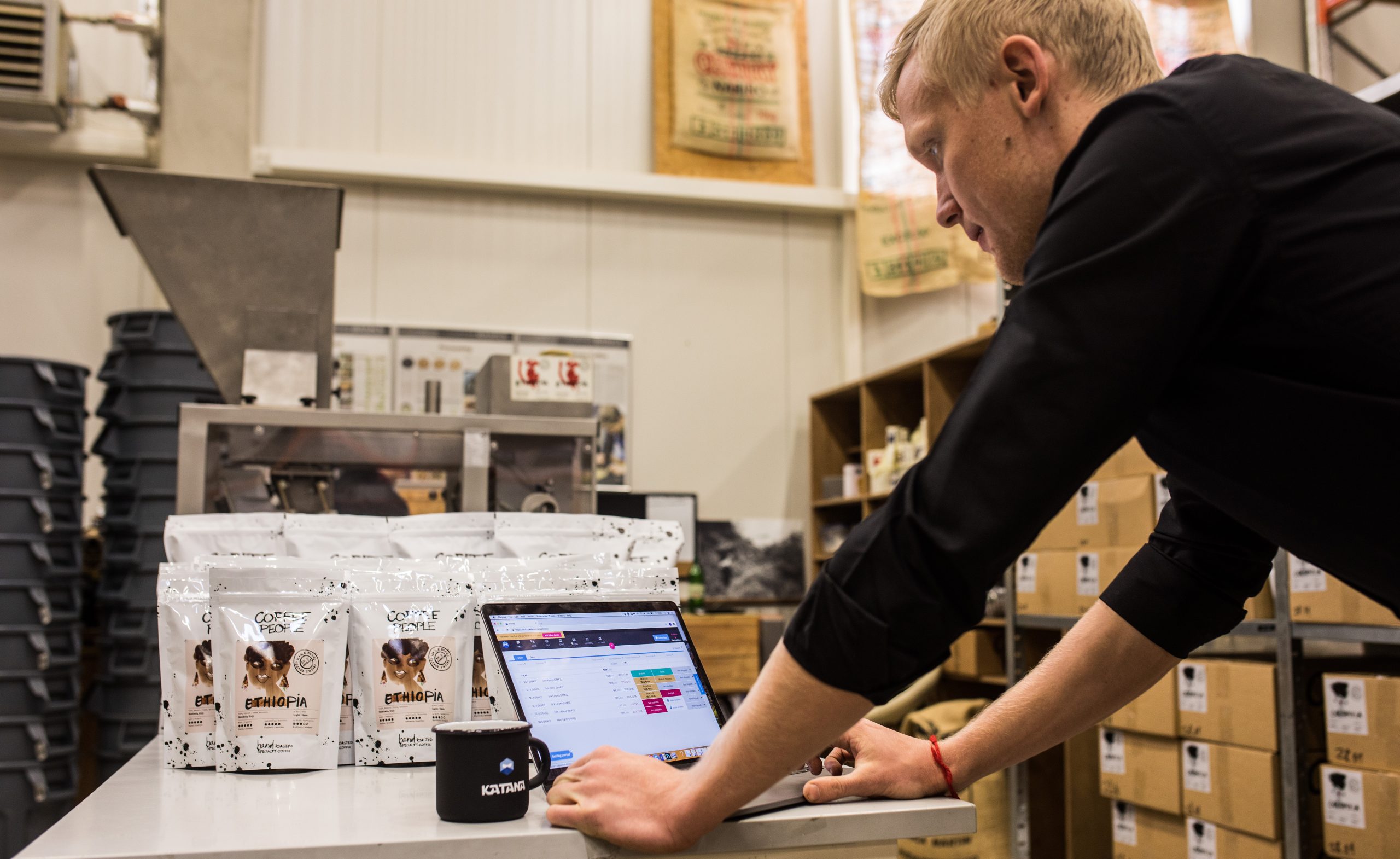 Katana cloud manufacturing software offers everything an MES offers but adds additional features as well, so you can get it all done with the same platform. With Katana, you can:
In addition, Katana integrates with a ton of business tools, including QuickBooks Online, Shopify, Xero, and BigCommerce, allowing you to keep your data synced across all your platforms effortlessly.
Sign up now and get a free 14-day trial to test it out and see how Katana can benefit your business.
Get a demo and discover the power of real-time insights