Manage and track your Shopify inventory and orders with Katana
Never miss a delivery deadline or run out of products with Katana's Shopify inventory management integration. Manage product recipes, production, and purchasing for total visibility over your order fulfillment process.
Get a real-time overview of your Shopify sales orders and inventory
Connect Katana to multiple Shopify e-commerce stores with this native integration. Manage all your inventory and manufacturing processes in one visual platform to ensure on-time manufacturing and raw material purchasing. Katana's Shopify integration helps you prevent stock-outs while automating your e-commerce business by syncing sales order changes and updating availability based on your stock levels.
Sync inventory between Shopify and Katana to ensure accurate stock quantities in your webshop

Automatically update manufacturing orders based on sales order changes in Shopify

Import sales orders from your Shopify store and POS system to visually manage order fulfillment and production

Monitor raw material availability and finished products to fulfill Shopify sales orders on time

Assign and schedule production tasks for floor-level employees and track real-time progress
Integration:
WEBSITE:
Category:
Type:
Documentation
More info
Katana + Shopify integration
Experience the Katana + Shopify integration that empowers your business with advanced inventory management features to efficiently manage stock, streamline operations, and achieve optimal order fulfillment on the Shopify platform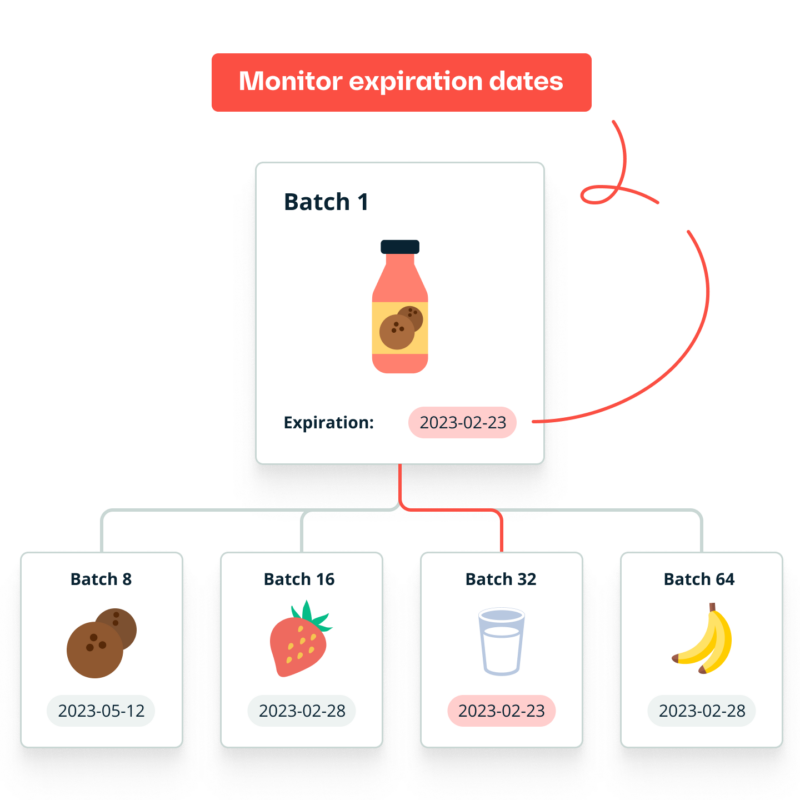 Optimize your stock processes with Shopify inventory management system
Streamline your stock processes to increase efficiency, reduce costs, and improve customer satisfaction. Katana can seamlessly integrate with your Shopify store and revolutionize how you handle your inventory.
Katana + Shopify inventory management system enables:
Tracking your inventory in real time and staying up to date with your stock levels

Tracing all your supplies from raw materials to WIP to finished goods

Keeping an eye on all your stores and warehouses with multilocation support

Achieving end-to-end traceability using batch and lot tracking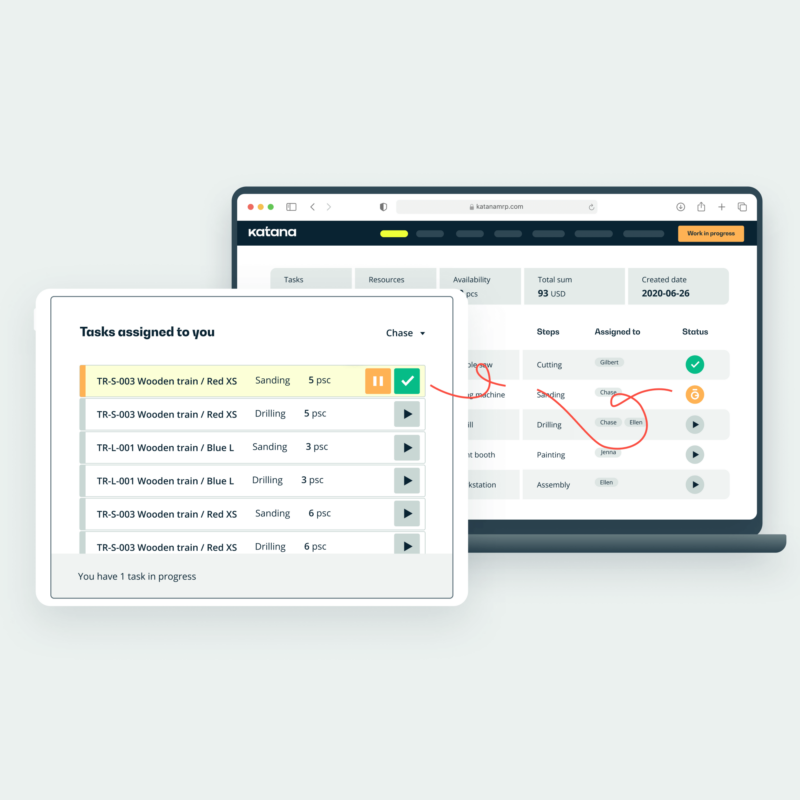 Unlock efficiency with a Shopify warehouse management system
A reliable and integrated system is crucial when managing your Shopify store's inventory and warehouse operations. Katana combines advanced features with user-friendly functionality, streamlining your warehouse processes and revolutionizing how you handle your inventory.
Streamline your warehouse operations using Katana's features, such as: 
Barcode scanning for receiving, handling, and shipping of your products and supplies

Automation to enable efficient order fulfillment with live inventory updates

Katana's Shop Floor App to communicate and share tasks with your operators

Smart prioritization to allocate supplies to the most critical orders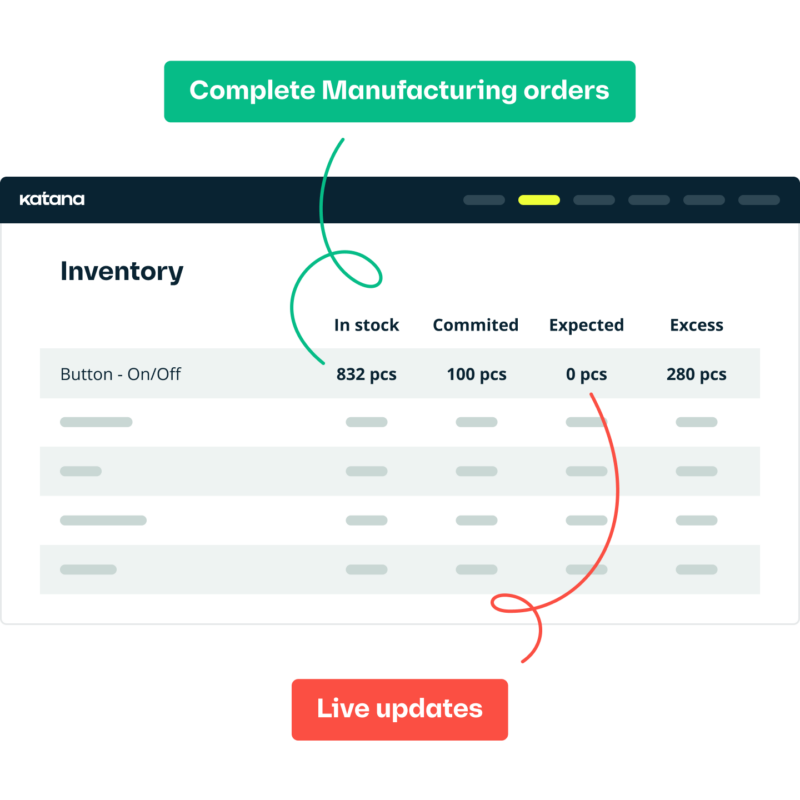 Elevate your inventory strategy with Shopify inventory planner
Crafting a successful e-commerce business on Shopify requires meticulous inventory planning to meet customer demands while optimizing resources. Katana empowers you to take control of your inventory, plan effectively, and ensure seamless order fulfillment.
Katana + Shopify inventory planner lets you: 
Set reorder points to ensure that you never run out of supplies and restock on time

Forecast demand to stay ahead of spikes in sales and be prepared to fill orders

Make more data-driven business decisions using Katana's trend analysis and sales insights

Choose from various integrations with e-commerce channels to streamline your business
Integrate Katana with your Shopify store
Increase order fulfillment and inventory management efficiency with Katana + Shopify integration. Discover all the necessary features within a single manufacturing platform. Synchronize sales orders from your Shopify store to Katana's order management software and ensure the timely delivery of your products. With Katana, you'll unlock real-time visibility across every aspect of your order and inventory processes, allowing you to make data-driven decisions that steer your business toward success.
Shopify inventory management FAQ
Does Shopify have inventory management software?
Shopify is not inventory management software, but it does have some essential features that help merchants handle their stock and streamline operations.
With Shopify's built-in inventory management tools, you can:
Track stock levels
Manage product variants
Set alerts for low supply levels
Update inventory counts automatically
This can be useful to businesses that are starting out and don't yet have very strict and advanced requirements.
However, considering alternatives like Katana could benefit businesses seeking more complex capabilities and features beyond Shopify inventory management.
Katana can take your inventory management to the next level, especially if you're dealing with more demanding inventory challenges or aiming for operational excellence.
Is Shopify good for inventory?
Shopify has features that can definitely get the job done for a small to medium-sized business with limited needs.
Shopify employs a "weighted average cost" inventory costing method for calculating the cost of goods sold (COGS) and the value of ending inventory. This method considers the average price of all items in stock, considering the quantity and cost of each item, to determine the cost of goods sold and the remaining inventory value. 
However, if you're looking for a more advanced and comprehensive inventory management solution, especially for more complex inventory processes or to accommodate a different inventory costing method, a specialized system like Katana can significantly enhance your inventory management capabilities.
How do I keep track of my inventory on Shopify?
Managing inventory on Shopify involves utilizing its built-in tools for basic tracking.
Trace and manage your inventory in the Inventory page of your Shopify admin panel.
To maintain inventory on Shopify, regularly update quantities as stock arrives and orders are fulfilled. The platform will automatically deduct sold items. Additionally, make manual adjustments for damaged or lost items, and use reporting features to analyze inventory levels and sales trends.
However, you might want to consider Katana when looking for a more advanced way to do inventory management for Shopify.
Katana + Shopify integration offers valuable features, such as:
Real-time inventory sync
Smart material allocation
Demand forecasting
Multilocation management
These capabilities optimize order fulfillment, prevent stockouts, and provide deeper insights into inventory performance, making Katana the ideal alternative for businesses seeking enhanced inventory management.
Integrate with the best e-commerce,
accounting, reporting, and CRM
software out there
Create custom API integrations
Use Katana's open API to create custom workflows and connect to apps beyond our list of integrations. Automate data transfers between the services you use to level up efficiency. Take a look at our API documentation to learn more.
Move your inventory to the cloud