Create products and sell them smarter with multichannel inventory management software
Never miss a delivery deadline with full visibility into your stock, operations, and order fulfillment across multiple sales channels. Katana helps you reach your customers wherever they are via a brilliant range of e-commerce channels, and it makes your daily life simpler with streamlined production.
Clear organization for materials, inventory, and sales
If you're an online seller, whether you manufacture products yourself, or you're a reseller, you need a great inventory management tool. That's what Katana provides - raw material control, product management, and a holistic overview of your entire operation.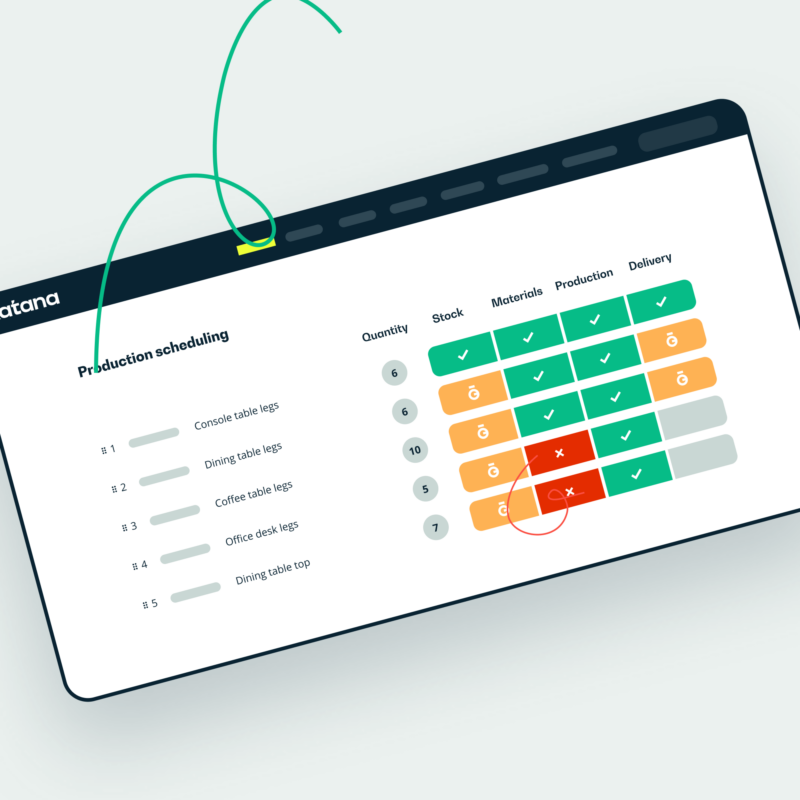 Scale your business with Katana and keep inventory under control
As your business grows, and you start expanding your reach, it's smart to start both inventory tracking and inventory forecasting. This helps you understand which of your products are most in demand, which may need to be discontinued, and how to plan ahead for spikes in orders.
Here's how our multichannel inventory management software manages inventory activities and gives you a wider view of your business:
Create multiple bills of materials (BOMs), covering each product you offer
Add variants for individual BOMs, and notes about product details your production team should know
Track raw material inventory at all times, with real time updates based on existing orders
Prioritise orders based on material you have on-hand, and plan ahead with automated reorder points
Keep an eye on the cost of materials with our moving average cost feature
Combine multichannel selling with inventory and order management for increased revenue
Expanding your reach across multiple marketplaces allows you to put your products in front of an ever-growing audience. Katana helps you sell on multiple online marketplaces, with native integrations with both Shopify and WooCommerce, and a range of third party options including marketplaces like Amazon, eBay, and Etsy, among others. 
Here's how our integrations help put your business out there:
Take advantage of native integrations with Shopify and WooCommerce for simple syncing of production and sales data
Use our third-party e-commerce integrations to add product listings to a wider range of online stores
Manage your business' finances with our integrated accounting software – QuickBooks Online and Xero
Connect to alternative accounting softwares via our Katana API
Investigate all of our integrations to see which could work best for your business
Send orders across the globe, no matter where the order came from
Along with our integrations mentioned above, we also offer shipping integrations to make sure your products arrive with your customers safely and on time. No matter which shipping carrier you choose, you'll get excellent service and automatic inventory syncing between Katana and our partners.
Here's a bit more detail about our four shipping third-party integrations:
Inventory management software that integrates with your favorite e-commerce sites for simpler sales
From native integrations to codeless templates or fully customizable API integrations
Katana cloud ERP software's batch production features give users access to the API, allowing you to create custom workflows and connect your business apps to manage your sales, manufacturing, and accounting all on one platform. Automate data transfers between the services you use to level up efficiency. Take a look at our API documentation to learn more. 
With Katana, we can track products, build recipes for materials, and set reorder points as well. That was one thing that was very difficult to manage — raw material inventory — for example, how many black t-shirts do I need to order? That was the main reason why we selected Katana."
With Katana, we can more effectively see and follow inventory levels, and have recipes and bills of materials (BOMs) for our manufactured products that let us follow the manufacturing status throughout the whole production cycle."
We need to ask for multiple custom things – what the product will be used for, and who'll be the end-user; we need these questions answered to build the custom products. This is why WooCommerce has been the optimal solution, and connecting it to Katana was pretty flawless."
We needed something more than just a spreadsheet but we didn't like to pay a crazy amount for a system we wouldn't fully use. Tracking inventory and what stage it is in has been incredibly helpful. It's helped our team have a clearer delineation of the order of operations for each product in our catalog."
Multichannel inventory management software FAQs
Move your inventory to the cloud