Revolutionize your item handling with warehouse inventory management software
Warehouse managers know how important it is to track inventory. Katana automates your warehouse processes, so you can understand what's in stock, what needs to be ordered, and when items are due to arrive at a glance.
Access inventory from anywhere with warehouse inventory management software
Know your stock levels at all times, adjust quantities as needed, and complete stock transfers between locations. The Stock screen gives you an overview of all your inventory items. Being aware of your inventory status is crucial and is why warehouse management systems (WMS) are important. Stay on top of things by knowing exactly what you have in stock at all times.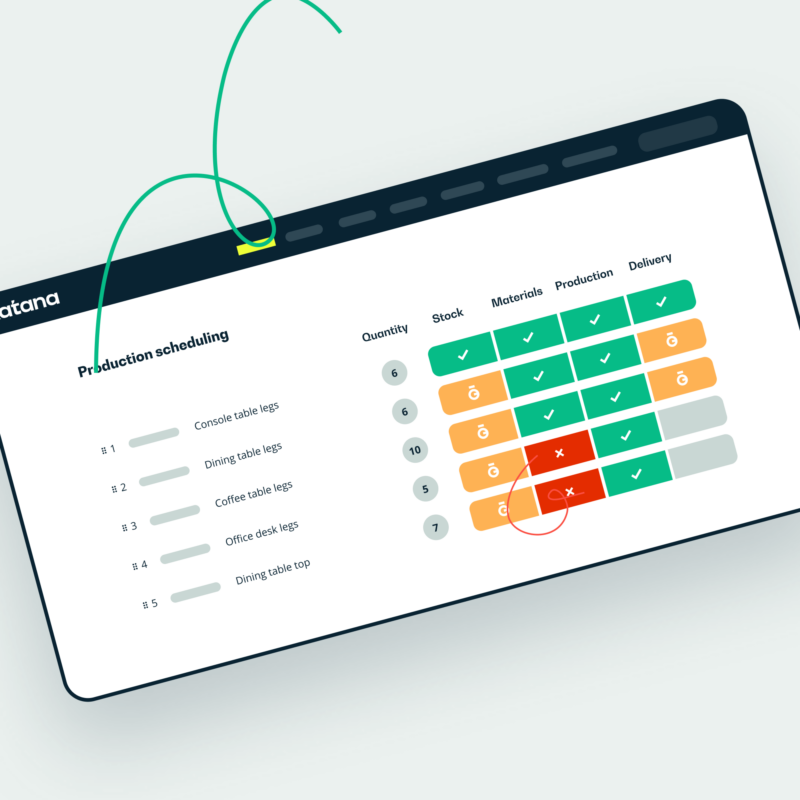 Katana supports shipping workflows to suit your processes
We know that every warehouse is different. That's why we've designed our software to be flexible, so it can adapt to the way you work.
Whether managing a single warehouse or multiple warehouses across different locations, Katana has the features you need to streamline your operations.
Our powerful software offers shipping workflow features like:
Search and filter inventory by location, status, or item type
Track stock levels, inventory turnover, and more
Set reorder points to avoid reputation-damaging stockouts
And, of course, every business has its own tech stack carefully chosen to suit the needs and operations of the company. We allow API integration with other software platforms so that you'll never need to change how you do things.
Your sales team will love Katana, not just your warehouse managers
They'll be able to see what's in stock and place manufacturing and purchase orders when items are running low — no more back-and-forth between different platforms. Plus, they can track the status of orders and view past order history. All the information they need is right at their fingertips.
If you're looking for a warehouse inventory management software that's easy to use and packed with features, look no further than Katana.
Here's why:
Complete inventory control and sales order management across multiple sales channels
View stock levels by location and perform stock transfers if needed
Simple and

easy-to-use

interface to quickly understand the status of orders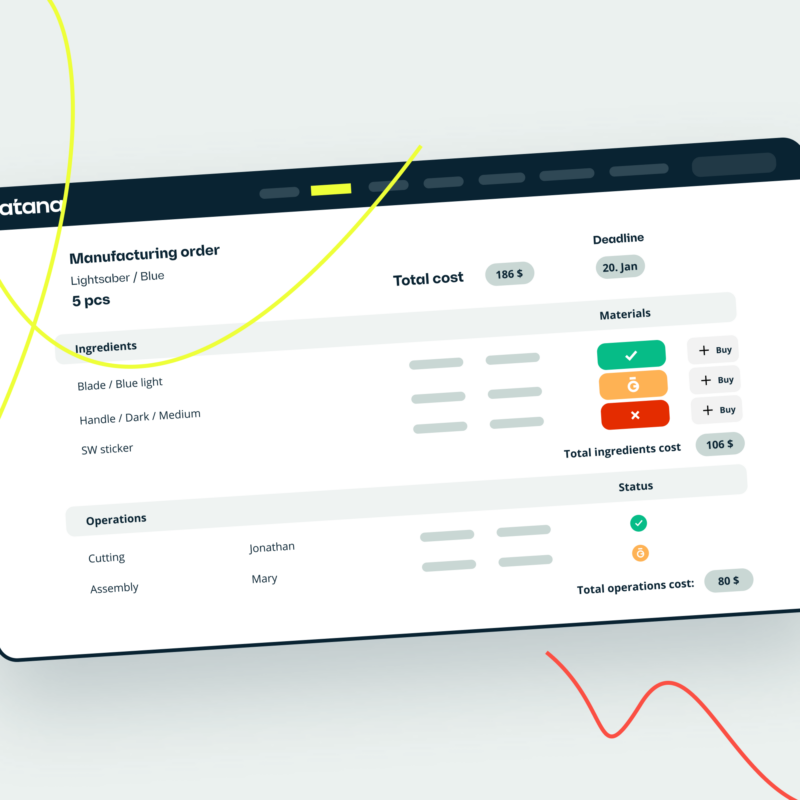 End-to-end traceability with software for warehouse inventory management and beyond
Scanning items into your warehouse is now easier than ever with Katana. Simply scan the item's barcode, and our software will automatically find the purchase order it belongs to. You can also view the item's details, such as its description, unit price, and more.
Plus, you can track where each item is located in your warehouse with the "Location" field. This is especially useful if you have a large warehouse or multiple warehouses. With this feature, you can:
Receive batch trackable items
Export barcodes for printing
Fully or partially receive purchase orders
A warehouse inventory system that integrates with your favorite tools for a smooth workflow from purchases to sales
Native integrations, codeless templates, and fully customizable API integrations
Katana warehouse inventory management system gives users access to the API, allowing you to create custom workflows and connect your business apps to manage your sales, manufacturing, and accounting on one platform. Process automation with data transfers between the services you use to level up efficiency. Take a look at Katana's API documentation to learn more.
We needed help with Shopify inventory control for raw materials, and Katana exceeded our expectations."
Katana integrates everything, making for effective company-wide resource planning and control of our entire process."
With Katana, we are able to track products, build recipes for materials, and set reorder points for our materials as well."
It's great to be able to see where inventory faults happen and being able to fulfill orders and where the turnaround happens."
Warehouse management software FAQs
Move your inventory to the cloud