Sales order processing software that takes care of everything behind the scenes
Focus on your production lines with the confidence that your sales order management is under control. Get sales order processing software that integrates with your existing accounting tools so you can sell more easily and efficiently than ever before.
Would you rather spend your time generating leads or doing paperwork?
With Katana, you can process sales and keep track of your sales orders without spending hours on sales documents. An order processing system with an easy-to-use interface allows you to quickly and easily find the necessary customer information, focusing on making more sales and less on administrative work. A better sales pipeline means more sales and more money in your pocket.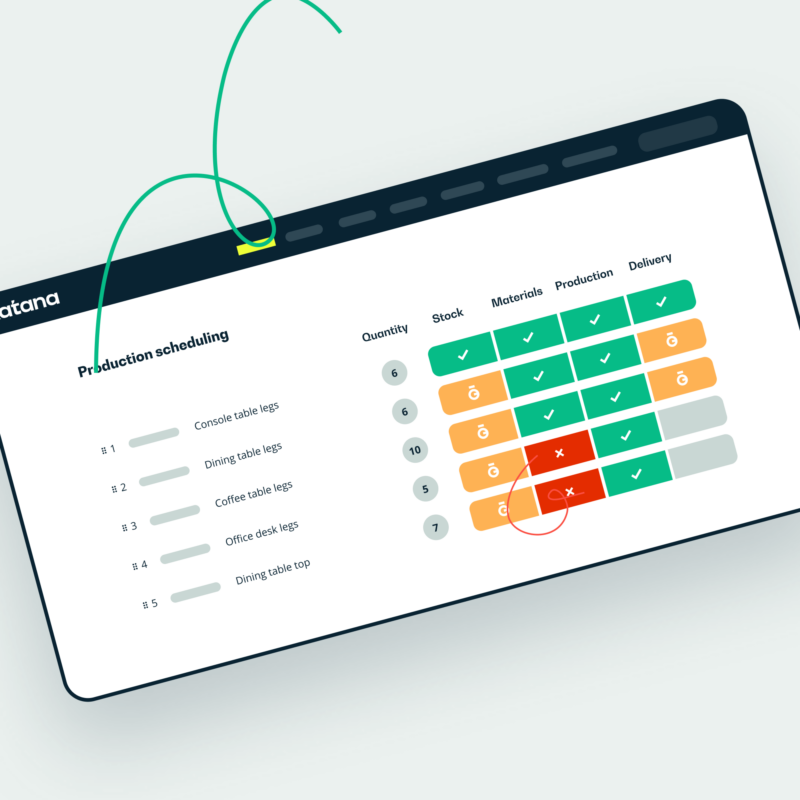 Maintain total control over your sales process
Never miss a beat with our sales order processing system. The Sell screen gives you a complete overview of your sales process, so you can see where each deal is at and what needs to be done to close it.
You can also add new deals, contacts, and tasks directly from the Sell screen. This way, you never have to leave Katana to get the information you need. With our sales process software, sales orders can be generated with just a few clicks.
Say goodbye to Excel sheets and manual processing, and have a look at what Katana has in store for you:
Know your sales item availability in real-time and better understand your stock levels
It allows multi-sales channels to create sales orders manually, so you never have to leave the software
Get a complete overview of your sales process in one place
Generate sales quotes for clients
Creating and delivering sales orders has never been easier
You can quickly and easily create sales and manufacturing orders, assign them to team members, add products, and track their progress.
With the delivery integrations, you can connect Katana with your existing packing and shipping software and automatically send tracking information to your customers.
Easily integrate with shipping platforms
Assign batches for sales items to be delivered
Manage all your sales channels in one platform with omnichannel order management features
Effectively manage stock levels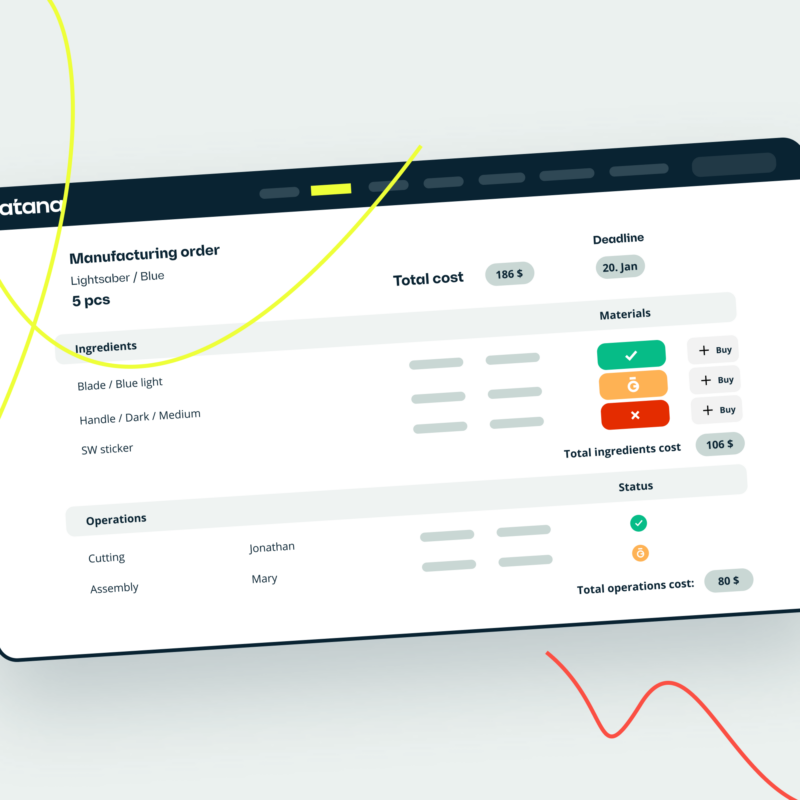 Integrate Katana across your entire tech stack
We know that a good sales process requires multiple software programs working together. It's easy to integrate Katana with the tools you already use. We provide you with the best software that automates sales tasks such as order processing and tracking.
Use these integrations as an advantage, and make your sales process even more efficient:
Integrate and synchronize your sales orders with tools such as Shopify, WooCommerce, BigCommerce, and more
Easily connect to your existing accounting software like QuickBooks Online and Xero
Integrate with your CRM system to get valuable information about your leads
Use our Zapier integration to connect Katana with the other tools you use
Easily sell your products and manage incoming orders with our e-commerce platform integrations. With Katana, you can connect to your existing online store and start processing sales orders immediately.
Katana integrates with your favorite tools for a smooth sales order process
Native integrations, codeless templates, and fully customizable API integrations
Katana gives users access to the API, allowing you to create custom workflows and connect your business apps to manage your sales, manufacturing, and accounting on one platform. Process automation with data transfers between the services you use to level up efficiency. Take a look at Katana's API documentation to learn more.
We needed help with Shopify inventory control for raw materials, and Katana exceeded our expectations."
Katana integrates everything, making for effective company-wide resource planning and control of our entire process."
With Katana, we are able to track products, build recipes for materials, and set reorder points for our materials as well."
It's great to be able to see where inventory faults happen and being able to fulfill orders and where the turnaround happens."
Sales order processing software FAQs
Move your inventory to the cloud