Get the real-time data you need with manufacturing software
Katana equips you with live insights about your production processes, inventory, and sales. Gain easy access to all the information you need, allowing you to make informed decisions and elevate your manufacturing business to new heights.
Connect all the moving parts of your business with manufacturing software
Managing teams, products, and data in real time is a struggle for any business, and manufacturers are no exception. Cloud manufacturing software gives you the visibility you need to keep your products and teams moving.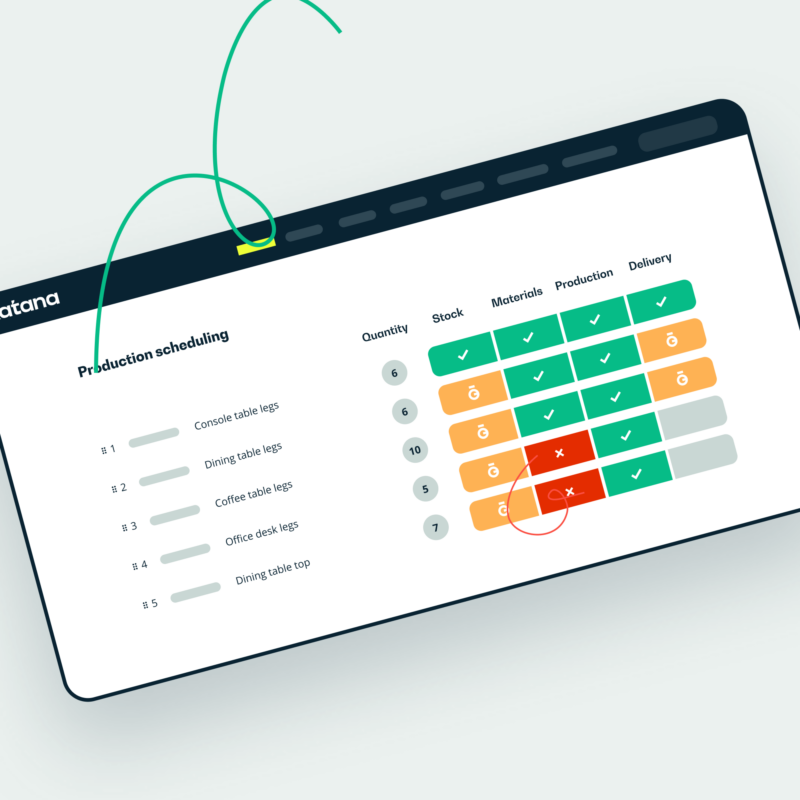 Cloud manufacturing software, no matter where you are
Cloud manufacturing software doesn't require expensive hardware or time-consuming installations. All you need is an internet connection and a browser. This allows you to access real-time data on the fly, no matter where you are. Cloud manufacturing software ensures that your team stays connected and informed about their work and schedules, whether they're at the office or on the move.
Cloud-based software for manufacturing also enables you to seamlessly integrate with other cloud-based solutions, enabling easy data transfers between the services you use.
Katana's cloud manufacturing software allows you to:
Monitor your inventory levels and production processes in real time from anywhere

Integrate with the best business tools for a unified experience

Effortlessly track your sales performance and other business-related metrics

Create multilevel BOMs with subassemblies for accurate costing

Make precise pricing decisions based on your product margins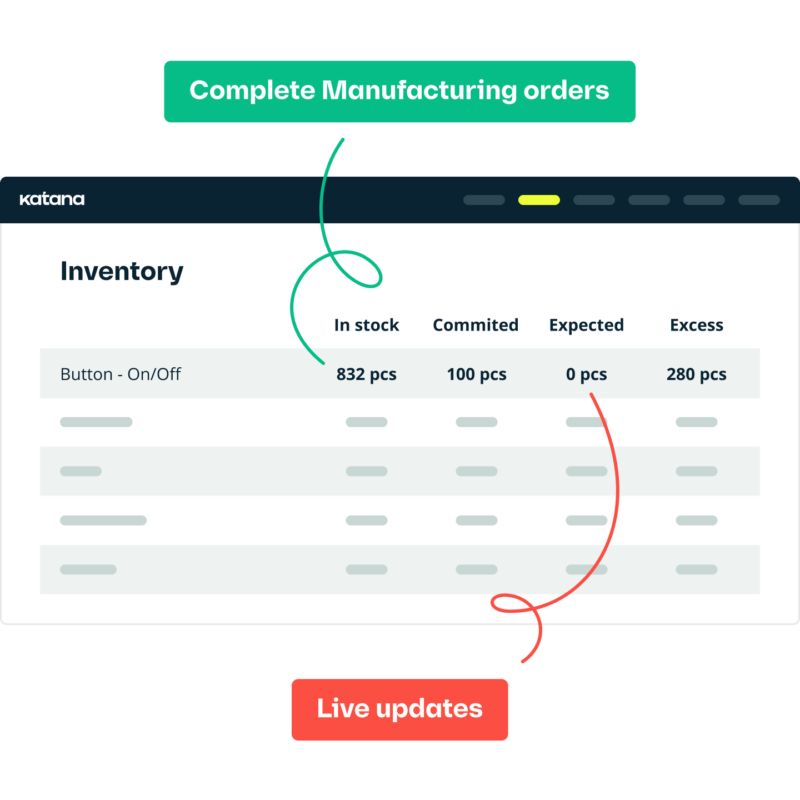 Key functions of manufacturing software
Manufacturing ERP software centralizes all your business processes into a unified system. It also integrates seamlessly with a wide range of business platforms, enabling you to expand the features while keeping all your systems synchronized.
Planning and scheduling
Intuitive production planning and scheduling to ensure you meet customer demand, minimize costs, and maintain smooth workflow.
Manufacturing execution system (MES)

Sync inventory and sales across all channels with one unified platform and prioritize task lists for production line operators to ensure efficiency.
Manufacturing resource planning (MRP)

Optimize your resource allocation, track your stock movements, and manage your inventory from raw materials to finished goods.
Shop floor control
Assign tasks to your team, track materials and time spent, and access real-time shop floor insights for total shop floor control.
Manufacturing accounting
Integrate with the best accounting software like QuickBooks Online and Xero to keep your accounting data in sync.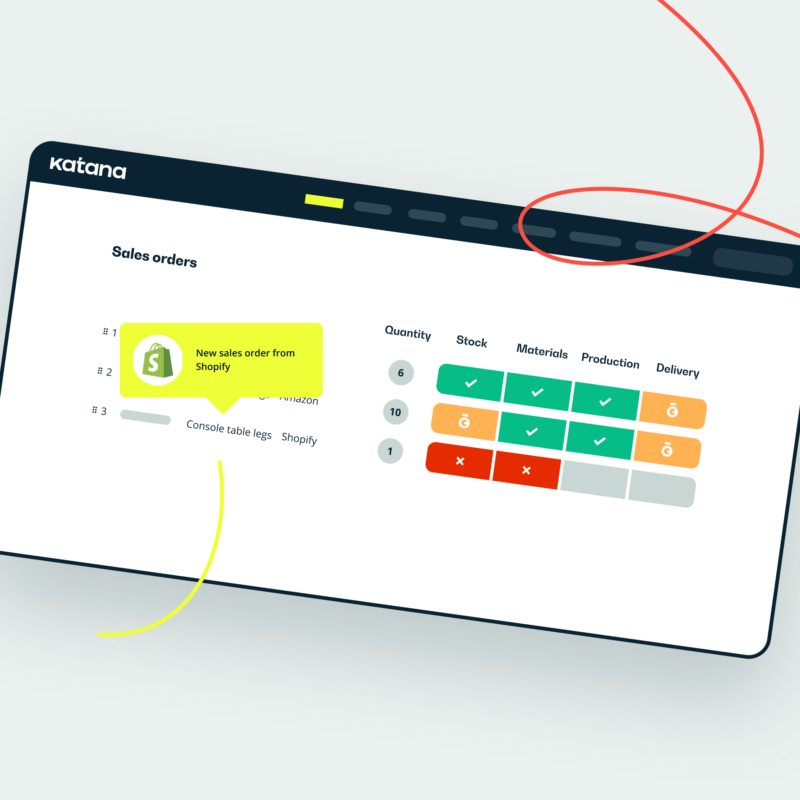 Benefits of manufacturing software
Manufacturing software allows you to effortlessly manage raw materials, work-in-progress, and finished goods, even with multiple product variants. Adapt your production plans on the fly to meet demand, optimize resource utilization, and define bill of materials for maximum production scheduling effectiveness.
Whether you choose make-to-order or make-to-stock workflows, manufacturing software ensures you meet customer demand while maintaining optimal inventory levels.
Furthermore, Katana's Shop Floor App lets you assign tasks to operators, monitor real-time progress, and efficiently manage resources. Say goodbye to order management headaches as Katana consolidates sales and purchase orders from all channels into a single view, providing real-time product availability tracking.
Manufacturing ERP software like Katana makes it possible to:
Make accurate manufacturing and purchasing decisions with live data

Ensure optimal inventory levels at all times

Prioritize production based on raw material availability

Get task-level control for effective shop floor management

Automate manufacturing cost calculations based on your bill of materials and operations
Integrate with the best e-commerce,
accounting, reporting, and CRM
tools out there
All your business tools — connected
Optimize your workflow with native and third-party integrations, automating data transfer between systems and reducing errors. Or build your own custom integrations using the open API for seamless data flow with other applications. Check out the API documentation for more details.
We chose Katana because it presents our manufacturing business information in the easiest possible way."
We needed help with Shopify inventory management for raw materials, and Katana exceeded our expectations."
We chose Katana because it seemed to be the most user-friendly software we tried – it is very easy to use and the customer service is great!"
Katana accurately keeps stock of assemblies and ingredients so that I can plan production and get instant feedback on whether we enough resources in stock."
Manufacturing ERP software FAQs
Move your inventory to the cloud