Optimizing your entire workflow with shop floor control software
Maximize productivity with an overview of your entire business and total shop floor control — from inventory to manufacturing. Katana's shop floor management software tracks time spent on tasks and material usage to give you the insights your business needs to grow.
Track and schedule production with shop floor control software
Monitor raw material usage, operational task progress, stock counts, and order fulfillment with shop floor control software that gives you the complete visibility you need for your business.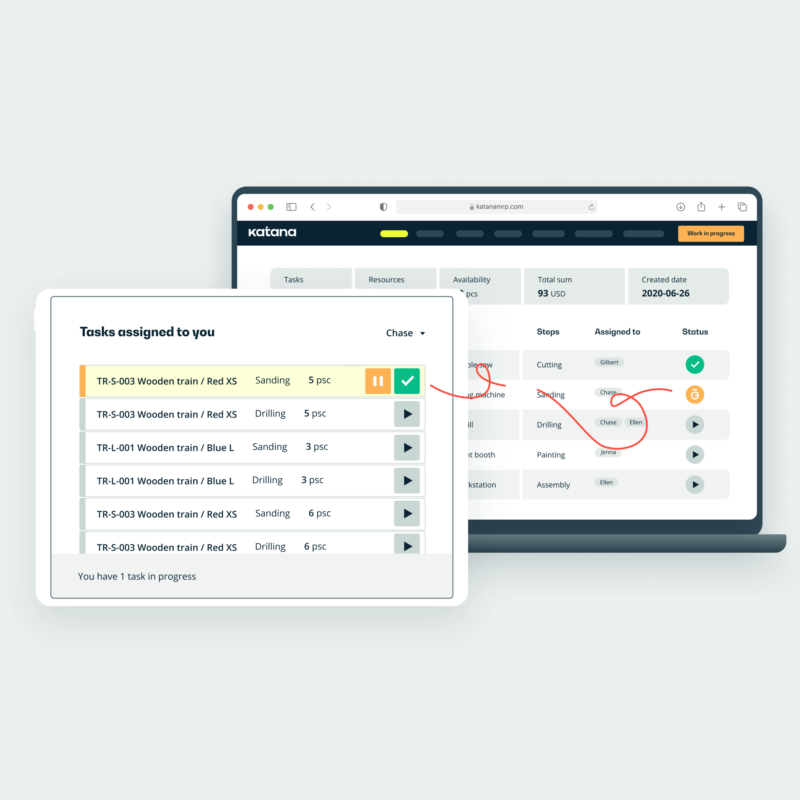 Streamline operations with shop floor software
You need a live overview of your production to make the right decisions at the right time. Shop floor software allows you to track progress with sales and production orders in real time, giving you a virtual window into your operations for optimal resource planning.
By spotting delays and drops in material availability before they happen, manufacturers can keep up with deadlines no matter how high demand is.
Katana's shop floor control software helps you:
Get a live floor-level production status overview in one intuitive cloud manufacturing platform

View manufacturing orders and ingredient lists in the Katana Shop Floor App to keep your teams aligned

Manage inventory, scheduling, and production planning in a single platform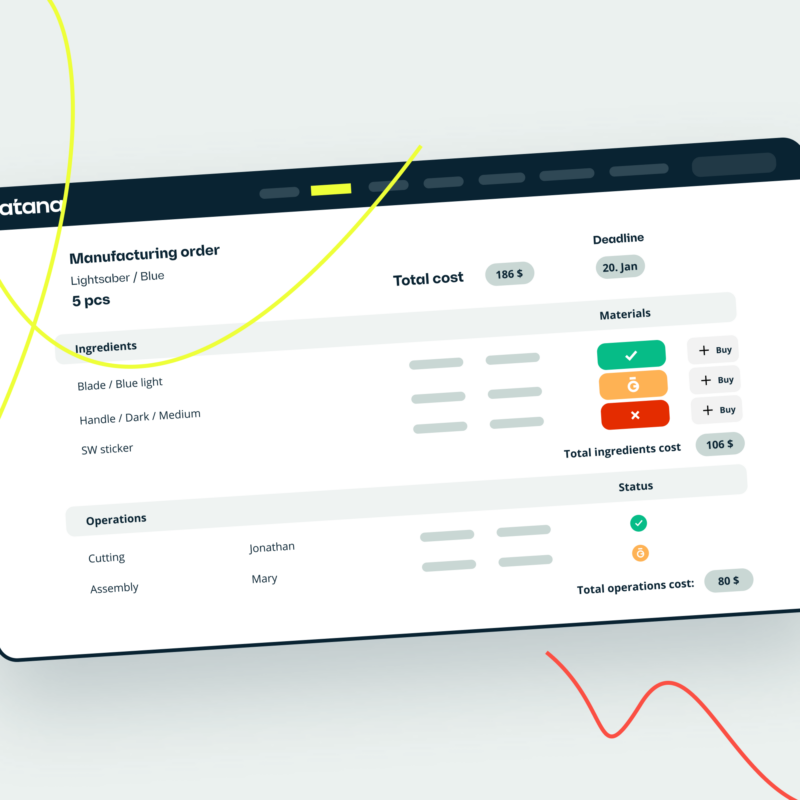 Assign tasks and track resources
Improve your floor-level operations and gain direct access to production tasks and ingredient lists with Katana's Shop Floor App.
Easily create, set up, and remove shop floor operators, track time spent on jobs, and measure real versus actual materials used to cut costs and time. Smart manufacturing is all about live data, and shop floor control software like Katana makes production monitoring and supply chain planning easy.
Katana makes planning and scheduling easy with features that enable you to:
Assign tasks to operators to maximize resource planning efficiency

Generate and track tasks for operators with shop floor control

Add, set up, and remove shop floor operators based on demand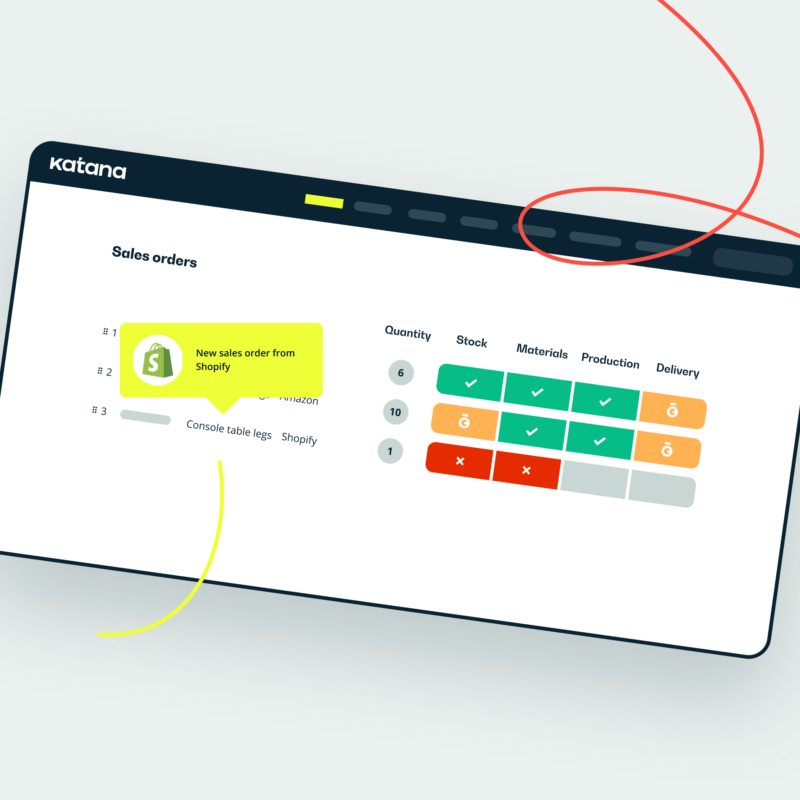 Keep your teams and data in sync at all times
Managers, sales teams, and shop floor employees need access to the same information to keep their operations in sync and improve resource planning.
Shop floor control systems give everyone in your organization the knowledge they need to make the right decisions. No more miscommunication or mistakes when it comes to deadlines, scheduling, or stock counting with Katana's visual scheduling tool.
Katana makes improving production operations simple, allowing you to:
Add notes to manufacturing orders to be displayed for related tasks in the Shop Floor App

Automatically send task status updates to your cloud manufacturing software

Adopt native and API integrations that connect all your software systems
Integrate with the best e-commerce,
accounting, reporting, and CRM
software out there
Connect Katana to third-party software or create your own workflows via API
Choose from a range of e-commerce, accounting, CRM, reporting, and automation integrations to optimize resource planning, sales, and more. Katana's shop floor management software is built to fit with the tools you need, and custom API integrations give you all the flexibility to make it your own. Take a look at Katana's growing list of integrations to learn more.
With Katana, we are able to track products, build recipes for materials, and set reorder points for our materials as well."
Katana allows us to have a complete, real-time overview of our manufacturing processes and keeps our operations under control."
Having the shop floor know what they can or can't make on a given day is amazing, and replaces our previous "system" of spreadsheets."
As an organic food processor, traceability is critical and our records must be meticulously kept. Katana fulfills all our needs in a simple, easy solution."
FAQs on shop floor control software
What is shop floor software?
Shop floor software is designed to help businesses manage their manufacturing processes on the shop floor. Manufacturers typically use it to automate their production processes, optimize resource utilization, and track inventory levels.
Shop floor software can perform various functions, such as monitoring machine performance, tracking production schedules, managing inventory, and providing real-time analytics and reporting. Some shop floor software may include quality control tools, such as inspection and testing modules.
Shop floor software can be integrated with other business systems, such as ERP (enterprise resource planning) software, to provide a seamless flow of data across the entire organization. This can help manufacturers make more informed decisions and improve efficiency and productivity.
Overall, shop floor software is an important tool for modern manufacturers looking to streamline their production processes, increase output, and stay competitive in a rapidly evolving marketplace.
How do you manage a shop floor?
Managing a shop floor is monitoring production procedures, ensuring they go off without a hitch, and making the most of available resources to maximize productivity. Here are some steps to effectively manage a shop floor:  
Establish clear objectives

– 

Set clear goals for the shop floor operations, such as improving production efficiency, reducing waste, or increasing output.  

Optimize production processes

– 

Implement lean manufacturing principles and optimize the production processes to eliminate waste, reduce lead times, and increase throughput.  

Schedule production

– 

Create a production schedule that accounts for resource availability, production requirements, and customer demand. Make sure the schedule is feasible and attainable.

Manage inventory

– 

Keep track of inventory levels and ensure that the materials required for production are available when needed. Implement a system for inventory control to avoid shortages or excess inventory.

Monitor performance

–

 Monitor the performance of machines and employees on the shop floor to identify any issues affecting productivity. Use data analytics to track performance metrics like cycle time, downtime, and defect rates.  

Implement quality control measures

– 

Implement quality control measures to ensure that the products produced on the shop floor meet the required standards. Use statistical process control (SPC) and quality assurance testing tools to identify and address quality issues.

Train employees

– 

Train employees on the production processes and shop floor software. Provide ongoing training and support to ensure that employees are equipped to perform their jobs effectively.  
Managing a shop floor requires planning, monitoring, and optimization to ensure the manufacturing process runs efficiently and effectively. 
What are the three phases of shop floor control?
Shop floor control typically involves three phases:  
Planning

– 

This phase involves creating a production plan, which includes determining the production requirements, scheduling production, and allocating resources such as labor, machines, and materials. The planning phase also involves determining the standard times for each operation and creating a bill of materials (BOM) for the manufactured products.  

Execution

– 

This phase involves the production process on the shop floor, where the planned production is executed. The execution phase includes activities such as setting up machines, performing operations on the product, and quality control checks to ensure that the product meets the required standards. Shop floor software can be used to keep an eye on and track the development of the production process during the execution stage.  

Control

–

 This phase involves monitoring the performance of the production process and making adjustments as needed to ensure that production goals are met. The control phase includes activities such as analyzing production data, identifying and addressing issues during production, and making changes to the production plan as needed to optimize resource utilization and increase efficiency.  
Overall, the three phases of shop floor control work together to ensure that the manufacturing process runs smoothly and efficiently, from planning to execution to control. Manufacturers can increase productivity, reduce waste, and improve efficiency by using shop floor software to automate and streamline these processes. 
Move your inventory to the cloud