With Katana, we can track products, build recipes for materials, and set reorder points as well. That was something that was very difficult to manage – raw material inventory – for example, how many black t-shirts do I need to order, and when? That was the main reason we selected Katana.
Lisa Diep, Chief Operating Officer (COO) 
Apparel manufacturing, 25+ employees
Apparel inventory management software features built for fashion
Ideal inventory management software for apparel businesses, watch your stock and products in real-time and keep your company on the move.
Get set up in under 7 days
It's that simple. For more guidance visit our Knowledge Base.
1
Sign up for a free trial
Start your free 14-day trial to try Katana risk-free. No credit card required.
2
Select your plan
We recommend the Advanced plan to get full access to all the best features on your trial.
3
Sync with other tools
Connect to your accounting, e-commerce, and reporting tools for maximum visibility.
Ideal inventory and apparel management software for apparel manufacturers
The apparel industry is fast-moving and ever-evolving, and fashion retailers are selling items in the millions daily. To ensure your business keeps moving smoothly, it's crucial to perform regular stock counts, so you know the raw materials you have in-house, what needs to be ordered, and how soon you'll need it.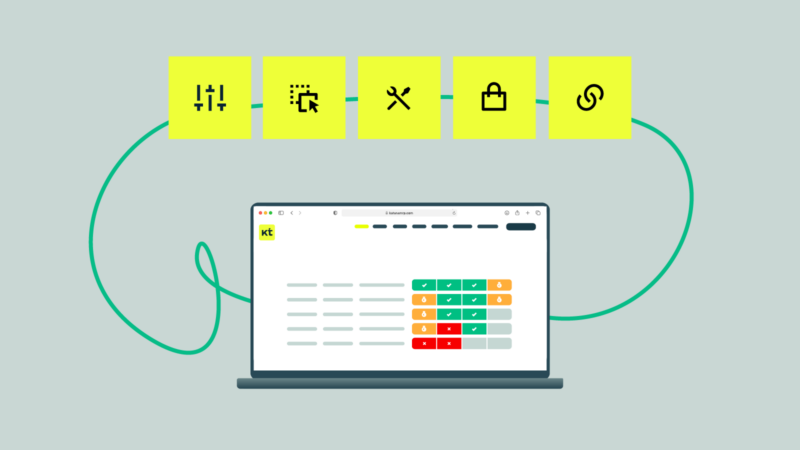 Track clothing inventory levels, automatically reorder stock and make product recipes for your fashion creations
Katana helps you in both respects here, as you can use barcode scanning within your warehouse (or a smaller storage space), to keep track of what stock is available, what needs to be made, and what's ready to ship. You can also set automatic reorder points when you have a good overview of your product lifecycle, and you know approximately when new stock is needed for high-selling items. This control over your production process gives you an edge in speed and helps maintain customer satisfaction.
The other element of apparel and fashion which helps make happy customers is product quality and consistency. With Katana, you can create product recipes (or bills of materials), outlining the raw materials and production process which make up each individual item. You can tweak elements for variations on a product, and leave notes to ensure every process is completed correctly, all in service of a perfect finished product every time.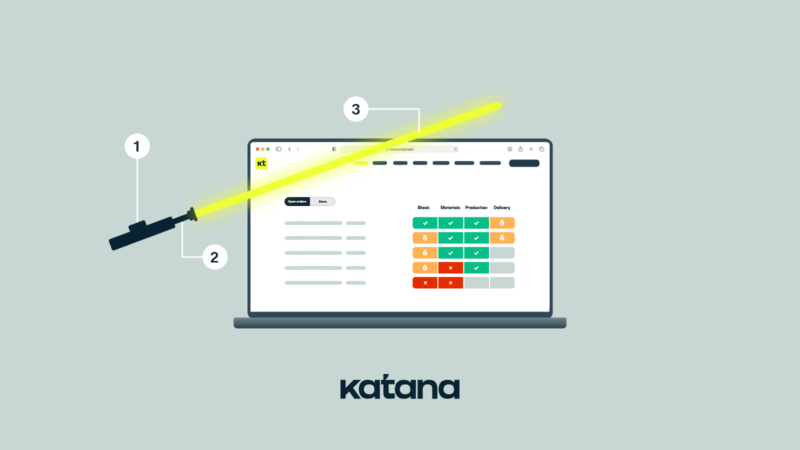 Use multiple sales channels to reach your customers
Once you've crafted your magnificent fashion creations, they need to be sold and shipped to eager and excited customers. To do this, Katana offers integrations for apparel retailers to sell via an online store, or even sync with POS systems in a physical shop. This allows you the option to work in both make-to-order or make-to-stock structures, selling goods in bulk to larger retailers or selling bespoke items direct to customers.
Our integration with Shopify allows fashion businesses to sync a retail POS system with their data in Katana, ultimately allowing you to get a clear picture of which products are selling well in what environments, and how soon you need to restock specific raw materials.
With a blend of inventory control, creative processes, shipping support and an overall production overview, Katana offers the perfect apparel inventory software for apparel and fashion businesses and creators.
Integrate with the best e-commerce,
accounting, reporting, and CRM
software out there
Create custom API integrations
Use Katana's open API to create custom workflows and connect to apps beyond our list of integrations. Automate data transfers between the services you use to level up efficiency. Take a look at our API documentation to learn more.
Apparel inventory software FAQs
Get the visibility you need to move products and make decisions