Use material tracking software to allocate materials automatically
Stop guessing and start anticipating what is happening in your supply chain and manufacturing pipeline. Katana provides you with a complete overview of the locations and movements of your raw material inventory.
Get the correct inventory levels at all your locations
Having too much or too little materials at the different stages of production can be detrimental to your output and efficiency. With the help of a materials tracking system, you or your manufacturing supervisors gain a comprehensive and up-to-date overview of the stock of materials at different locations in your business.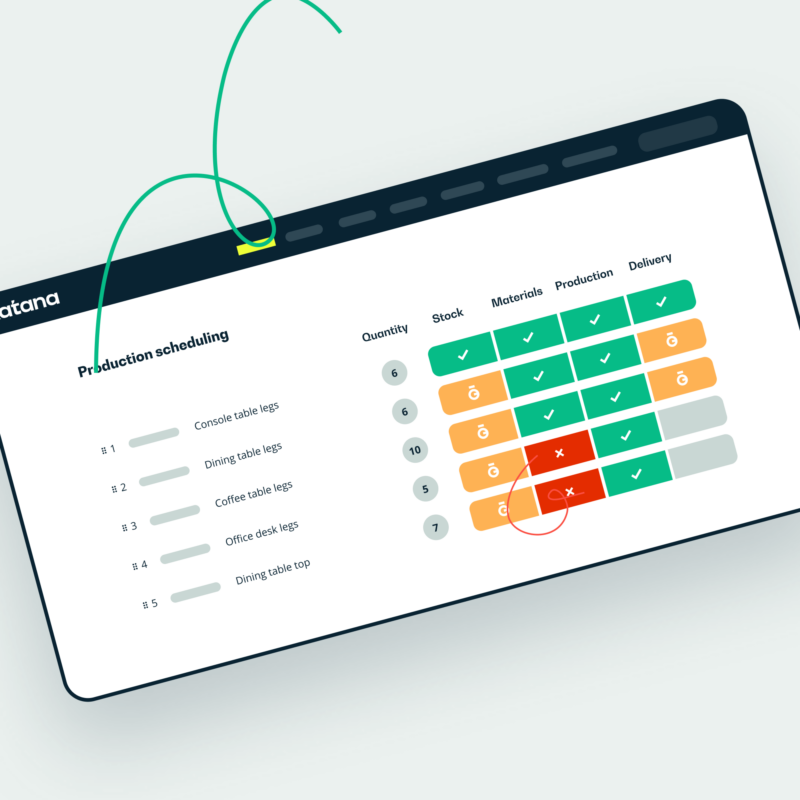 Uncover inefficiencies in your manufacturing pipeline
Setting sensible and balanced production quotas and expectations for your operators is a tricky endeavor. Having an objective set of metrics is necessary to determine if new arrivals have settled in or if you want to commend your best workers. Your workers' performance depends on many variables, so you need to see the full picture before making any conclusions.
With Katana's materials tracking across time, you can benchmark performance by comparing data across shifts. By having an eye on the whole production flow, you can determine if a delay is due to specific individuals or is caused by something out of their control.
With Katana, you can:
Get real-time updates on the progress of manufacturing 

Track actual completion times against planned completion times

Reprioritize open orders and get items reallocated automatically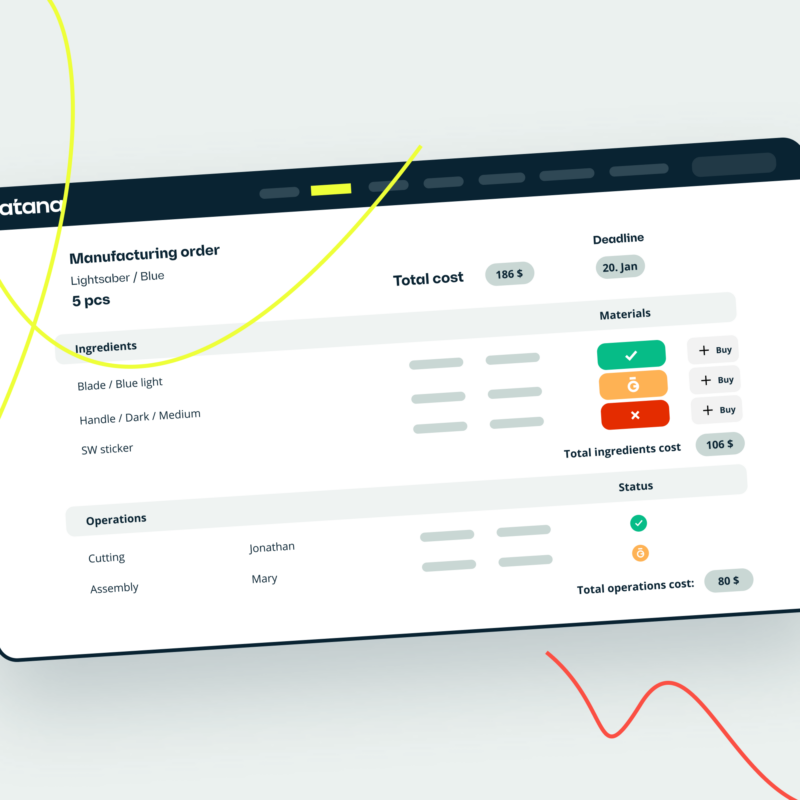 Eliminate bottlenecks and inefficiencies by tracking materials
An unwelcome anomaly might be something simple to fix. However, systemic problems, such as operator shifts being too demanding, may be much harder to recognize. Location time and material tracking software provide the necessary means in either scenario.
Katana will help you anticipate hiccups by giving you visibility over the movement of materials and empowering you to record and analyze production history so you can identify trends and patterns in the long term.
With Katana, you can:
Determine the necessary amount of materials for manufacturing orders (MO) and correspondingly check their availability

Have operators report the actual quantity of materials consumed for a task

Automatically see updated material levels after items are allocated to an MO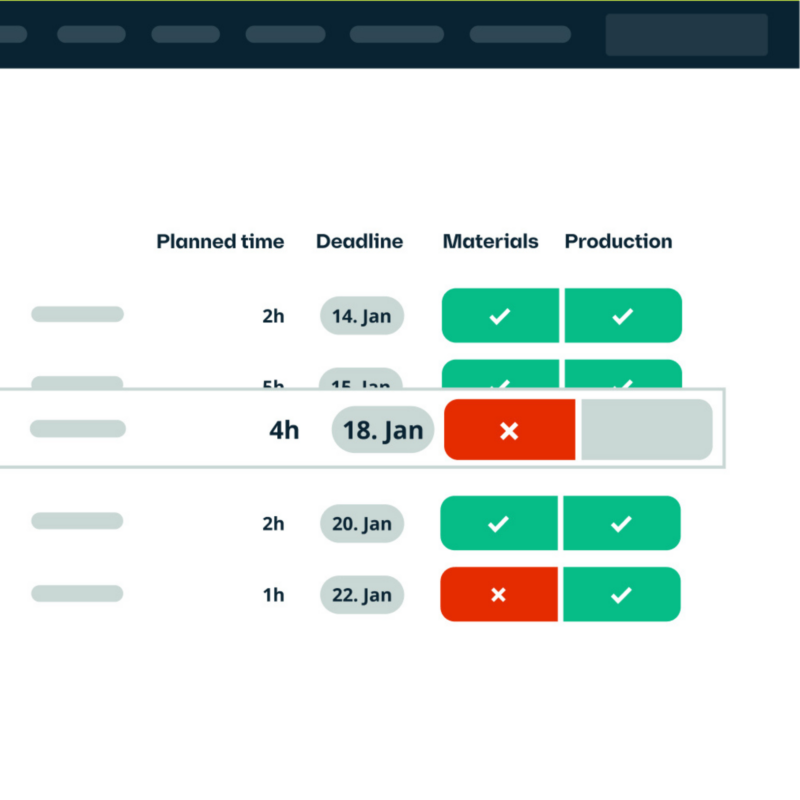 Create a digital audit trail to settle any blunders quickly
We all make mistakes — mostly innocent. Tracking a faulty batch of materials or finding lost items can be very problematic and takes up valuable time that could be otherwise spent producing goods.
Whatever the root cause, having a digital audit trail in the way of materials tracking logs means you can spend less time speculating and more time locating items.
With Katana, you can:
Assign batch numbers to a set of materials

Track the movement and usage of batches across all locations, even if a batch is separated

Keep and access the history of batch usage and movement
Integrate Katana's material tracking software with other tools and software
Unite the services you love with an integrated material tracking software
Choose from various e-commerce, accounting, CRM, reporting, and automation integrations to streamline your key business operations beyond material tracking. Katana is a system built to fit with your essential business tools. Take a look at Katana's growing list of integrations to learn more.
Katana integrates everything, making for effective company-wide resource planning and control. We now know what we have in store and where to look for it."
We needed help with Shopify inventory management for raw materials, and Katana exceeded our expectations."
We chose Katana because it presents our manufacturing business information in the easiest possible way."
I think that Katana had a much lower barrier to entry, and I was able to gradually build my processes into Katana's system."
Material tracking software FAQs
What is a material tracking system?
A material tracking system is software that enables you to monitor the allocation and movement of materials across your manufacturing pipeline, from initial storage to the different workstations and final installation.
How do you track material inventory?
The tracking relies on two crucial components: machine-readable tags and corresponding readers. A tag could be something as simple as a barcode or a QR code that workers could scan manually. A technologically more advanced and effective solution would rely on something like radio receivers automatically locating RFID tags. The latter does not rely on human intervention and is, thus, more reliable and enables your workers to concentrate on tasks that create more value.
Move your inventory to the cloud