Take control of your business using an order management software
Business growing fast and paperwork getting out of hand? Switch to an order management software to streamline all processes from manufacturing to sales. Stop filling in spreadsheets manually and start scaling your business to reach its full potential.
Stop chasing orders and start growing them
Order management software gives you a full overview of all aspects of your business, from manufacturing to sales. Katana's software for order management automates your day-to-day tasks and automatically allocates them to open orders, so you can better utilize your resources for scaling your business.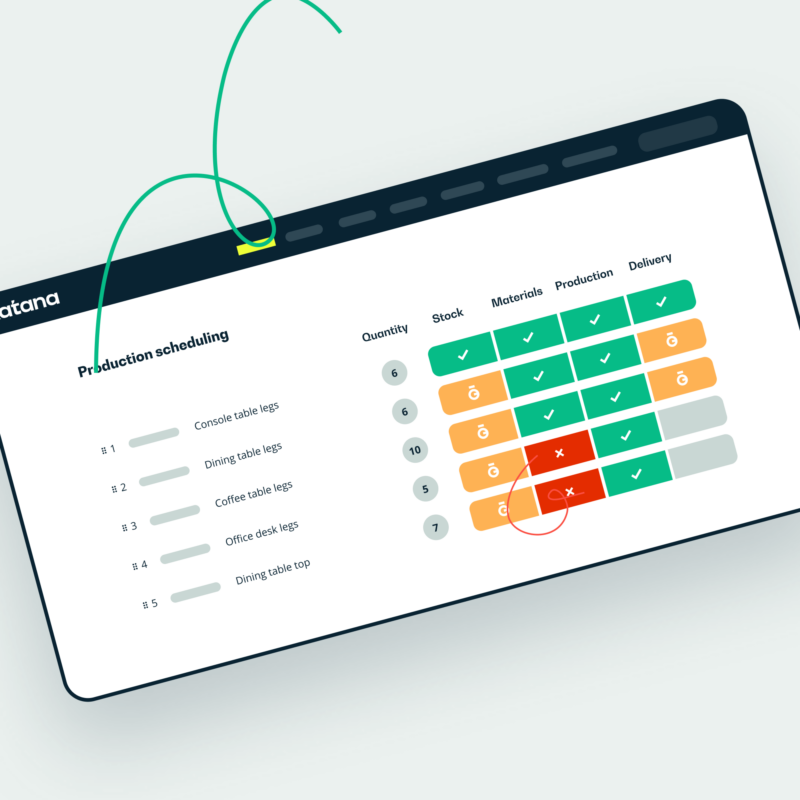 Monitor your manufacturing and everything related to it
Handling inventory can be a headache – manually updating stock numbers after every order, keeping up with raw materials, and ensuring you are always prepared to take orders and fill them can quickly become overwhelming. That is why using software for order management can be a real lifesaver.
Katana's order management software allows you to:
Track stock of your products in real time  

Keep count of materials and automatically distribute to open manufacturing orders 

Prioritize production based on customer needs and raw material supply 

Set reorder points for supplies to maintain a steady flow of materials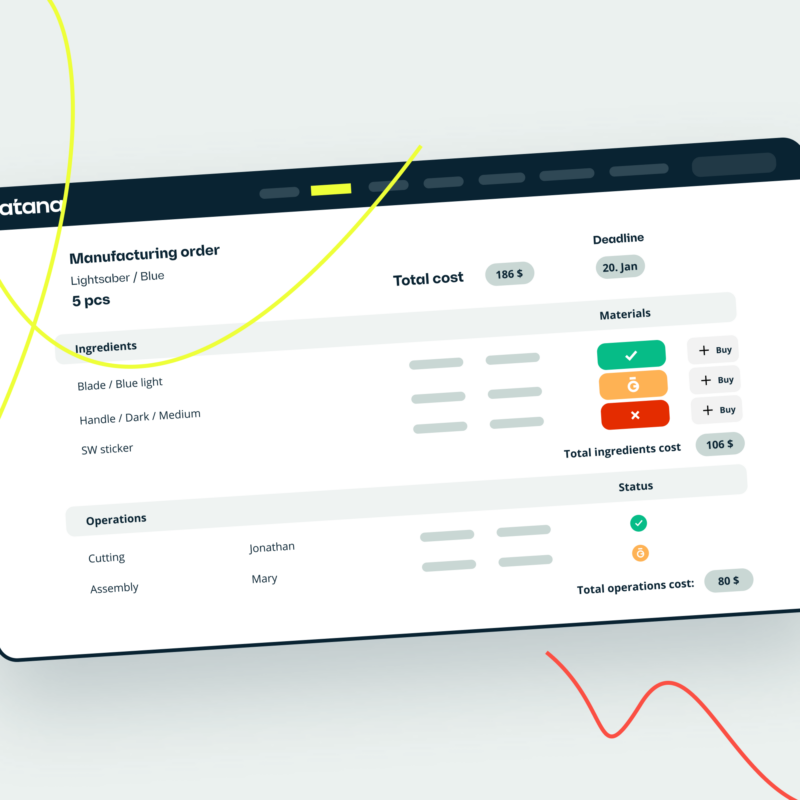 Create a pipeline for your sales process and maintain it even as volumes grow
As a business just starting out, it might be easy to process orders and manage sales. But, as your company and client base grows, it gets increasingly difficult to handle everything correctly. Take full advantage of order management software and let it do the tedious work for you.
Have an overview of the whole sales process:
Maintain incoming orders and sales 

Stay up to date on daily tasks in all your teams 

Distribute inventory across your warehouses and storefronts 

Track outgoing orders and incoming supply deliveries 
Use integrations to create a custom

workflow

to meet your specific needs
If you already use a system or product that helps your business with daily tasks, then feel free to integrate it into Katana's order management software. There are native integrations to help with sales, accounting, delivery, etc. You can also build a custom workflow using the open API and integrate your other favorite business tools.
Choose from a wide range of integrations:
Various shipping tools to create shipments and track deliveries 

Accounting tools like QuickBooks and Xero to help you with bookkeeping 

Or build your own workflow using the open API  
Katana allows us to have a complete, real-time overview of our manufacturing processes and keeps our operations under control."
Katana provides us with all the features for manufacturing order management, we can track inventory usage and incorporate our sales order tracking into Katana."
With Katana, we are able to track products, build recipes for materials, and set reorder points for our materials as well. That was the main reason why we selected Katana."
Since implementing Katana, it has freed up my time so I can focus on designing and creating more products. It also means that I am not working until 11 pm every night."
Create a workflow that works for you, not against you
Native integrations, codeless templates, and fully customizable API integrations
Choose from a wide range of native integrations or take full advantage of the open API to build your own customized workflow. From e-commerce to accounting, manufacturing to sales — all aspects of your business can be covered by choosing the best tools to help your business thrive. 
Order management software FAQs
Start manufacturing in the cloud