Effectively manage and grow your manufacturing business with production management software
Production management doesn't have to be complex. Stop spending hours updating
spreadsheets
or flipping through a manual with intuitive production planning software that aligns your inventory, purchasing, and production in one platform.
Boost efficiency and align your teams with features designed to give you total visibility and control
Get a live look at your manufacturing business with features that keep your teams and products moving.
Production management software can make the most complex process simple
Managing your business without the help of production management software is tedious — especially if you're using error-prone spreadsheets for managing your production runs.
Production management software like Katana automates your production planning and scheduling so you confidently fulfill orders knowing that you have software that has your back.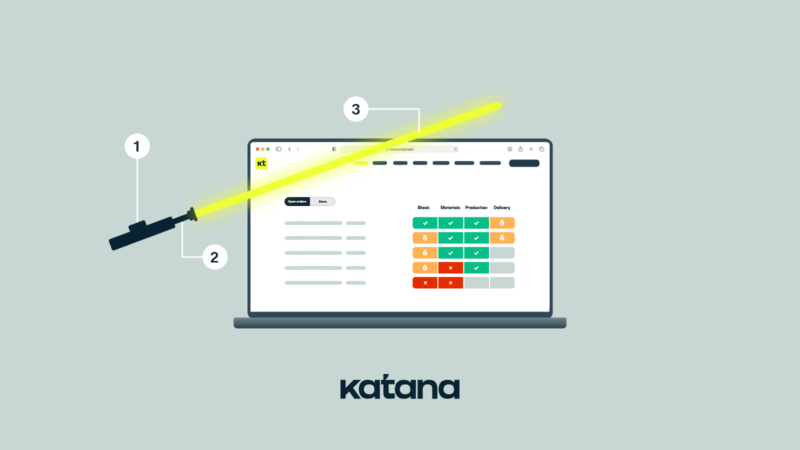 Minimize product defects and stock-outs with production management software
Production management software comes with production scheduling features for real-time sales and inventory data tracking — ensuring all your teams are on the same page and have total inventory control. Production management software allows you to track and monitor inputs and materials required and reduce human error — ultimately helping you detect flaws early in production, making it easy to stay in stock and keep your customers and team happy.
Production management software like Katana makes it possible to:
Track availability for required materials for efficient sales order fulfillment

Get total inventory control for finished products and raw materials

Automate inventory transactions and set reorder points to prevent stock-outs

Track on-hand, committed, and expected stock amounts in real time

Monitor your inventory levels across multiple warehouses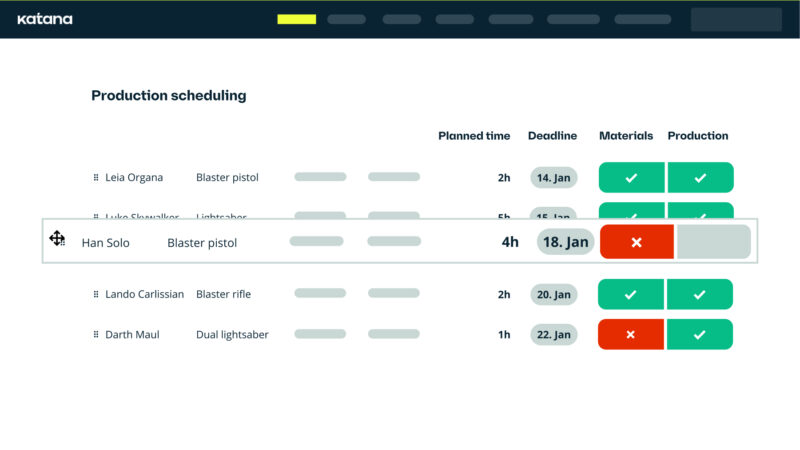 Production management software that supports your planning — from materials to human capital
Manufacturers face constant change, both inside and outside their business. Customers demand customizations and fast shipping, and the more you expand and grow, the more critical and challenging production planning becomes. Production scheduling software helps you manage your manufacturing lines and optimize production schedules according to your inventory levels — helping you avoid production overload and human resource issues without incurring overtime costs.
Planning with cloud manufacturing software like Katana allows you to:
Send tasks to the app according to product operations for incoming manufacturing orders

Plan and schedule jobs and assign to operators who can start, pause, and resume tasks to keep you up to date on production

View manufacturing order task and ingredient list for every task in the app

Track time spent on tasks to optimize shop floor activities
Integrate with the best e-commerce,
accounting, reporting, and CRM
software out there
Create custom API integrations
Use Katana's open API to create custom workflows and connect to apps beyond our list of integrations. Automate data transfers between the services you use to level up efficiency. Take a look at our API documentation to learn more.
Katana integrates everything, making for effective company-wide resource planning and control."
We needed help with Shopify inventory management for raw materials, and Katana exceeded our expectations."
Having the shop floor know what they can or can't make on a given day is amazing, and replaces our previous "system" of spreadsheets."
As an organic food processor, traceability is critical and our records must be meticulously kept. Katana fulfills all our needs in a simple, easy solution."
Get a demo and discover the power of real-time insights