Planning and scheduling software optimizes your workflows
Ditch the spreadsheets for an intuitive production scheduling software that automatically prioritizes your manufacturing and allocates materials to open orders. Get a production plan up and running without lifting a finger.
Empower your manufacturing business with cutting-edge production planning software
Seamlessly manage resource allocation and production schedules, mitigating potential pitfalls that could disrupt your operations. Experience streamlined efficiency and optimized supply chain coordination, all thanks to the power of manufacturing scheduling software. Stay ahead of competitors and achieve your business goals with ease.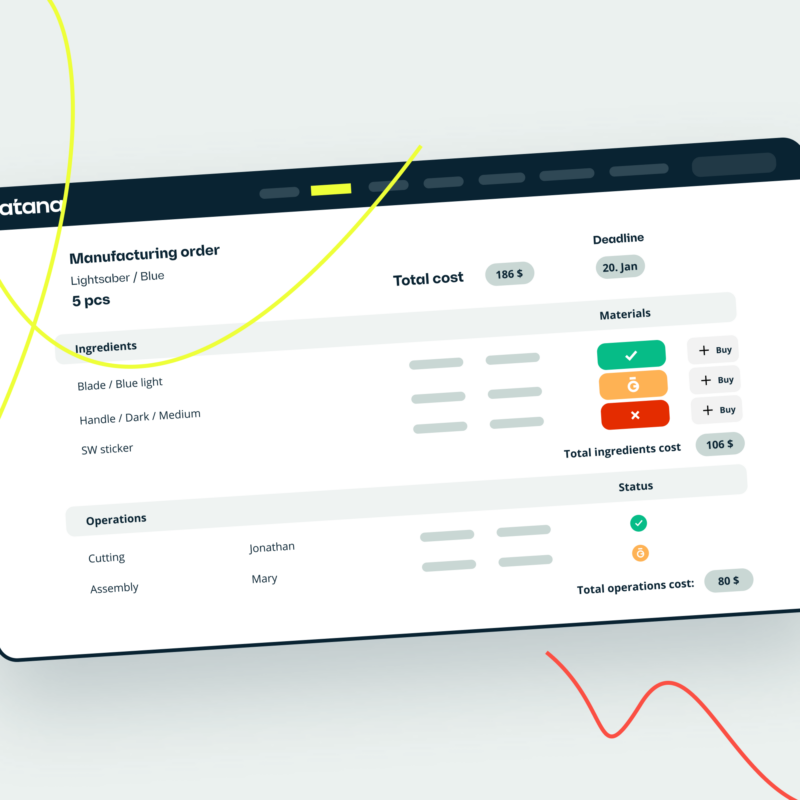 Manufacturing planning software that does the heavy work for you
Katana automatically prioritizes your tasks based on when a manufacturing order (MO) is generated.
If there's an order you need to work on sooner rather than later, though — no worries! In Katana, simply drag and drop an MO to the top of your production list. The production planning software will reprioritize the order and reallocate materials to fit the new workflow.
Katana's manufacturing planning and scheduling software can automatically:
Create a workflow and visually display the status of each MO

Generate production deadlines based on your bill of materials (BOM)

Calculate cost estimates and planned completion times

Assign operators to resources if already specified beforehand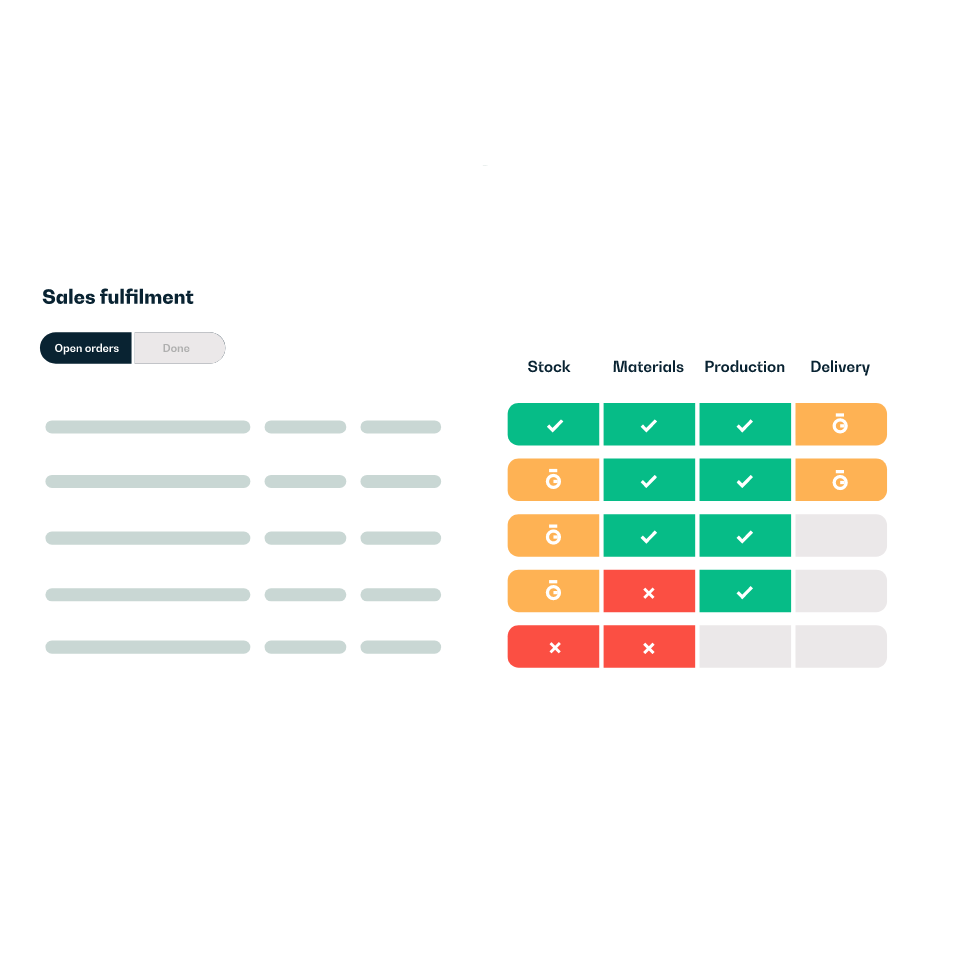 Production planning and scheduling software helps you manage all your resources
Manufacturers face constant change, both inside and outside their business. The more your business expands and grows, the more critical and challenging production planning becomes.
Katana comes with manufacturing analytics to anticipate future demand according to past sales performance. This can help you avoid production overload and HR issues without incurring overtime costs.
Manufacturing production scheduling software allows you to:
Set up tasks according to product operations for incoming MOs

Plan, schedule, and assign tasks to operators

View the MO card and ingredient list for every task

Track time spent on tasks to optimize shop floor activities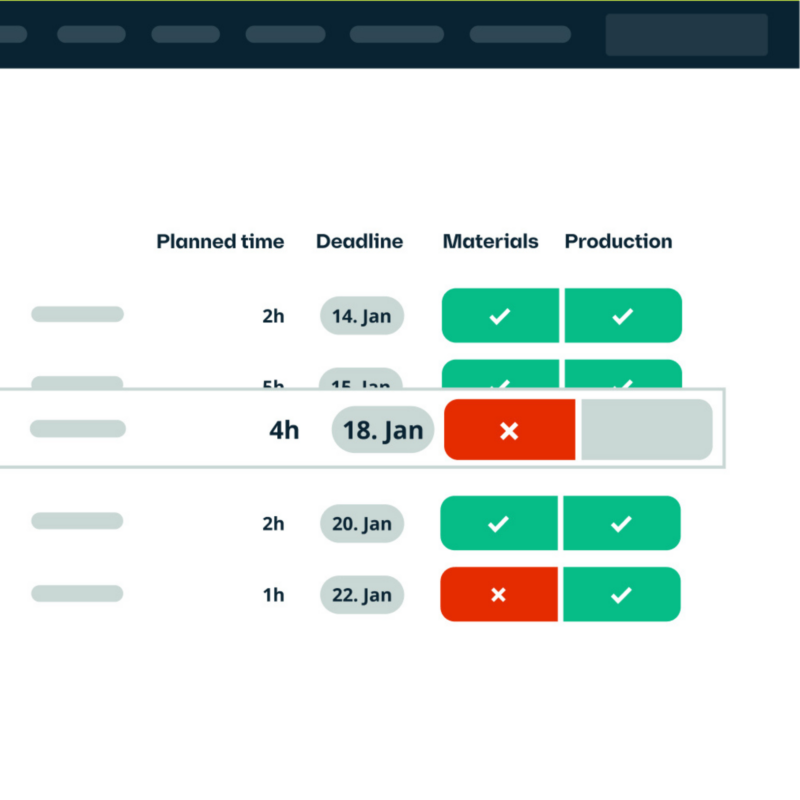 Unlock the potential of your business with production scheduling software
Gain access to a great deal of benefits that drive efficiency and enhance productivity. Seamlessly manage and allocate resources, optimize production timelines, and meet deadlines with precision.
Production schedule software helps you to establish manufacturing schedules, ensuring efficient collaboration across all teams and locations. Stay organized and enhance productivity by providing your team with a unified roadmap to follow.
Production scheduling software for manufacturing lets you:
Maximize resource utilization

Improve workflow visibility
Maximise productivity with Katana's efficient production management tools
With a range of essential features and functionalities, Katana empowers businesses to optimize their manufacturing processes, efficiently allocate resources, and meet customer demands with ease.
Integrate Katana's manufacturing planning software with your favorite business tools
Unite the services you love with integrated manufacturing planning software
Choose from various e-commerce, accounting, CRM, reporting, and automation integrations to streamline your key business operations beyond production planning. Katana is a system built to fit your essential business tools. Take a look at Katana's growing list of integrations to learn more.
Katana integrates everything, making for effective company-wide resource planning and control. We now know what we have in store and where to look for it."
We needed help with Shopify inventory management for raw materials, and Katana exceeded our expectations."
We chose Katana because it presents our manufacturing business information in the easiest possible way."
I think that Katana had a much lower barrier to entry, and I was able to gradually build my processes into Katana's system."
Production planning and scheduling FAQ
Move your inventory to the cloud