Production tracking software to get your business organized
Implement Katana's production tracking software and gain complete visibility of your manufacturing operations. Katana gives you all the necessary tools to efficiently manage everything on-the-fly.
Why production tracking is a must-have in modern manufacturing
Running your operations without properly tracking everything is a quick way to run your business off-track. To ensure each task is performed in the most efficient manner, you need to be able to track every part of your business. Katana's manufacturing tracking software allows you to do just that, leading to a reduction of waste and an improved bottom line.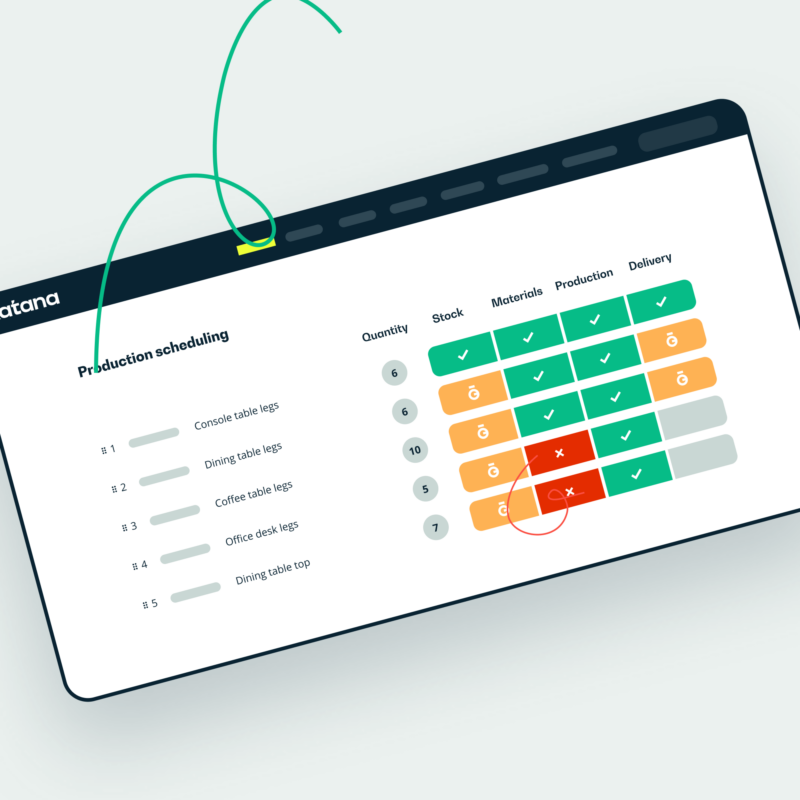 Easily track raw materials, finished products, and operations
Customers are not always forgiving when their ordered products don't arrive on time. To make sure every customer gets their items in a timely manner, you need to have a clear overview of every aspect of your business. You need to know if you have the raw materials, equipment, and human resources available to manufacture the products.
Katana's production tracker software keeps you updated in real time, so you always know if you have everything to fulfill the order. With Katana, you can easily track:

Real-time master planning and reorder points to get the orders out on time
Being able to track every aspect of your business is great, but on its own, it's not enough. To make use of the collected information, you need to be able to make changes as you go. Katana comes with all the required features, so you can act on the go without skipping a beat.
Set reorder points to always know when you're running low on finished products or raw materials so you can quickly manufacture or order more items.
In addition, Katana's production tracker software comes with a real-time master planner. This intuitive system allows you to track manufacturing order priorities on the fly and automatically reallocates resources to get the highest-priority orders done in time.
Katana ensures you never have to worry about running out of stock or missing an order deadline by offering features like:

Real-time inventory levels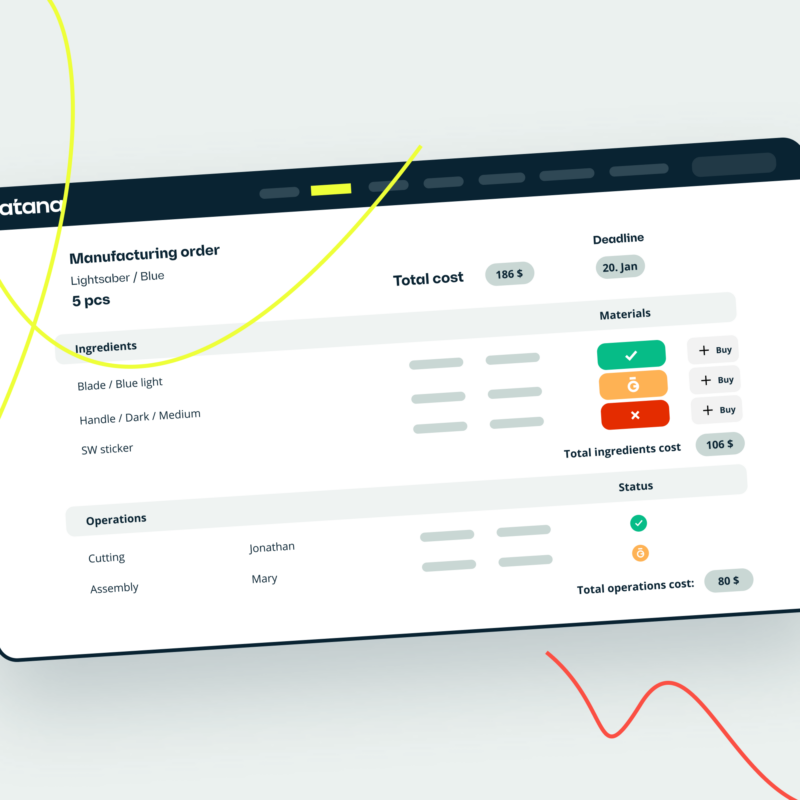 A single source of truth for all your business needs
Shuffling between multiple tools can quickly become a hassle. But enterprise solutions often come with their own built-in modules that you won't be able to swap out. If you're not overjoyed about the idea of transferring all of your data over to a new system, only to start training your entire team on how to operate it, there is another option.
Katana production tracking software comes with simple plug-and-play integrations, so you can connect your favorite business tools without any coding knowledge.
Katana also integrates with the tools you use to centralize your data. Connect Katana with::

Analytics and reporting tools
Katana allows us to have a complete, real-time overview of our manufacturing processes and keeps our operations under control."
We chose Katana because it seemed to be the most user-friendly software we tried – it is very easy to use and the customer service is great!"
Having the shop floor know what they can or can't make on a given day is amazing, and replaces our previous "system" of spreadsheets."
Katana provides us with all the features for manufacturing order management and can track inventory usage and incorporate our sales order tracking into Katana."
A production tracking system that integrates with a wide variety of business tools for a smooth workflow
Native integrations, codeless templates, and fully customizable API integrations
Katana gives users access to the API, allowing you to create custom workflows and connect your business apps to manage your sales, manufacturing, and accounting on one platform. Automate data transfers between the services you use to level up efficiency. Take a look at Katana's API documentation to learn more.
Production tracking software FAQs
Move your inventory to the cloud