The ultimate production planning and control software
Perfecting production planning and control in manufacturing is the backbone of your business. Struggle with this, and your whole business can crash and burn. ERP manufacturing software automates your steps in production planning, allowing you to focus on growing your company.
Keep production lines moving and customers happy with top notch production planning and control
Small inefficiencies might not be obvious. But, without proper tools to monitor and control production, what might be an avoidable issue may become a production-stopping problem. Proper production planning and control systems will help you identify bottlenecks, avoid delays, motivate staff, and improve control over the entire business, even down to task level management on the shop floor.
ERP solutions give you total production planning and control
A computerized system that integrates production planning and inventory control is called enterprise resource planning (ERP). An ERP system makes sure that all activities are up-to-date with complete information on product availability, material requirements planning, inventory levels, and future planned production.
The production planning synchronizes data between departments, so everyone has access to it at all times. This ensures that every function — production planning or purchasing — works towards a common goal without clashes or delays due to lack of communication.
Katana ERP manufacturing software gives you better planning and production control with:
Improved supply chain management

Sales order and routing scheduling management

The ability to set reorder points and safety stock levels

A centralized platform to monitor your objectives of production planning

Resource production capacity planning tools
Reduce manufacturing and planning costs with automated production planning and control
ERP systems allow manufacturers to greatly reduce their overhead by streamlining many of their business processes. For one thing, a large amount of time and money goes into managing raw material requirements. An efficient way to track inventory is crucial in keeping production cost low.
Manufacturing industries that use ERP systems can easily identify supply shortages or potential production issues. Inventory tracking software makes locating the necessary raw materials much easier, freeing manufacturers to focus on other important tasks.
Katana ERP manufacturing software gives you advanced planning and production control with:
Bill of materials (BOM) to help you track materials and get automatic manufacturing cost calculations

Data to help you make pricing-based decisions on your product margins

Warehouse management for easy tracking & monitoring of items to help you identify dead stock

Two available pricing plans and the ability to add more users based on your requirements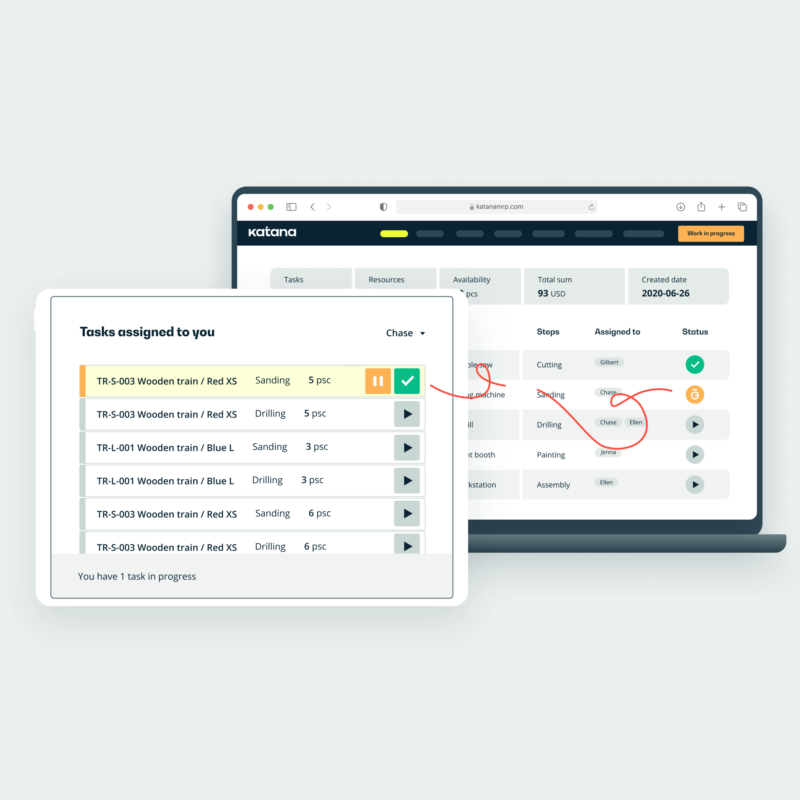 Improved production planning and control helps you make better business decisions
Manufacturing ERP software like Katana will help you identify weak points in your operations management. This allows you to make adjustments and boost everything related to the concept of productivity on the fly with cloud-based access.
Production planning and control managers can better understand the business's resource capacity, meet demand forecast, quality management checks needed, and overall production effectiveness at a glance with real-time data analytics for optimum utilization.
Katana ERP manufacturing software gives you better planning and production control with:
Drag-and-drop functionality to easily prioritize sales and manufacturing orders

The ability to monitor material consumption to improve purchase order management

Tools to identify risks along the supply chain

Accurate and automatically generated manufacturing deadlines

Live floor-level production status overviews
Integrate your entire production planning
and control software with your favorite business tools
Connect Katana to third-party software or create your own workflows via API
Choose from a range of e-commerce, accounting, CRM, reporting, and automation integrations to streamline your key business operations. Katana's manufacturing software is built to fit with the software you need. Take a look at Katana's growing list of integrations to learn more.
Having the shop floor know what they can or can't make on a given day is amazing, and replaces our previous "system" of spreadsheets."
We chose Katana because it seemed to be the most user-friendly software we tried – it is very easy to use and the customer service is great!"
Katana accurately keeps stock of assemblies and ingredients so that I can plan production and get instant feedback on whether we enough resources in stock."
We also wanted an accurate inventory production system for batch planning, warehousing, and sales. Katana fulfills all our needs in a simple, easy solution."
Start manufacturing in the cloud