Katana made it easy to write off stock or make stock adjustments to reflect the true component count in our storage. With Katana, we can now know what we have in store and where to look for it. It has also helped us a lot with our manufacturing and purchase processes. Everything is integrated, making for effective company-wide resource planning and control.
Danielle Louw 
Production Manager at CT LAB
With Katana's aerospace manufacturing software you don't have to wing it
With Katana's aerospace manufacturing software, you can connect all your favorite business tools to manage everything from a central platform. Katana ensures all your information is up-to-date and synchronized across all your business software.
Get set up in under 7 days
1
Sign up for a free trial
Start your free 14-day trial to try Katana risk-free. No credit card required.
2
Select your plan
We recommend the Advanced plan to get full access to all the best features on your trial.
3
Sync with other tools
Connect to your accounting, e-commerce, and reporting tools for maximum visibility.
Stay on top of your stock levels, orders, and operations
Accurate live data is essential to manage your business efficiently. With incorrect or outdated information, it's easy to make costly mistakes or experience delays in your production.
Katana provides you with real-time data about your purchase orders, sales orders, inventory levels, manufacturing lines, and much more.
With Katana, you have a clear overview of your entire business and can eliminate issues before these become larger problems. You'll be able to see potential delays in your supply chain and attend to these promptly.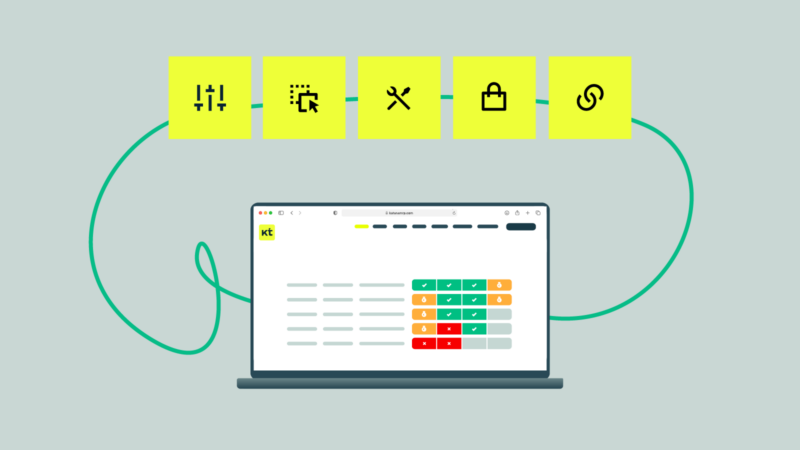 Full support for in-house and contract manufacturing
Businesses always look for ways to streamline their processes, reduce overheads, and increase efficiency. One way to do this is by opting for contract manufacturing.
In the aerospace and defense industry especially, incredible precision is needed. But perhaps you don't have access to the facilities required to produce certain high-end parts. Outsourcing your production allows you to benefit from the expertise of other manufacturers.
Katana's aerospace manufacturing software lets you issue fully outsourced purchase orders, so you can track raw materials at partner locations and monitor the service fees of contractors for accurate costing. This ensures you can turn out quality high-end items without bearing the large upfront costs of building your own facilities.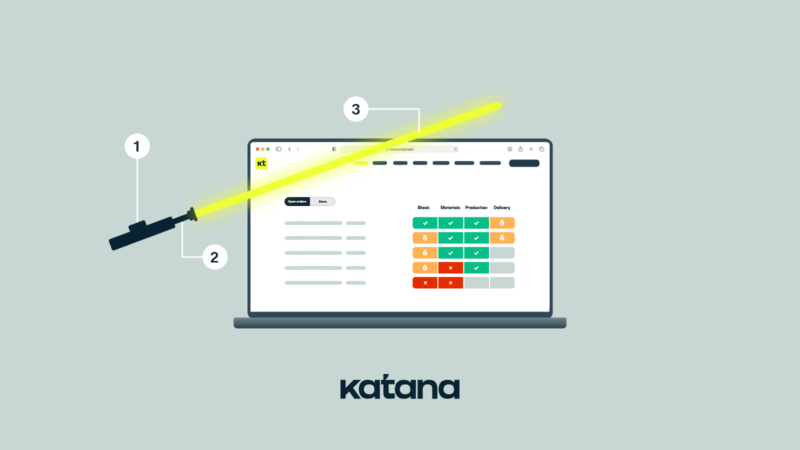 Avoid stock-outs with reorder points
Finding out you don't have the necessary raw materials or finished products to fulfill your customer's order, can cause quite a panic. Not being able to deliver an item to your client in a timely manner can quickly damage your reputation as a company.
To avoid such scenarios, it's important to know your exact inventory levels. Katana gives you a real-time overview of these and in addition, allows you to set reorder points.
As you use up your resources and items fall to the specific thresholds, Katana will highlight the items, letting you know it's time to replenish your stock.
Integrate with the best e-commerce,
accounting, reporting, and CRM
software out there
Create custom API integrations
Use Katana's open API to create custom workflows and connect to apps beyond our list of integrations with top-tier software solutions. Automate data transfers between the services you use to level up efficiency and connect Katana to the best software for your business from sales management solutions to accounting integrations. Take a look at our API documentation to learn more.
Aerospace manufacturing software FAQs