Manufacturing warehouse management software to automate your inventory
Implement Katana's warehouse management software for manufacturing businesses to simplify your inventory management and streamline your manufacturing processes.
Sort out your warehouse and get your production lines running efficiently
Keeping your warehouse organized while also making sure your manufacturing processes run optimally takes a lot of planning. Katana's purpose-built warehouse management software for manufacturing businesses equips you with the tools you need to take care of both simultaneously with minimal manual effort.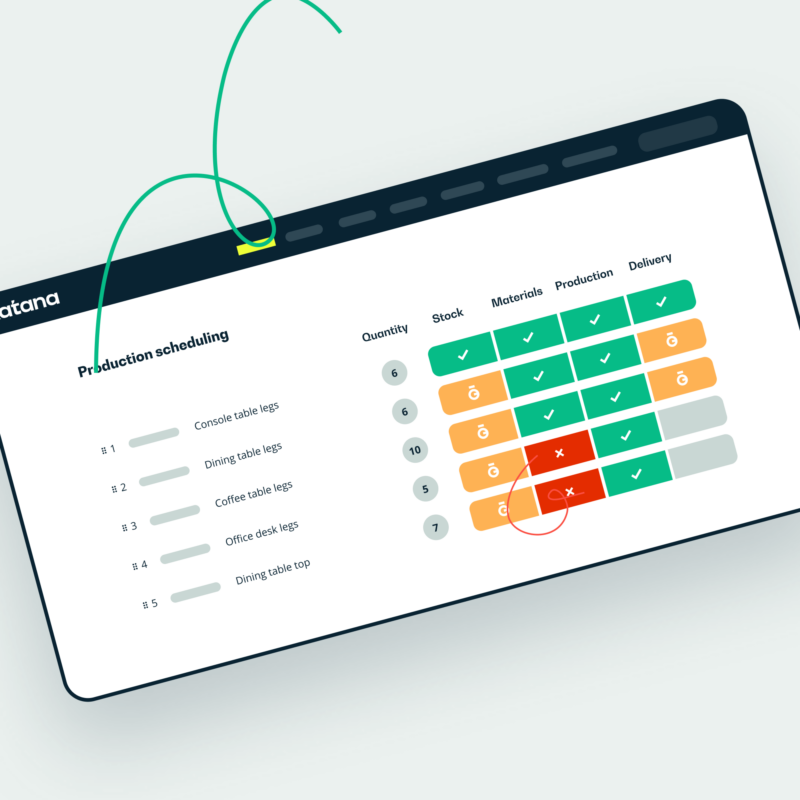 Easily track your inventory across multiple locations
As your business grows, you may find the need for more space to store your inventory. Or perhaps, some of your customers are on the other side of the planet, and it's faster and cheaper to send the goods from a closer location. When storing inventory in multiple locations, tracking all your items can become a real challenge.
With Katana, you can keep track of your entire inventory, from raw materials to finished goods, across multiple warehouses. Besides having a real-time overview of your stock levels, Katana also lets you transfer items between locations, so you always have the materials and products exactly where needed.
Katana's inventory tracking features ensure your stock levels are kept accurate in all locations, so you can focus on growing your business instead of chasing the missing stock.
Informed business decisions with accurate live data
Running your business without access to accurate information is like driving in the dark without headlights. You may eventually get to your destination, but the ride will be incredibly stressful and take a lot longer than it should.
Katana's warehouse management software for manufacturing gives you access to both historical and live data so you can predict:
Possible trends and downturns

Seasonal purchase patterns

Inventory needs

Staffing needs

Possible quality concerns

And much more
Being equipped with this information allows you to allocate your resources properly and plan ahead so that you can be prepared for the future and stay ahead of your competition.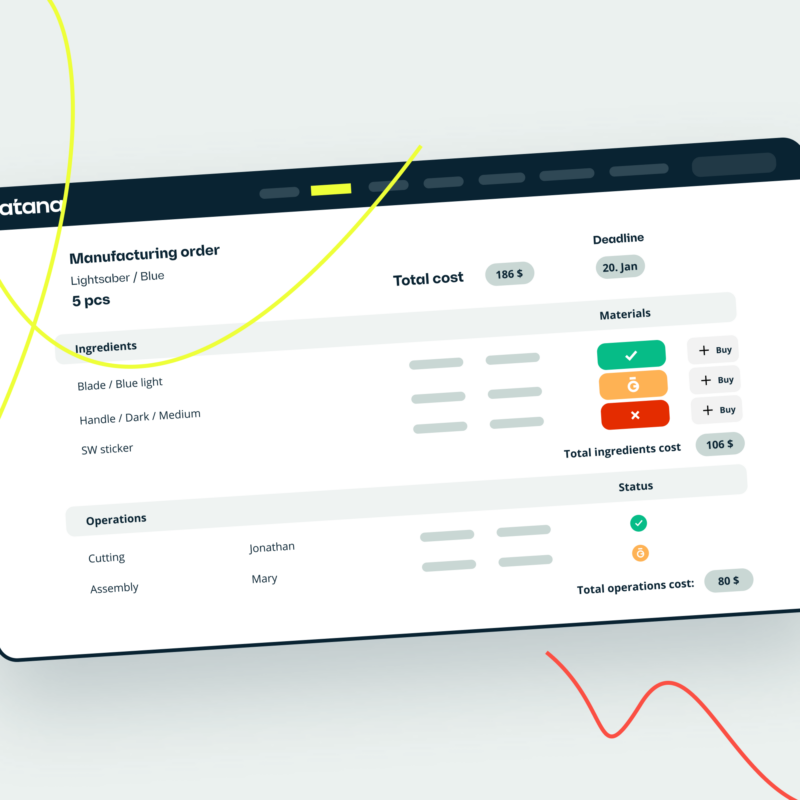 Seamless integration with the best business tools on the market
Juggling between different tools and copying information from one platform to another can be a recipe for disaster. Manual inputs are error-prone and mistakes are easily introduced.
Katana offers seamless integrations with your favorite business tools to ensure your data is synchronized across all platforms. You can easily connect with the most popular:
CRM platforms

Automation tools

E-commerce platforms

Reporting and analytics

tools

And many others
Even if you can't find the platform you're looking for from the list of supported applications, Katana has your back. Katana allows you to create custom integrations with other apps to move data between systems automatically by using its open API.
Katana integrates with your favorite tools for a smooth workflow
Native integrations, codeless templates, and fully customizable API integrations
Katana gives users access to the API, allowing you to create custom workflows and connect your business apps to manage your sales, manufacturing, and accounting on one platform. Automate data transfers between the services you use to level up efficiency. Take a look at Katana's API documentation to learn more.
We needed help with Shopify inventory management for raw materials, and Katana exceeded our expectations."
Katana integrates everything, making for effective company-wide resource planning and control."
With Katana, we are able to track products, build recipes for materials, and set reorder points for our materials as well."
It's great to be able to see where inventory faults happen and being able to fulfill orders and where the turnaround happens."
Manufacturing warehouse management software FAQs
Get a demo and discover the power of real-time insights