BigCommerce inventory management guide for manufacturers
This article will help you become a BigCommerce inventory management expert. You'll learn about BigCommerce inventory features, how to activate tracking, steps to optimize your stock management, and the best native software for managing inventory as a manufacturer.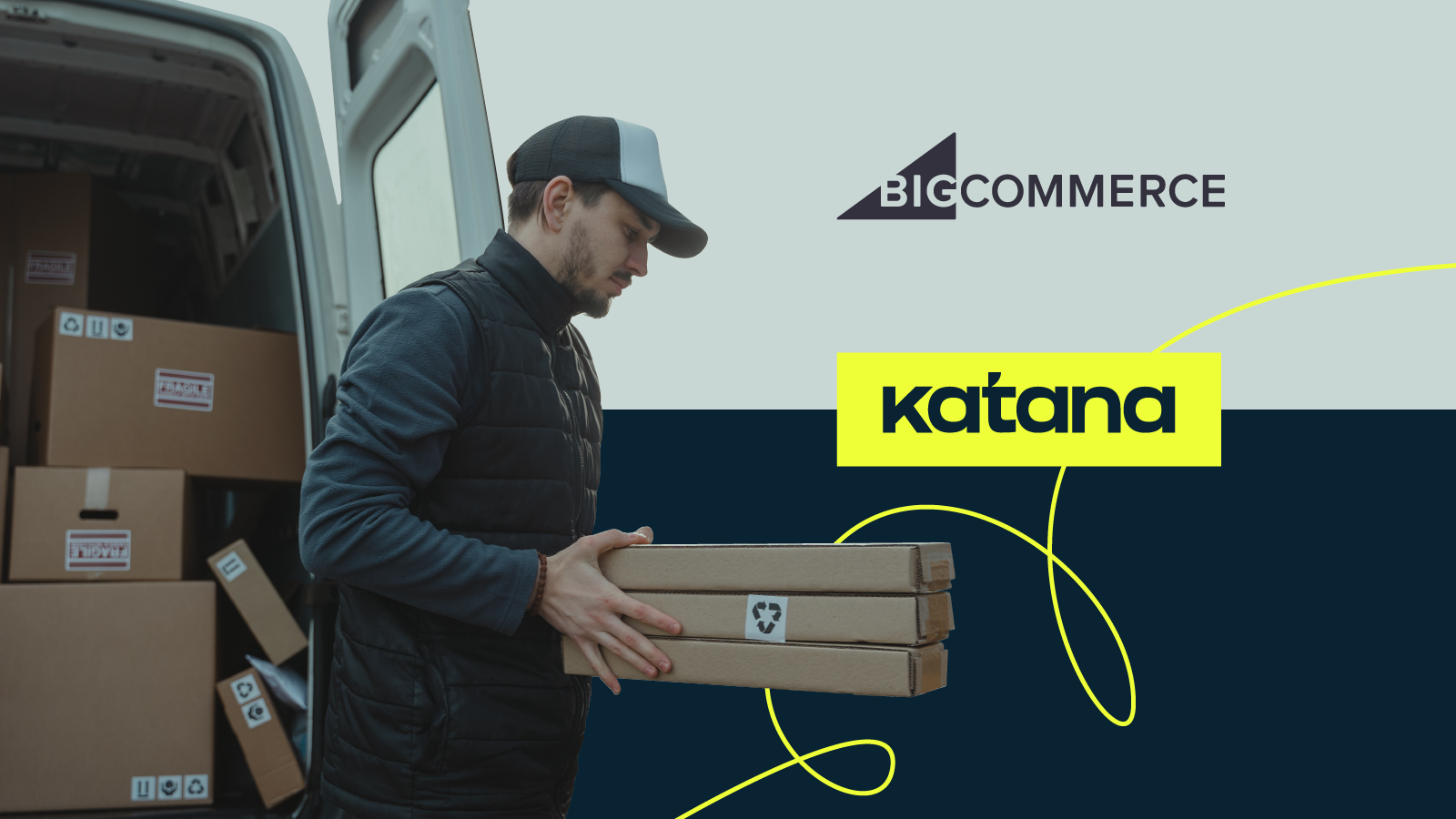 When someone in the remotest part of the world can access the internet and do their shopping, it highlights the need for businesses to have an e-commerce store.
If you're a manufacturer looking for a new e-commerce platform, this is the article for you.
Introducing the B to the C — BigCommerce for B2C sales (and other sales types). BigCommerce is a platform that will help you create an online store and manage your finished goods inventory. However, there are some limitations for manufacturers looking for tools to manage their inventory and production.
So without further ado, here's the ultimate guide for managing your BigCommerce inventory management as a manufacturer.
What is BigCommerce inventory management?
BigCommerce comes equipped with the necessary tools needed for managing inventory. From inventory tracking to set reorder points. However, the biggest downside for manufacturers is that these features are only available for monitoring finished goods inventory.  
Manufacturers need to track raw materials and work-in-progress inventories too. 
Why is BigCommerce inventory management important?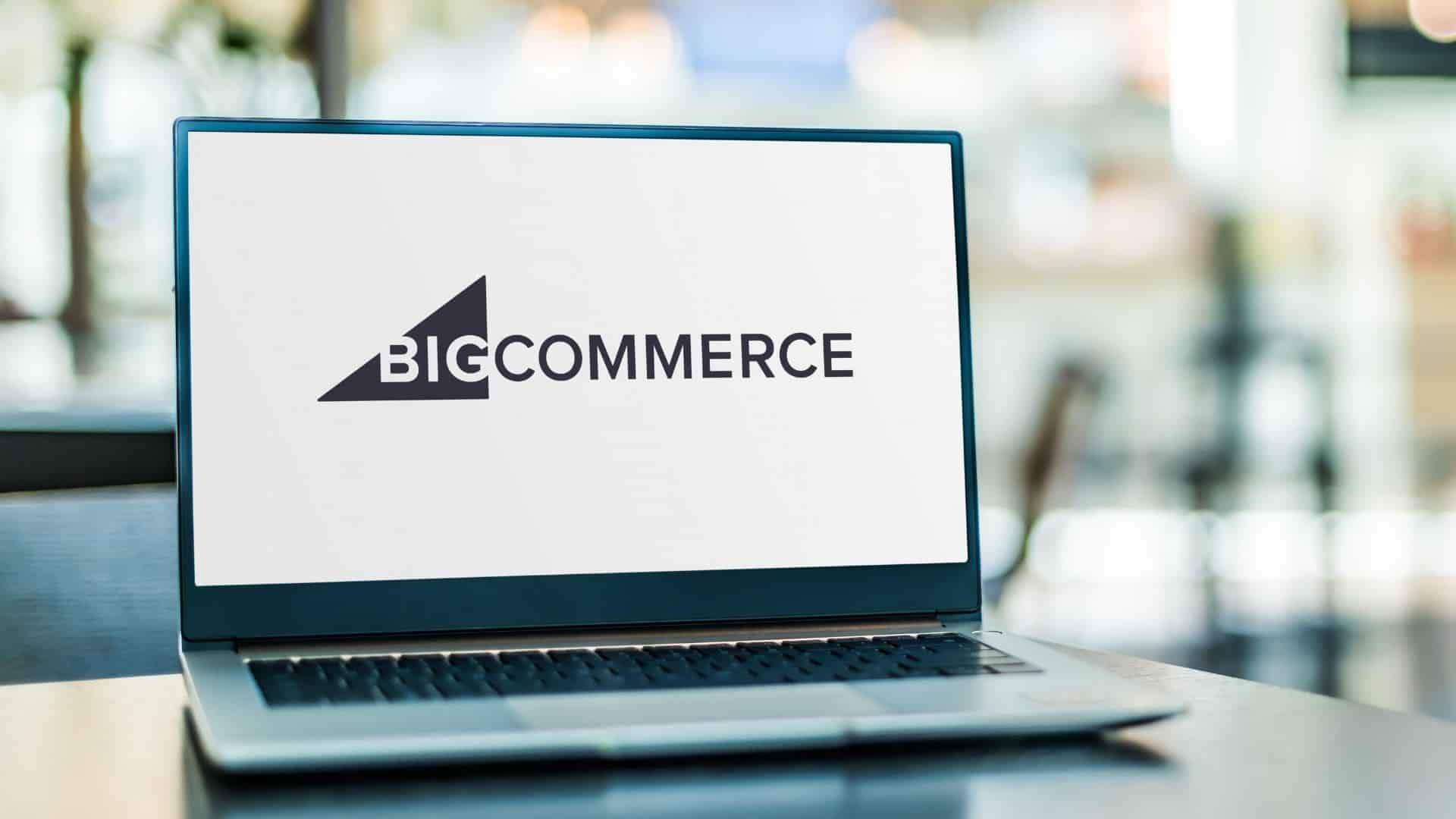 In recent years, many merchants and manufacturers have drifted to omnichannel selling.  
This needs to focus on this method of selling is because, with technological advancements, customers now expect a smooth and convenient buying process, regardless of where they are or how they're shopping. This means that manufacturers need to keep and maintain additional stock for each new platform introduced into their selling process.
According to Think with Google, research collected found that:
80% more shop visits are generated as a result of omnichannel tactics

59% of consumers said that choosing a brand or retailer is influenced by their ability to purchase on a mobile device

According to a global survey, 56% of in-store customers used their cell phones to look up products or conduct product research within the preceding week   
But even though there's a broad consensus that adopting an omnichannel sales process is essential, according to another study, only 18% of small businesses in the US use inventory management software or systems.  
Getting ahead of the curve and the competition could be as simple as adopting an omnichannel sales strategy alongside inventory management tools in your business. This is where BigCommerce inventory management comes in. Don't let the word big in the name scare you. You can manage your small business with BigCommerce or even a large enterprise. 
Its native features give users the tools to integrate their storefronts and manage their inventory, all from BigCommerce.  
However, manufacturers who need more functionality to manage production will be glad to know that BigCommerce integrates with manufacturing software.  
We'll look more into manufacturers using BigCommerce later, but for now, it's important to set up BigCommerce inventory management to:  
Improve the accuracy of your inventory tracking  

Make better data-driven decisions  

Improve the productivity of your business 
How to set-up BigCommerce inventory management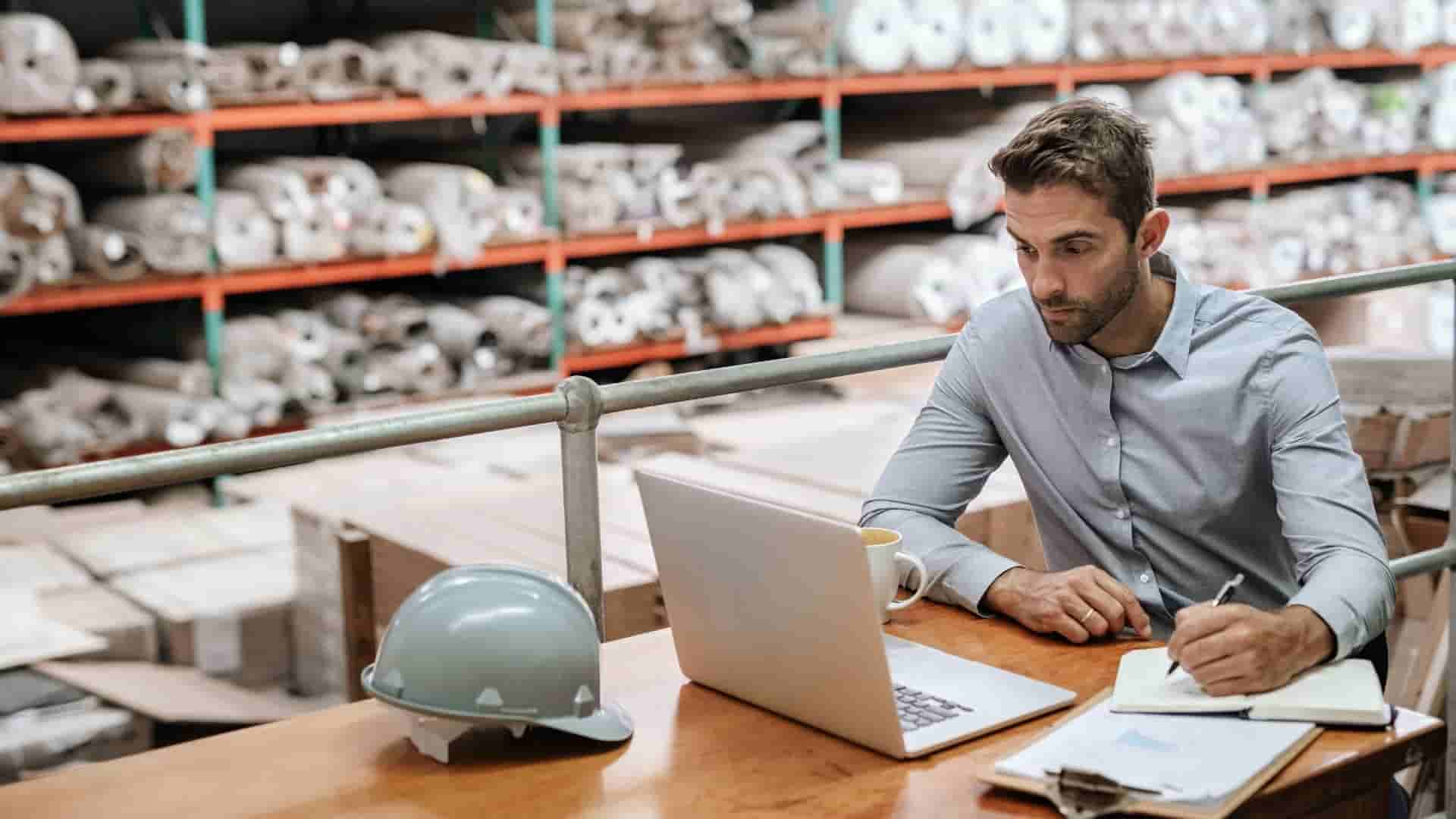 The good news — setting up inventory management in BigCommerce is straightforward. 
The bad news — you can only track finished or sellable goods. 
But, at the very least, BigCommerce is built to be as straightforward as possible when setting up your online platform. 
In this following chapter, we'll focus on adding new products and highlighting the most important features for manufacturers selling online. We will simplify the process by only showing the steps to set up inventory tracking to make it easier to understand. However, you'll quickly see how easy it is to set up your store and products as we go through. 
Adding new products for inventory tracking
You've created your store and are ready to start adding products. 
Below you can find a brief video of the process: 
To the left of the dashboard, you'll see a menu. Go ahead and select "Products" to access the inventory screen. Once here, simply go ahead and click "Add"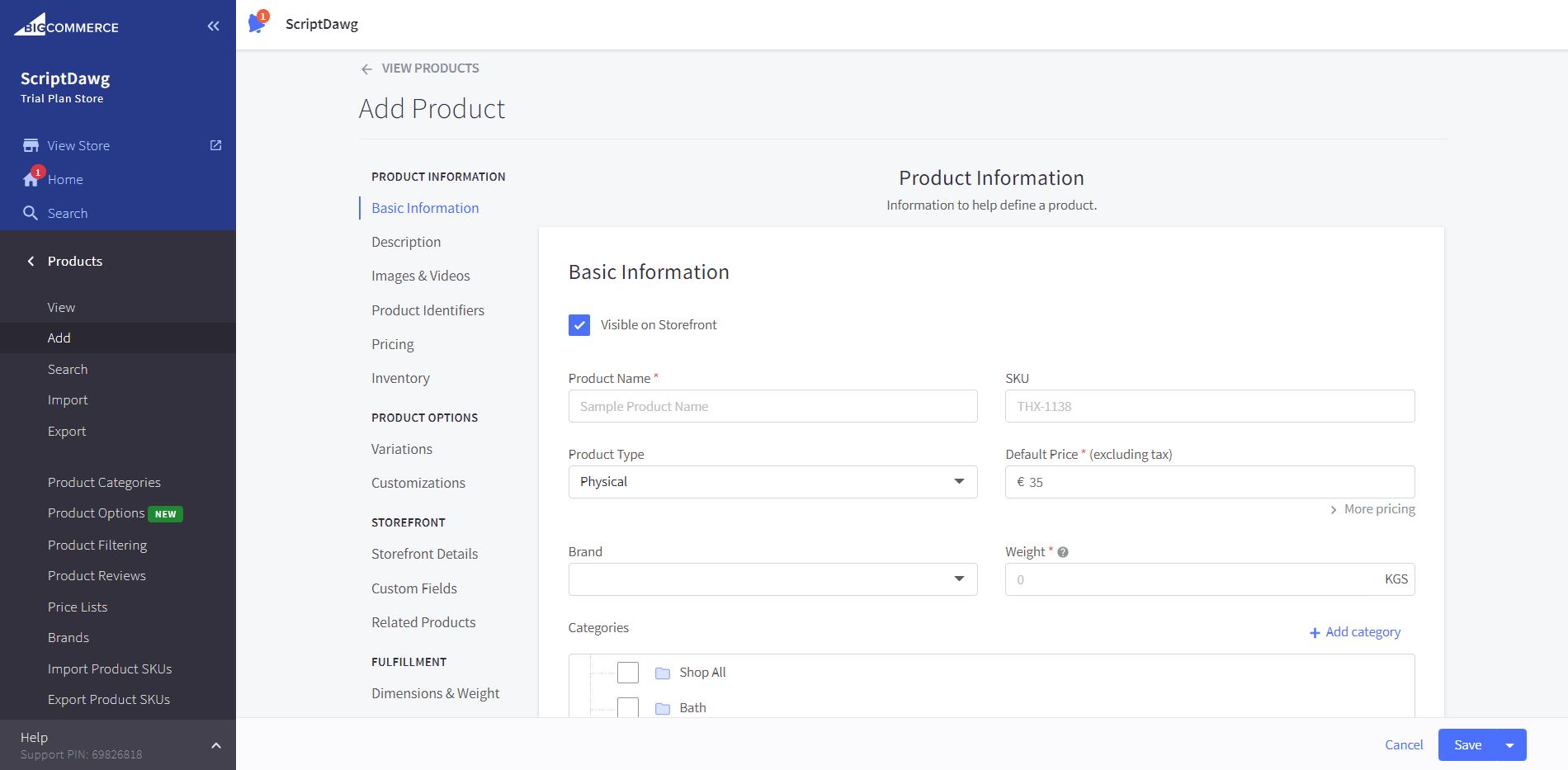 This will take you to the "Add Product" screen. You can now start adding all the relevant information. This information you can update includes: 
Product name 

SKU 

Product type — physical or digital 

Default price — excluding tax 

Brand 

Weight — for shipping purposes 

Categories for selling products — you can create new categories at this stage too 
This is the first step. Once you have finished that, you can either scroll down through the different sections or use the "Product Information" menu on the left to skip to specific sections. Each section is important, and continuing allows you to update: 
Description 

Images and videos 

Product identifies 

Taxes 

Storefront information 

Fulfillment requirement 

SEO 
However, we're going to focus on the inventory management functionalities of BigCommerce. 
So, moving on to "Inventory"  
Here you have the option to enable if you wish to start tracking these items at product or variant level — but you'll need to set up your variants if you want to track at the variant level. Either way, here you can set your current stock levels and low stock levels, aka your reorder points.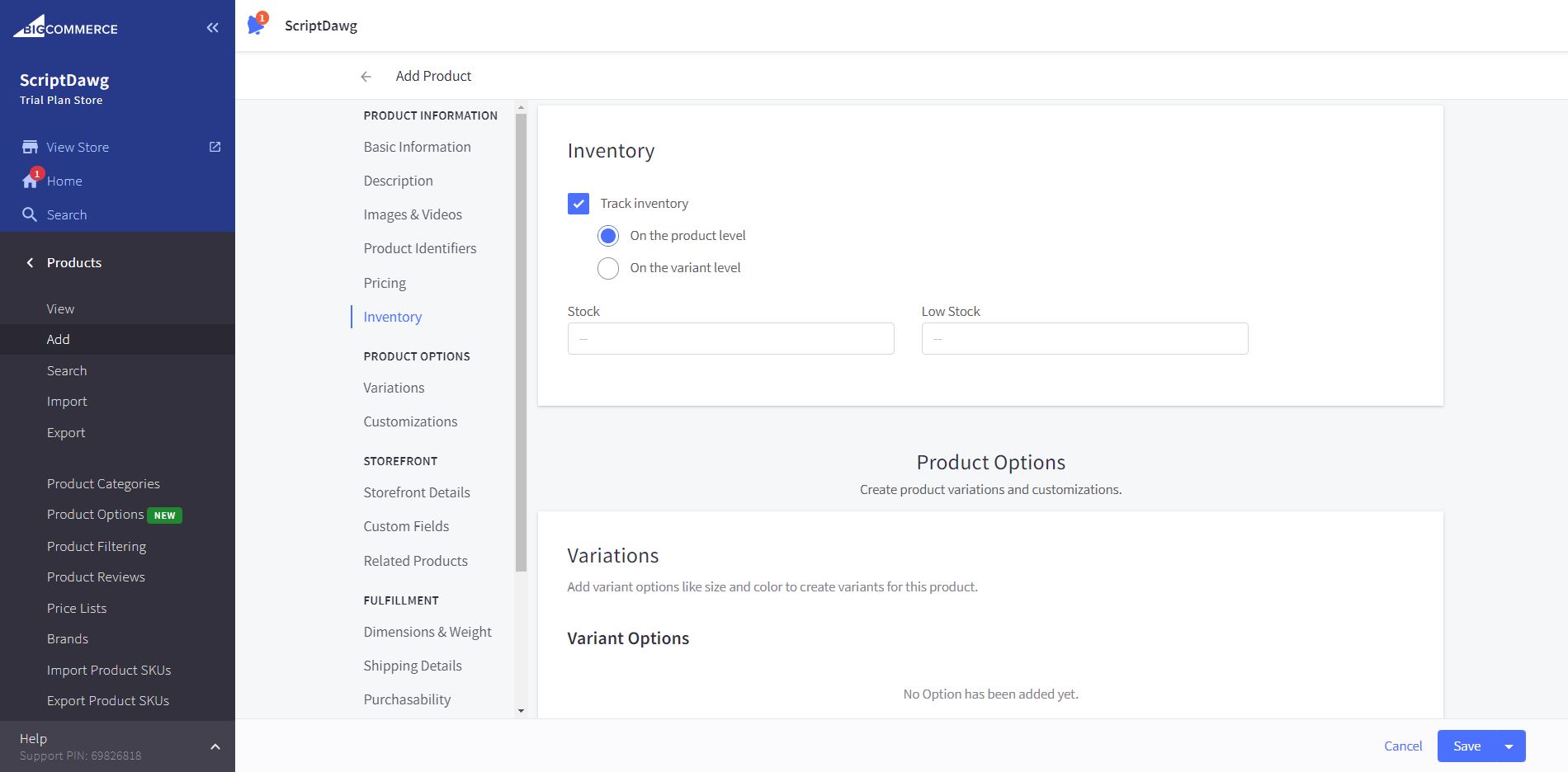 If your product comes in different variants, you can configure them in the next section called "Variations" 
Go ahead and click "Add Variant" which will open the configuration page to define your variations. Under "Name" you can select the variation — for example, color. Under "Values" you can determine the different types of that variation — like red, green, and blue. 
There is also "Type" which simply means how the variations will appear on your website. 
Once you're finished, back at "Product Options" you'll find a generated list of all your variations, and you can set individual stock levels, reorder points, and prices for each one. 
Finally, there's "Modifier" which is a fancy way of saying if you provide customizable options for customers, such as custom text printed on a product.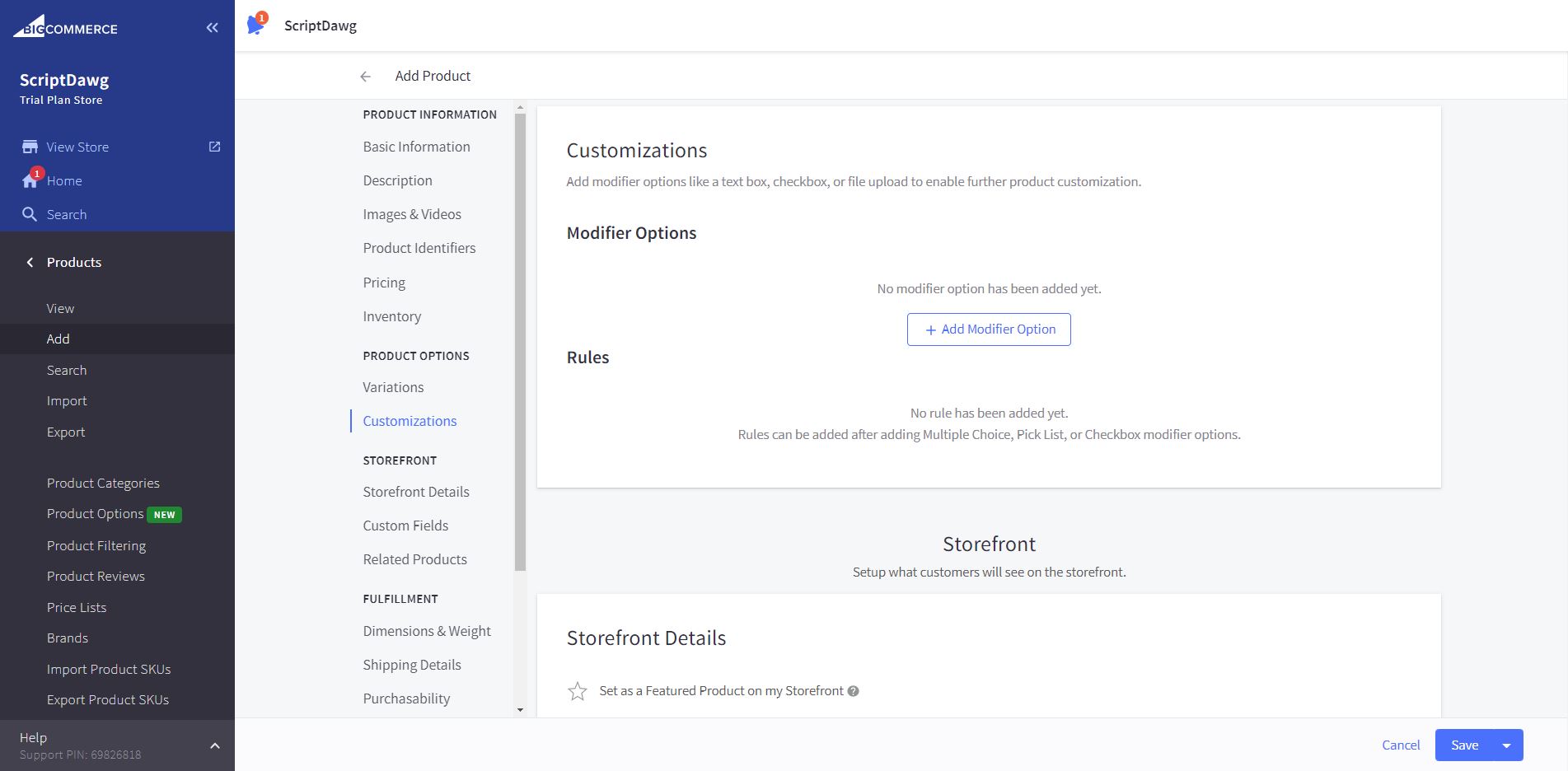 As mentioned, there's a lot more you'll need to do when setting up your products, but in a nutshell, that's how to set up BigCommerce inventory management.
What about BigCommerce Advanced Inventory?
Once you've added your products and updated inventory levels, select "Advanced Inventory" to further configure other settings.
You can hide products or redirect customers to a category page if you have stock-outs. Display stock levels beneath displayed products for customers — nothing adds incentive to purchase than reading how little stock is available. And finally, you can set up out-of-stock or low-stock notifications to be sent to a preferred email address.
6 tips to optimize your inventory management in BigCommerce
Now you know how to add your products and set up inventory tracking on your BigCommerce account. Next is understanding how to perfect your control. You can use the following steps to get started. 
1. Demand forecasting
Demand forecasting, sometimes called demand planning, analyzes previous sales to determine future selling trends.  
This will help you optimize stock levels by saving resources and avoid accumulating slow-moving inventory. This will, in turn, increase profits by only producing the products you'll sell. By doing your demand planning accurately, you can predict future revenue and get total control over your inventory. 
2. Tracking bundles
Creating bundles or inventory kitting is an excellent tactic for removing dead stock, managing deals, and organizing inventory.  
However, as you'll be more than likely selling the same products individually and in bundles, it's essential to have a means of accurately tracking inventory counts across all iterations of the product. The worst thing that can happen is running out of inventory but still having bundles available. Not properly tracking bundles will lead to order cancellations and harm your reputation with customers.  
Want to learn how to track bundles? Read our article Kitting out your online store with product bundles of joy and start driving more sales to your BigCommerce store. 
3. Follow the 80/20 rule for your products
The 80/20 rule can be applied to every aspect of life and business. Understanding this will help you identify the 20% of your products that account for most of your sales and better target new visitors to your store with these products. Taking this approach will improve your site's customer satisfaction and user experience.  
4. Determine product lifecycle
Product lifecycle management (PLM) is the process of understanding how to handle products as they move through different stages of a product's life: 
Development 

Introduction 

Growth 

Stability 

Decline 
5. Don't hate, automate
Once you have focused on the previous points, now is the time to make your life and customers' lives easier with automation.  
For example, building or finding tools that can automate your inventory management will speed up the process and reduce the potential of making mistakes. Automating different functions in your workflow will free up resources and help better understand real-time inventory movements. What's great about BigCommerce is its integration with many different tools to synchronize information traveling between manufacturing, sales, and accounting, like QuickBooks Online. 
6. Centralize sales, inventory, and manufacturing with 3rd party software
Following on from the last point, connecting your different tools to make a centralized point of truth to monitor your entire business.  
This level of control over your business is important, especially for manufacturers, as they need to plan production, manage different types of inventories, and other important aspects of running a business. Better still, you can integrate BigCommerce to your other sales channels to implement an omnichannel selling approach into your sales strategy.  
7 best BigCommerce inventory management integrations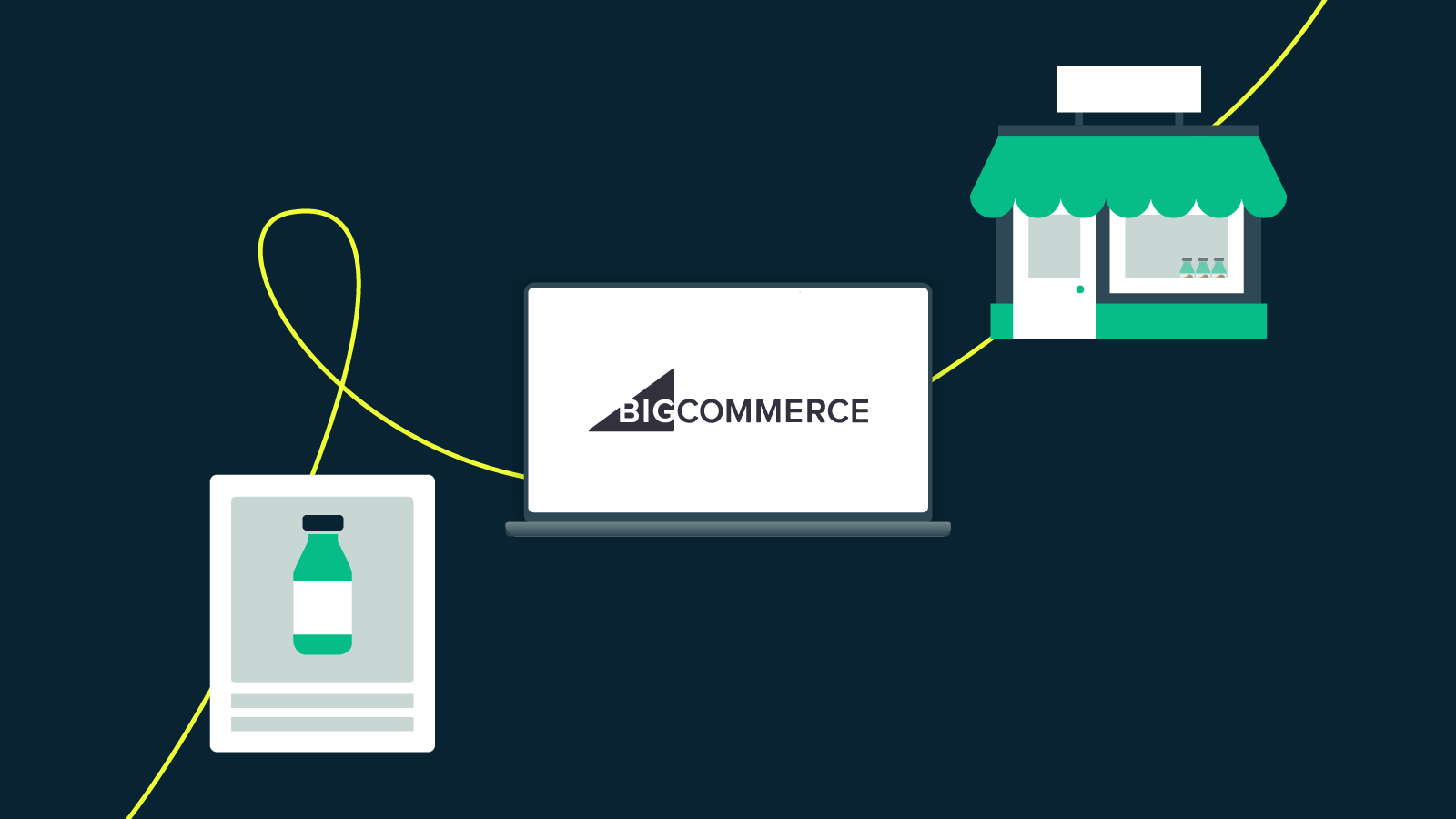 Many manufacturers turn to BigCommerce inventory management integrations to help them stay keep up with inventory movements. Here are 7 of the best BigCommerce inventory integrations to get you started on this journey to finding your solution. 
1. Katana Cloud Manufacturing
Price: Starts at $99.00 per month  
Free trial: 14-days  


Katana is the ultimate BigCommerce inventory management solution for manufacturers. It gives users a real-time overview of their entire workflow, from managing deliveries and tracking items along production lines to customers — never lose track of your inventory again.
Katana also comes equipped with:  
Multichannel sales and manufacturing management 

Barcode scanning  

SKU management  

Batch tracking 

Multilocation 

Native integrations with other e-commerce and accounting tools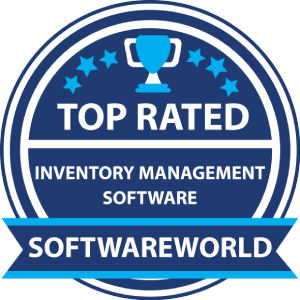 Pros
In a short amount of time, set up an inventory management system designed specifically for manufacturers. 

Utilize the detailed bill of materials and product recipes to manage items and their variations.   

Complete product and material traceability with batch-tracking characteristics.   
Cons
As mentioned, Katana is designed for manufacturers, so it might not be ideal for drop shippers (however, we do have the functionality to help you manage 

contract manufacturing

). 

Katana is primarily built to support SMB manufacturers. 
2. Brightpearl
Price: Quotation  
Free trial: Free demo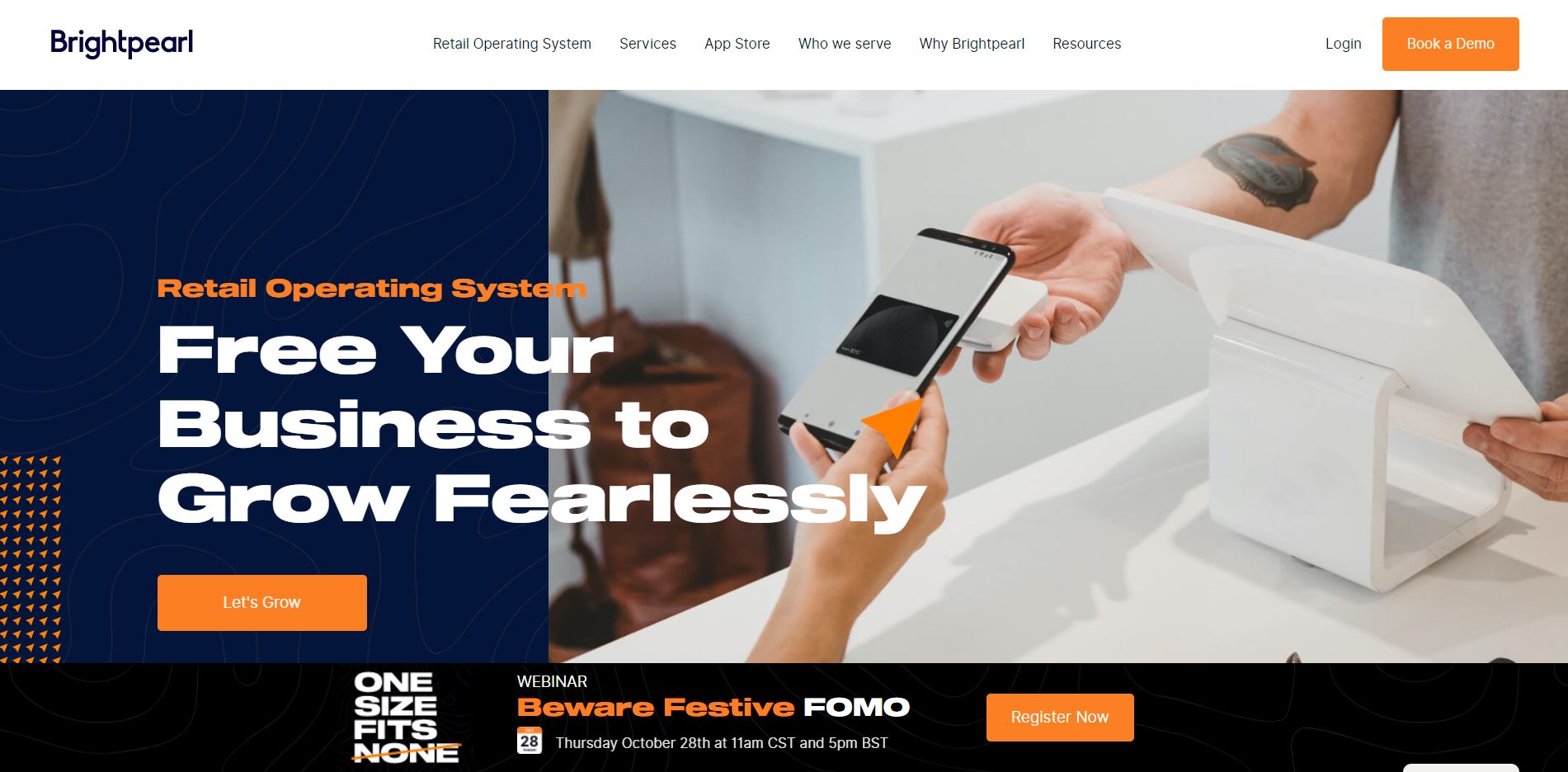 All-in-one order and BigCommerce inventory management solution, Brightpearl — built to support retail operations. 
Pros
It makes it simpler for businesses to manage their inventory and orders by integrating with various e-commerce systems, such as Shopify, Magento, and WooCommerce. 

Automates various tasks, such as inventory management, order processing, and accounting, reducing the workload on employees and increasing efficiency. 

Real-time data on sales, inventory levels, and customer behavior allows businesses to make informed decisions. 

Supports multiple currencies and languages, making it easy for businesses to operate globally. 

Customer support, including phone, email, and chat support, as well as an extensive knowledge base. 
Cons
Brightpearl can be expensive, particularly for small businesses with limited budgets. 

Complex software that requires some technical expertise to set up and use effectively. 

Brightpearl's customization options are limited, which may not be suitable for businesses with unique requirements. 

Although Brightpearl integrates with various e-commerce platforms, it may not integrate with all the tools a business uses, limiting its functionality. 

A steep learning curve can be challenging for businesses with limited resources or technical expertise. 
3. Linnworks
Price: Contact for pricing 
Free trial: Free 30-minute demo 
Inventory management software BigCommerce Linnworks, a cloud-based solution, provides users with tools for multichannel selling. 
Pros
It can be used by businesses of any size, from small startups to large enterprises.  

Provides a range of features to help streamline the 

order management process

, such as inventory optimization, multichannel integrations, order processing, and more.

Easy to use and intuitive — users don't need technical expertise or prior experience working with software solutions for managing orders. 
Cons
Initial setup may take time depending on the number of channels being integrated — thus businesses should factor this into their implementation plan.  

The pricing structure of Linnworks can be complex and costly for businesses with a high number of orders.  

Some users have reported issues with performance lag and customer service responsiveness — although these issues appear to have been addressed by Linnworks in recent updates, it's still something to bear in mind when evaluating the pros and cons of using the platform. 
Pro tip: Are you a BigCommerce manufacturer needing more oomph from your software? Many turn to BigCommerce order management software integrations to help them take their sales, production, and accounting to the next level.  
4. Order Desk
Price: Starting at $12 per month  
Free trial: 30-day free trial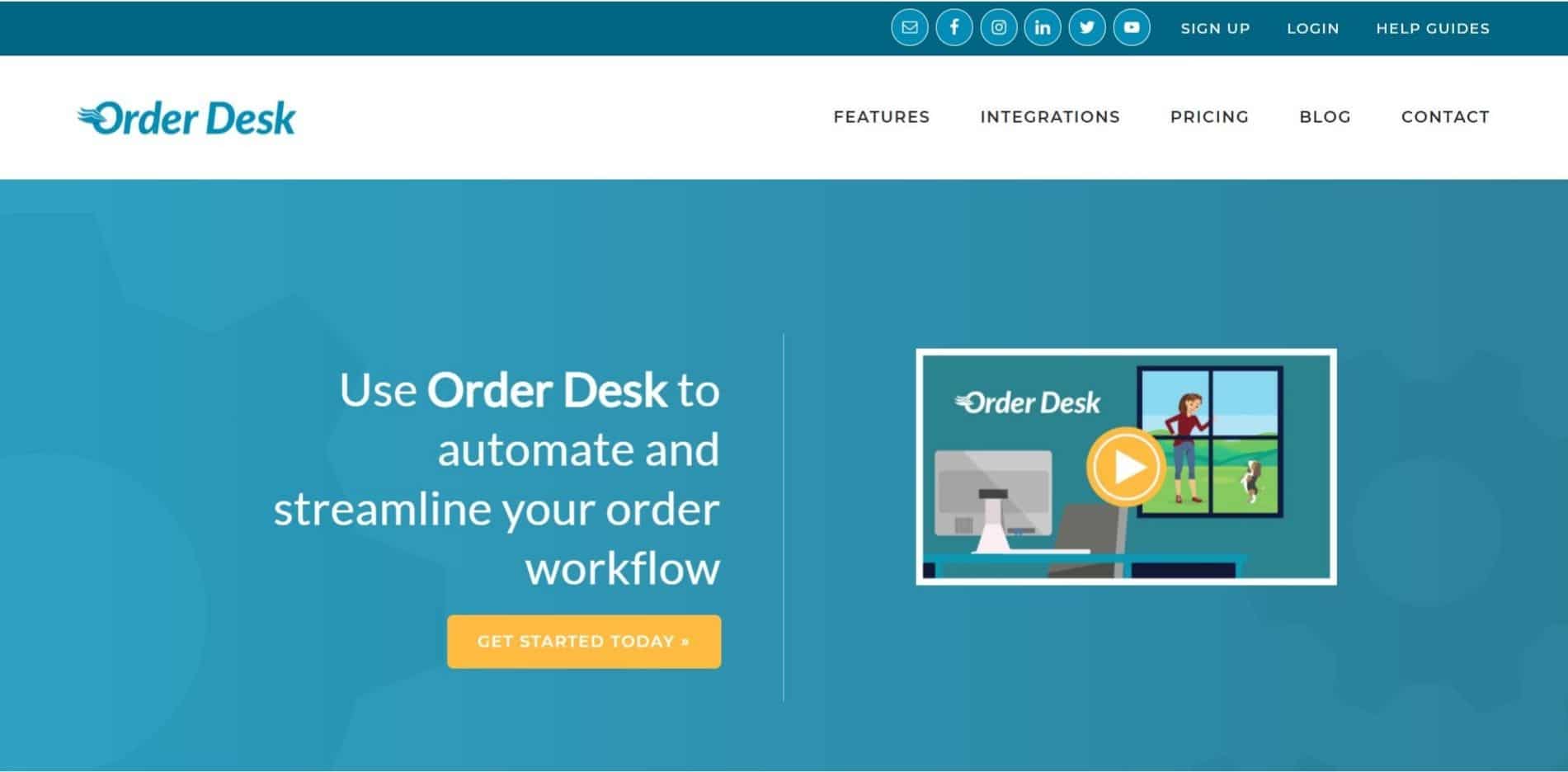 Software for BigCommerce inventory tracking with Order Desk is one of the cheapest options that allow you to pick, choose, and pay for the features you need.  
Pros
Order Desk allows orders to be automatically processed and routed with minimal user input.  

Automates a lot of the time-consuming procedures involved in running an online store. 

All of your orders are accurately tracked from start to finish.  

Helps merchants keep track of their sales data easily. Comprehensive reports are available to view in real time, allowing you to make informed decisions quickly and accurately. 
Cons
Setting up Order Desk can be quite costly, depending on your required features. For simple stores, this may not be an issue. However, the costs can add up quickly for more complex stores requiring advanced features. 

It can be difficult for users without extensive technical knowledge to set up or use.  

Order Desk offers limited support services, so it can be difficult to get answers quickly if you run into any issues or need help configuring settings. 
5. Extensiv
Price: Starting at $1,000 per month  
Free trial: No, but a demo is available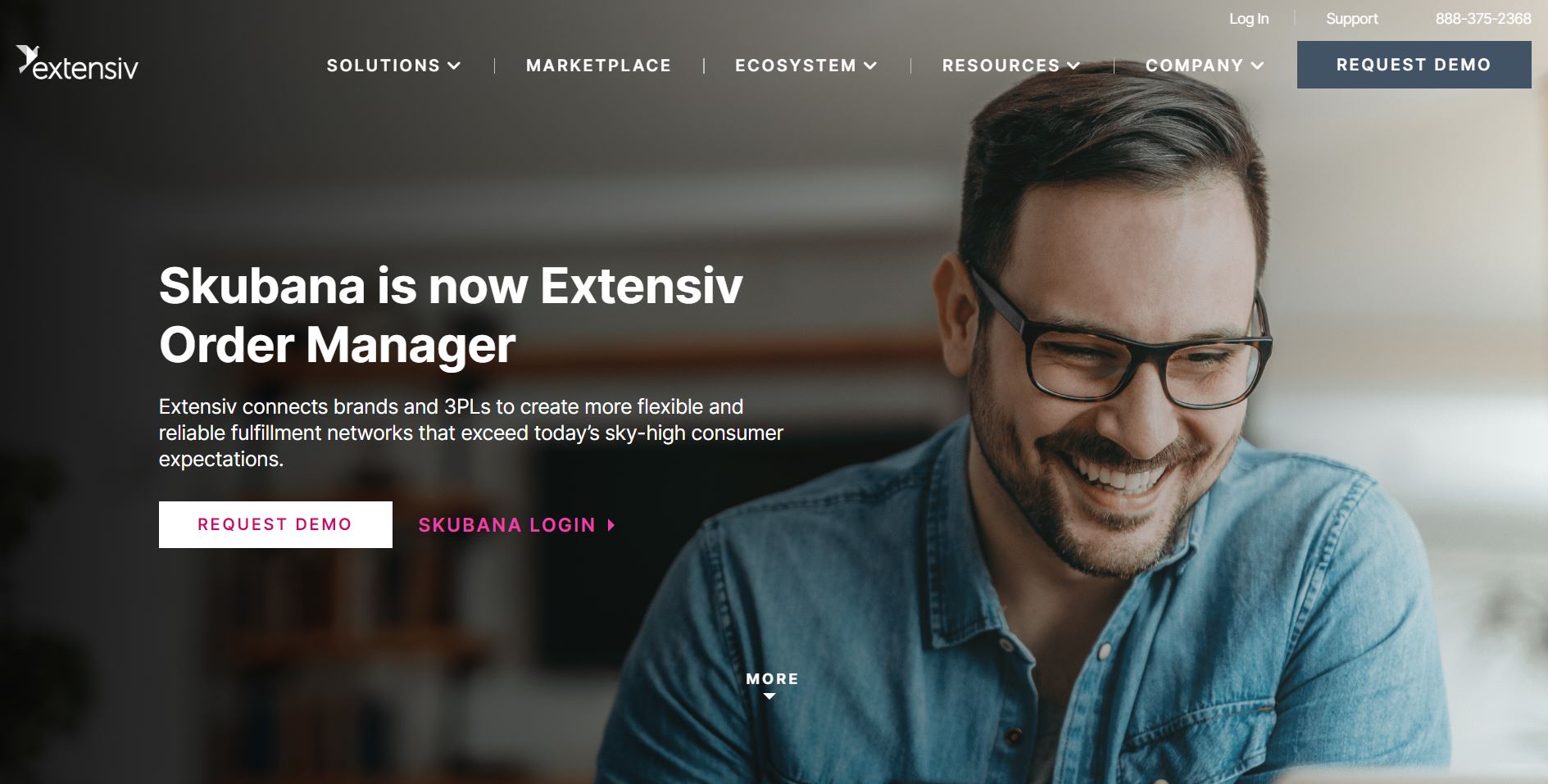 BigCommerce inventory management software Extensiv is a multi-sales channel and warehouse cloud-based solution. 
Pros
Extensiv allows for real-time collaboration between team members, allowing them to work on projects together in one place.  

It provides an easy way for teams to track task progress and stay up-to-date on deadlines.  

The user interface is intuitive and easy to use, so it's quick and easy to start with the platform.  

It integrates well with other popular tools such as Slack, JIRA, Trello, and more.  

The software offers a wide range of features to meet the project management needs of all teams.  
Cons
Some users may find that the interface is not as customizable as other tools on the market.  

It can be difficult for teams with members that prefer different platforms to collaborate effectively.  

While Extensiv does offer a free version, its premium plans are relatively expensive compared to some competitors.  
6. Pulse Commerce
Price: starting at $2,500 per month 
Free trial: Personalized demo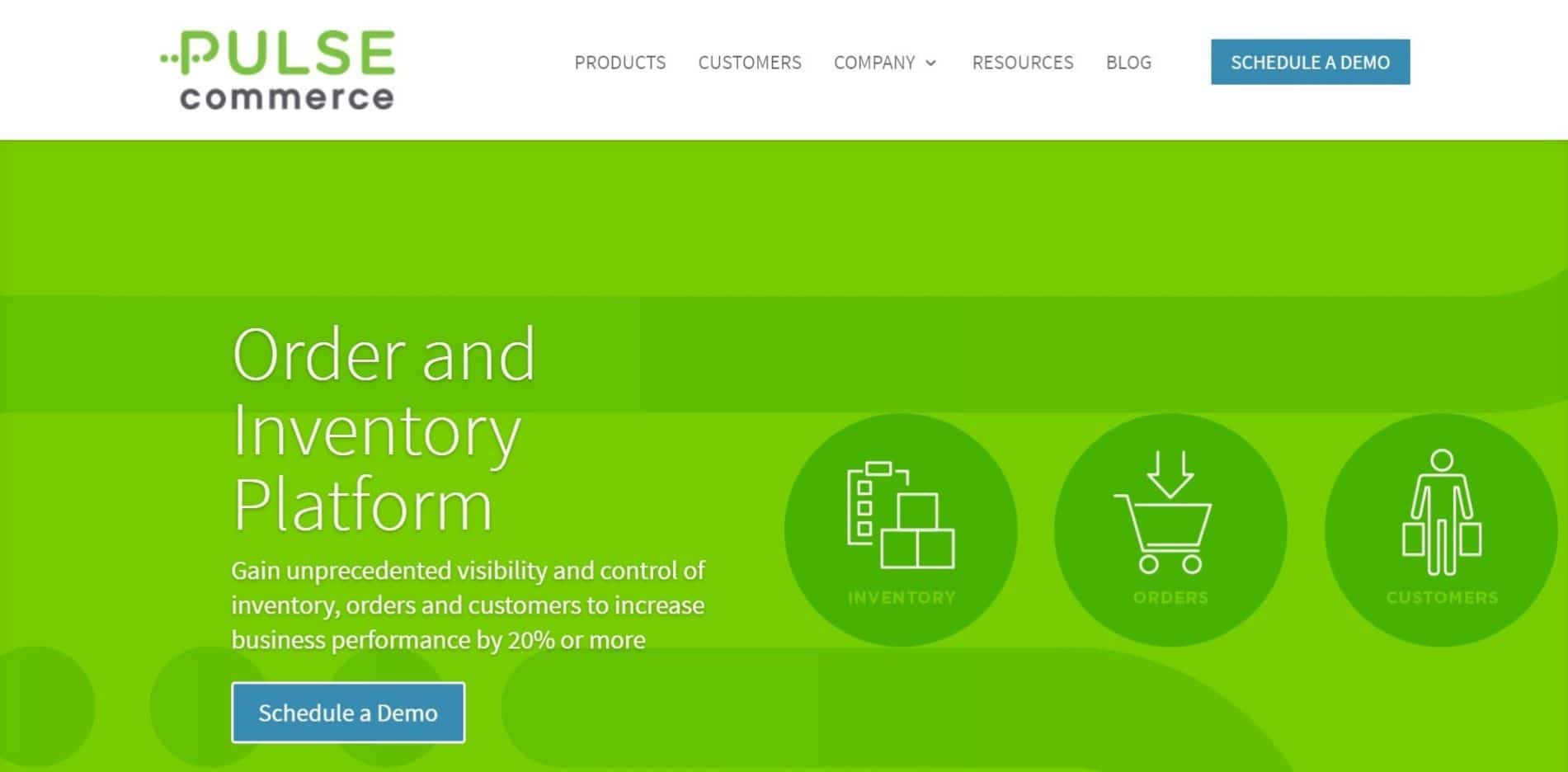 BigCommerce inventory management Pulse Commerce is a cloud-based order and inventory platform. 
Pros
Pulse Commerce offers powerful and easy-to-use inventory management capabilities. 

Allows for the creation of engaging websites with a user-friendly interface.  

Merchants can easily accept payments from major credit cards, PayPal, and other online payment methods.  

It offers various scalability solutions, such as cloud hosting and multi-channel support, allowing merchants to scale their operations seamlessly. 
Cons
While there are no monthly fees for using the Pulse Commerce platform, merchants need to pay transaction fees when accepting payments or making refunds.  

Its design and features are limited and cannot be customized to fit specific needs — an issue if merchants want more control over their online stores' look, feel, and functionality. 

International merchants may have difficulty setting up an account with the platform. 

Pulse Commerce lacks in terms of customer service and technical assistance. 
7. SKULabs
Price: Starting at $499.00 per month  
Free trial: No free trial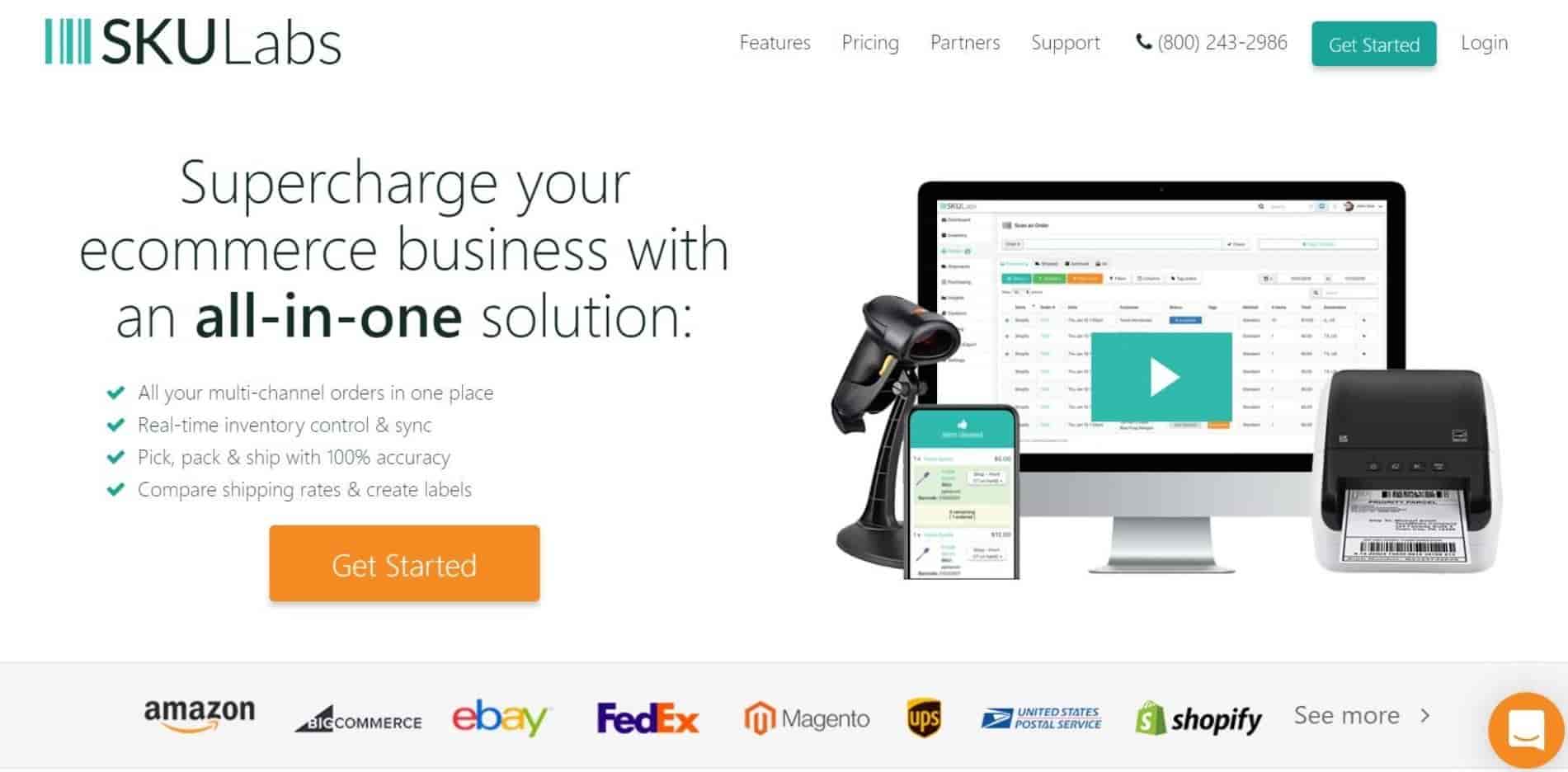 Last and not least of the BigCommerce inventory management solutions — SKULabs helps users manage their orders, shipments, and inventory all from the cloud. 
Pros
Easily manage your inventory with the streamlined user interface in real time. 

Automatically track sales trends with data analytics tools. 

Streamline customer relationships through CRM automation. 

Streamline ordering processes with integrated supplier ordering without leaving the platform. 

Use barcode scanning technologies to identify things fast and precisely.  
Cons
The user interface can be difficult for those unfamiliar with it — although there are tutorials available, learning how to use the system may take some time. 

The cost can be prohibitive for some smaller businesses, as it requires a monthly subscription fee. 

There are limitations on what features are available in the free version of the software. 

The platform is still relatively new and may not have all the features or capabilities that larger businesses need yet. 
Managing your BigCommerce and manufacturing together with Katana
As mentioned throughout the article, BigCommerce is great if you're looking to get started or upgrade your e-commerce sales fulfillment. 
But, manufacturers need a little more oomph with the inventory management features as tracking different inventory types is essential — possibly even a legal requirement for perishable inventory industries. That's why many BigCommerce manufacturers turn to third-party integrations to manage their sales and manufacturing side-by-side. So, with so many tools to help you achieve this, where do you even begin to look? 
Introducing Katana + BigCommerce integration. 
Katana gives thousands of manufacturers a live look at their business with visual, intuitive, easy-to-use manufacturing software. 
The Katana integration with BigCommerce simplifies your order fulfillment, inventory management, and manufacturing control in just a matter of minutes, saving you hundreds of hours of manual work in the long run. Connect BigCommerce + Katana with ease by importing products, customers, and sales orders information to Katana. Then, any future orders generated in BigCommerce will automatically appear in Katana too. 
Any new information (for example, products, customer details, or sales orders) created in BigCommerce is automatically generated in Katana, giving you a centralized point to manage your entire workflow process, from manufacturing to sales. 
Optimize your BigCommerce inventory management.  
Centralize your entire workflow from sales to manufacturing, and supply chain management. Try out Katana + BigCommerce for free. Sign up for a 14-day free trial — No credit card required.  
Taking your BigCommerce inventory management to the next level
And there you have it — Now you know how to set up the inventory tracking features in BigCommerce.  
The next step is to harmonize your sales and manufacturing processes too. Katana Cloud Manufacturing is a BigCommerce ERP integration that empowers e-commerce merchants to take control of their manufacturing, inventory, and sales.
Try the 14-day free trial, select settings, and integrate your BigCommerce to see how easy it is to optimize your entire business.  
And until next time, happy manufacturing.  
Move your inventory to the cloud