Packaging ideas for handmade items
Using unique packaging is a great way to enhance the product experience for your customers. Here we give you some of our own packaging ideas for handmade items.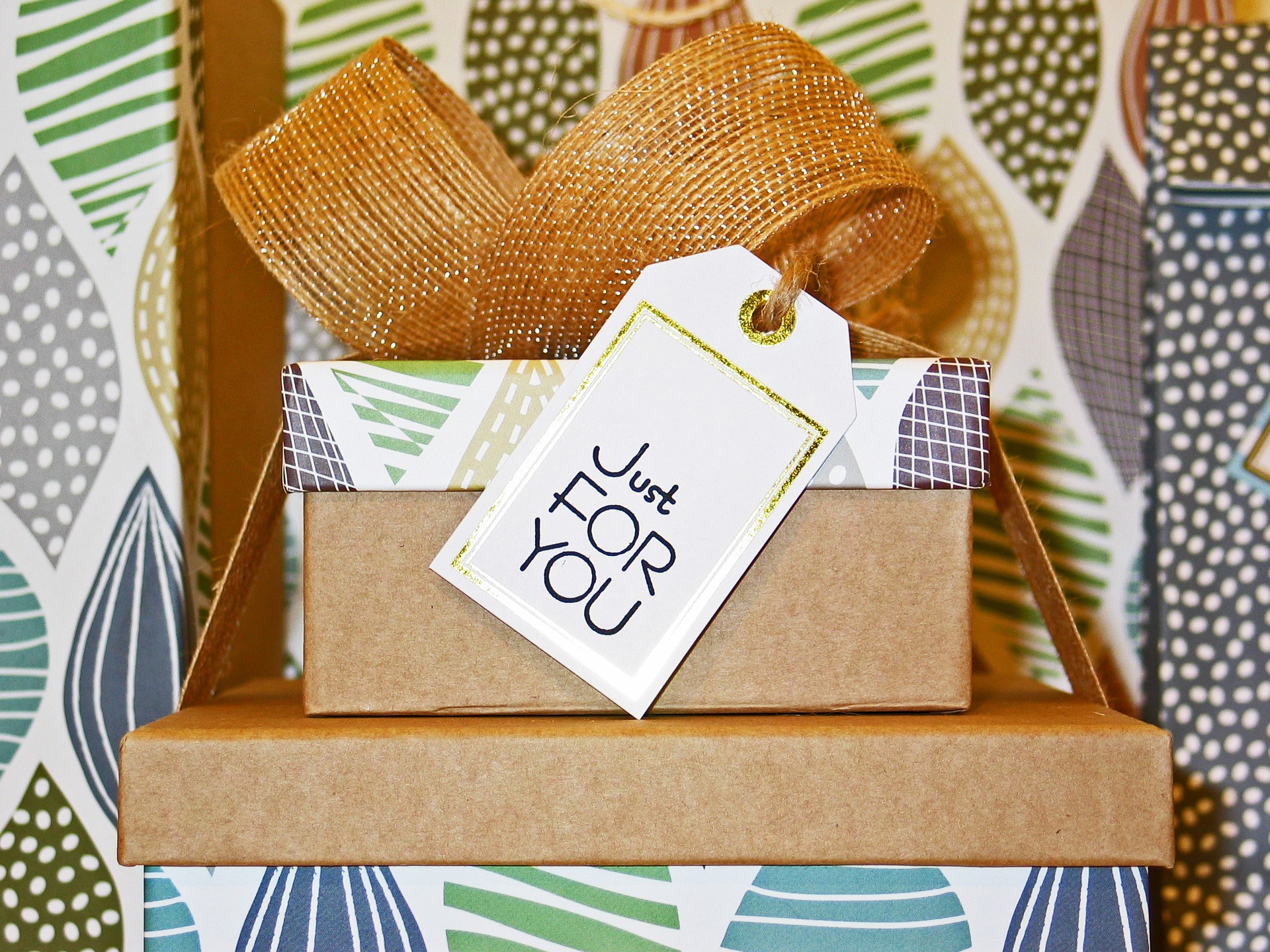 Thanks to the popularity of e-commerce platforms like Etsy, Shopify and Folksy, the market for handmade items is booming.
It welcomes people with all kinds of experience and attracts customers looking for diverse products.
So, let's dig deeper!
Which factor fostered the growth of handmade items as a growing part of commerce worldwide?
What turned individual craft skills into viable business opportunities?
And what kind of packaging ideas for handmade items work best?
Personalization. This is the key.
Nowadays, consumers like to feel special. Every item ordered online should be an experience. The value of a product is no longer its durability or usefulness – it's everything around it too.
Such expectation became common thanks to the big fish in the pond. Apple has built its success on approaching a consumer as an individual and by understanding their needs, they began crafting the product.
"Personalization goes beyond brand awareness, and organizations should think deeply about how they approach persona marketing. Segmentation is a good start, but it's not enough. Build a language of loyalty with your customers based on understanding individual personas, subpersonas and multipersonas." – Andy Betts, martechtoday.com
The fact that the company grew into one of the most influential brands globally is a different story. Despite that, it still remains a benchmark for turning a customer into a loyal customer, thanks to understanding their needs.
"For consumer brands the biggest takeaway could be that Apple's latest innovations dramatically improve the degree of personalization that can be embedded in products." – Kevin O'Marah, forbes.com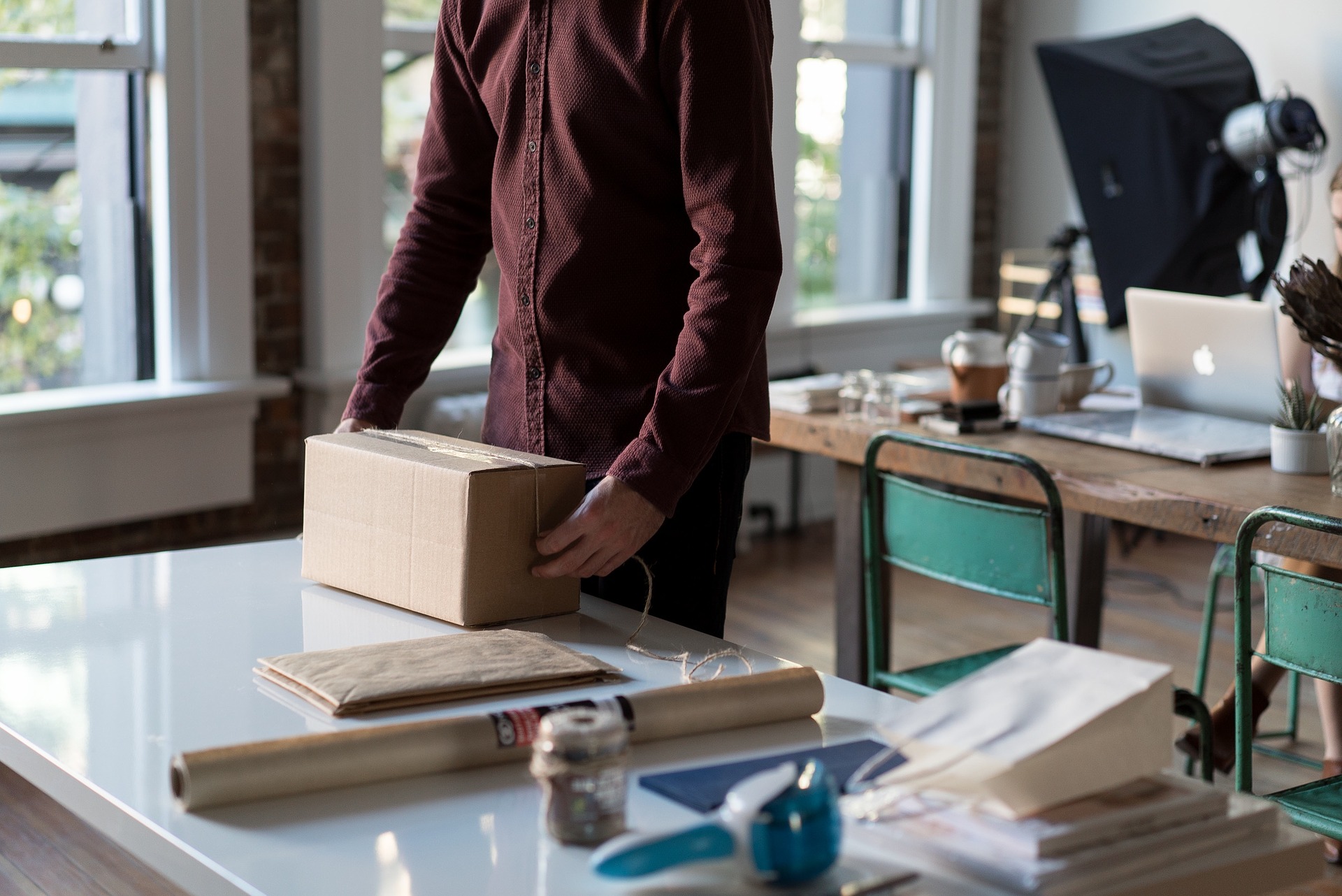 The development of e-commerce allowed solopreneurs and talented people to gain tiny market shares for themselves.
After years of cementing an image of a global village, a substantial part of the business worldwide is shifting towards all-crafty, all-individual and all-local. Furthermore, finding out how to start a craft business became easier than ever before.
If it's easy, why not give it a try?
Handmade Means Minimal and Unique
In other words, E-commerce has opened the doors for entrepreneurs to thrive.
"E-commerce gives makers more reach, and apps help keep their businesses running more efficiently, letting them focus on what they do best: their craft." – via Shopify
Designers, artists and all the people, who refused to work "for somebody else", found their safe haven in the form of handmade items and easy-to-establish e-commerce brands. Their products are a perfect example of personalization at work.
Personalizing your products doesn't end with the item itself. A concept of an extended product indicates that packaging, the right advertising channels, the brand's vision – they all constitute parts of the whole offer.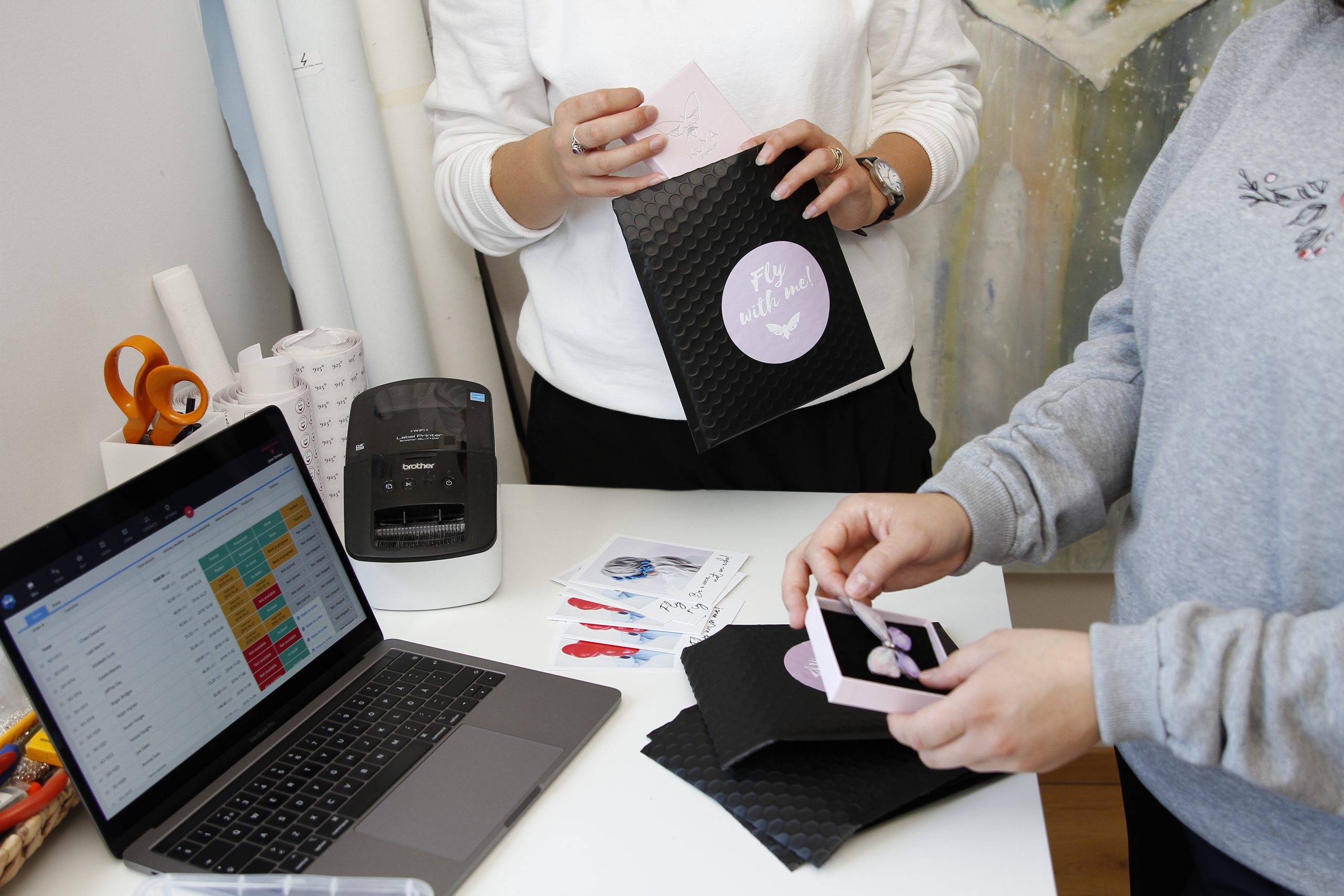 Small Brands: Packaging Ideas for Handmade Items
Do you need an unprecedented idea to start a business of your own?
No. In fact, it's your ability to remain agile and juggle your resources that matters the most.
Smart Manufacturing Software for example has given businesses the tools to manage their resources and integrate it with their e-commerce of choice, so that they can compete with big brands.
So, even though there are hundreds of clothing or cosmetic brands, new ones just keep on coming. People are converting their hobbies that make money to viable businesses at ridiculous rates.
But why does this keep happening?
Small businesses cater to a relatively small group of customers with specific preferences.
One customer will prefer the jewelry made by Anne from London, whilst the other becomes a fan of Nicole from Paris.
Customers are just getting more and more particular, so there's always room for more unique handmade items.
Here's another important matter:
The basics of economics suggest that every business should seek expansion because costs decrease as the business expands, right?
However, that's not the case for handmade items producers. Just as the e-commerce industry has expanded, so did all of the products that foster its growth.
The owners of brands that sell handmade items have supplementary products and software to make their life easier. This means they don't need to focus on expanding their business to cut costs and can instead focus on areas such as inventory control.
Packaging solutions are one of the areas where you – as a business owner – can find your perfectly crafted solution.
Let's dive into some packaging ideas for handmade items and see what options are out there.
Rustic, Eco Boxes
Rustic style means that the design is inspired by wood pieces and their organic warmth.
They are most likely made from corrugated cardboard and – if kept in a minimalist way – include a black or white imprint.
It's a very popular solution among small companies.
An artist from the UK and the brand owner of Upcycle With Jing, uses small kraft boxes to ship her handmade jewelry pieces.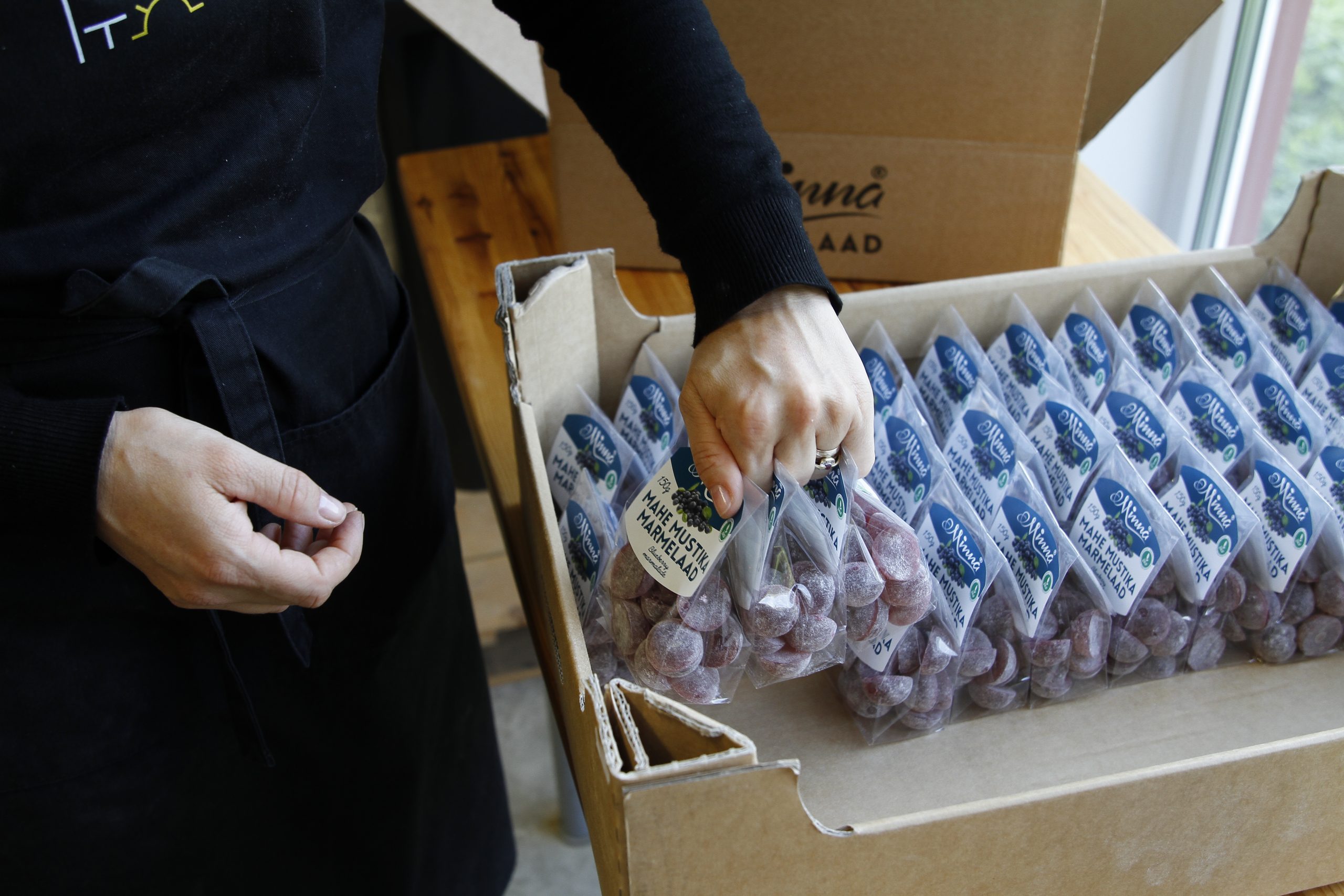 Here's a pretty kraft box made over at Upcycle With Jing to give you inspiration for packaging ideas.
A similar idea is used by a Polish producer of craft candles, Biotika. The small retail shop uses all kinds of rustic elements in the interior design and the tiny carton packaging fits the brand vision perfectly.
With a logo stamp on top of each box, Biotika assures its branding to works smoothly across the entire packaging set.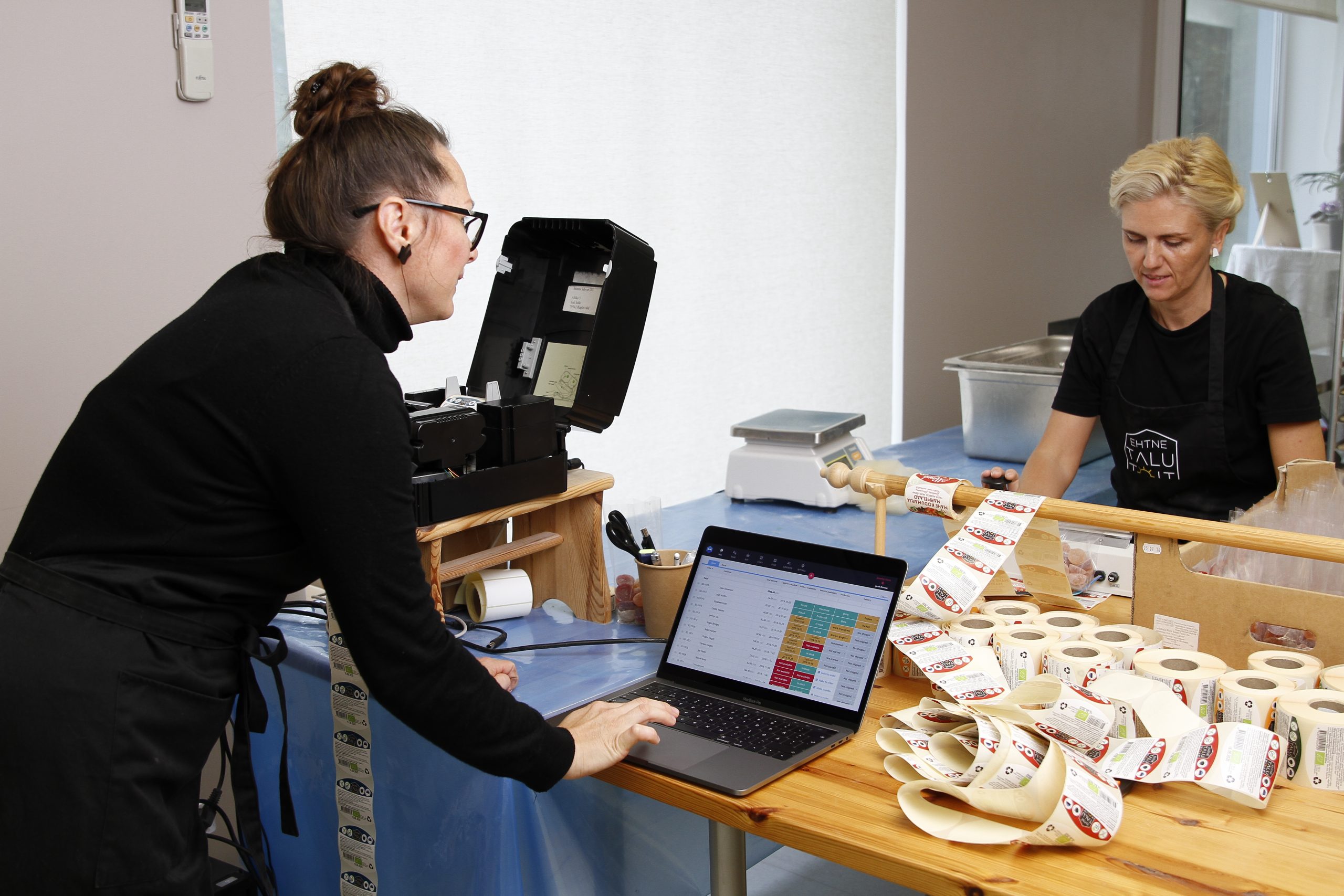 The simple and consistent branding by Biotika works so well because it's so memorable. These kind of minimal packaging ideas often work best for handmade items.
Cardboard Envelopes
The variety of handmade items includes printed graphics, personalized postcards and other small, flat products. All of them can be sent to the customers in cardboard envelopes – an ideal packaging type for minimalist designs.
Do you want to see that solution "in practice"?
Here's an example. Every year around Christmas, a trade fair for designers and artists called Mustache Yard Sale takes place.
All of the exhibitors sell their products in the branded packaging of Mustache, the organizer. This year's novelty will be – you guessed it – the cardboard envelopes (like the one below).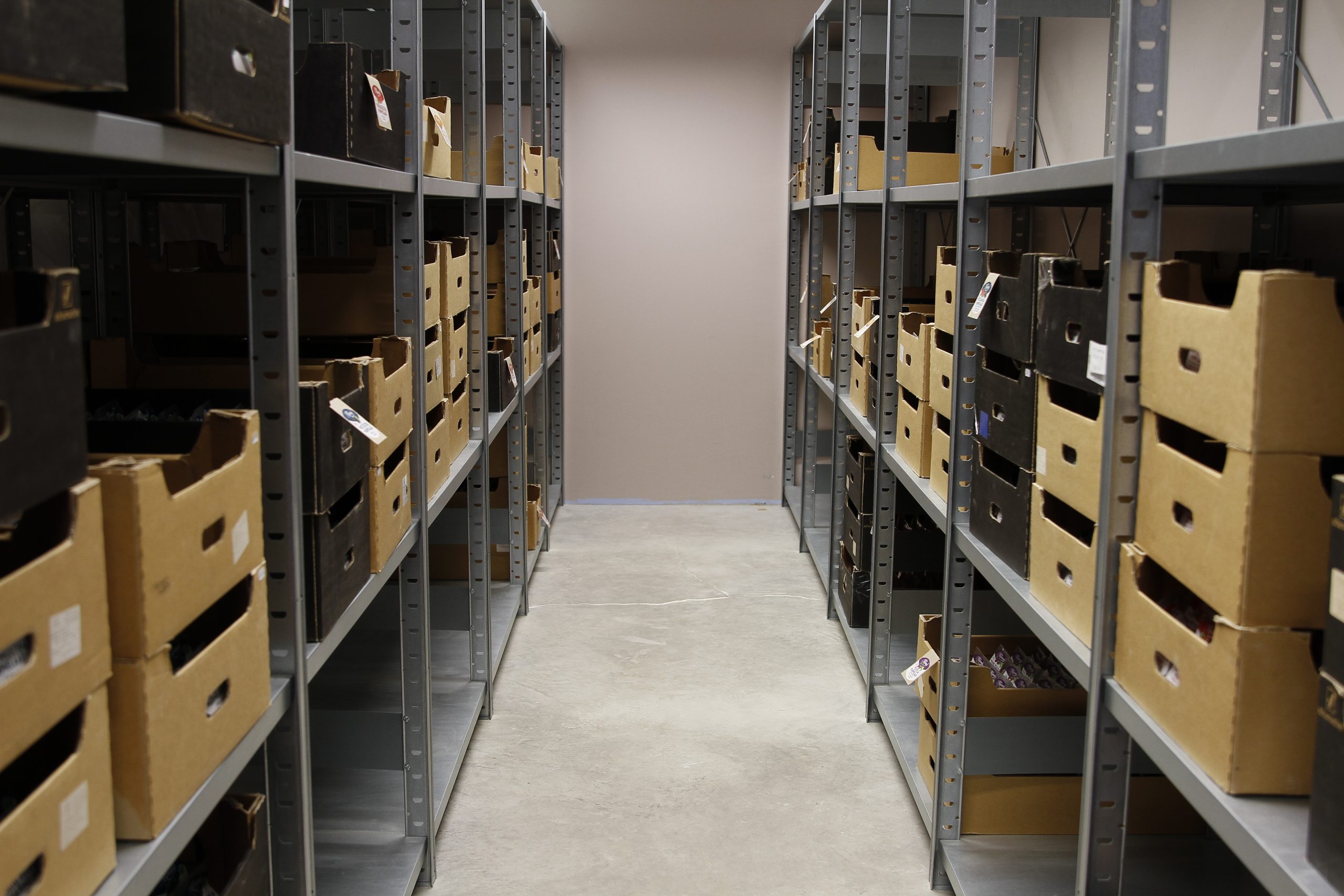 Add-ons for Handmade Items
One thing is establishing a fitting packaging, but the other is making sure that the shipment arrives safe and sound.
Your little helper here is the range of packaging fillers. While there is plenty of possibilities, the most eco-friendly choice is wood wool. It's made of light, recycled and then shredded paper. Due to the fact that many handmade items are super fragile, fillers are often a necessity.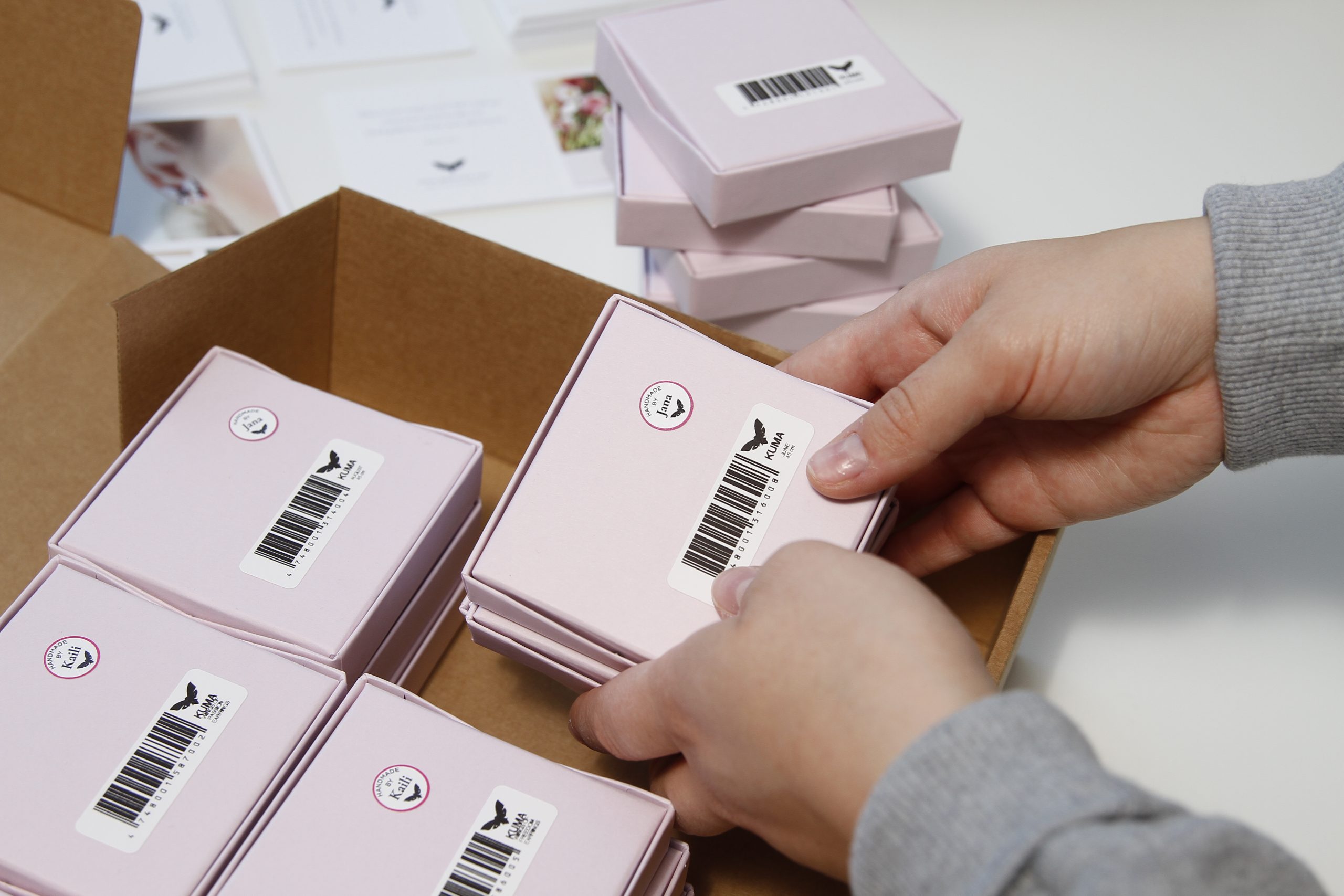 Additionally, the wood wool adds a little bit of elegance and improves the product exposure. Other than wood wool, you can find sealed air bags, compartments and bubble wrap. There's a variety of fillers available!
Handmade Items in a Shop
Some one-man bands in business like to start with gaining local exposure first and establish a stationery shop.
This strategy requires a packaging solution too.
One packaging idea for handmade items is to pack the products in a branded paper bag. You can stamp your logo and allow it to shine in the streets.
Treat it as a great marketing tool – your customers, walking around with your branded bags, are a natural way of attracting new people to flock to your shop.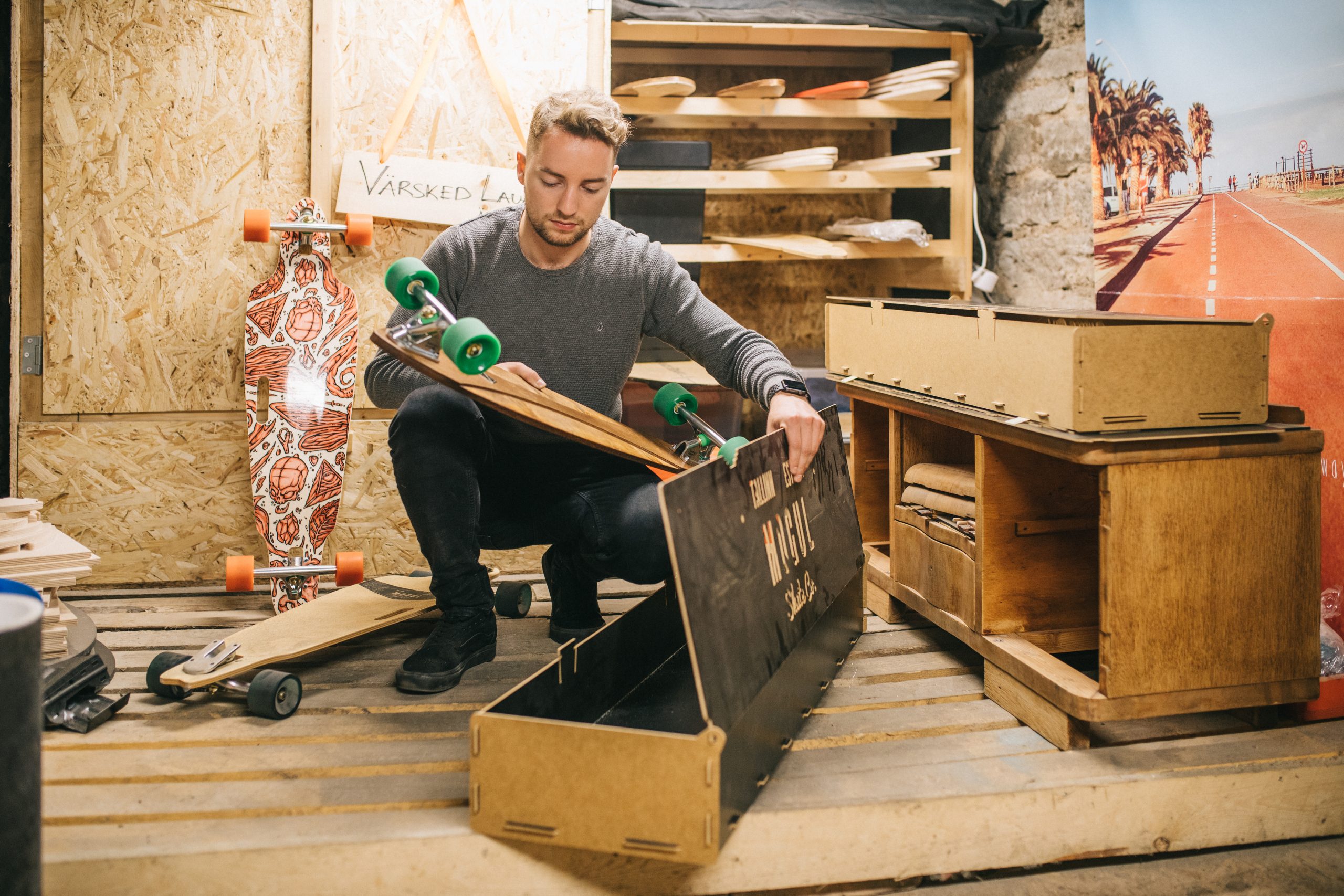 Choosing a cardboard box will do the job as well. Bearing in mind the product exhibition, think of adding a layer of tissue paper to enhance the look of your product in the box.
A fantastic example is a Slovenian brand Fensismensi, which produces handmade bags and sells them in beautifully packed boxes.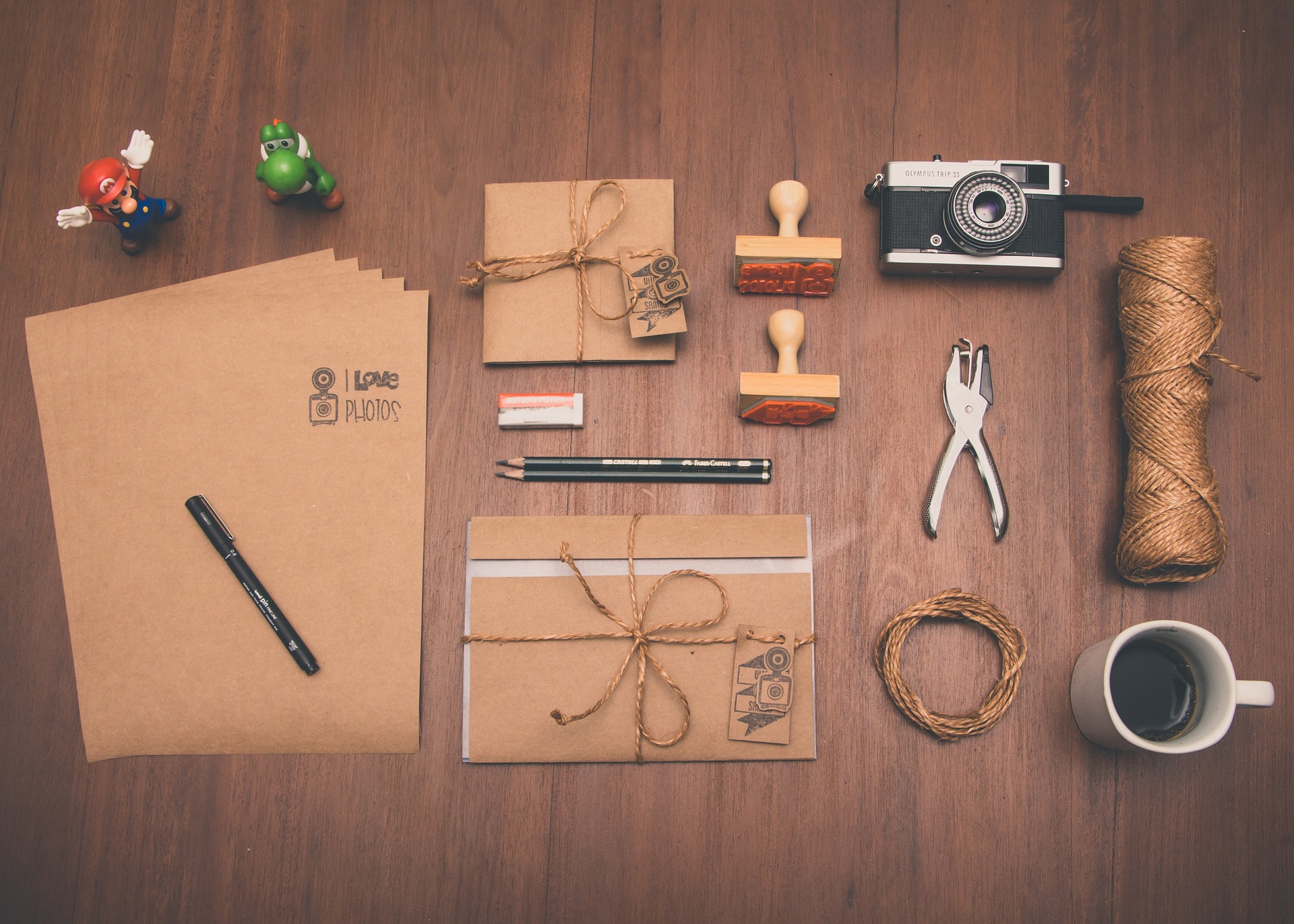 These kind of packaging ideas utilized by Fensismensi make unpacking a positive and comforting experience for the customer.
Plain Box with DIY Ornaments and a Poly Mailer
Depending on your turnover and the specifics of your product, you might be tempted to make your packaging part of a more personal, more DIY experience for your customer.
A plain cardboard box (even with a simple logo stamp on top) can then be embellished further. You can add ribbons, sprinkle glitter or include some other type of ornaments.
This package, however, might require an additional layer of packaging to keep the effect. For that, you can order a set of poly mailers – a thin bags that can be wrapped around the box.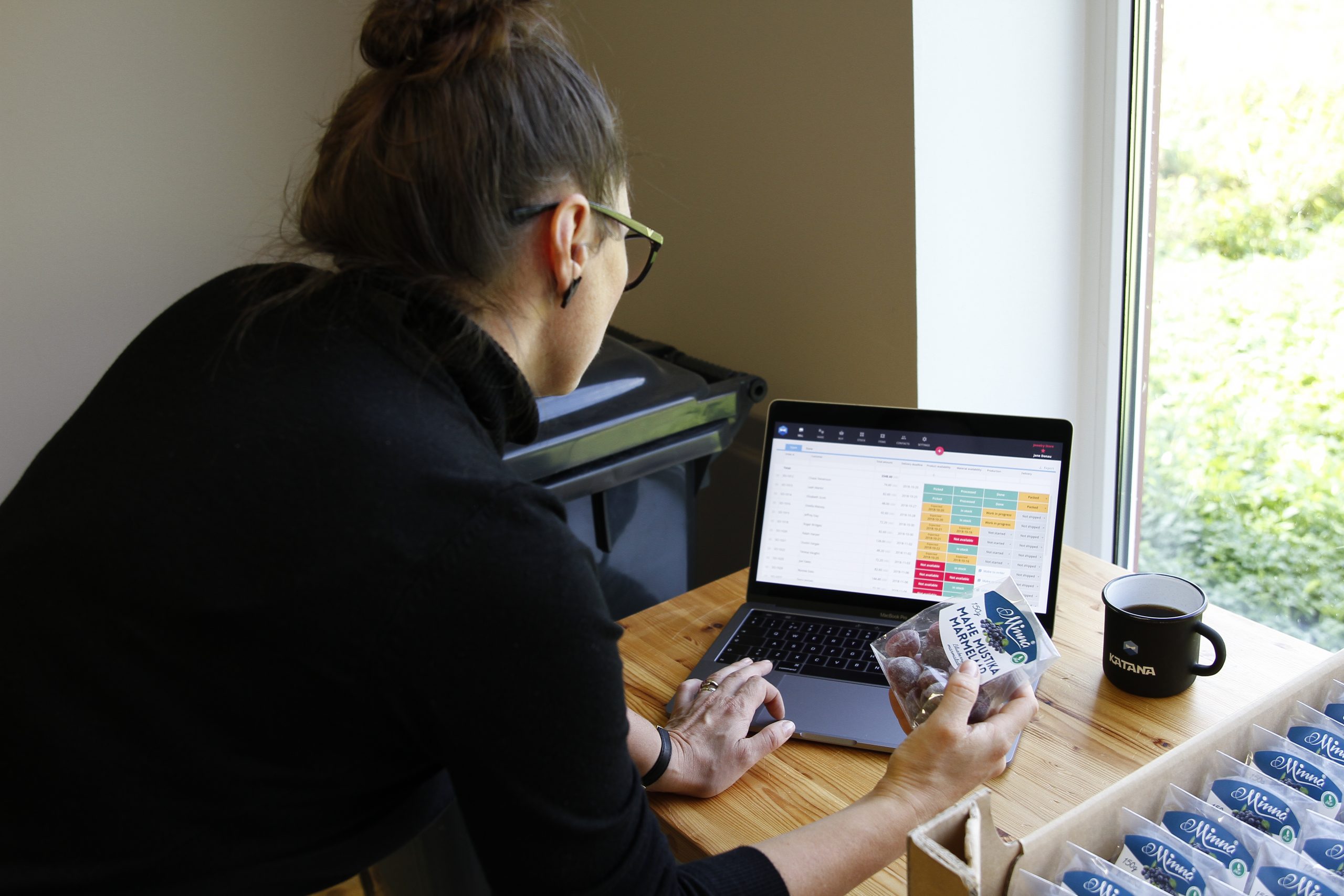 Big name brands like Nike take the time to ensure that even if their packaging is not unique, that it is at least practical. Handmade items though need to take their packaging a step further so they can stand out ahead of the competition.
Final Thoughts on Packaging Ideas for Handmade Items
Every handmade item is a story on its own.
It is made with the most personal touch you can get in the e-commerce industry. Your packaging solution for handcrafted goods will complete the experience with the whole product and turn it into a memorable moment.
Make sure to give your packaging idea significant thought. Consider it as the way you want to welcome your customer and remember – you only have one shot at making a great first impression.
Author bio:
Kajetan Wyrzykowski
I'm a Content Specialist at Packhelp – a custom packaging provider that allows the users to design their boxes in a web-app 3D editor. I am keen on observing the global startup scene and learning new tricks concerning SEO and content. Outside of work I enjoy writing about film, art events and news about marketing in the entertainment industry on Cultural Hater.
Move your inventory to the cloud