Grow your business with a process manufacturing software
It's easy to get overwhelmed when managing resources, developing a product, and tracking production. Start using a process manufacturing ERP software and get an overview of your entire workflow — from purchase management to manufacturing and beyond.
Manufacturing doesn't have to be hard to process
Creating your own products from scratch can be a challenge. Whether you're working with consumable goods or not, process manufacturing includes many ingredients that require strict regulation. When streamlining your business, manufacturing process software like Katana can take the weight off your shoulders and allow you to focus on more important tasks.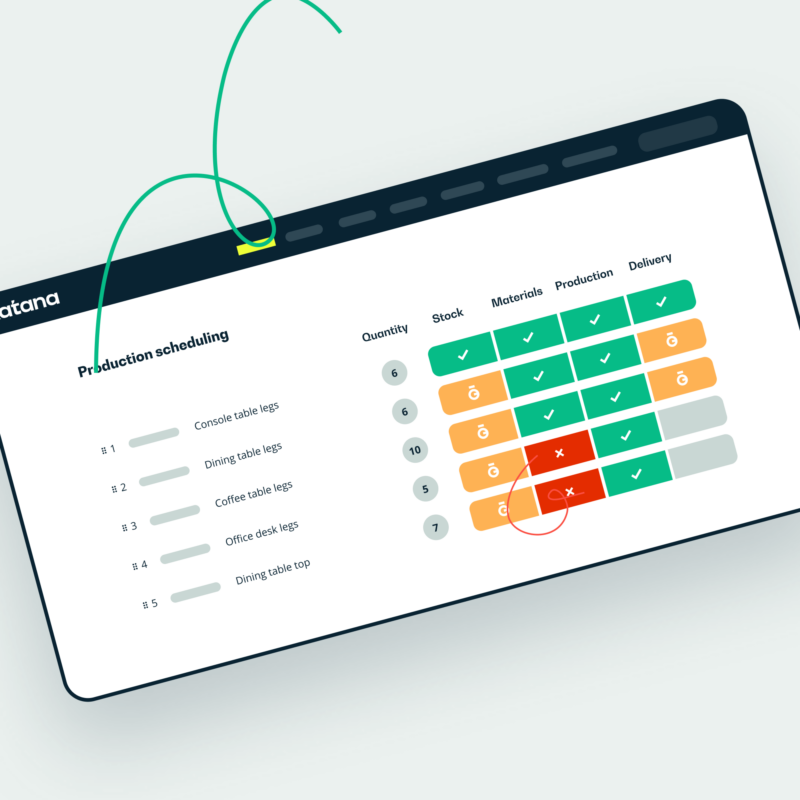 Take care of your inventory 
In process manufacturing, businesses often work with perishable materials and ingredients, so following strict protocols for safety and health reasons is crucial. By implementing automation, you can optimize the workflow and follow a higher standard for your products.  
Some features of process manufacturing that Katana offers are: 
Product recipes or bill of materials (BOM) 

Unit conversions in inventory 

Expiry date tracking on perishable goods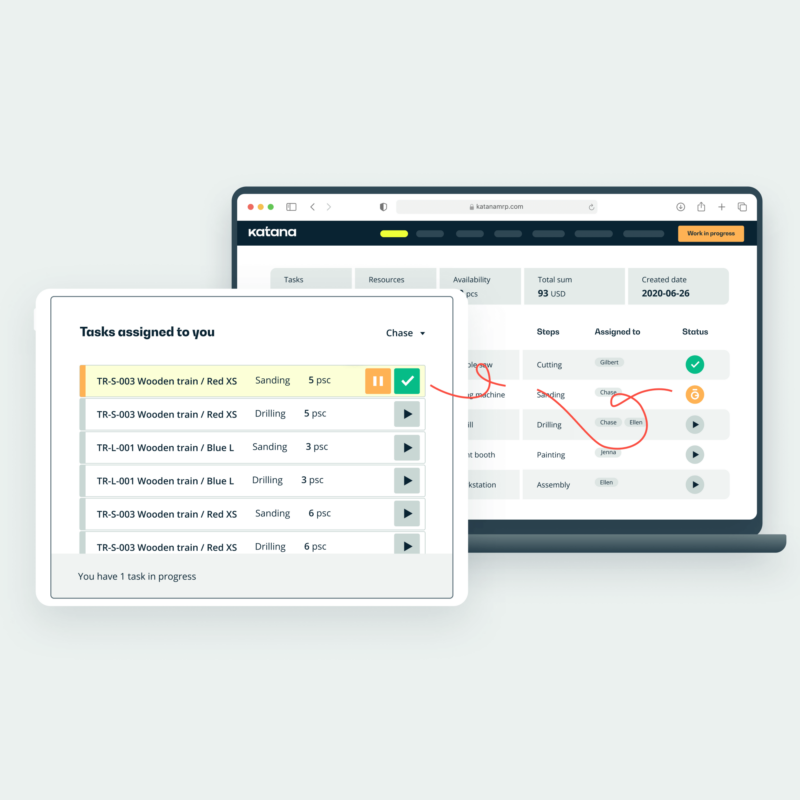 Get an overview of your manufacturing
In process manufacturing, it is crucial to ensure that operations run smoothly. One little mistake could ruin the whole batch. Luckily, Katana is here to help you out.  
Here are a few ways you can improve your production quality with software like Katana:  
Integrate your favorite software  
If you're already using software for your daily tasks, then easily integrate them with Katana. You can pick from native integrations, carefully selected to help take your business to the next level.  
Some integrations that Katana supports include:  
As an organic food processor, traceability is critical and our records must be meticulously kept. Katana fulfills all our needs in a simple, easy solution."
Katana accurately keeps stock of assemblies and ingredients so that I can plan production and get instant feedback on whether we have enough resources in stock."
In Katana, we can more effectively see and follow inventory levels, and have recipes and BOM for our manufactured products that let us follow the manufacturing status throughout the whole production cycle."
Katana's bill of materials (BOM) is a tremendous help. Integrations with Shopify and Xero also play a big role in business management, and we can now manage both B2B and B2C orders with greater ease."
Streamline your business using integrations
Choose from native integrations or build your own 
Katana offers various native integrations that improve your sales management, accounting, delivery, and even automation. If there's a tool you would like to keep using, then feel free to integrate it into Katana using the open API and access all areas of your business at once. Find the complete list of integrations here.
Process manufacturing software FAQ
What is process manufacturing?
Process manufacturing is a manufacturing type where the product is put together in a chemical process. The materials are often ingredients that can be blended into a large quantity of the final product and then divided into separate packages. Process manufacturing is sometimes also referred to as batch manufacturing.
What is the difference between discrete and process manufacturing?
The most significant differences are in quantity and materials. Discrete manufacturing can be done one item at a time, and the product can later be dismantled into separate parts. Process manufacturing tends to produce large quantities at a time, and the product can't be separated into individual ingredients again.
A good example would be the process of making sandwiches. The sandwich is put together discretely — you can make a sandwich at a time, putting together the bread, mayo, and cheese. But the ingredients themselves are process manufactured — you can try to separate the bread back into flour, eggs, and water, but you will probably fail (and make a big mess).
What software to use for process manufacturing management?
Companies specializing in process manufacturing tend to use MRP or ERP software like Katana. The most beneficial features to look for are:
Katana offers all of those and also many native integrations to simplify other business areas like accounting or sales.
Get a demo and discover the power of real-time insights