Part tracking software to take care of all your inventory needs
Implement Katana's part tracking software into your manufacturing business to gain real-time visibility of every stock item and simplify your entire inventory management.
Full overview of your entire inventory
Not being able to deliver products to your customers in a timely fashion can quickly damage your reputation and hurt your bottom line. You need a live view of your inventory to avoid stock-outs and ensure every client gets the item they ordered. Katana updates your stock levels in real time, so you always know exactly what you have in stock and what's running low.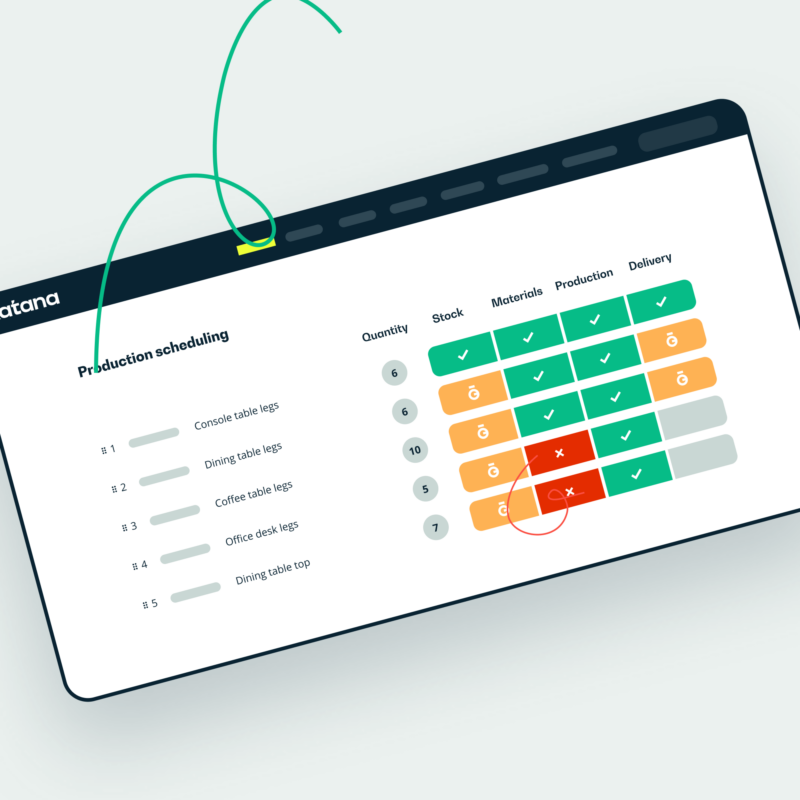 Streamline your inventory tracking with barcodes, QR codes, and RFIDs
Stocktakes are time-consuming but a crucial part of keeping your inventory levels accurate. To ensure your stock levels are correct, you need to count each item in your warehouse every now and again. This will help you avoid stock-outs and ensures you have the required items to fulfill orders. 
With Katana's part tracking software for manufacturing, you can benefit from perpetual inventory and reduce the frequency when manual stocktakes are needed. Katana allows you to automate your inventory counts with barcode, QR, and RFID scanning, making stocktaking a breeze.
Improve your inventory management with SKUs
Keeping track of every part you have in stock is essential, so you can make sure your inventory levels are optimal and your products are moving nicely. However, the more items you have, the more convoluted it becomes to track everything accurately.
That's where stock-keeping units (SKUs) come in. Using SKUs allows you to collect invaluable data about your product movements. You can use this data for SKU rationalization, developing better marketing strategies, predicting seasonal demands, and more.
Katana's part tracking software can then keep you updated about changes in inventory levels and highlight items that need to be replenished if these have reached your predetermined reorder points. This way you can ensure you always have the necessary parts to fulfill your customers' orders.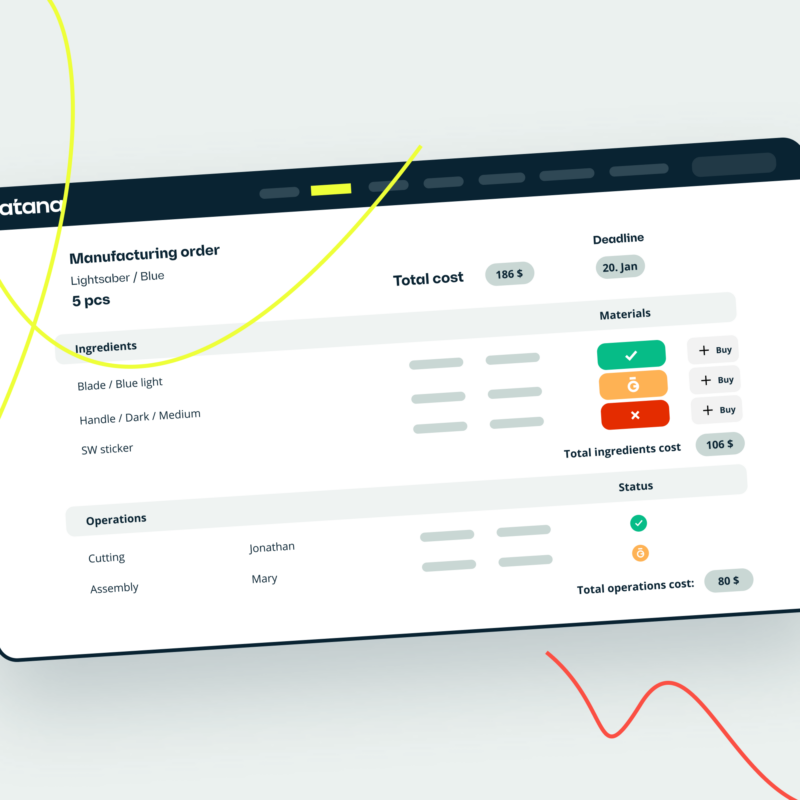 Live view of your entire stock no matter where it's stored
To remain competitive, businesses constantly need to find new ways to grow while also reducing costs. One way of achieving this is by expanding to new regions. Setting up manufacturing plants and warehouses in new regions can have many benefits, including:
Reducing delivery times
Reducing costs
Managing risks
Katana lets you track your inventory across multiple warehouses making it easier to diversify your customer base by meeting demand globally. Katana keeps track of every item and updates your inventory in real time across all locations. Adopting Katana gives you back the reins over your inventory and ensures that you always know what you have in stock, no matter where it's stored.
Part tracking software that integrates with your favorite tools for a smooth workflow
Native integrations, codeless templates, and fully customizable API integrations
Katana gives users access to the API, allowing you to create custom workflows and connect your business apps to manage your sales, manufacturing, and accounting on one platform. Automate data transfers between the services you use to level up efficiency. Take a look at Katana's API documentation to learn more.
Katana provides us with all the features for manufacturing order management and can track inventory usage and incorporate our sales order tracking into Katana."
Katana accurately keeps stock of assemblies and ingredients so that I can plan production and get instant feedback on whether we have enough resources in stock."
Having a system track inventory and what stage it is in has been incredibly helpful. It also has helped our team have a more clear delineation of the order of operations for each product in our catalog."
We struggled to know which items are in stock so that we could build a batch and therefore often found extra components lying around […] Katana, we can now know what we have in store and where to look for it."
Part tracking software FAQs
Move your inventory to the cloud