Manufacturing assembly software that's easy to use
Get the features you need to manage everything related to production in one place with Katana's manufacturing assembly process software. Katana supports small and medium businesses, so you can set it up to fit your manufacturing processes like a glove.
Improve operational efficiency with Katana's manufacturing software
Whether you work in the food and beverage industry handling perishable goods or making nuts and bolts for the industrial machinery sector, Katana helps you optimize your supply chain. Implementing Katana in your company can improve inventory control and warehouse management while enabling you to integrate with a variety of tools.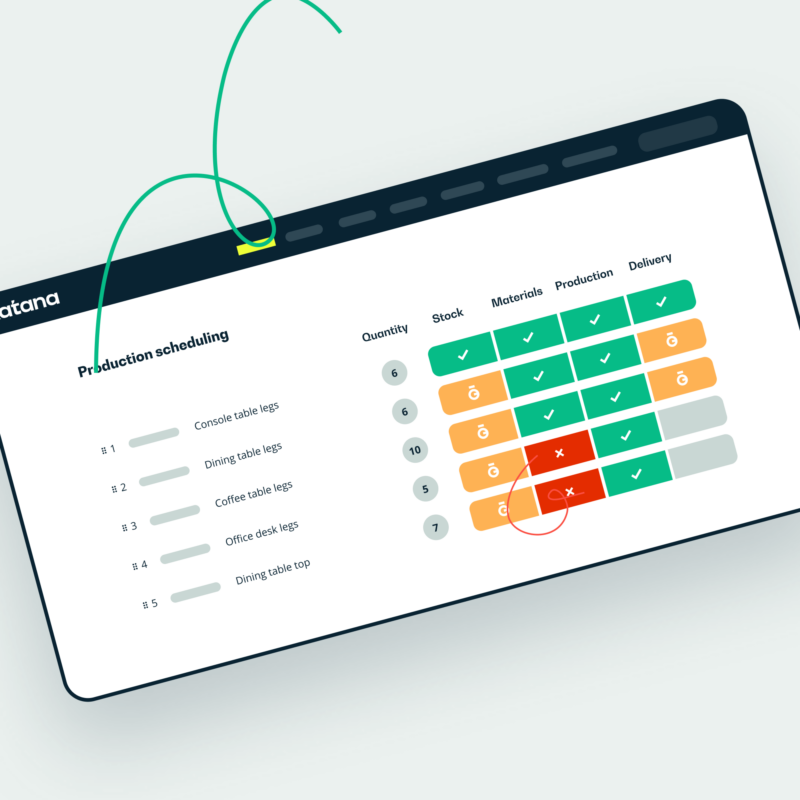 End-to-end traceability of your supply chain and production
For assemble-to-order manufacturers, no matter the company size, taking every opportunity to control costs is vital to keep your profitability high. Katana's automated tools and traceability provide price and quality control over your entire supply chain – helping you turn your challenges into competitive advantages.
Use Katana's core features to monitor:
The movements and expiration dates of your raw materials, components, and sub-assemblies
Time allocation of your operators at the assembly lines to improve manufacturing management at all factories
Task completion more accurately during your manufacturing operations at all times
Perfect your production management with Katana
Katana gives thousands of assembly manufacturers the tools for production planning, which they can use for automating inventory transactions to prevent stock-outs. Katana's assembly software can track on-hand, committed, and expected stock amounts in real time, making it easy to stay in stock on top of inventory movements.
Use assembly manufacturing software to:
Schedule production and calculate deadlines for optimal assembly operations
Track your finished goods and raw materials in real-time for batch traceability
Calculate manufacturing costs automatically to get more visibility into budget planning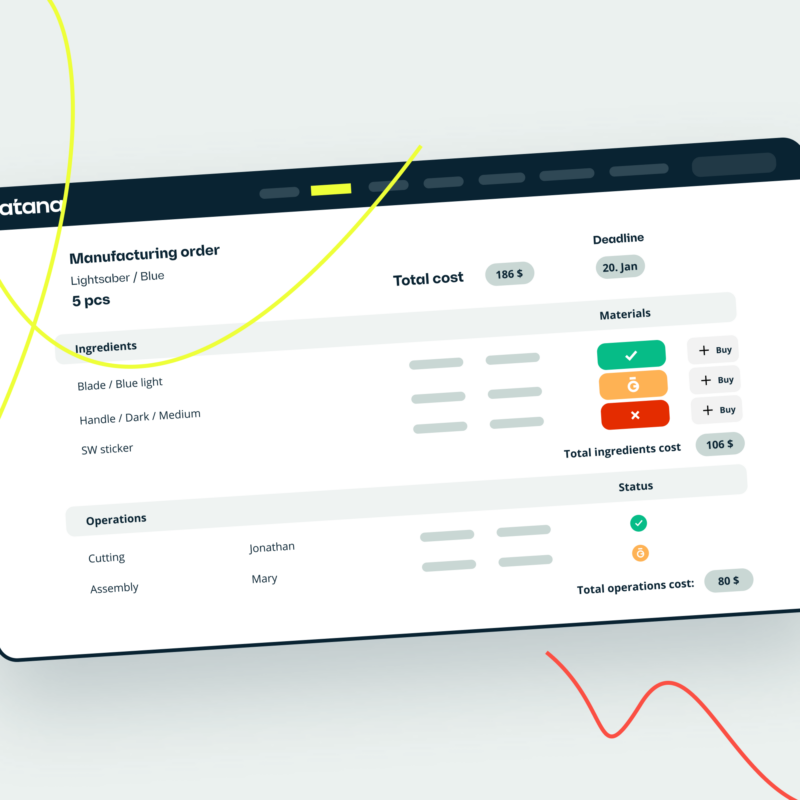 Integrate with various tools for optimizing every aspect of your business
Katana's assembly manufacturing ERP software integrates with several tools that can help you streamline and automate business processes. Katana can put the wind in your sails with a variety of integrations, whether you need more automation, advanced production scheduling, CRM solutions for monitoring changing customer demands, or platforms to sell products directly to consumers. Connect Katana with:
Native integrations — Shopify, WooCommerce, QuickBooks Online and Xero integrations allow you to manage e-commerce sales and accounting all in one place
Third-party platforms — powerful integration platforms CartRover and Zapier can connect Katana with thousands of apps for your every business-related need
API — take a look at Katana's open API and decide whether your company wants to invest resources to build your own app into Katana
Assembly manufacturing software that integrates with your favorite tools for a smooth workflow
Native integrations, codeless templates, and fully customizable API integrations
Katana gives users access to the API, allowing you to create custom workflows and connect your business apps to manage your sales, manufacturing, and accounting on one platform. Automate data transfers between the services you use to level up efficiency. Take a look at Katana's API documentation to learn more.
Katana allows us to have a complete, real-time overview of our manufacturing processes and keeps our operations under control."
Katana accurately keeps stock of assemblies and ingredients so that I can plan production and get instant feedback on whether we have enough resources in stock."
Having a system track inventory and what stage it is in has been incredibly helpful. It also has helped our team have a more clear delineation of the order of operations for each product in our catalog."
I think that Katana had a much lower barrier to entry. It was still some work to get up and running, but I was able to gradually build my processes into Katana's system over several months."
Assembly manufacturing software FAQs
Move your inventory to the cloud