Enterprise manufacturing software to take care of all your production needs
Adopt Katana's enterprise manufacturing software and gain full visibility of your production processes, stock levels, supply chain, and much more.
Streamline your manufacturing processes with Katana
Manufacturers often end up spending hours every day on mindless admin tasks that just have to be done. Katana can help you streamline your day-to-day operations to save time and reduce errors, leaving you free to keep manufacturing.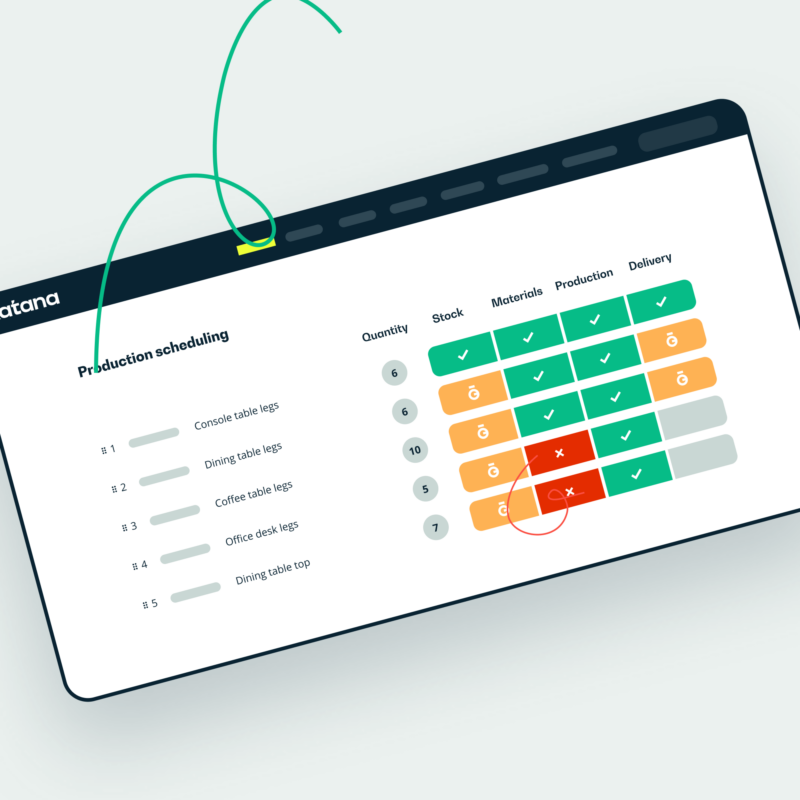 A purpose-built ERP platform for manufacturers
Manufacturers have very specific needs when it comes to the software they use to run their businesses. From tracking inventory and orders to managing production schedules, manufacturers need an ERP system that is designed specifically for their industry. 
Katana is a purpose-built ERP system for manufacturers. It includes all of the features and functionality they require to run their businesses efficiently and effectively.
From inventory management to production planning, Katana has everything necessary to streamline production operations, including:
Store in multiple warehouses, sell across multiple channels
Companies always try to maximize their efficiency and expand their customer base to get a competitive edge. To ensure every potential customer has access to your products and receives them on time, you need visibility into every sales channel and inventory location.
With manufacturing enterprise resource planning software you can manage sales from various channels, such as:
Brick-and-mortar retailers
Katana allows manufacturers to track sales orders in one place across all channels.
What's more, Katana keeps your inventory in sync across all warehouses, making managing your sales and inventory easy. With Katana's enterprise manufacturing software, you have complete visibility and control over your entire operation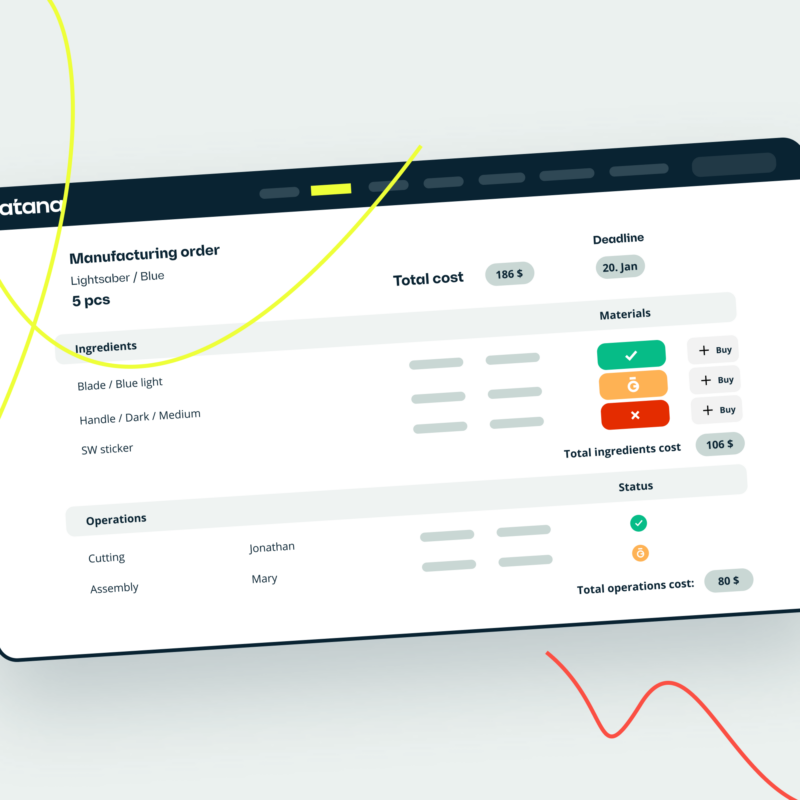 All your business tools unified
Successfully managing your business becomes a lot easier once you have a single source of truth for all your operations. Katana unifies your favorite business tools, giving you better control and visibility into every aspect of your organization.
With Katana's seamless integrations, you can easily connect with:
Analytics and reporting tools
Having everything connected makes data transfers a breeze and ensures your information is kept up to date across all your business tools.
Katana accurately keeps stock of assemblies and ingredients so that I can plan production and get instant feedback on whether we have enough resources in stock."
We also wanted an accurate inventory system for batch planning, warehousing, and sales. Katana fulfills all our needs in a simple, easy solution."
Having the shop floor know what they can or can't make on a given day is amazing, and replaces our previous "system" of spreadsheets."
Katana provides us with all the features for manufacturing order management and can track inventory usage and incorporate our sales order tracking into Katana."
An enterprise manufacturing intelligence software that integrates with a wide variety of business tools for a smooth workflow
Native integrations, codeless templates, and fully customizable API integrations
Katana gives users access to the API, allowing you to create custom workflows and connect your business apps to manage your sales, manufacturing, and accounting on one platform. Automate data transfers between the services you use to level up efficiency. Take a look at Katana's API documentation to learn more.
Enterprise manufacturing software FAQs
Get a demo and discover the power of real-time insights