Unlock sales opportunities using CRM with quoting
Use Katana's management software and implement CRM quotes seamlessly into your business. Katana manages all your customer information alongside sales and manufacturing, giving your sales teams a powerful platform for data analysis.
Generate and manage your finances with quoting software
Quotes aren't just philosopher phrases you use to impress your friends. Equip your sales manager with CRM software that generates quotes without committing any resources to production.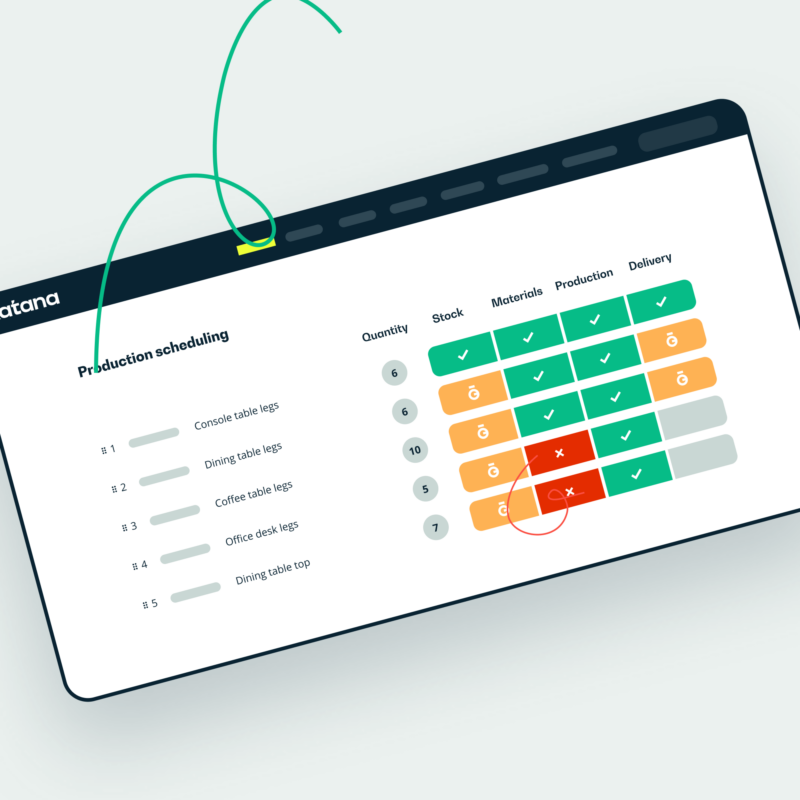 Generate new quotes for sales in Katana ERP software
Start sales quoting clients while keeping on top of your open sales orders simultaneously. Create quotes with estimated delivery deadlines for customers, and once the quote is approved, Katana will automatically commit stock to the order. With Katana, you can:
Negotiate with customers while not affecting your current inventory levels
Provide your customers with current price offers with easy-to-download PDF copies
Quickly sort and filter all quotes and manage them in bulk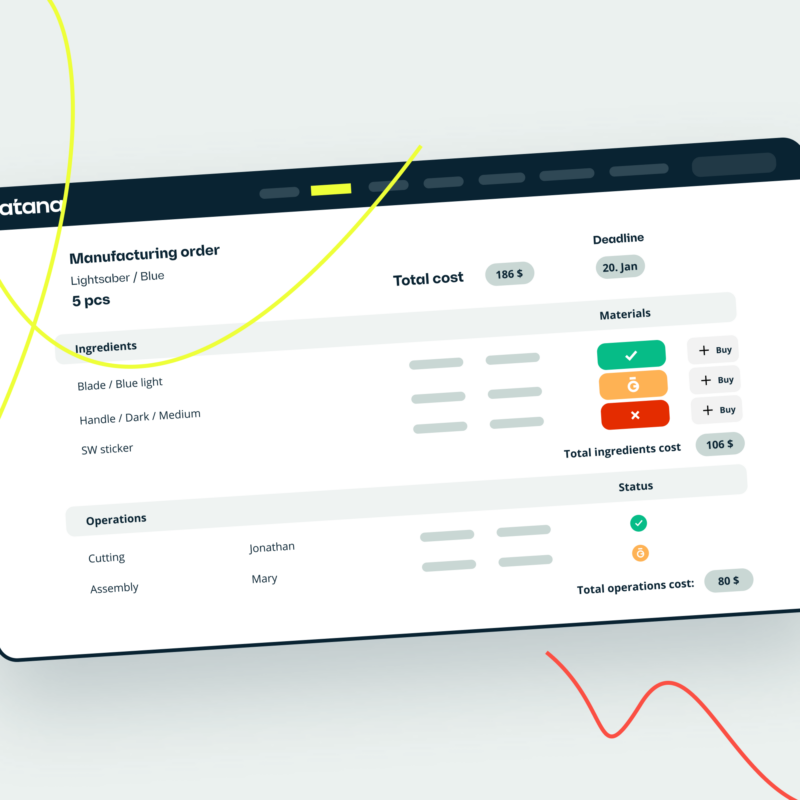 Streamline your sales with omnichannel order management
Multichannel order management is a strategy that allows manufacturers to control every part of their sales pipeline across every sales channel. Those channels could be brick and mortar stores, websites, social media, mobile apps, or even a call center. To implement an multichannel order management system, manufacturers need to have a single view of the customer, their order history, and inventory management across all channels. Katana can help you with:
Managing online and store sales, inventory and order fulfillment in one platform
Connecting multiple stores to Katana, and you can map each store to a specific location
Getting an overview of all order statuses, customers' names, date of purchase, shipping address all in one place
Having all your bills of materials (BOMs) in one place, and getting precise manufacturing costs and stock readings of material availability straight from Katana
Connect business tools and CRM with quoting tools for more transparent business
Katana can integrate with various manufacturing CRMs. Katana's CRM integrations enable you to manage product recipes and ensure on-time purchasing of materials in line with real-time data from your sales CRM. Other key integrations include:
Third-party integrations with Prospect CRM and Salesforce to simplify your sales process and collect customer information
Native integrations with accounting software like QuickBooks Online and Xero, in case you're thinking about centralizing workflow and tracking finances
Reliable shipping partners like ShippyPro and 2Ship so you can fully automate and manage all your shipping needs
Simple access to Katana's open API, which lets you connect your preferred CRM software for quoting with Katana. Please note that you need to build the integration yourself, if you opt for that route
Software that integrates with your favorite tools for a smooth workflow
Native integrations, codeless templates, and fully customizable API integrations
Katana's software gives users access to the API, allowing you to create custom workflows and connect your business apps to manage your sales, manufacturing, and accounting on one platform. Automate data transfers between the services you use to level up efficiency. Take a look at Katana's API documentation to learn more.
Katana's bill of materials (BOM) is a tremendous help. Integrations with Shopify and Xero also play a significant role in business management, and we can now manage both B2B and B2C orders with greater ease."   
I think that Katana had a much lower barrier to entry. It was still some work to get up and running, but I was able to gradually build my processes into Katana's system over several months."
We chose Katana because it seemed to be the most user-friendly software we tried – it is very easy to use and the customer service is great!"
Katana integrates everything, making for effective company-wide resource planning and control."
Move your inventory to the cloud