Improving your customer relationships with CRM software for manufacturing
Track sales and manufacturing orders with Katana wherever you are. Katana helps you automate your workflow and keeps customer details safe in an easy-to-use platform where you can integrate with the best CRM solutions on the market.
Use a manufacturing CRM to gain an edge on competitors in textile industry
In the competitive market of textile manufacturing, a few slip-ups here and there can upset customers and damage your reputation. Avoid this happening by implementing the right textile software. Katana gives you real-time insights into sales and helps you unlock your business's true potential with the tools to provide 5-star-worthy customer experiences.
Find the most suitable manufacturing CRM of choice
Katana integrates with tools that can assist your sales and marketing teams with relationship management while also providing marketing automation. You can use those platforms to enhance customer experiences and improve the current standard of relationship management. Integrating with popular CRM tools like HubSpot's CRM, Pipedrive, Salesforce CRM, and Prospect CRM allows you to:
Visually manage order fulfillment and production
Set up triggers that import sales orders as soon as you close a deal
Understand your sales pipeline, customer success, and supply chain management better
Manage online and offline sales on one do-it-all platform
A diverse customer base makes any sales team feel content. Many manufacturers use omnichannel selling strategies to leverage their sales channels, but struggle because they haven't established their systems properly. Katana integrates with Shopify and eBay, while also enabling you to connect with Amazon and other e-commerce platforms to diversify your sales options. Get Katana to:
Connect multiple online stores with Katana
Oversee your sales and find easy ways to optimize the sales cycle
Have real-time inventory updates as sales orders are fulfilled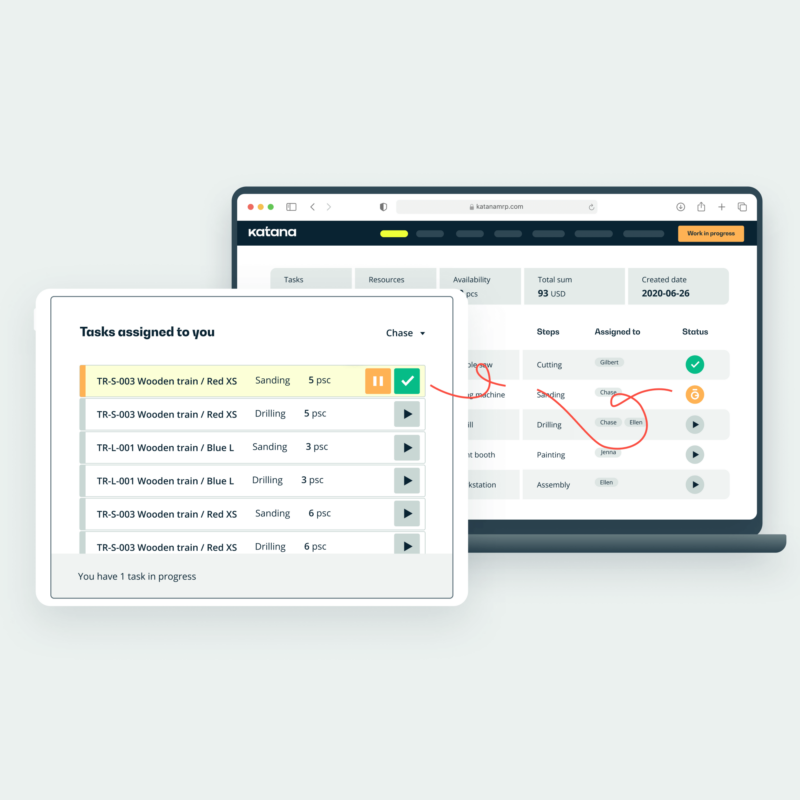 Collect insights into how your shop floor functions
Katana gives manufacturing companies the tools needed for seamless inventory and sales order management. For example, you can use Katana's Shop Floor App to monitor shop floor activity via computer or mobile. Your floor-level employees can scan barcodes in the Shop Floor App to find and add batch numbers for tracking products. It can also help you:
Assign and reassign jobs to operators who can start, pause, and resume tasks to keep you updated on production
Gain a comprehensive overview of all completed tasks and improve project management
Lessen the burden of organizing daily, weekly and monthly production schedules
Manufacturing CRM software that integrates with your favorite e-commerce sites for managing sales
From native integrations to various codeless templates or fully customizable API integrations
Get full access to Katana's open API, allowing you to create custom workflows and connect your business apps to manage your sales, manufacturing, and accounting all on one platform. Automate data transfers between the services you use to level up efficiency. Take a look at our API documentation. 
Katana integrates everything, making for effective company-wide resource planning and control."
Katana provides us with all the features for manufacturing order management and can track inventory usage and incorporate our sales order tracking into Katana."
We chose Katana because it seemed to be the most user-friendly software we tried – it is very easy to use and the customer service is great!"
I think that Katana had a much lower barrier to entry. It was still some work to get up and running, but I was able to gradually build my processes into Katana's system over several months."
Manufacturing CRM Software FAQs
Move your inventory to the cloud