Effectively manage your shop floor with WIP tracking software for manufacturing
Increase workstation flexibility without losing control of manufacturing operations. Work-in-progress tracking software like Katana helps you monitor time spent on tasks and materials used, giving you real-time insights into your business.
Check order progress with real-time WIP tracking software
Get live manufacturing status updates from anywhere with WIP tracking software like Katana. Set tasks for team members and track time and materials spent for total shop floor control.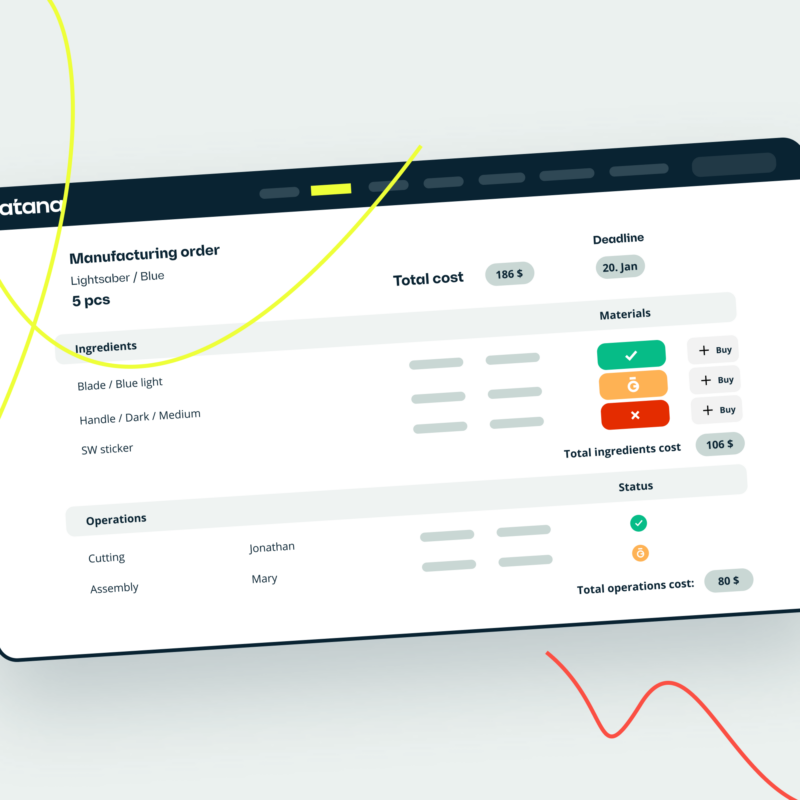 Never lose control over your production operations
To make the right decisions at the right time, you need a live overview of your production. WIP software allows you to track progress with sales and production orders in real-time, giving you a virtual window into your shop floor operations. By spotting delays before they happen, manufacturers can keep up with deadlines no matter how high demand is.
Get a live floor-level production status overview

View manufacturing orders and ingredient lists in Katana's Shop Floor App to keep your teams aligned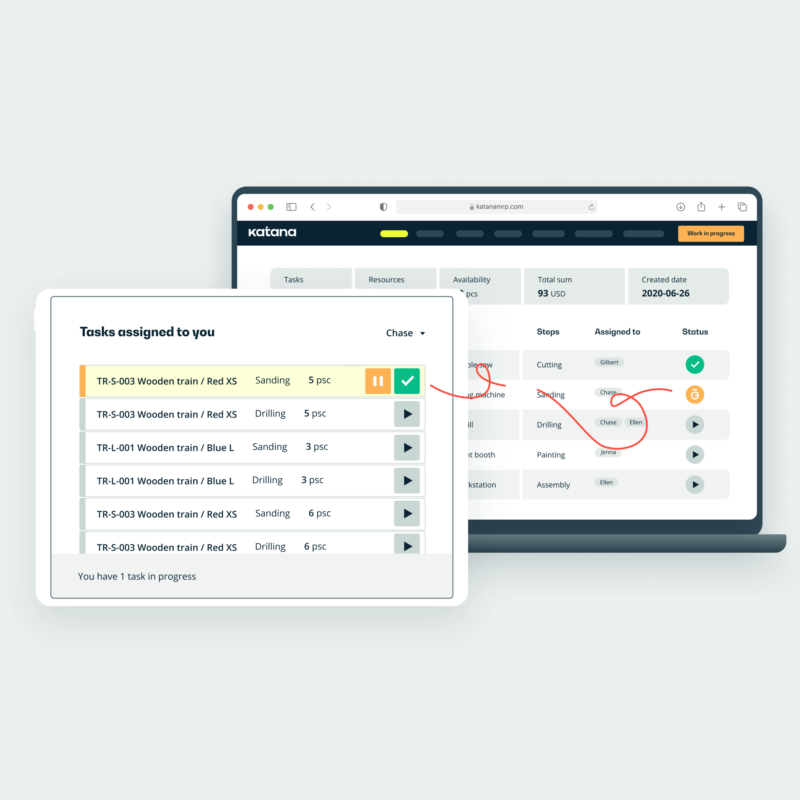 Assign tasks and track time and resources spent
Improve your floor-level operations with direct access to production tasks and ingredient lists for each task with a WIP tracking system like Katana's Shop Floor App. Easily create, set up, and remove shop floor operators, track time spent on jobs, and measure real versus actual materials used to cut costs and time.
Easily re-assign tasks to operators to maximize efficiency

Generate shop floor tasks according to product operations for incoming manufacturing orders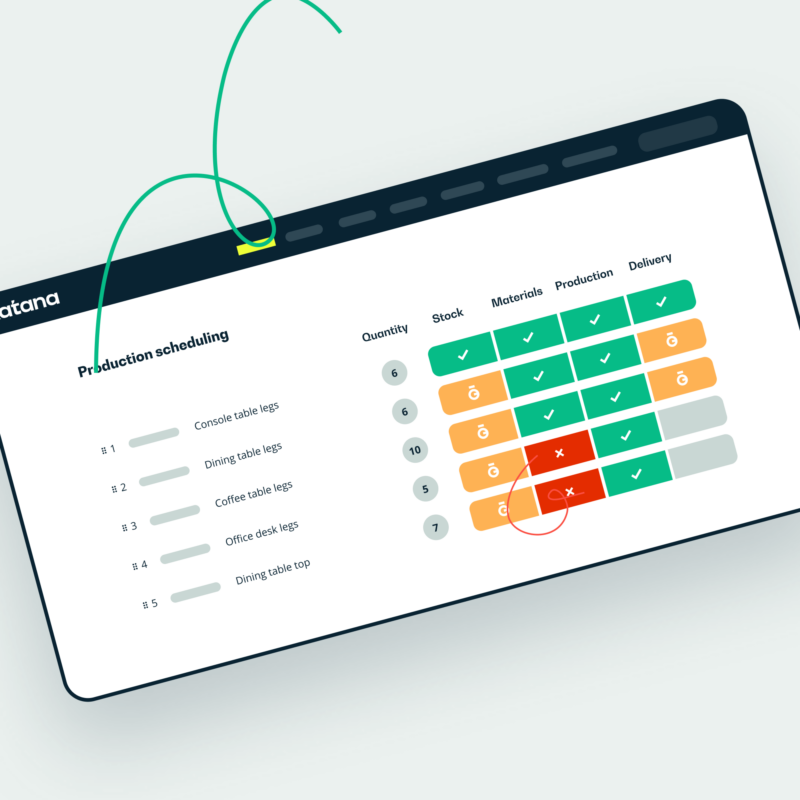 Keep your teams and data in sync at all times
Managers, sales teams, and shop floor employees need access to the same information to keep their operations in sync. WIP software gives everyone in your organization the knowledge they need to make the right decisions. No more miscommunication or mistakes when it comes to deadlines, scheduling, or stock counting.
Add notes to manufacturing orders to be displayed for related tasks in the Shop Floor App

Shop Floor App task status updates are automatically sent to your cloud manufacturing software
Powerful features, simple to use
Products don't sell themselves, but the right software and workflows can make it feel like they do.
Integrate with the best e-commerce,
accounting, reporting, and CRM
software out there
Create custom API integrations
Use Katana's open API to create custom workflows and connect to apps beyond our list of integrations. Automate data transfers between the services you use to level up efficiency. Take a look at our API documentation to learn more.
Katana integrates everything, making for effective company-wide resource planning and control."
We needed help with Shopify inventory management for raw materials, and Katana exceeded our expectations."
Having the shop floor know what they can or can't make on a given day is amazing, and replaces our previous "system" of spreadsheets."
As an organic food processor, traceability is critical and our records must be meticulously kept. Katana fulfills all our needs in a simple, easy solution."
FAQs about WIP tracking software
What is WIP tracking?
WIP tracking refers to monitoring and managing work in progress (WIP) in a project or production environment. WIP refers to any items, tasks, or processes that have been started but are not yet completed.
Tracking WIP is important because it provides visibility into the status of ongoing work and helps identify potential bottlenecks or areas where improvements can be made to optimize efficiency and throughput. In order to guarantee that projects are finished on schedule and under budget, this can help project managers and team leaders make educated decisions about resource allocation, personnel, and scheduling.
WIP tracking can be done manually using spreadsheets or other tools. Still, it is often more efficient to use specialized software or project management systems that automate the process and provide real-time updates on the status of WIP.
How do you track production in manufacturing?
Tracking production in manufacturing involves monitoring the status of the production process and the movement of materials and products through the manufacturing facility. Here are some key steps for tracking production in manufacturing:
1. Define production metrics: The first step is to establish metrics that will be used to track production. Examples of metrics include production volume, cycle time, defect rates, and inventory levels.
2. Implement a production tracking system: Various software tools are available to help track production in manufacturing. These systems can provide real-time visibility into production metrics and help identify bottlenecks or areas for improvement.
3. Use barcoding or RFID technology: Barcoding and radio frequency identification (RFID) technology can be used to track the movement of materials and products through manufacturing. This can provide real-time visibility into the location of materials and products and help optimize production workflows.
4. Implement visual management: Visual management tools such as kanban boards and production dashboards can help provide real-time visibility into production metrics and help identify areas for improvement.
5. Conduct regular reviews: Regular reviews of production metrics and processes can help identify areas for improvement and ensure that production goals are being met.
Overall, effective production tracking involves implementing a combination of software tools, technology, and visual management to monitor production metrics and identify opportunities for improvement.
How do you track manufacturing process?
To track the manufacturing process, there are several steps you can take:
1. Define the process: First, you need to define the manufacturing process for your product. This involves creating a detailed production process map, including all the steps and materials involved.
2. Identify key metrics: Next, identify the key metrics you want to track to measure the performance of the manufacturing process. These may include cycle time, scrap rate, first pass yield, and throughput.
3. Implement data collection: Collect data on the manufacturing process using manual and automated methods. This may involve using sensors, barcode scanning, or manual data entry.
4. Analyze the data: Once you have collected data, use statistical process control (SPC) methods to analyze it and identify trends and patterns. This will help you identify areas where the manufacturing process can be improved.
5. Use visual management: Implement visual management tools such as kanban boards, production dashboards, and process maps to help communicate the status of the manufacturing process to the team and identify areas for improvement.
6. Continuously improve: Use the data and insights you gain from tracking the manufacturing process to improve it continuously. This may involve implementing process changes, training team members, or investing in new equipment or technology.
Get a demo and discover the power of real-time insights