Easily tag and track your stock with Katana's RFID inventory management software
Streamline your stock management with Katana. Adopting Katana's RFID inventory management software gives you all the tools you need to get your inventory in order.
A centralized hub to take care of all your manufacturing needs
As a manufacturer, it's important to have a platform that acts as a single source of truth where you can manage all your operations. Katana gives you a live overview of your inventory, orders, and manufacturing processes, so you have everything you need to make informed business decisions.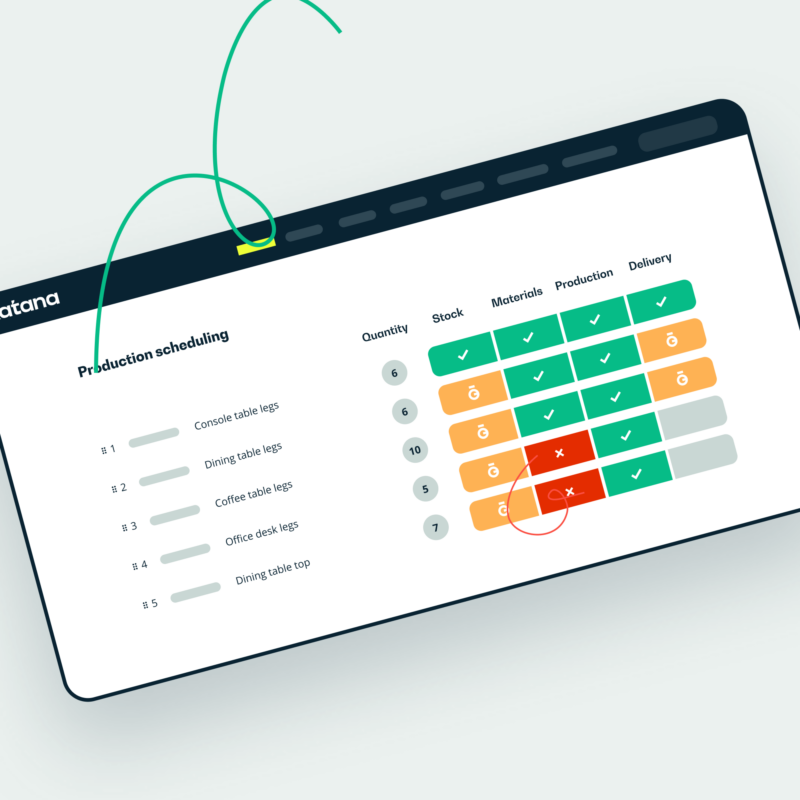 RFID inventory management system that does the heavy lifting for you
Keeping inventory levels accurate can be quite the challenge, and no wonder, considering everything that's involved. You need to track deliveries, orders, shipped goods, raw materials, finished products, returns, and more. If you add multiple warehouses to that equation, things can get downright chaotic.
Katana takes care of the heavy lifting as it automates your inventory management. When orders come in, Katana immediately updates your inventory, as it knows exactly how much and which raw materials or sub-assemblies are needed to fulfill an order. Once the items are manufactured, Katana also increases the finished product inventory count by the number of items that were produced.
With Katana, every stock movement is recorded and tracked in real time, so you always have accurate data when it comes to your stock levels.
End-to-end tracking with RFIDs, barcodes, and QR codes
RFIDs are used in manufacturing for a variety of purposes, such as tracking physical inventory, quality control, and product identification. In many cases, RFID tags are attached to products or packaging so that they can be tracked throughout the manufacturing process.
This allows manufacturers to keep track of where their products are and ensure that they are produced according to specifications. RFIDs can also be used to monitor the movement of raw materials and finished goods within a factory, which can help improve manufacturing efficiency.
In addition to product and inventory tracking, RFIDs can also be used for quality control. For example, an RFID tag attached to an item can be used to track that item throughout the manufacturing process. This way, if there are any problems with the product, they can be traced back to the specific point in the process where they occurred.
Katana comes equipped with all the necessary features that allow you to track your items. Whether you decide to use barcodes, RFIDs, or QR codes — the choice is up to you.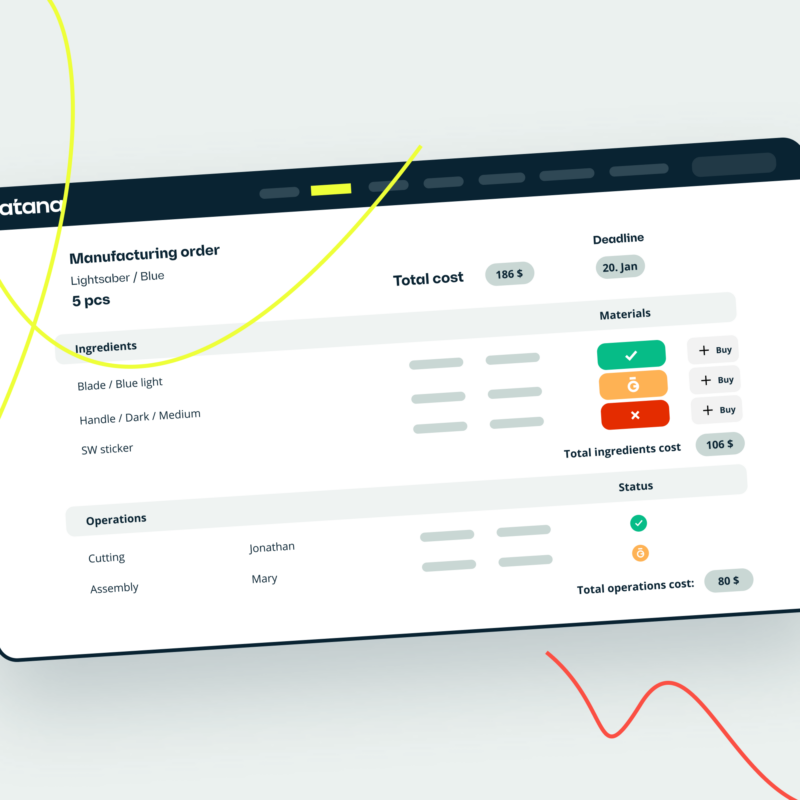 Complete visibility across all your sales channels
Many businesses today sell across multiple channels — whether it's direct to consumers (D2C), business-to-business (B2B), through different e-commerce platforms, or via brick-and-mortar stores. This can make order management a challenge, as each channel may have unique systems and processes.
Katana's omnichannel order management feature lets you easily sell across all channels from one centralized platform. This means you can keep track of all your orders in one place, regardless of where they're coming from. Katana also keeps your inventory updated across all channels, so you don't have to worry about stockouts and can be sure your customers get the goods they order.
With its seamless integrations to the most popular e-commerce platforms, selling through multiple channels has never been easier.
RFID inventory system that integrates with your favorite tools for a smooth workflow
Native integrations, codeless templates, and fully customizable API integrations
Katana's RFID inventory management software gives users access to the API, allowing you to create custom workflows and connect your business apps to manage your sales, manufacturing, and accounting on one platform. Automate data transfers between the services you use to level up efficiency. Take a look at Katana's API documentation to learn more.
Katana provides us with all the features for manufacturing order management and can track inventory usage and incorporate our sales order tracking into Katana."
With Katana, we are able to track products, build recipes for materials, and set reorder points for our materials as well."
Having a system track inventory and what stage it is in has been incredibly helpful. It also has helped our team have a more clear delineation of the order of operations for each product in our catalog."
We struggled to know which items are in stock so that we could build a batch and therefore often found extra components lying around […] Katana, we can now know what we have in store and where to look for it."
RFID inventory management software FAQs
Move your inventory to the cloud