Start managing production, procurement, and costing with bill of material software
Inventory management and production is the backbone of any successful manufacturing business. Forward-thinking manufacturers use bill of materials software for real-time master production planning, production scheduling, and raw materials management.
Manage your entire business with bill of materials software
Manufacturers are taking control of their entire business, implementing B2B and D2C selling strategies. But, to achieve this, many businesses adopt software to help them manage the different aspects of their business, using tools for managing raw materials, production, multi-channel selling, and much more. Katana BOM software helps users centralize their business to one easy-to-use platform, saving manufacturers time and money in the long run.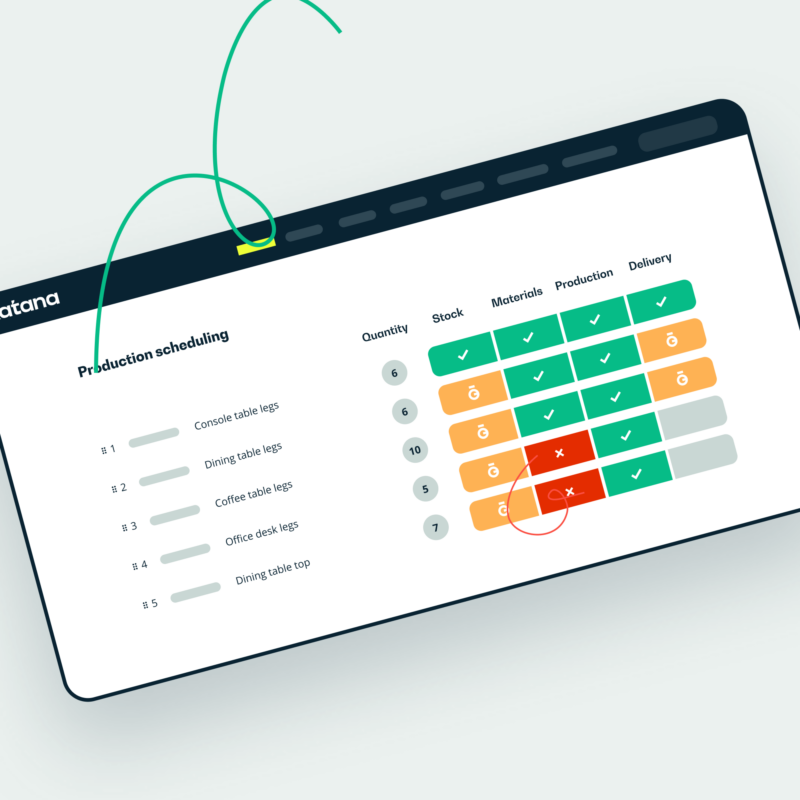 Real-time master planning with bill of materials software
Spreadsheets are static, but that doesn't mean the same for your inventory. Managing inventory with spreadsheets is time-consuming and prone to errors which can topple a manufacturing company.
Katana BOM software is for small manufacturers or large factories who need to track production progress, design and engineering changes, and raw materials usage. It does this by giving users live insights to optimize resources and schedule production to meet deadlines. Available raw materials and products are also automatically allocated to fulfill orders and prioritize your schedule to assist you in meeting deadlines effortlessly.
production planning software, scheduling, and resource planning in one place

Gain real-time visibility to optimize all your key resources

Make accurate manufacturing, lead times, and purchasing decisions with live data

Ensure optimal inventory levels at all times

Prioritize production based on raw materials availability

Get task-level floor control for effective job shops management

Automate manufacturing cost calculations based on your bill of materials and production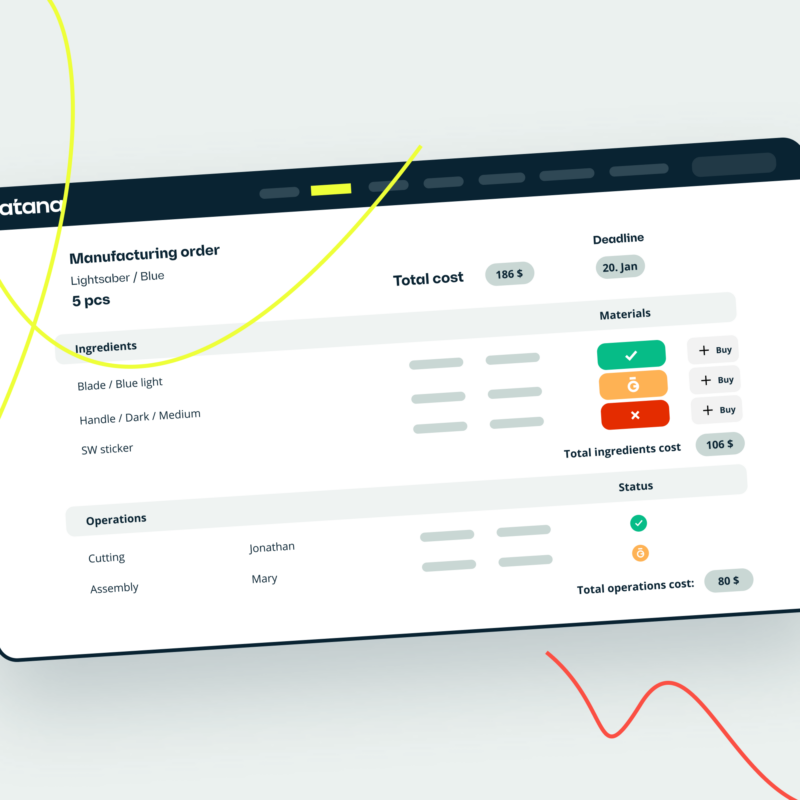 Ensure accuracy with costing features built for precision
To make the right decisions at the right time, you need a live overview of your materials and production to make accurate costing.
Bill of materials BOM allows you to track progress with sales and production orders in real-time, updating your raw materials and resources cost to make pricing decisions easier. BOM software keeps your costing error-free when it comes to your financial data.
Track manufacturing costs based on your bill of materials and production operations

Create multi-level BOMs with subassemblies for accurate costing

Make precise pricing decisions based on your product margins

Track your cost of goods sold (COGS)

Set the initial cost for stock imported from your e-commerce platforms in Katana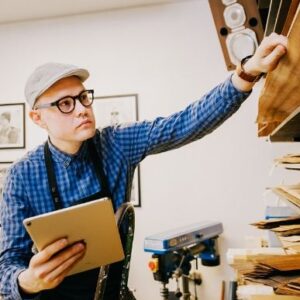 Materials BOM software equipped with powerful live inventory management features
Materials BOM software like Katana gives users the tools to track different manufacturing inventory types and implement end-to-end traceability into their business.
Manufacturers can pursue different manufacturing processes, such as making bespoke products or tracking batches of items with expiry dates. This level of flexibility allows you to keep a close eye on items moving along your supply chain, all the way to the customer.
Get total inventory control for finished products and raw materials and improve product lifecycle management

Automate inventory transactions and set reorder points to prevent stockouts

Track on-hand, committed, and expected stock amounts in real time

Manage product variants and materials in one place

Autogenerate batch and internal barcodes

Quickly locate items across multiple warehouses, giving all teams access to the same live data

Trace faulty batches, materials, and products for effective quality management and product recalls — great for manufacturers making medical devices or handling perishable goods.
Integrate your favorite tools
with Katana software bill of materials
Create your own integrations or workflows between Katana BOM software and third-party software via API
Katana's bill of materials software is built to fit the software you need. Here you can browse Katana's continuously expanding list of integrations to learn more.
Can't find an integration built into the native bill of materials software? Make your own from scratch to streamline your key manufacturing operations, creating a smooth workflow between your production, sales, accounting, and customer service.
Katana's bill of materials (BOM) is a tremendous help. Integrations with Shopify and Xero also play a big role in business management, and we can now manage both B2B and B2C orders with greater ease."
That was one thing that was very difficult to manage was raw material inventory — for example, how many black t-shirts do I need to order? That was the main reason why we selected Katana."
Before Katana and Naturewall I've used Sage, SAP, and in-house Excel programs in previous positions. Here they used Linnworks, but we couldn't get it to meet the business production requirements, which is why Katana was brought in."
I think that Katana had a much lower barrier to entry. It was still some work to get up and running, but I was able to gradually build my processes into Katana's system over several months."
Bill of materials software FAQs
Move your inventory to the cloud