Support your sales process and manufacturing with the best manufacturing quoting software
Imagine a stress-free experience when generating purchase orders, RFQs, or customer quotes and estimates. Manufacturing quoting software allows scaling manufacturers to enable quotes and invoices in just a few seconds automatically.
Reassurance and reliable calculations with manufacturing quoting software
Manufacturing cost estimating software allows manufacturers to produce a faster quote system, provide customers fairer prices, and free up resources for other business concerns. Quoting software for manufacturing works by compiling data, such as pricing and production. This costing analysis is put into a quote template, which will remove the labor of assembling the information when a quote needs to be generated. Manufacturing companies realize the importance of estimate and quoting software because it allows them to achieve their business goals faster and efficiently.
Sending quotes that are fairer for you and your customers
Manufacturing quoting software empowers users to generate quotes for your B2B or B2C sales quickly and easily. This allows you to automatically calculate manufacturing costs, lead times, and configure price before committing any resources to production. Once the customer is happy with the sales quoting, you can use the quoting software for manufacturing to convert the quote into a sales order.
Manufacturing estimating and quoting software like Katana will help you: 
Save time, money, materials labor, and other essential resources

Give detailed cost estimations

improve your customer support

Improve workflow quotes for bespoke products

Achieve lean manufacturing
Paying the right price with improved purchase management
Looking for the best deal is a challenge that requires getting accurate estimates quotes from qualified suppliers. Manufacturing estimating software can generate purchase orders and RFQs for you to send to vendors in a couple of seconds. This allows you to track POs and RFQs to get the best deal and start manufacturing at the lowest viable cost.
Manufacturing quoting and estimating software like Katana will help you:
Send quotes and get quick responses from suppliers

Save time and energy creating and sending quotes

Save on the cost of services

Get detailed quotes from suppliers

Compare multiple quotes in a short amount of time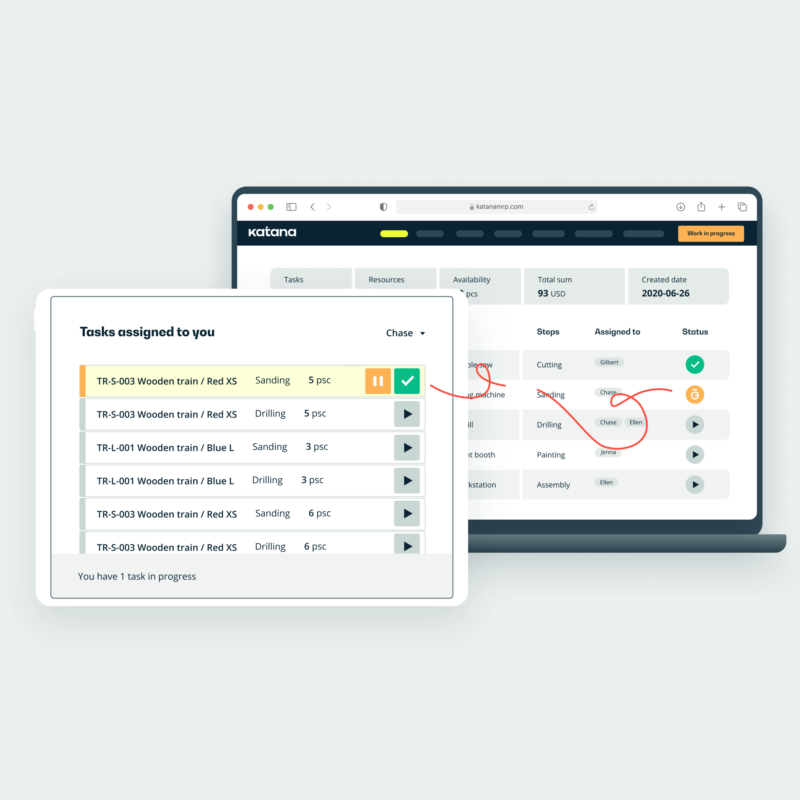 Unlocking full traceability with manufacturing quoting software
From sending an RFQ to receiving the items to manufacturing your goods and beyond. Quoting and estimating software such as Katana gives users complete visibility of their supply chain, manufacturing, and sales, meaning you can track items from the supplier all the way through to the customer. This allows you to identify bottlenecks and locate products if a mistake is made during production.
Manufacturing quoting software like Katana will help you:
Get an overview of production progress across the business or at the task level

Automates quoting data entry to make better business decisions

Perform better risk assessments by monitoring purchasing and production

Improve communication between staff and contract manufacturers

Improve visibility over inventory and business
Integrate your manufacturing quoting software with the services you know and love
Connect Katana to third-party software or create your own workflows via API
Upgrade your current cost estimating software for manufacturing into a fully optimized and centralized workflow. Katana integrates with a range of e-commerce, accounting, CRM, reporting, and automation tools to streamline your business operations. Take a look at Katana's growing list of integrations to learn more.
With Katana, we are able to track products, build recipes for materials, and set reorder points for our materials as well."
It's great to be able to see where inventory faults happen and being able to fulfill orders and where the turnaround happens."
Katana accurately keeps stock of assemblies and ingredients so that I can plan production and get instant feedback on whether we enough resources in stock."
We also wanted an accurate inventory system for batch planning, warehousing, and sales. Katana fulfills all our needs in a simple, easy solution."
Get a demo and discover the power of real-time insights