Get the WooCommerce ERP Integration for Ambitious Sellers
Use Katana's WooCommerce ERP integration to sync your manufacturing production and online sales in a single platform for more holistic business management and less unnecessary admin.
An ERP system which makes production and sales simpler
Combining your existing WooCommerce store with an online business run through Katana could not be easier. With both accounts up and running it takes a few clicks, and you'll start eliminating manual work from day one, as you get a wider view of your business, greater automation, and a simplified approach to production, sales, and accounting.
Most e-commerce platforms are built for selling high-volume, low-price products…but we need documentation and other prerequisites for the sale, even if it's online. This is why WooCommerce has been the optimal solution, and connecting it with Katana was pretty flawless."
Since implementing Katana, we've grown our product offering, and that wouldn't be possible without it. It has freed up my time so I can focus on designing and creating more products. It also means that I am not working until 11 pm every night."
We chose Katana because it seemed to be the most user-friendly software we tried – it is very easy to use and the customer service is great!"
With Katana, we are able to track products, build recipes for materials, and set reorder points for our materials as well."
Complete organization with an ERP you can trust
Bringing your manufacturing business into Katana allows you to integrate easily with your existing WooCommerce store. You can organize your materials and products and sync inventory to maintain accurate stock quantities in both your store and warehouse. And all your data is updated in real time, so you always have up-to-date numbers and can set reorder points for your raw materials.
Get live syncing between production and sales
You can synchronize both your orders and stock using Katana's ERP integration with WooCommerce. If orders are processing in WooCommerce, they'll be open in Katana until you mark them as complete. And for stock, and changes in Katana will be immediately reflected in your WooCommerce store, so customers will always know how much stock you have.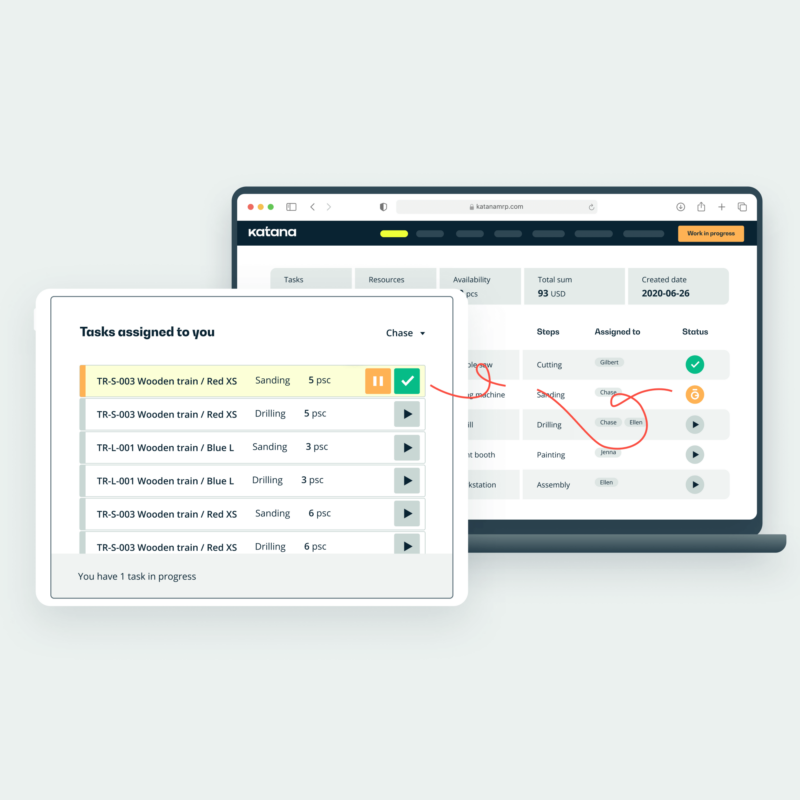 Know your customers and keep them smiling
All of your existing customer data is imported to Katana during your first import with WooCommerce, and then automatically updated each time you receive a new order. You can also import sales directly from all of your WooCommerce stores to manage order fulfillment and production for any stores you haven't connected to Katana yet.
WooCommerce ERP integration FAQs
Get a demo and discover the power of real-time insights