Total control with automated inventory management software
Accurate inventory tracking is an integral part of your business. Simplify the process with Katana's automated inventory management software and drastically reduce your admin time.
Get your stock in order with automated inventory management software
Having an accurate overview of your stock levels is crucial to ensure your customers always get the items they order on time. Katana gives you a real-time overview of your entire inventory, so you always know what's in stock and which items or raw materials you need to order.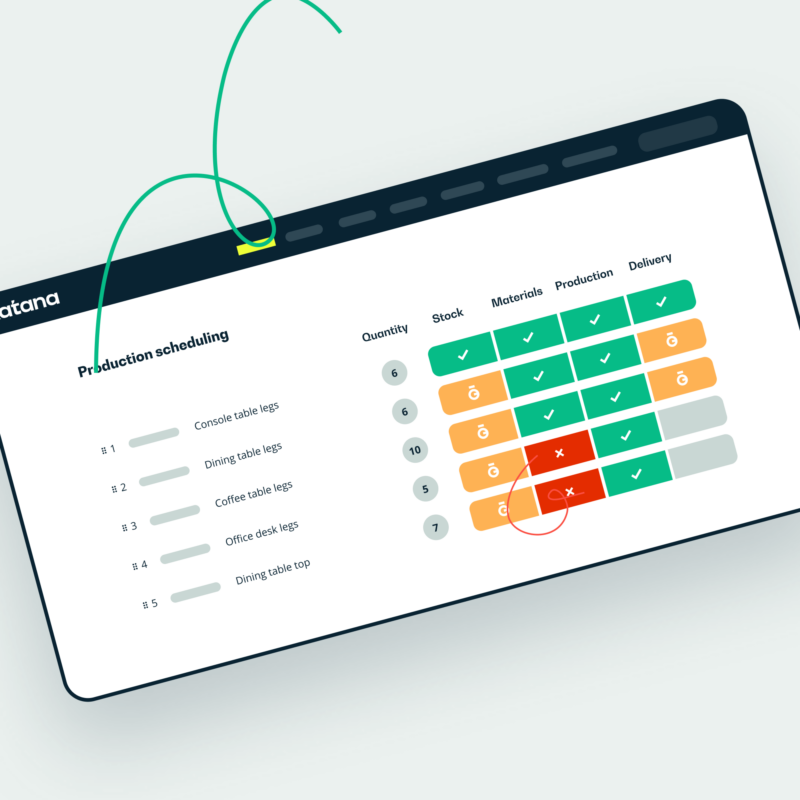 Connect with the best e-commerce platforms on the market
You need a diverse customer base to give your business the best chance to succeed. One way to diversify and expand your audience is by selling your products on different platforms.
Katana has native integrations with Shopify and WooCommerce, plus a ton of third-party integrations with other e-commerce platforms. This means you can simply connect your online stores with Katana and have your inventory updated in real time as orders come in, no matter which e-commerce platform the customer used to place the order.
By implementing Katana's automated inventory management system, you can sell on multiple platforms to maximize your reach without increasing the time it takes to manage your inventory.
Keep your stock synchronized across multiple warehouses
Businesses often opt to store their products across multiple warehouses — which has many benefits. Perhaps the most obvious one is that it allows businesses to keep inventory closer to their customer base, leading to shorter shipping times and lower shipping costs.
Additionally, storing inventory in multiple warehouses can help businesses manage their risk, as they can leverage their products across different geographical regions.
With Katana's enterprise resource planning (ERP) software, you get a live overview of your entire inventory across all your warehouses. This helps you make informed decisions about where to send your orders to ensure everything runs as efficiently as possible. Katana automatically keeps everything in sync and updates the stock levels as orders come in.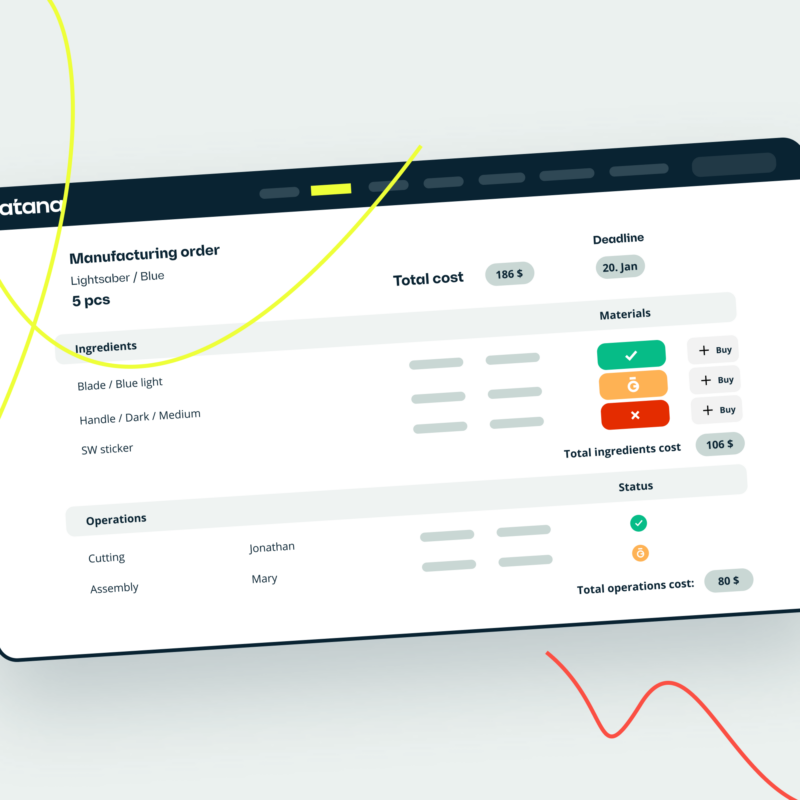 Manage your resources, production, and scheduling from a centralized place
In business, there are always risks that something may go wrong. To ensure your operations don't come to a screeching halt every time a problem arises, you need to have plans in place to adapt quickly and keep going.
Katana comes with a real-time master planning feature that can automatically allocate resources based on manufacturing order priority. This means that you can quickly reprioritize your manufacturing orders if you experience any delays with material delivery.
By changing the priorities of your manufacturing orders, Katana will automatically allocate raw materials and your workforce so that work can still continue on other projects while you figure out the supply chain issues.
Automated inventory management solution that integrates with your favorite tools for a smooth workflow
Native integrations, codeless templates, and fully customizable API integrations
Katana's ERP for simplified inventory automation. Katana's inventory automation software gives users access to the API, allowing you to create custom workflows and connect your business apps to manage your sales, manufacturing, and accounting all on one platform. Automate data transfers between the services you use to level up efficiency. Take a look at Katana's API documentation to learn more.
We needed help with Shopify inventory management for raw materials, and Katana exceeded our expectations."
Katana integrates everything, making for effective company-wide resource planning and control."
Katana provides us with all the features for manufacturing order management and can track inventory usage and incorporate our sales order tracking into Katana."
We chose Katana because it seemed to be the most user-friendly software we tried – it is very easy to use and the customer service is great!"
Automated inventory management FAQs
What are the benefits of automated inventory, and how does it differ from manual inventory management?
Automated inventory control systems can track inventory in real time, whereas manual systems require periodic stocktakes that can introduce errors and inaccuracies.
Automated systems can highlight stock items when inventory levels reach certain thresholds, allowing businesses to reorder stock before they run out completely.
Finally, automated systems can generate reports that can help businesses track inventory levels and sales patterns which can help business owners with:
Data analytics

Inventory forecasting

Knowing which

trends to watch
What features to look out for in automated inventory management systems?
Automated inventory control systems should offer real-time tracking, automatic reordering, and comprehensive reporting. Other features to consider include barcode scanning, support for multiple locations, and integrations with accounting and e-commerce platforms.
Katana's inventory management software has all the tools you need to automate inventory, take control of your supply chain,  and manage your business operations.
Is automated inventory management software worth the investment?
Implementing automated inventory management technology can save businesses time and increase profit margins by reducing stockouts, improving accuracy, and providing insights into sales patterns and inventory levels.
Manual inventory counting methods are prone to human error, which can leave you with incorrect inventory counts, leading to stockouts.
Not being able to fulfill your customers' orders can cost you sales, damage your reputation, and ultimately hurt your bottom line.
Proper stock management is crucial for every growing business that's selling goods and automated inventory systems are the best way to keep track of your stock count.
If you have a limited budget, subscription-based automated inventory control platforms won't require a large upfront investment.
Start manufacturing in the cloud