Partially complete manufacturing orders via the Shop Floor App
Improve customer satisfaction by getting products on big orders out as soon as they're ready by partially completing manufacturing orders.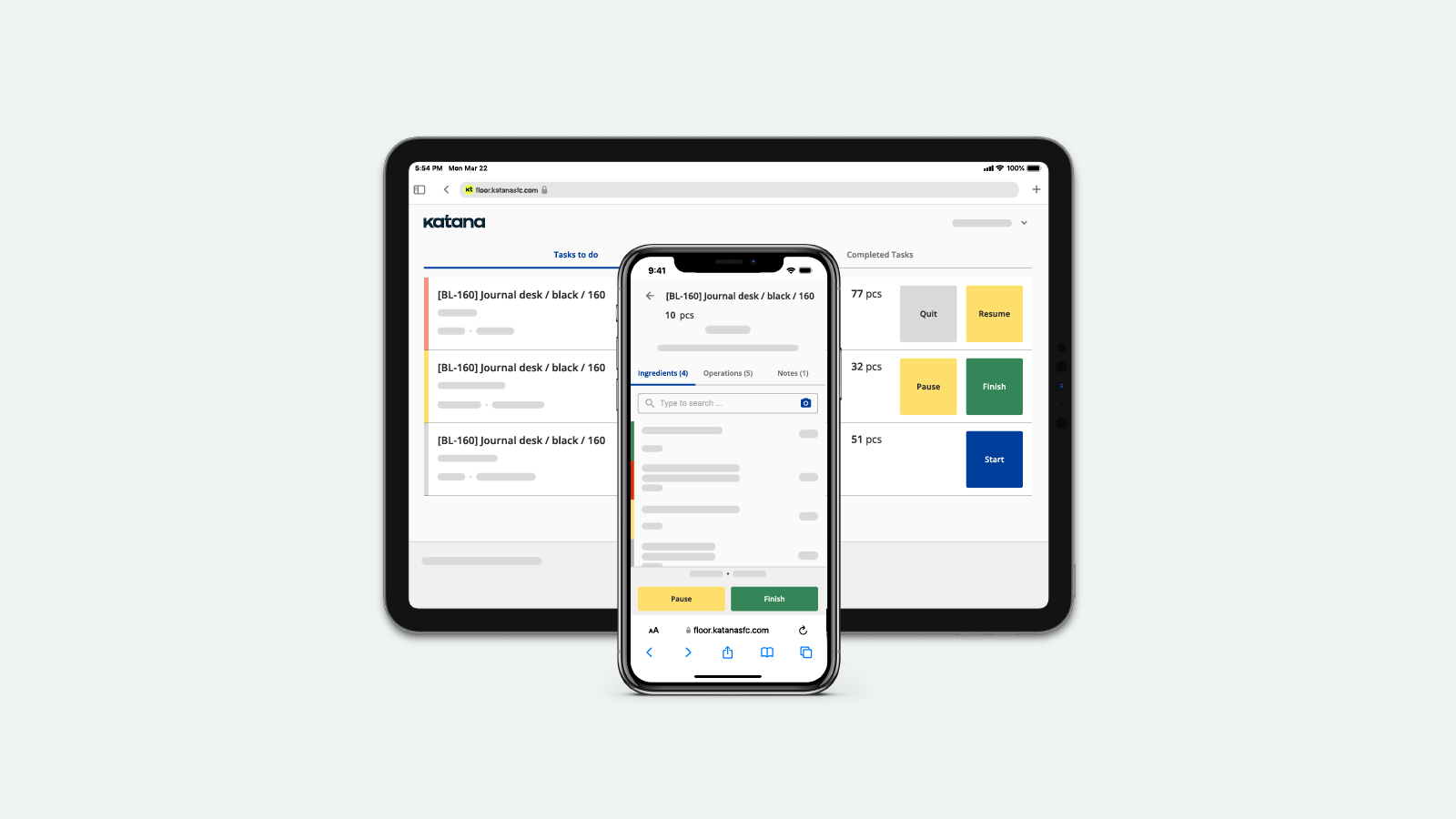 By partially completing a manufacturing order, it's possible to divide larger orders into smaller parts. Dividing an order's completion can increase your manufacturing floor's efficiency by making it possible to pack and deliver finished goods without waiting for the entire manufacturing order to be ready to ship.
For manufacturers who often create products in large quantities, fully completing a manufacturing order can frequently take longer than desired. Partial completion prevents finished products from sitting in your inventory and taking up valuable floor space.
Partially completing a manufacturing order
In February, we added an option to partially complete manufacturing orders in Katana. The latest update lets you partially complete manufacturing orders from Katana's Shop Floor App (SFA).
With the recent update, In progress tasks on the Shop Floor App can be marked as Partially complete or Finished. If you choose to partially complete a task, the app will ask for a completed quantity and add the completed product quantity to stock.
Once a task is fully completed, Katana will ask for the final quantity of completed products, the consumed quantity of ingredients, and the consumed time for all operations (depending on your settings).
To learn more about partially completing manufacturing orders, peruse our Knowledge Base article, which covers all the details and guidance you need to begin.
In addition to being able to partially complete manufacturing orders on the SFA, other updates to the App include search, improved task lists, and consecutive operations, as well as visibility in already consumed materials related to the manufacturing order an operator is working with.
Align production scheduling and operations in the Shop Floor App
Katana's Shop Floor App offers a range of features and capabilities to enhance production management on the shop floor and allows you to:
Ensure that the production team receives clear instructions and can efficiently carry out their tasks by sending tasks to Katana's Shop Floor App based on ingredient requirements and product operations for each manufacturing order
Get live updates from the production floor as operators start, pause/resume, and complete tasks assigned to them
Have visibility into ingredient consumption with live material tracking and monitor time spent on each task
Use barcode scanning to keep tabs on the movement of items, products, and batches throughout the production process
Ready to get started with Katana's Shop Floor App? Take a look at our Knowledge Base to guide you.
Next up for Katana's Shop Floor App
We'll keep working to improve Katana's Shop Floor App functionality. Keep an eye out for the following updates to the Shop Floor App:
Report serial numbers on MOs
Partially complete MOs with ingredient batch numbers
Happy manufacturing!
Move your inventory to the cloud