Inventory control software that helps you master your stock
With Katana, manufacturers get the inventory software they need to handle everything related to product management on one platform. SMB businesses have a clear overview of their inventory levels and get a better idea of what items are selling well, and which aren't.
Becoming an expert of asset tracking is possible, if you choose Katana
Whether you have a
range of integrations
that still uses spreadsheets, or your company is among those midsized businesses in dire need of better asset tracking, Katana can elevate your game. Get more accurate stock counts, reduce human errors, upgrade your warehouse management, and avoid prolonged manual entry of items with inventory management software.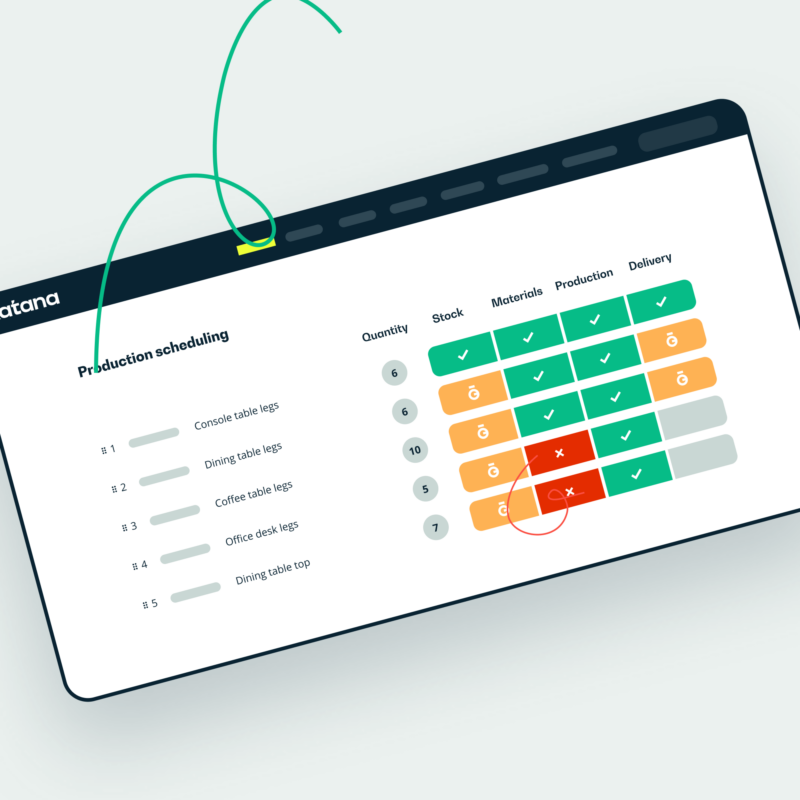 Intuitive and inexpensive inventory features for SMB manufacturers
If you want to remain competitive in the lively world of manufacturing, taking every opportunity to control costs is crucial to keeping your margins high and profitability even higher.
Katana's tracking tools and inventory features provide price control — assisting you in turning your challenges into competitive advantages.
Use Katana's inventory management features to:
Keep a close eye on your inventory with warehouse management features
Establish end-to-end traceability for raw materials and products with batch tracking
Track expiry dates of products and master the control of expiring stock
Track items across multiple warehouses, giving all your warehouse managers access to the same live data
Save hours and nerve cells with modern inventory software
Only masochists want the joy of telling customers that they've run out of stock and can't fulfill their orders.
Katana tracks your entire inventory in real-time, so you can avoid low inventory levels or overstocking items. This helps you handle stock more efficiently, and you can use this newfound time to focus on other business needs.
Get Katana's online inventory control software to:
Set reorder points and low stock alerts to avoid negative feedback from customers and business partners
Track on-hand, committed, and expected stock amounts in real-time
Become a pro of multichannel inventory management with automation tools
Plug in your compatible barcode scanners, and start receiving and tracking inventory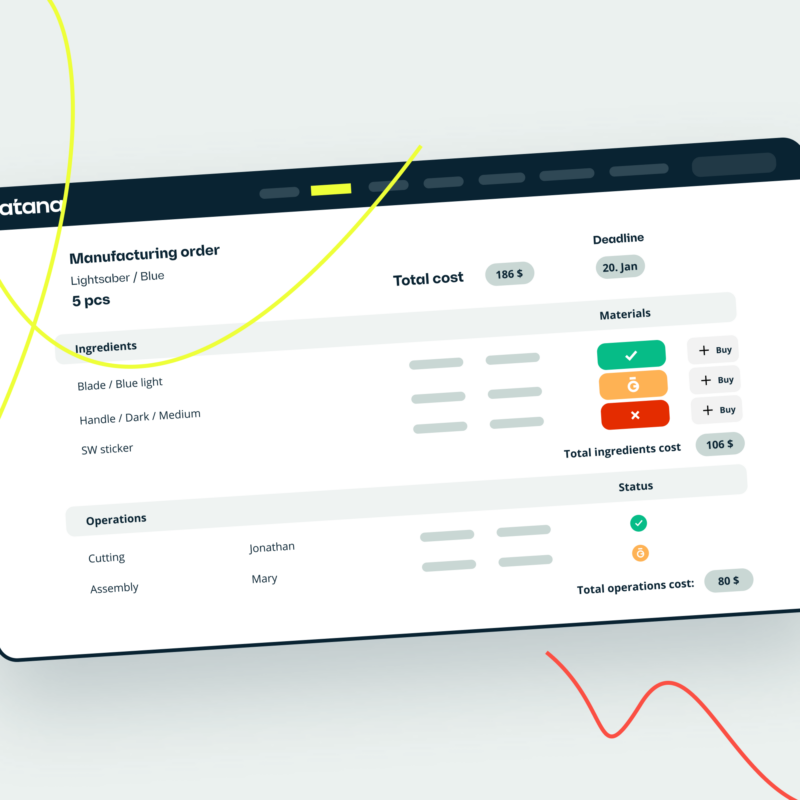 Integrate with multiple platforms to optimize every business angle
Katana's inventory software isn't just a tool for stock management. Katana has steadily grown the range of integrations with industry-leading business platforms for manufacturers who want more out of their inventory control system.
If you value integrations between manufacturing and other business aspects, you can make Katana the central point of truth for your business — you can automate data flow between the services you use the most.
Katana can help you to boost your business with connections to:
E-commerce platforms for multichannel selling purposes
Accounting tools for synchronizing your financial and manufacturing data
Shipping tools for seamless shipment tracking
Forecasting solutions, in case you want more juice out of inventory reporting and analytics
A capable inventory management platform that integrates with your favorite tools for a smooth workflow
Native integrations, codeless templates, and fully customizable API integrations
Katana gives users access to the API, allowing you to create custom workflows and connect your business apps to manage your sales, manufacturing, and accounting on one platform. Automate data transfers between the services you use to level up efficiency. Take a look at Katana's API documentation to learn more.
We also wanted an accurate inventory system for batch planning, warehousing, and sales. Katana fulfills all our needs in a simple, easy solution."
It's great to be able to see where inventory faults happen and being able to fulfill orders and where the turnaround happens."
Having a system track inventory and what stage it is in has been incredibly helpful. It also has helped our team have a more clear delineation of the order of operations for each product in our catalog."
I think that Katana had a much lower barrier to entry. It was still some work to get up and running, but I was able to gradually build my processes into Katana's system over several months."
FAQs about inventory control software
Get a demo and discover the power of real-time insights