Small business inventory control software to boost your growth
Take your business to the next level with Katana's small business inventory control software. Get back into the driver's seat with an intuitive platform to manage everything from sales to manufacturing.
Choose a small business inventory control software that can scale with your business
Running a business can involve juggling multiple different tools and systems. As your business grows, you may find that certain platforms fall short of your needs. Transferring all your data over to new systems can be quite a headache. That's why it's important to choose tools that support your business' growth.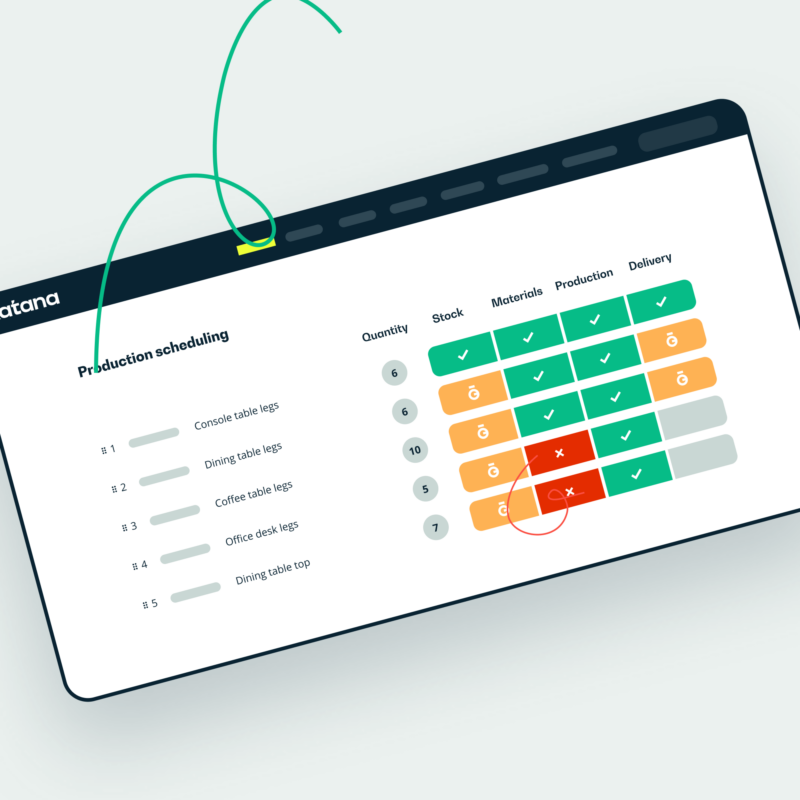 Leave the mundane tasks for your inventory control software
Starting off with spreadsheets is a no-brainer, as your go-to system to track stock, customer information, orders, and payments. And why not? After all, spreadsheets are free and they do the trick. However, as your order volumes grow, you may spend more hours each day inputting data when that time could be used for much more impactful endeavors.
Manuals data entry is also quite an error-prone process and these small mistakes can snowball into large issues like suddenly running out of stock when your spreadsheet shows you had plenty left. That's why the right time to implement an inventory control system is before things get out of hand.
With Katana, you get a real-time overview of your entire inventory. What's more, your stock levels are automatically updated as new orders come in, raw materials arrive, or new products are manufactured. This way, you always have accurate inventory data when making business decisions.
Easy setup solution that doesn't break the bank
Enterprise resource planning (ERP) solutions can cost thousands of dollars, not including the expensive hardware requirements. Besides the large upfront cost, these systems can take weeks or even months to set up. And once installed, due to the complexity, the system still requires an in-house IT department to manage and maintain everything.
Katana's ERP is a cloud-based system which means you don't need expensive hardware to run it nor will you need to install anything on your computer. All you need is an internet-enabled device with a web browser. This makes Katana an ideal solution for small businesses that need to get everything running with minimal upfront costs.
As another benefit besides the easy setup and lower costs, with cloud-based systems, you don't need to worry about maintenance or updates as the service provider manages everything. Allowing you to focus on running your business and not on managing an IT department.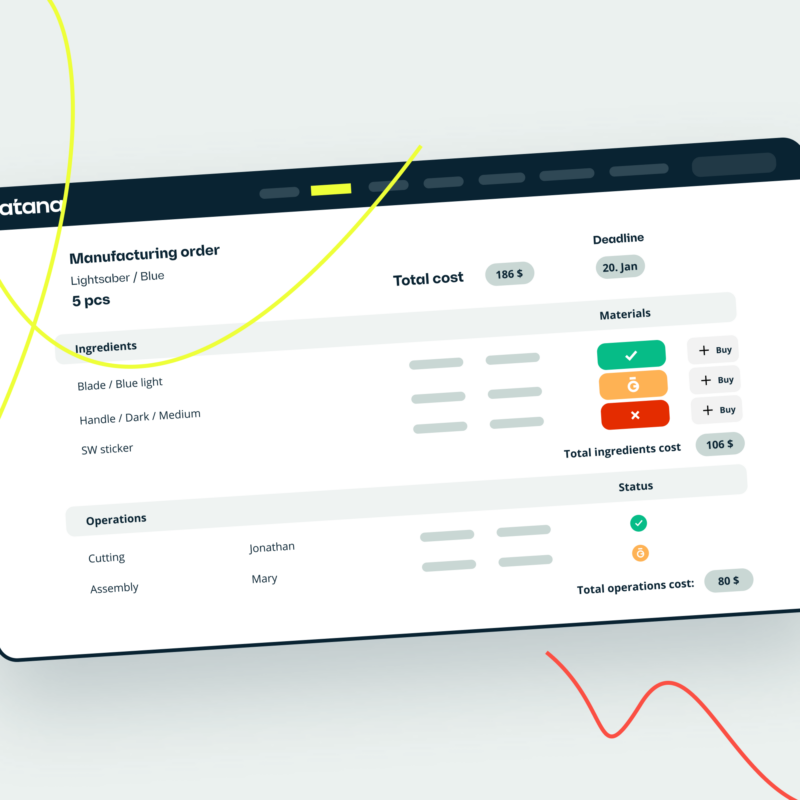 Seamless connection with all your business tools
Katana allows you to integrate your favorite platforms, so you can keep your data synchronized across all your favorite tools. With its native and third-party connections, you can connect with:
E-commerce platforms

Accounting tools

Reporting tools

Shipping platforms

Customer relationship management (CRM) platforms
Keeping all your data synced is integral to ensuring your business runs smoothly. You can also use Katana's open API to set up your own custom workflows.
Small business inventory management software that integrates with your favorite tools for a smooth workflow
Native integrations, codeless templates, and fully customizable API integrations
Katana's small business inventory control software gives users access to the API, allowing you to create custom workflows and connect your business apps to manage your sales, manufacturing, and accounting all on one platform. Automate data transfers between the services you use to level up efficiency. Take a look at Katana's API documentation to learn more.
With Katana, we can track products, build recipes for materials, and set reorder points as well. That was one thing that was very difficult to manage — raw material inventory — for example, how many black t-shirts do I need to order? That was the main reason why we selected Katana."
With Katana, we can more effectively see and follow inventory levels, and have recipes and bills of materials (BOMs) for our manufactured products that let us follow the manufacturing status throughout the whole production cycle."
I used to spend around 15 minutes per individual order on admin work, and I would be doing it all – preparing the packing lists, labels, and shipping. Now I do not need to touch any of that. Instead, I can put this time into designing new products and developing the business."
We needed something more than just a spreadsheet but we didn't like to pay a crazy amount for a system we wouldn't fully use. Tracking inventory and what stage it is in has been incredibly helpful. It's helped our team have a clearer delineation of the order of operations for each product in our catalog."
Inventory control software for small businesses FAQs
Move your inventory to the cloud