We needed something more than just a spreadsheet but we didn't like the idea of paying a lot for a system we wouldn't fully use. Having a platform that tracks inventory and what stage it's in has been incredibly helpful. It's also helped our team have a more clear delineation of the order of operations for each product in our catalog.
Sarah Zinger
Director of Production Logistics at System76
A real-time overview of your gun inventory with features to help you maximize efficiency
Katana gives you ideal inventory management for firearms production so you can keep track of raw materials, prepared products, and completed orders in a single platform.
Get set up in under 7 days
1
Sign up for a free trial
Start your free 14-day trial to try Katana risk-free. No credit card required.
2
Select your plan
We recommend the Advanced plan to get full access to all the best features on your trial.
3
Sync with other tools
Connect to your accounting, e-commerce, and reporting tools for maximum visibility.
Maintain your firearm inventory with software for meticulous planning and simplified production
In the manufacturing of firearms, it's important that stock counting, product tracking, record keeping, and customer data are kept up to date and maintained well. Thousands of manufacturers use Katana to unite all aspects of their manufacturing business, using integrations with e-commerce, accounting, and shipping software for end-to-end manufacturing management. By improving manufacturing process tracking and relevant data collection, Katana helps you calculate lead times and keep an eye on your entire product lifecycle.
With reliable manufacturing software, existing user data sourced from your e-commerce platform is kept secure and is easy to access. And by integrating with shipping software you can easily expand to new markets and reach gun collectors around the world. Integrations with popular accounting platform also tie in your financials, and ensures that accurate costing data is synced between Katana and your bookkeeping tools.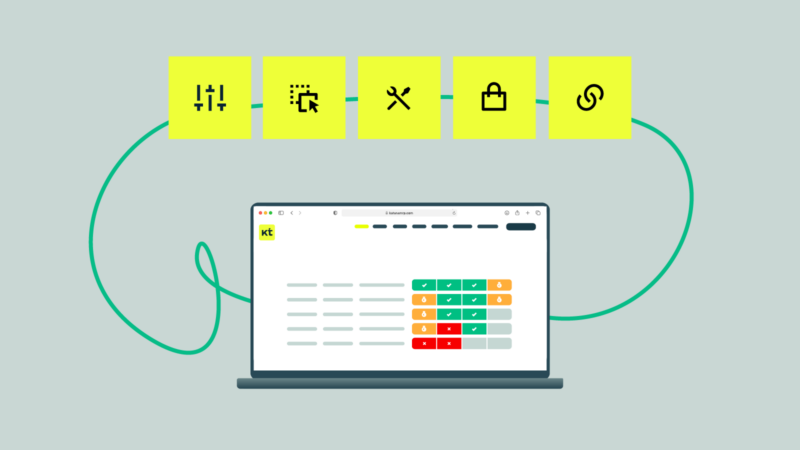 A perfected production process for pinpoint accuracy
Along with keeping accurate records, accuracy is also needed in the actual manufacturing of your products — this is where your bills of materials come in. Bills of materials (or BOMs) are the recipe for your product, outlining each stock item that makes up a finished firearm. You can create as many of these as you need within Katana, with variations for products that you offer in different metals, finishes, or with specific engravings (if it's something you offer).
Your BOMs will also help you maintain effective supply chain management. When orders are in production, Katana automatically updates your stock level, making it easy to see when raw materials need to be reordered. You also have the option to set automatic reorder points, so as soon as you're running a low Katana creates a purchase order and make sure whatever you need is on its way — inventory control without the admin of constantly checking a spreadsheet yourself.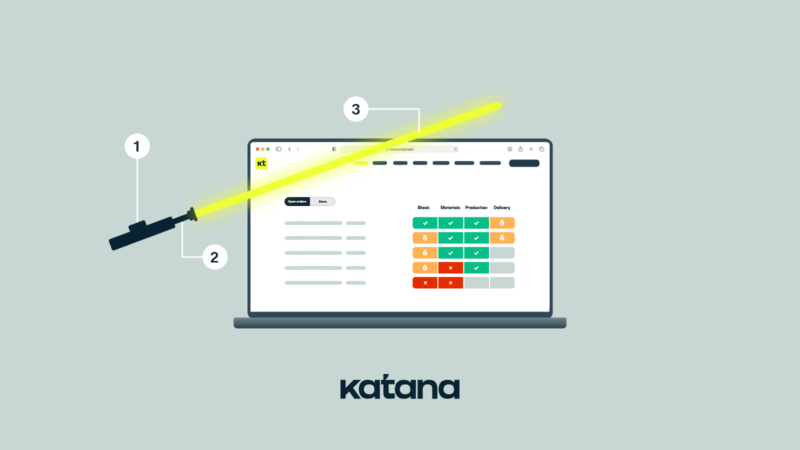 From finished firearms to satisfied collectors
Once your firearms are finished, you can track your firearm inventory in Katana, which is relevant whether you're using a make-to-stock or make-to-order workflow. You can then sell your products on your platform of choice by connecting to a range of available e-commerce integrations, and connect to a shipping integration to send them off.
While your factory gun vault empties and products leave the shelves, you can track and manage your finances using your choice of accounting software. Katana comes with a native QuickBooks integration, integration with Xero, and the option to integrate with another provider using our open API. All in all, Katana has your manufacturing business covered, from stocked to shipped.
Integrate with the best e-commerce,
accounting, reporting, and CRM
software out there
Create custom API integrations
Use Katana's open API to create custom workflows and connect to apps beyond our list of integrations. Automate data transfers between the services you use to level up efficiency. Take a look at our API documentation to learn more.
Firearms inventory software FAQs
Get the visibility you need to move products and make decisions