At first, we approached work ad-hoc, doing most things with estimations. But once we got Katana, we were able to formulate a schedule and get our stock under control. Where we previously experienced delays, we're now on top of our order fulfillment with Katana.
Madeline White, Natural Native
Without chemical manufacturing software, you and your managers will quickly reach a boiling point as your business grows
Chemical manufacturing ERP software allows you to stay on top of your inventory, production, and supply chains and allows your team members to get on the same page with a cohesive workflow. Katana ERP software for chemical manufacturing gives you all the advanced software applications and integrations you need to keep a competitive edge safely.
Get set up in under 7 days
It's that simple. For more guidance visit our Knowledge Base.
1
Sign up for a free trial
Start your free 14-day trial to try Katana risk-free. No credit card required.
2
Select your plan
We recommend the Advanced plan to get full access to all the best features on your trial.
3
Sync with other tools
Connect to your accounting, e-commerce, and reporting tools for maximum visibility.
Dilute solutions, not profits, with ERP software for chemical manufacturing
The chemical manufacturing industry is a vital part of the global economy, and it plays a significant role in the everyday lives of people around the world. The products of the chemical manufacturing industry are used in a wide variety of industries, and they are essential to the functioning of many different types of businesses.
A minuscule change can significantly impact on the bottom line. Many companies turn to software solutions to streamline operations and reduce costs. Chemical manufacturing software provides valuable insights into production data, helping managers identify areas for improvement and facilitate compliance with safety and environmental regulatory requirements. With a comprehensive view of all aspects of production, chemical manufacturing software can help companies avoid costly mistakes and keep their operations running smoothly.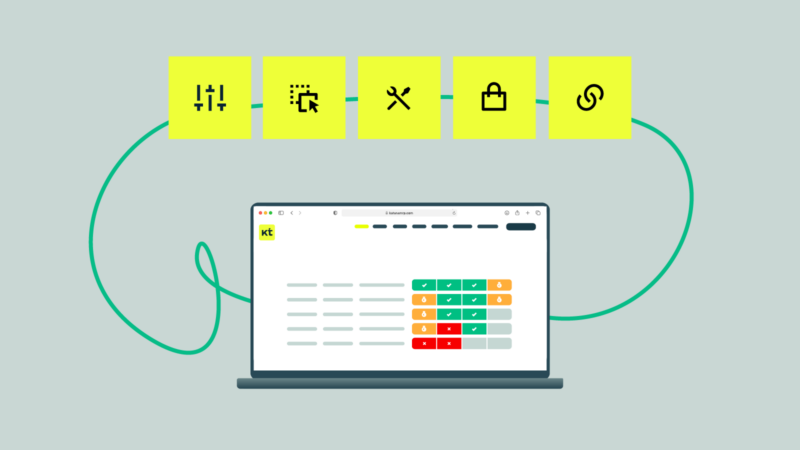 Real-time production and inventory status overviews of the entire business or at the atomic level
Katana chemical manufacturing software helps you track production levels and plan and schedule production runs in real-time — ensuring that you always have the necessary raw materials available and your production process is as efficient as possible.
ERP software for chemical manufacturing helps avoid costly downtime due to shortages or delays in receiving new shipments. Having a live overview and access to historical sales data with Katana gives you valuable insights for process manufacturers, allowing you to identify areas where your business is struggling. Using Katana, you can optimize your chemical manufacturing operation for maximum efficiency and productivity.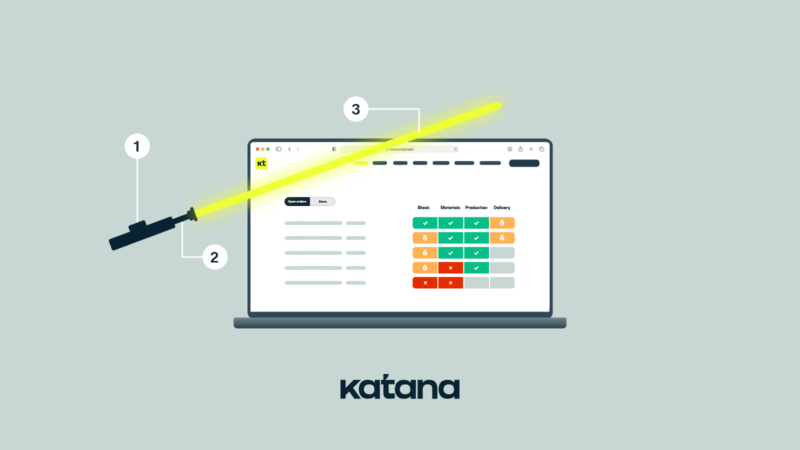 Match items to batch for optimized inventory tracking and industry compliance
Specialty chemical manufacturing software helps streamline batch production by automating processes and providing real-time data tracking. Katana ERP software can help reduce the need for manual input and paperwork, as well as help prevent errors.
In addition, Katana ERP software chemical manufacturing provides several features designed to make batch production more efficient. These features may include automatic batch numbers, batch or lot traceability, and live inventory management. By having all this information readily available and easy to access, manufacturers can make better production scheduling and resource allocation decisions. This, in turn, can lead to reduced production costs and improved product quality.
Integrate with the best e-commerce,
accounting, reporting, and CRM
software out there
Create custom API integrations
Use Katana's open API to create custom workflows and connect to apps beyond our list of integrations. Automate data transfers between the services you use to level up efficiency. Take a look at our API documentation to learn more.
Chemical management software FAQs
What is enterprise resource planning (ERP) software?
Enterprise resource planning (ERP) software is a business management software that helps organizations track and manage their business processes, including accounting, human resources, inventory, customer relationship management, and supply chain management.
An ERP for the chemicals typically consists of a central database that stores information about all aspects of the business and a set of applications that allow users to access and update this information. ERP platforms can be deployed as on-premise or cloud-based solutions.
While ERP for chemical management is designed to streamline and automate many core processes within an organization, it can also be complex and expensive to implement. Businesses need to consider their needs before selecting an ERP system carefully.
Cloud-based ERP systems can benefit businesses of all sizes, but they are often most critical for large organizations with complex business processes. A chemical manufacturing ERP solution may be less necessary for smaller businesses, as these organizations typically have simpler processes and can get by with less-sophisticated accounting and inventory management tools. However, even small businesses can benefit from the centralization and automation that a process manufacturing ERP system can provide.
Businesses should consider their specific needs and budget when selecting an ERP system. There are several different cloud ERP vendors to choose from, each with its strengths and weaknesses. It is important to carefully evaluate the features and functionality of each option to find the best fit for the organization.
ERP systems can be complex and expensive to implement, but they can offer several benefits for businesses, including increased efficiency, better data management, and improved decision-making. When selecting an ERP system, it is important to carefully consider the organization's needs and compare the options available.
Some ERP solutions, like Katana, also act as a warehouse management system (WMS) too.
What is the bill of materials in chemical manufacturing?
A bill of materials (BOM) or formula management is a list of the raw materials, chemicals, and other components used in the manufacture of a product. It can also include information on suppliers, manufacturers, assembly instructions, and units of measurement. A BOM is an essential part of any chemical manufacturing process, as it ensures that all the necessary ingredients are available and used correctly.
Get the visibility you need to move products and make decisions