We chose Katana because it seemed to be the most user-friendly software we tried. And that has proven to be true - it is very easy to use and the customer service is great!
Alaina, Production Lead at Essence One
Cosmetic manufacturing, 5+ employees
Powerful features, simple to use
Products don't sell themselves, but the right software and workflows can make it feel like they do.
Get set up in under 7 days
It's that simple. For more guidance visit our Knowledge Base.
1
Sign up for a free trial
Start your free 14-day trial to try Katana risk-free. No credit card required.
2
Select your plan
We recommend the Advanced plan to get full access to all the best features on your trial.
3
Sync with other tools
Connect to your accounting, e-commerce, and reporting tools for maximum visibility.
Keeping your business organized without cosmetic ERP software is no longer viable
Direct-to-consumer cosmetic production is on the rise – as such many process manufacturers are facing a difficult situation. On one side, there are many more opportunities to reach previously untapped markets – on the other; however, the competition is incredibly fierce, and unless innovation is front-and-center in your mind, getting left behind is a very real possibility.
Manufacturing ERP software ensures seamless inventory management
Scaling is one of the biggest hurdles a business needs to overcome if they want to continue being successful – but it's not easy. As a cosmetic manufacturer, ensuring smooth and accurate inventory management is a huge challenge – and with the rise of the personal care sector in recent years; demand is bigger than ever. So how do you keep up?
Cosmetic manufacturing ERP software by Katana is designed to provide your company with an inexpensive and high-quality tool, allowing you to track, manage, and audit your entire inventory within a few clicks. Make sure you always have the correct amount of raw materials available for production at any given time.
Manufacturing ERP software like Katana allows you to:
Utilize priority-based batch production planning – helping you avoid stockouts

Keep track of on-hand, committed, and anticipated material requirements and stock levels

Manage and organize product and material variants in one place with Enterprise Resource Planning (ERP) software

Monitor resources and inventory across various warehouses

Stay one step ahead of the rest of the cosmetic industry with all of your data in one place
Enforce omnichannel sales techniques to enhance inventory control from anywhere
By integrating your sales channels with Katana you remove all the stress of managing sales and inventory – everything is accessible from one platform, regardless of the location. Secure yourself in the knowledge that all your sales and storage points keep stocked at optimal inventory levels.
Cosmetic manufacturing software gives you the ability to achieve omnichannel order management, as well as cross-channel item tracking, stock updates, inventory and sales management, fulfillment, and so much more.
Katana's end-to-end ERP software makes it easy to:
Synchronize your sales and production planning for efficient order fulfillment

Unify your e-commerce inventory and sales order management operations

Monitor the availability of raw materials, allowing open sales orders to have products automatically assigned to them

A simple and intuitive drag-and-drop system, giving you the ability to have full control over your resource planning

Automatic conversion of sales order values to multiple currencies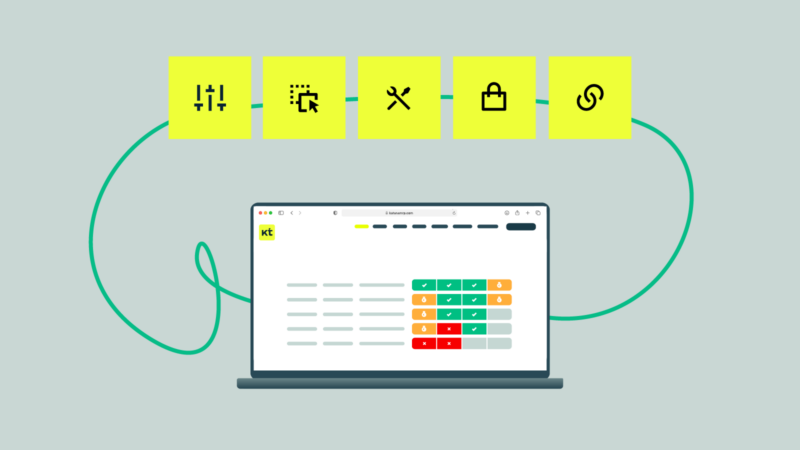 Eliminate waste and start saving money with cosmetic manufacturing software
Manufacturers of cosmetic goods often face problems of a similar nature: price range fluctuation, retention rates doing the same, regulatory compliance checks of your production quality, etc. Ensuring a streamlined flow of raw materials and goods helps you avoid holding onto a certain product for too long, or indeed letting it go when you need it the most.
Manufacturing ERP software provides your business with the tools it needs to accurately and succinctly manage resources and ensure orders are complete without leftover items – this, in turn, allows your job costs to come down to much more profitable levels. Integrate Katana with hundred of renowned e-commerce and accounting tools, and you'll never be left needing more.
Manufacturing software like Katana allows you to:
Gain complete control over your batch production across all inventory types

Ensure your sales management processes, and production quality align with the current needs of the personal care sector

Track your production process and manufacturing costs based on your bill of materials (BOM)

Implement and use barcodes to receive as well as track stock – ensuring regulatory compliance

Make accurate pricing judgments based on your product margins
Integrate enterprise resource planning software with the services you already use
Utilize native integrations and code-less templates, or design your own custom workflows via API
With a massive selection of integrations available, including accounting, e-commerce, CRM, and reporting options – whatever you may need to ensure smooth business ops can be handled by Katana. Although the cosmetic manufacturing sector is a complex one, your operations don't have to follow suit. Katana's manufacturing software is designed to fit into whichever internal software you currently use – and if there aren't any native integrations available right now, you can always build your own workflows via our API.
View the full list of integrations currently available.
Cosmetic manufacturing software FAQs
Get the visibility you need to move products and make decisions