Monitor and improve processes using a discrete manufacturing software
While micromanaging gives you a sense of security and control over your business, it also takes a lot of time out of your day. Katana's discrete manufacturing software streamlines repetitive tasks and gives you the time to scale your business.
Nothing's discreet with discrete manufacturing software
The business world is competitive, and making a name for your company is challenging. While marketing goes a long way, your products speak for themselves. That is why it's crucial to perfect your processes as much as possible and consistently deliver the best quality. Using discrete manufacturing software, streamlining manufacturing has never been easier.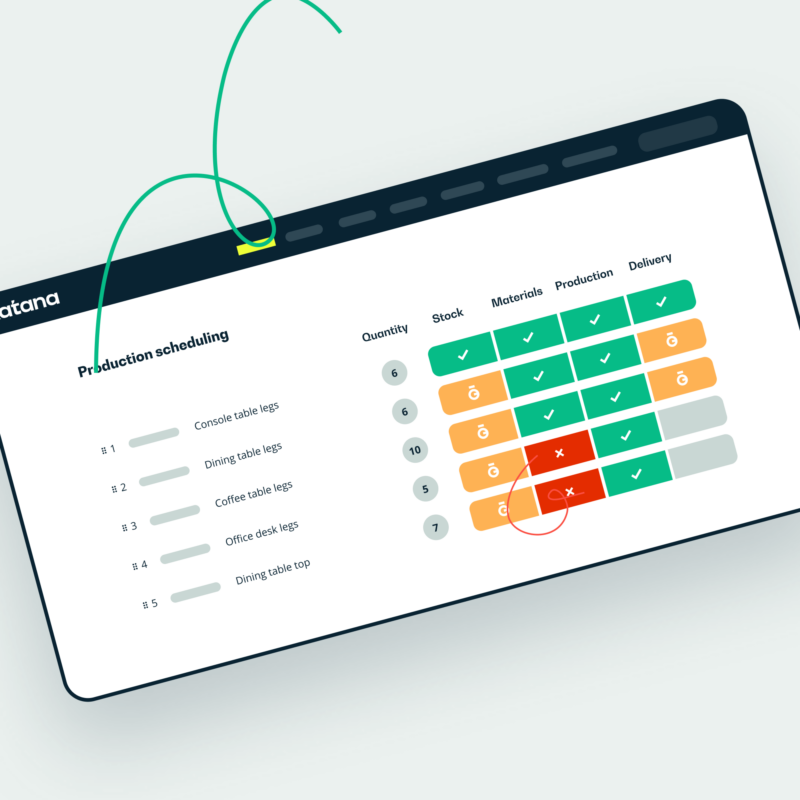 Stay up-to-date on your inventory and supplies
With real-time inventory tracking and reorder points, stockouts are a thing of the past. Katana's discrete manufacturing ERP software allows supply chain visibility and task management. That means you'll no longer have to maintain extensive spreadsheets and manually update them.
Here's how Katana's discrete manufacturing ERP software can help you keep an eye on your inventory:
Real-time stock tracking for all your locations

Reorder points to avoid low supplies

Barcode scanning for receiving and shipping deliveries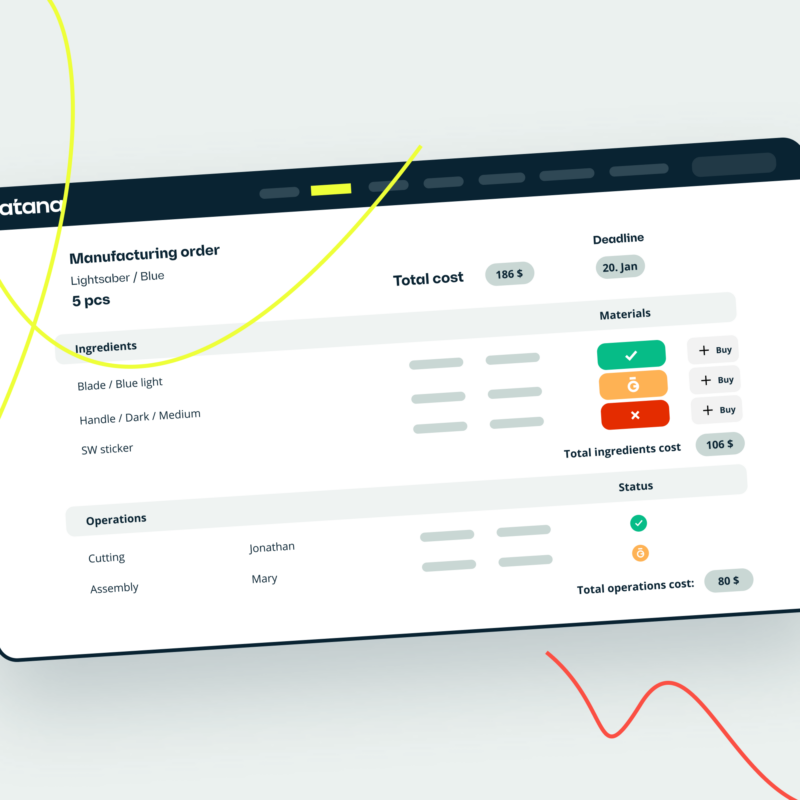 Monitor and improve your manufacturing processes
Take full advantage of the Shop Floor App to distribute and observe all production tasks. That way, you'll be able to track costs and time spent per assignment, reducing waste while increasing profits.
Here's how the Shop Floor App will help you eliminate inefficiencies:
Receive production updates in real time

Assign and monitor tasks across different teams

Keep important data discreet using user permissions
Create a custom workspace to adapt to your needs
Katana's discrete manufacturing ERP software offers a variety of native integrations that will help take your business to the next level. From accounting to e-commerce, shipping to customer relations — there's helpful software for all areas of your business.
Here's how Katana helps you synergize your workflows with:
Katana allows us to have a complete, real-time overview of our manufacturing processes and keeps our operations under control."
It's great to be able to see where inventory faults happen and being able to fulfill orders and where the turnaround happens."
With Katana, we are able to track products, build recipes for materials, and set reorder points for our materials as well. That was the main reason why we selected Katana."
Since implementing Katana, it has freed up my time so I can focus on designing and creating more products. It also means that I am not working until 11 pm every night."
Customize your workflow with the essential tools for your business model
Custom API integrations 
Katana's open API lets you create a workspace that meets the specific needs of your business. Automatic data sync between the services improves efficiency and frees up much of your time. Read more about how to take full advantage of integrations.  
Discrete manufacturing software FAQ
Move your inventory to the cloud