Manage shipping data from addresses to tracking information in Katana
Manage your shipment data directly in Katana – add addresses and order tracking information to sales orders and connect to shipping solutions via Katana API.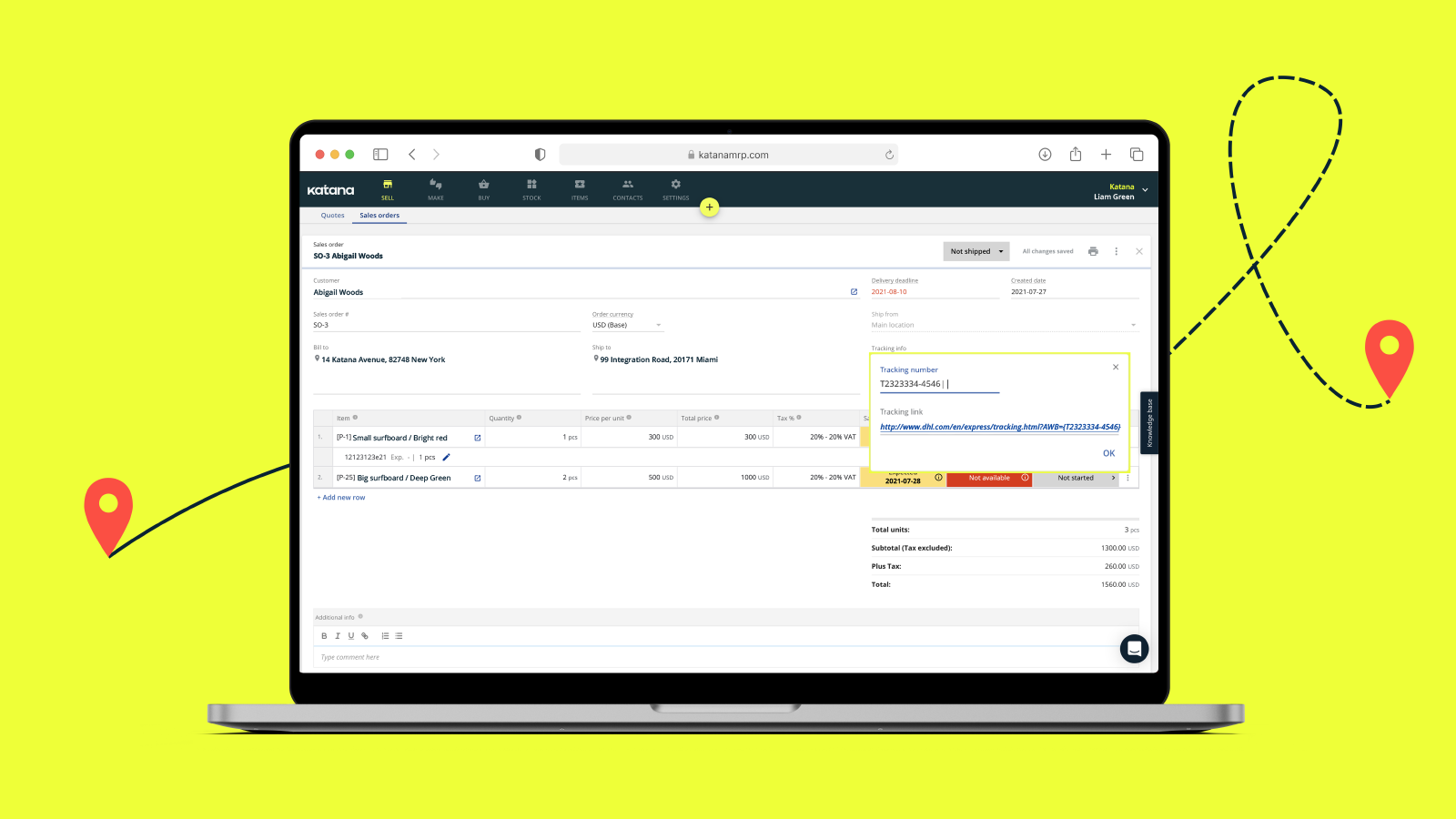 Delivering orders to customers and keeping tabs on multiple customer addresses just got a whole lot easier. By adding all your key shipping-related information to sales orders, you can easily connect Katana to third-party shipping platforms and easily forward the data you need to get your products into your customers' hands.
With our latest update, you can now:
Create packing slips with shipping and billing addresses for your Katana sales orders

Include

tracking

information on your Katana sales orders

Manage your customer addresses in Katana on the new customer card view

Connect your shipping solution to Katana via API

for automated shipping workflows
How to add shipping data to sales orders in Katana
You can find these new features in your customer list under Contacts and on all your individual sales orders.
Head over to the Contacts list and select a customer's name to view the Customer card, where you'll find primary contact information, company name, and (multiple) shipping and billing addresses.
When creating a new Sales order, the default shipping address is selected — you can now change the addresses on the Sales order, and add shipment tracking information for easy business-to-business order fulfillment.
Learn more about managing addresses for shipping by visiting our Knowledge Base.
Connect to your preferred shipping integrations via Katana API
If you are using external software in addition to Katana to take care of shipping your orders, we have good news — you can now connect your shipping software to Katana via Katana API. Automate and streamline the fulfillment workflow from making your product to shipping it out to the customer, all overseen in one intuitive platform.
You can also expect to see some new integrations with shipping platforms to enable more seamless shipping workflows with Katana. Until then, if you need any help setting up your new shipping workflows, please get in touch with our support team.
What's coming up next?
We're working on some more features and updates based on customer demand — here's what we plan to deliver over the coming months:
Stocktaking and stock adjustments with barcodes
Partial shipment of the orders
Custom PDF templates
Until then, happy shipping!
Get a demo and discover the power of real-time insights