Route manufacturing tasks in parallel or consecutively
Have operation tasks completed in a specific order or have them completed simultaneously. Pick the method that works best for your operations.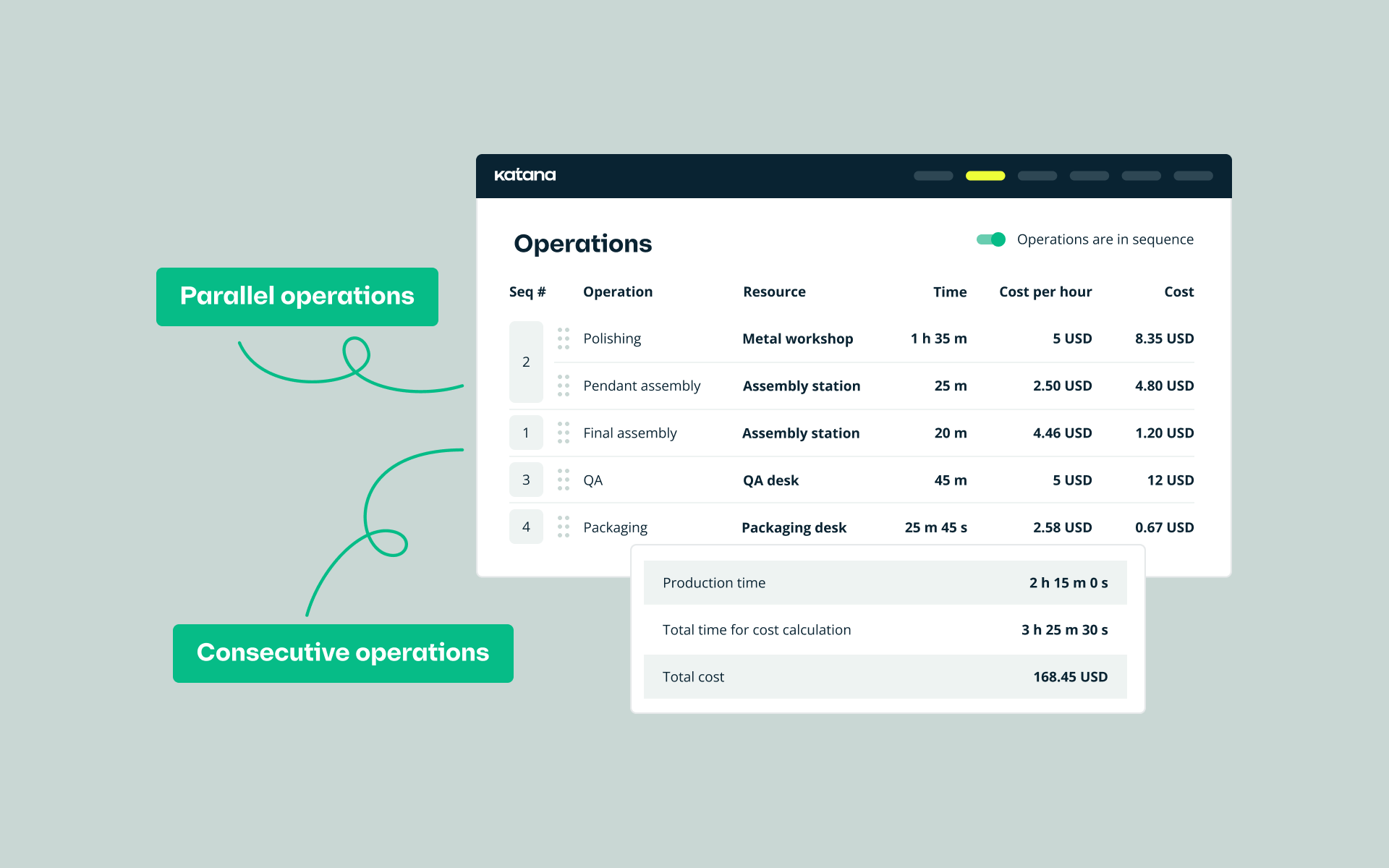 Using Katana for shop floor manufacturing just got a little nicer. You can now route shop floor tasks so they show in a specific sequence, thereby improving the overall efficiency of your manufacturing team. This update benefits companies manufacturing complex products or those with a large shop floor team.
When giving product operations to the team, you can set task orders so that some can't begin before the previous finishes, while other tasks can be set for simultaneous completion. This process helps ensure you use the most time-conscious and cost-effective product manufacturing methods.
Operation routings
When manufacturing a product, some operations depend on previous operations, while others can be done in parallel.
Parallel operations – tasks that are not dependent on one another to produce a product and can be done simultaneously (e.g., building subassemblies)
Consecutive operations – tasks that can only be done once another operation has finished or before any following operations can be completed (e.g. final assembly of a product)
With this update, you can set up consecutive and parallel operations when building your product recipe.
Consecutive and parallel operations
When operations must follow a specific sequence, you can turn operation sequencing on or off with the Operations are in sequence switch on the Product operations tab.

Once enabled, shop floor operators (either from the Shop Floor App or from the tasks list) can only begin working on the first task of a manufacturing order, and once completed, each subsequent task will show.
Set tasks as parallel operations with a simple drag-and-drop of the operation step. A combination of consecutive and parallel operations can also be set up and used depending on what works best for your manufacturing.
Let's use this bicycle assembly as an example:
1. Preparation must be completed before the bicycle's final assembly can begin.
The following tasks can be done in parallel:
Assemble the rear wheel with rim, tire, and gearbox
Assemble the front wheel with bearings and fittings
Build pedal apparatus with chain
Build a frame with fork handlebar and brakes
2. The process is then paused to inspect all the prepared parts with consecutive operation
3. After inspection, the final assembly starts and is followed up by consecutive operations
The rear wheel, pedal assembly with chain, and front wheel are attached to the frame
Wheels, brakes, and chain tightness are aligned
The final quality check is done
Once the quality check is carried out, the bicycle is complete and ready for sale.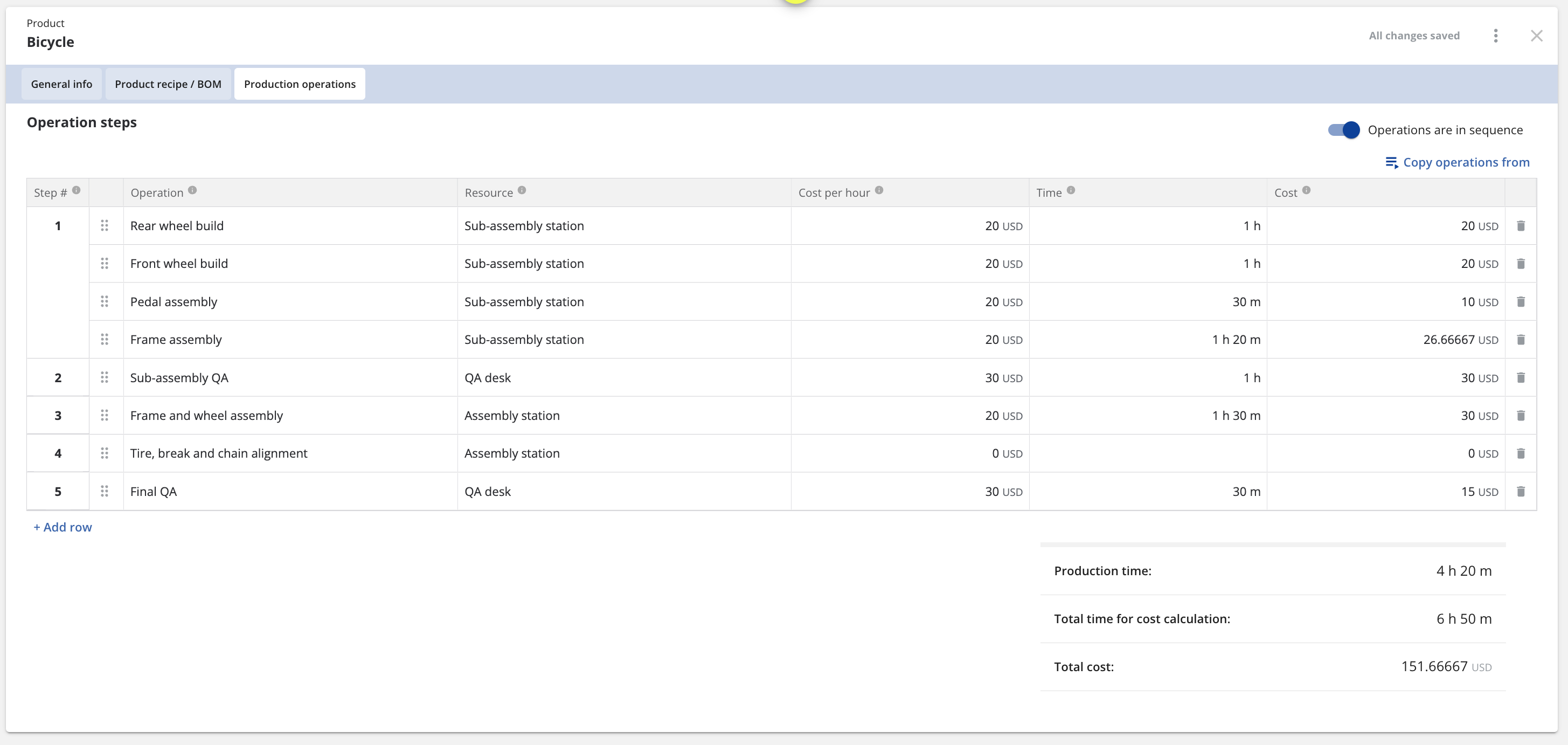 Using operation sequencing for quality assurance
With this update, you can include an additional step to quality checks as a consecutive operation. Quality checks, either consecutive or parallel to the main steps, can be applied in nearly any process.
Consecutive quality check – As shown in the example above, a task can be created to pause the production process for quality assurance and ensure everything is built as planned. Any faults can be discovered before spending resources on manufacturing the finished products.
Parallel quality check – in some situations, such as beer manufacturing, most production steps are consecutive. However, during the process, daily inspections are needed over a long brewing period. In this case, a parallel operation can be set up to execute daily quality checks.
Until next time,
Happy manufacturing
Get a demo and discover the power of real-time insights