Your MRO inventory management matters — don't leave it up to chance
Your MRO inventory management is essential to your business, so ensure it is properly managed and optimized with a leading software provider, Katana. Get full visibility of all your resources and gain the ability to track and manage all MRO items. By bringing all your data into one place, you'll have the possibility to unlock the potential of your business and identify new opportunities.
MRO inventory management is essential — make it part of your data feed
MRO inventory management broadly covers all aspects pertaining to how you stock, store, use, and restock the products and parts you need for maintenance, repair, and operations (MRO). And while you might be tempted to treat it as an afterthought since it is not part of actual production output, there are a number of situations that might end up happening if you don't have a proper way of bringing together your MRO resources.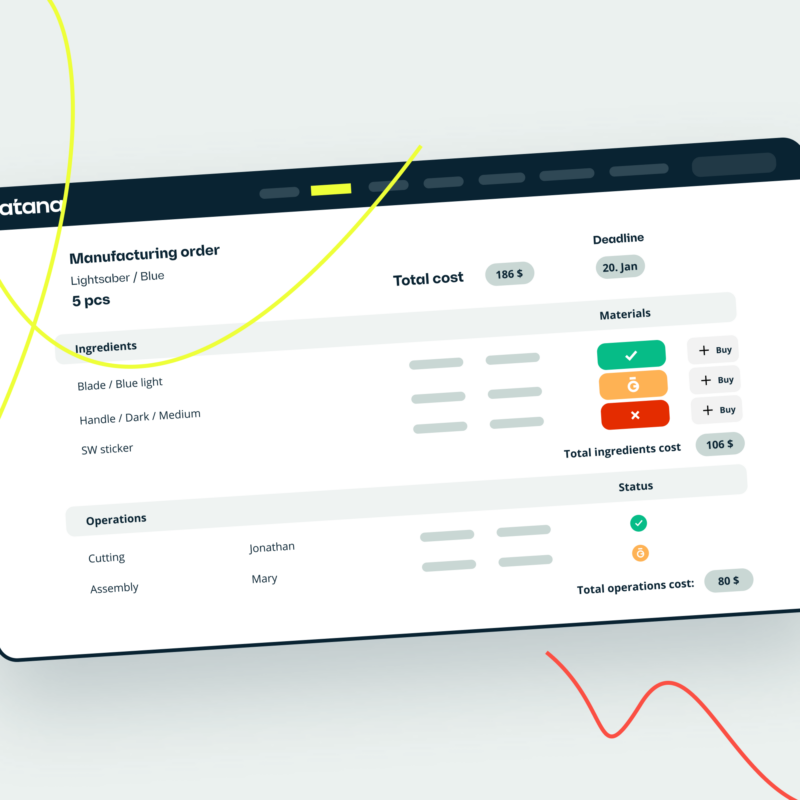 Equipment maintenance makes your business tick — make it a conscious effort
The inability to track your resources leads to inoperative halts in production. Katana offers your business a surefire way of avoiding these issues by providing more insight into the availability of MRO resources.
By bringing MRO inventory management to light, you can make it a trackable part of your production management and can actively work to prevent potential production stops. The use of software solutions that centralize this aspect of manufacturing will provide quick insight into potential problems with production equipment, leading to less downtime and limited to no production halts. 
Using Katana, your business can unlock the following:
Tracking potential issues with production equipment maintenance

Adding a useful stream of information that prevents downtime

An all-in-one data feed that facilitates production management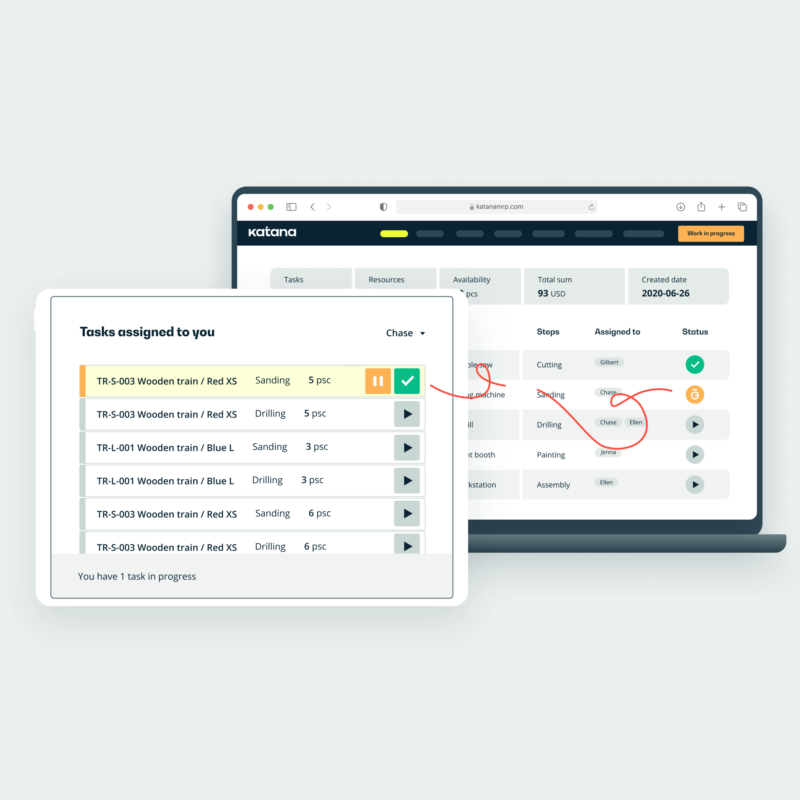 Resource monitoring is key and can help avoid stocking problems
Keeping track of resources and inventory intended for your production equipment's maintenance, repair, and operation is essential to any efficient business plan. Avoiding overpaying for parts by ensuring an operational inventory while not having to deal with redundancies in storing and keeping track of overstocking is key.
By using an all-in-one software solution that properly integrates MRO inventory management, you can more accurately plan and spend for necessary parts that keep your production activity going at manageable costs. 
Inventory management with Katana helps your business:
Control costs associated with MRO by maintaining proper part inventory

Avoid stocking issues related to poor inventory management integration

Integrate MRO inventory management with other production processes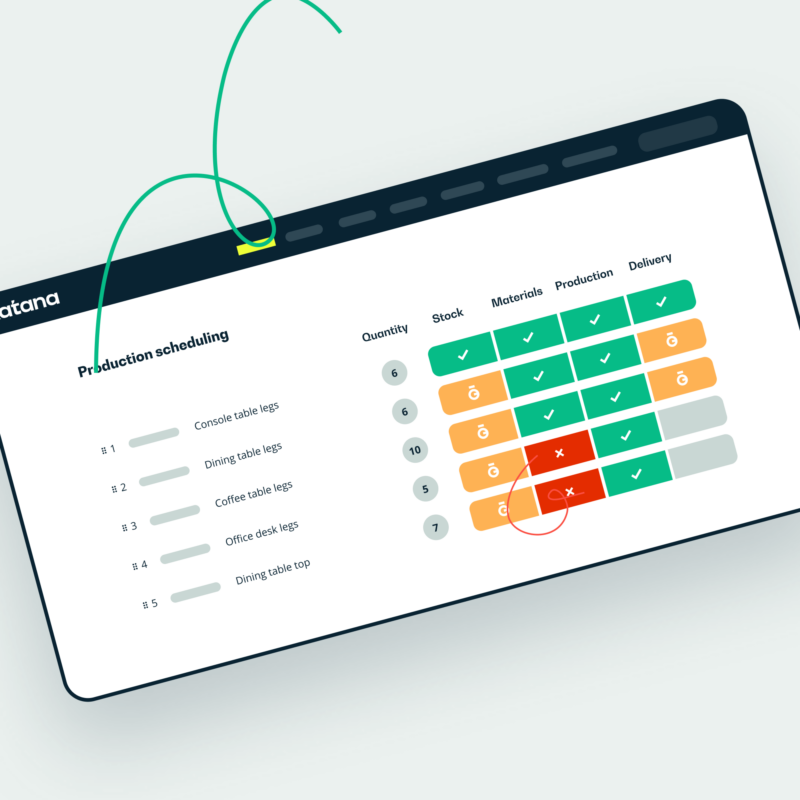 Production processes should be tight, as lags can lead to productivity drops
There are different types of processes you need to manage in your manufacturing business, but the key elements of inventory management stay the same. Time spent with procurement due to improper monitoring can cause drops in productivity due to reduced uptime.
A cloud-based manufacturing software provides your business with an all-encompassing solution that facilitates process management. Ease of use means you can quickly figure out whether a software solution fits your business needs, helps decision-making, and provides rapid benefits to production schedules. If you want to make sure that you're doing everything to keep your production output on track, don't hesitate to try out a well–optimized MRO inventory management system with a great track record.
Supply chain management software like Katana can provide:
An easy-to-use way of tying together production processes and costs

A way of cutting down on bottlenecks in manufacturing

Real-time MRO inventory management to facilitate increased uptime
What makes MRO inventory management software great?
When looking for the perfect MRO inventory management software for you business, here's what you should be looking for:
MRO inventory management software is crucial because it brings together parts of your business that risk falling off the radar and helps track your collected resources used in maintenance, repair, or operation processes
Awareness is key, as we've shown, but the ease of use is also crucial, especially when trying to implement software solutions into your manufacturing process. Although fairly linear in approach, manufacturing processes are not all created equal, so you'll need a solution that provides flexibility.
The right software solution will also help boost the performance of your business. With improved awareness of existing resources, you can more efficiently make inventory decisions.
For your equipment to provide the intended value, you will want to have it active and working at optimal parameters for as long as possible. This uptime increase flows directly from having the best possible sense of what your equipment needs.
Productivity increases and improved uptime are direct benefits of the right MRO inventory management software solution, but these are essential aspects of the main indicator any manufacturing business looks for: cost reduction.
By pulling together elements of the process that usually fall off, you will get a streamlined production process. This places your business on a more efficient track, offering less redundancy.
Streamline your manufacturing processes onto one solution with Katana Cloud Manufacturing
Katana is made to fit with other essential manufacturing services you need to grow
Katana is a modern, flexible software solution for your manufacturing process. Taking into consideration factors like the integration of vendors with the platform, as well as focusing on ease of use and quick implementation, this is the program that provides an end-to-end solution that helps you monitor production resources, helps with MRO inventory management, and ties together production components that have traditionally stayed frustratingly disconnected.
It's great to be able to see where inventory faults happen and being able to fulfill orders and where the turnaround happens."
Having the shop floor know what they can or can't make on a given day is amazing, and replaces our previous "system" of spreadsheets."
We chose Katana because it presents our manufacturing business information in the easiest possible way."
As an organic food processor, traceability is critical and our records must be meticulously kept. Katana fulfills all our needs in a simple, easy solution."
MRO inventory management software FAQs
Get a demo and discover the power of real-time insights