Complete control of your company with CRM inventory management software
Use Katana's CRM inventory management software to keep your business running smoothly even when you're not in the building. Katana manages customer and supplier information alongside your sales and manufacturing.
Gain clarity with Katana's CRM inventory management software that saves you time and money
Manufacturers who sell their products need more oomph from their software as their business grows. Many manufacturers choose customer relationship management (CRM) tools to provide that extra boost as CRM software assists them with managing sales and customer details. Katana integrates with several platforms that can provide you with the CRM features you need, and so much more.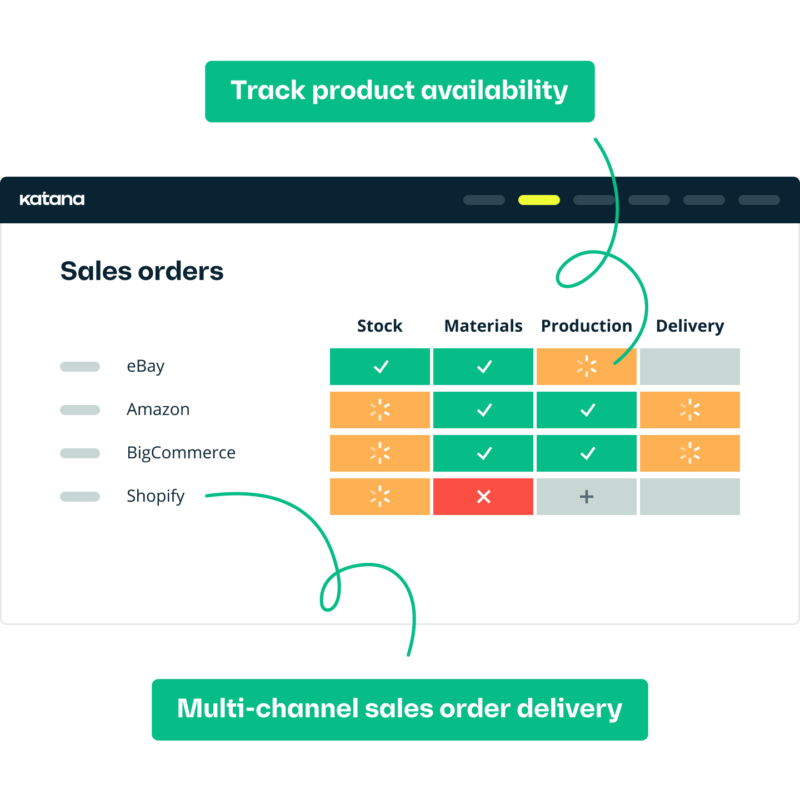 CRM management software that supports your business as it scales
Small and mid-sized businesses often work with free tools like online spreadsheets or freemium software to keep track of their business. Yet as production scales and orders come flying in, they need a solution designed to meet their ever-increasing needs and start looking for cost-effective inventory management systems.
Katana Cloud Manufacturing Software helps you and your inventory manager improve order fulfillment processes with real-time item tracking and reorder point features to keep inventory topped up. Here are important management features that can keep your manufacturing in line:
Track stock changes according to sales orders, and reschedule production to optimize your production

Set reorder points for raw materials and avoid uncomfortable stock-outs

Import all existing data to Katana and customize unit conversion for ingredients that are sold in bulk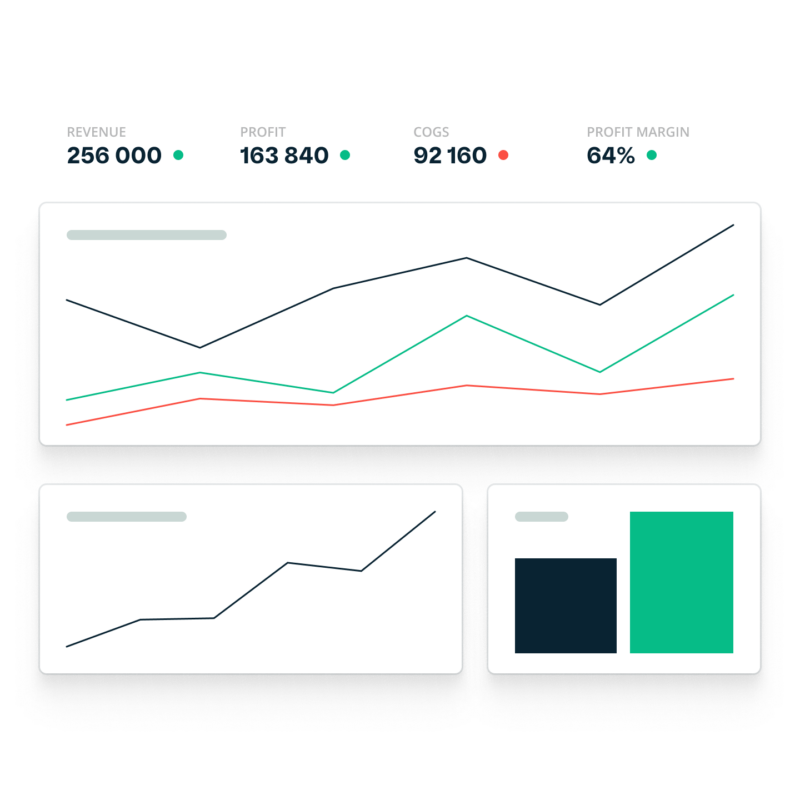 Find low-hanging fruit in your business management data
Katana gives you a bird's eye view of your sales orders, online inventory, accounting, and material data, allowing you to analyze your business operations. Use this newfound data to optimize warehouse management or uncover better opportunities in your supply chain. Here are more features of Katana's CRM and inventory management software:
For remote collaboration with your production team, use Katana's Shop Floor App. Using Katana's mobile app helps you and your operators streamline the company's production flow

Ability to perform a barcode scan with every product, which enables you to track every item and batch. Learn how to implement barcode scanning in your business with Katana's Knowledge Base

Katana uses the moving average cost method to calculate the cost of your inventory movements automatically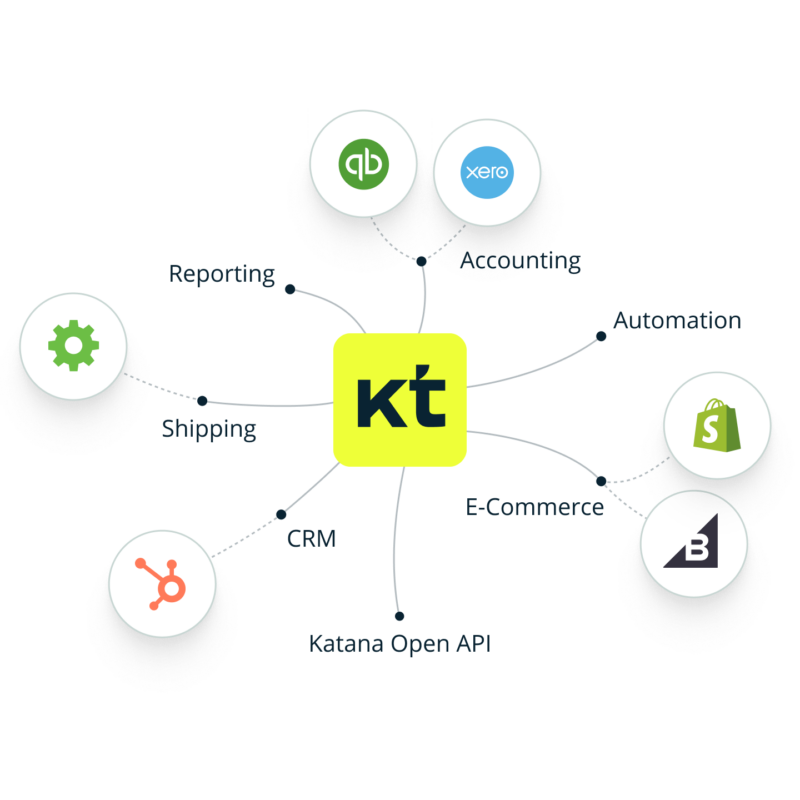 Keep your customers smiling and your business processes arranged with integrations
Katana's integrations with CRM suppliers give you a clearer picture of your products and sales. You can manage your product recipes and ensure on-time purchasing of materials in line with real-time data from your sales CRM. You can also enrich customer CRM information with actual inventory data, giving you the option to understand the sales pipeline better and upsell more efficiently. This is how Katana combines CRM with inventory management:
If you need to connect accounting with customer relationship management, Katana has native integrations with QuickBooks Online or Xero

Access to Katana's API lets you connect your preferred CRM for inventory management with Katana
CRM inventory management software that integrates with your favorite tools for a smooth workflow
Native integrations, codeless templates, and fully customizable API integrations
Katana gives users access to the API, allowing you to create custom workflows and connect your business apps to manage your sales, manufacturing, and accounting on one platform. Automate data transfers between the services you use to level up efficiency. Take a look at Katana's API documentation to learn more.
Katana provides us with all the features for manufacturing order management and can track inventory usage and incorporate our sales order tracking into Katana."
With Katana, we are able to track products, build recipes for materials, and set reorder points for our materials as well."
Having a system track inventory and what stage it is in has been incredibly helpful. It also has helped our team have a more clear delineation of the order of operations for each product in our catalog."
We struggled to know which items are in stock so that we could build a batch and therefore often found extra components lying around […] Katana, we can now know what we have in store and where to look for it."
CRM Inventory Management Software FAQs
What does CRM software do, and how does it differ from inventory management systems?
CRM software deals with the front-end business operations such as customer relationships. It records interactions between a business, its prospects, and its existing customers.
An inventory management system like Katana or Zoho Inventory manages critical back-end business operations such as stock levels, purchase history, billing and shipping details, accounting data, financial information, and supply chain nuances. It doesn't make a difference if that company needs an inventory management platform for their online store or POS system — ERPs fit all types of companies in the manufacturing industry.
What is the difference between CRM and enterprise resource planning (ERP) software?
An ERP system is a tool for managing a company's core business processes, such as manufacturing and stock management.  
CRM systems focus on managing customer relationships. CRM software includes features and tools that help businesses track and manage customer interactions, sales opportunities, and marketing campaigns. It can also help businesses manage their customer data and analyze customer behavior. 
How to choose suitable inventory software?
If you are searching for the right platform to align CRM with inventory management, you may want to consider the following factors:
Ease of use — you'll want to ensure that the software is easy to use and understand, especially if you're not tech-savvy. Katana has a Knowledge Base where you can easily search for answers to your technical questions
Customer support — choose inventory software from a company that offers excellent customer support in case you have any questions or run into any problems
Scalability — if you anticipate your business growing, make sure that the software you choose can grow with your company and equip you with more inventory features over time. If you're looking for software for inventory optimization, then you'll want a tool that allows you to use a mobile app and can integrate a POS system into your workflow, so your inventory levels stay fully up-to-date wherever you are
Integrations — work becomes easier and data less scattered if you choose software that integrates with other programs, such as accounting software like Xero or QuickBooks Online
Move your inventory to the cloud