We are now a better run company with more straightforward processes. This might sound like a cliché, but it's made our lives much easier. I would say revenue has gone up because we're able to have much, much bigger orders without having to take on more management.
Simon Bedding
Managing Director at Sylmasta
No more juggling between multiple platforms and systems
Making sure all your business tools are synced is vital to keep everything running smoothly. However, if applications don't communicate with each other, mistakes can easily be introduced. Adopting Katana's ERP software lets you connect your favorite business tools, so everything is kept in sync automatically.
Get set up in under 7 days
1
Sign up for a free trial
Start your free 14-day trial to try Katana risk-free. No credit card required.
2
Select your plan
We recommend the Advanced plan to get full access to all the best features on your trial.
3
Sync with other tools
Connect to your accounting, e-commerce, and reporting tools for maximum visibility.
Plastics and rubber manufacturing software to avoid stretching yourself too thin
Running a manufacturing business takes a lot of work. You need to keep track of your orders, make sure your inventory levels are optimal, keep customers happy, ensure everything ships on time, and much more. Without the proper tools in place, every little mistake can grow into a bigger issue if not nipped in the bud.
By implementing Katana's plastics and rubber manufacturing ERP, you can automate a lot of tasks and make sure all systems run optimally. Katana's ERP system makes it easy to change course should you experience issues in your supply chain. Discovering that your materials won't arrive on time can turn into a bit of chaos. With Katana's ERP software, you can simply prioritize production based on raw material availability to ensure your manufacturing doesn't come to a complete halt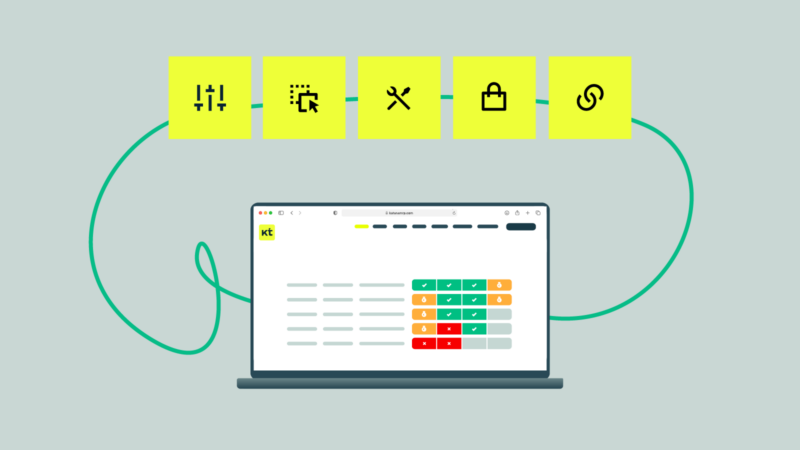 Full make-to-stock (MTS) and make-to-order (MTO) support
As a manufacturer, you have few options when choosing your production workflow. With conventional MTS workflows, you manufacture your products in bulk and stock them for future sales. When using MTO workflows, you only start the manufacturing process once an order comes in.
When using an MTS workflow, you can reduce your customers' wait time since the products are all made and ready to be sent out. MTS also makes it easier to schedule ahead and plan your resources. Of course, when using MTS, if your forecasting is inaccurate or consumer trends change, you may find yourself holding too much or too little stock. MTS also comes with higher carrying costs and possibly more waste.
MTO, on the other hand, is excellent for minimizing waste and keeping your carrying costs low since the products are only made when an order comes in. This ensures that items will go out as soon as the production is finished, and they won't be left sitting on the shelf. However, implementing MTO means increased customer wait times and irregular sales demands.
Katana's plastics and rubber ERP ensures your production lines are running efficiently, whichever workflow you choose. If you manufacture some components using MTS and certain parts using MTO, Katana still has you covered.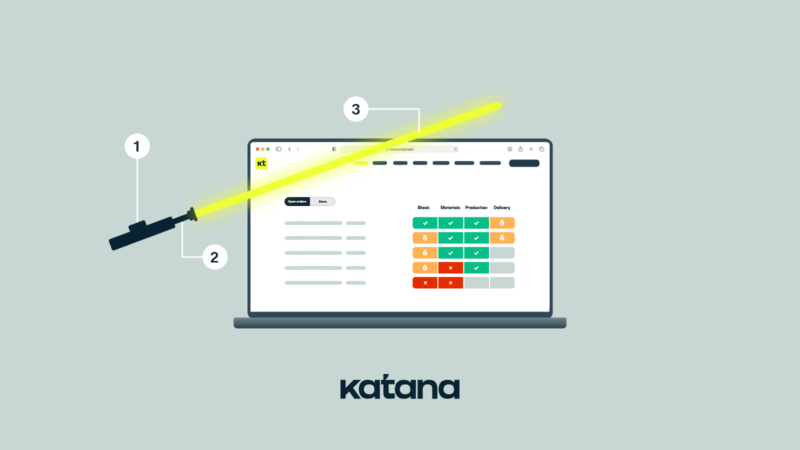 Take out the stress from manufacturing with product recipes and bills of materials (BOMs)
Manufacturing rubber and plastic involves a lot of ingredients and exact ratios. Messing up a recipe can ruin the end product. In manufacturing, the product recipe is also referred to as bill of materials (BOM) and Katana's BOM functionalities have everything you need to consistently produce high-quality products.
Setting up and using BOMs in Katana enables automatic inventory adjustments, so every time a manufacturing order is created, your inventory is updated in real time. Using a BOM also makes costing easy as the exact quantities of materials and subassemblies are listed on the BOM.
Integrate with the best e-commerce,
accounting, reporting, and CRM
software out there
Create custom API integrations
Use Katana's open API to create custom workflows and connect to apps beyond our list of integrations with top-tier software solutions. Automate data transfers between the services you use to level up efficiency and connect Katana to the best software for your business from sales management solutions to accounting integrations. Take a look at our API documentation to learn more.
Rubber and plastics manufacturing software FAQs
How to reduce the environmental impact of plastics and rubber manufacturing?
There are a number of things a plastics manufacturer can to do reduce the environmental impact of plastics and rubber manufacturing. One is to use recycled raw materials instead of virgin materials. To reduce the need for new resources and to keep plastic and rubber products out of landfills. 
Another way to reduce the environmental impact of plastics and rubber manufacturing is to use less energy in the production process. This can be done by using more efficient production methods or by using renewable energy sources. That's where plastics and rubber ERP can also help by ensuring you use your resources in the most efficient manner. 
Finally, it is also possible to reduce the environmental impact of plastics and rubber manufacturing by reducing waste. This can be done by recycling plastic and rubber products or by making sure that they are disposed of properly. 
What is an ERP system and how is it used in the manufacturing industry?
An ERP, or enterprise resource planning system, is a software solution that helps manufacturing companies manage their business processes. Via built-in modules or by integrating with third-party platforms, businesses can take care of inventory management, production planning, accounting, and other core functions.
An ERP system gives manufacturers a single platform from which to view and manage their whole manufacturing environment. This can help streamline operations and improve efficiency. In addition, an ERP system can provide valuable insights into a company's performance. Manufacturers can use this information to make better decisions about where to invest resources and how to improve their products and processes.
A manufacturing ERP can help manufacturers manage their business processes more effectively and efficiently. In addition, an ERP system can provide insights into a company's performance. This information can be used to make better decisions about where to invest resources and how to improve products and processes.
Can you use an existing accounting application with an ERP system?
Many ERPs come as a full business suite, so you would need to use the included tools. However, some had a platform approach, which means you can integrate your existing tools and keep using them as you did before.
Katana's cloud ERP lets you integrate your favorite e-commerce, accounting, reporting, shipping, and CRM tools. This way you can handle most of your day-to-day tasks, including financial management from a centrally connected hub.
Using Katana's ERP solution, you can take control of your inventory, manufacturing operations, material management, and much more making it an ideal tool for manufacturers and distributors in the plastic and rubber industries.