Scale fast with order management software for small businesses
Running a small business doesn't have to be complicated. Small business order management software helps you streamline manufacturing, process orders, and track deliveries without having to constantly manually update spreadsheets.
Small business order management software will prepare your business for scalability
When running a small business, you want to be in control of your entire process, from crunching the numbers to going through everything with a fine-tooth comb. While this works at the start, once your business takes off and order volumes increase, human errors can creep in and cause disruptions. This is why many manufacturers turn to order management software for small business to do what it does best — take care of your business in the background, leaving you to reap the benefits.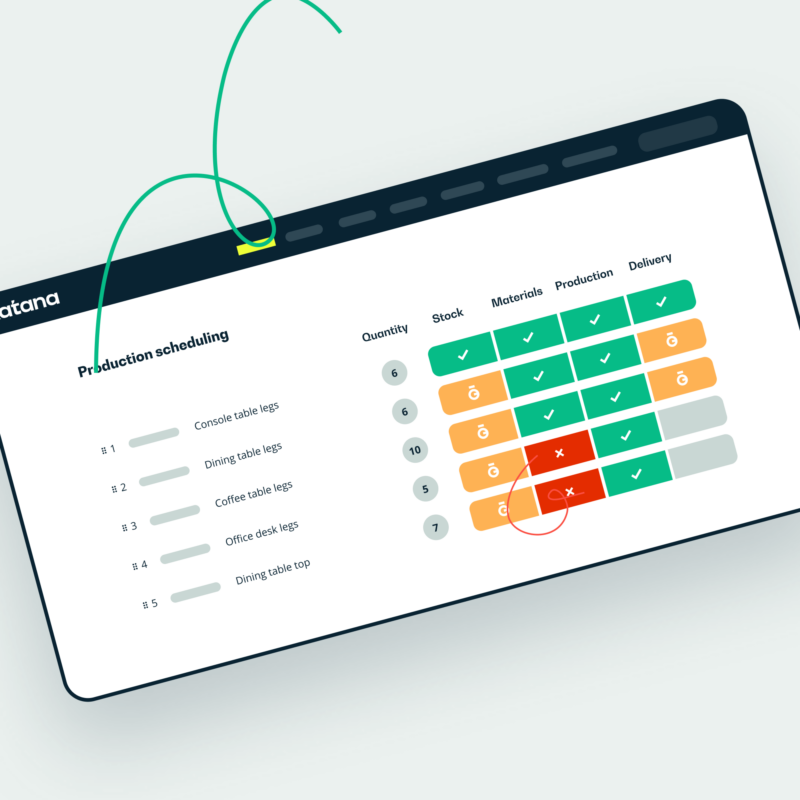 Happy customers often become repeat customers
There's nothing worse than placing an order only to find out that your product is out of stock. This is a sure fire way to drive potential buyers straight into the arms of the competition. Ensure great customer experience by always having your most popular items in stock, while also making sure you never run out of supplies to keep production rolling.
Small business order management software helps you:
Track inventory on all your products in real time  

Prioritize supplies according to customer needs and trends  

Optimize resources by tracking actual material and time consumption
Digitalize your processes with an order management software for small businesses
Set yourself up for success by filling orders on time and ensuring your stock is always up to date and ready for shipment. A digital tool can give you and your team a great overview of all your processes, from raw materials to order delivery. Time to move from manual spreadsheets to a more trustworthy, convenient and, most of all, effortless solution.
Katana order management software for small business offers:
Daily operations management across your entire company  

Drag-and-drop tasks based on priority, availability, and demand 

Time and cost tracking of manufacturing processes  

Barcode scanning for improving inventory management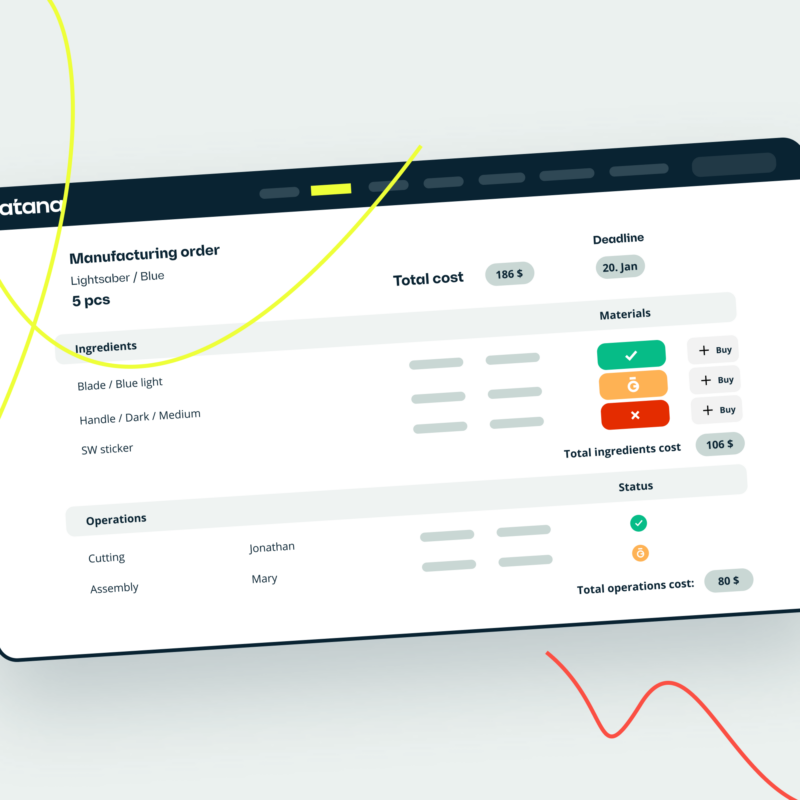 Get total visibility over your costs and earnings
Taking care of accounting and finances can be tedious work if not done efficiently and correctly. Using a small business order management software, you can breathe a sigh of relief when all the numbers match and you don't have to hunt through spreadsheets to find a pesky error. Get access to a ton of integrations or use the Katana open API to build a tool that will fill your specific needs.
Here are some of the integrations Katana offers:
Accounting tools like 

QuickBooks

 and 

Xero

, which take care of your bookkeeping  

Different shipping partners to deliver your goods to customers  

Katana's open API to build a non-integrated third-party software to help boost your business  
Katana allows us to have a complete, real-time overview of our manufacturing processes and keeps our operations under control."
Katana provides us with all the features for manufacturing order management, we can track inventory usage and incorporate our sales order tracking into Katana."
With Katana, we are able to track products, build recipes for materials, and set reorder points for our materials as well. That was the main reason why we selected Katana."
Since implementing Katana, it has freed up my time so I can focus on designing and creating more products. It also means that I am not working until 11 pm every night."
Customize the small business order management software using integrations or build your own with the API
Native integrations, codeless templates, and fully customizable API integrations
From manufacturing to sales, delivery to accounting — Katana offers a variety of integrations to build a custom workflow to fulfill the specific needs of your small business. Running a small business doesn't have to be complicated. Check out the full list of integrations here.  
Small business order management software FAQs
Move your inventory to the cloud