Implement lean manufacturing software with Katana
Katana equips your company with manufacturing software essentials like inventory management and master production schedule, enabling you to centralize all business aspects into a single platform.
Optimize your production and business with lean manufacturing software
Reducing waste is of the utmost importance when trying to optimize your production process. Katana's lean manufacturing software equips you with real-time master planning for making accurate manufacturing and purchasing decisions with live data. Eliminate all waste from your everyday processes with Katana and establish lean management principles.
Implement lean ideas in your company
Manufacturing businesses from any industry, whether it is food and beverage or industrial machinery, can implement lean management software. Easily extract data from Katana for any lean initiatives and analyze how they're performing against your objectives. Katana can help you implement multiple lean principles in your process, such as:
Delivering value to your customers
Streamlining your manufacturing processes while reducing both lead time and takt time
Refining your business processes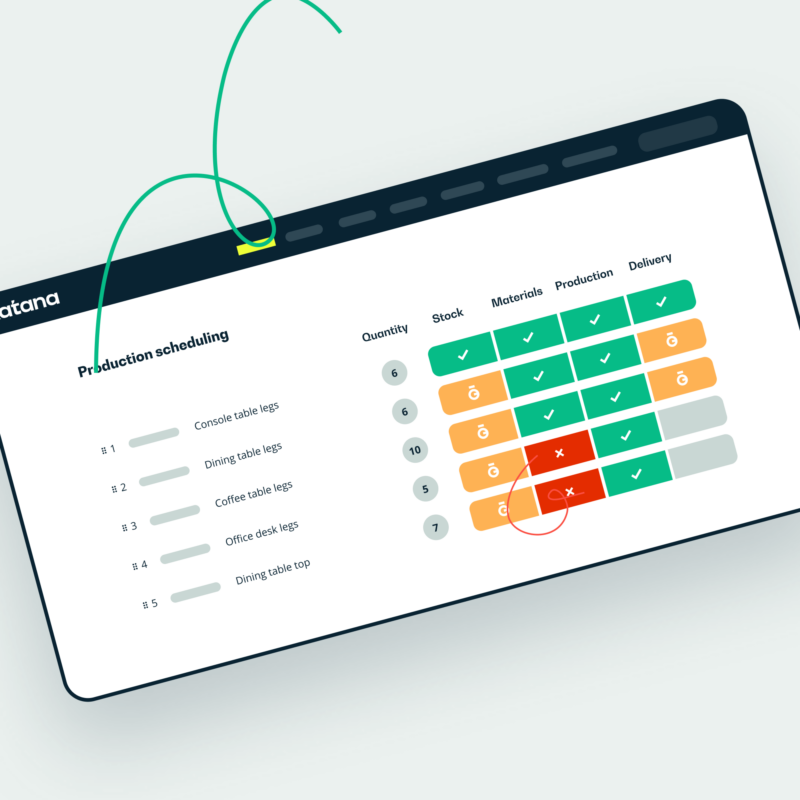 Improve your master production schedule
Katana equips your business with digital solutions for optimal and smart manufacturing. With Katana, you'll have an intuitive master production schedule (MTS) system, which can reduce admin time and help you focus on growing your manufacturing business. Use Katana's MPS system to:
Prioritize your schedule, so you see what's essential in your manufacturing process and what can be sidelined
Make better production and scheduling decisions, such as what needs to be produced, how big a batch should be and when they should be scheduled
Review the production schedule of your staff for better shop floor control so that your operators and project managers can stay in constant communication
Integrate with top-notch lean tools on the market
Katana's software for lean manufacturing integrates with several tools that can help you continuously improve your business. Whether you need more visibility in your accounting or an overview of evolving customer demands — there are suitable integrations for all those needs. Get Katana's lean manufacturing tools and integrate with:
QuickBooks Online or Xero to keep your accounting, sales, and inventory in sync to save time
CRM tools to understand your sales pipeline and supply chain management better
Various automation tools to create custom dashboards with analytics reports and measure the success of your lean principles more precisely
Software that integrates with your favorite tools for a smooth workflow
Native integrations, codeless templates, and fully customizable API integrations
Katana gives users access to the API, allowing you to create custom workflows and connect your business apps to manage your sales, manufacturing, and accounting on one platform. Automate data transfers between the services you use to level up efficiency. Take a look at Katana's API documentation to learn more.
Katana allows us to have a complete, real-time overview of our manufacturing processes and keeps our operations under control."
Katana integrates everything, making for effective company-wide resource planning and control."
We chose Katana because it seemed to be the most user-friendly software we tried – it is very easy to use and the customer service is great!"
I think that Katana had a much lower barrier to entry. It was still some work to get up and running, but I was able to gradually build my processes into Katana's system over several months."
Lean manufacturing software FAQs
What are the main benefits of using lean manufacturing software?
There are many benefits to using lean manufacturing software, including increased efficiency in the manufacturing process, reduced manufacturing costs, less waste, and improved quality control.
Additionally, digital manufacturing tools can help you track your progress towards your goals and help you identify areas where you need to continuously improve.
How do I choose the right lean manufacturing software for my business?
When choosing lean manufacturing software for your business, it is crucial to consider your specific needs and goals.
Try to select a solution that offers the lean manufacturing tools and the functionality you realistically require — whether it is inventory management, having a more transparent order management system for the sales specialist or project manager, or something entirely else. Heavily consider the price of the software and the level of support offered by the vendor, especially if your budget is tight.
Get a demo and discover the power of real-time insights