Batch manufacturing software for end-to-end traceability
Being under-prepared for a product recall can stop your business operations dead in its tracks. Katana batch manufacturing software supports you in tracking items from supplier to customer — so you can simultaneously keep your eye on the ball while scaling your manufacturing operations.
Download the definitive guide to batch production
Download our free ebook guide on batch production to learn more about the benefits, workflows, and software you need to get started.
One mistake in a spreadsheet can bring your batch processing to a screeching halt
Batch control software helps manufacturers manage B2B and D2C sales fulfillment strategies. It helps you identify where your products come from and where they have gone in seconds. The benefits don't stop there. Using Katana Cloud Manufacturing software, you can perform accurate recalls, improve quality control and safety standards, and so much more.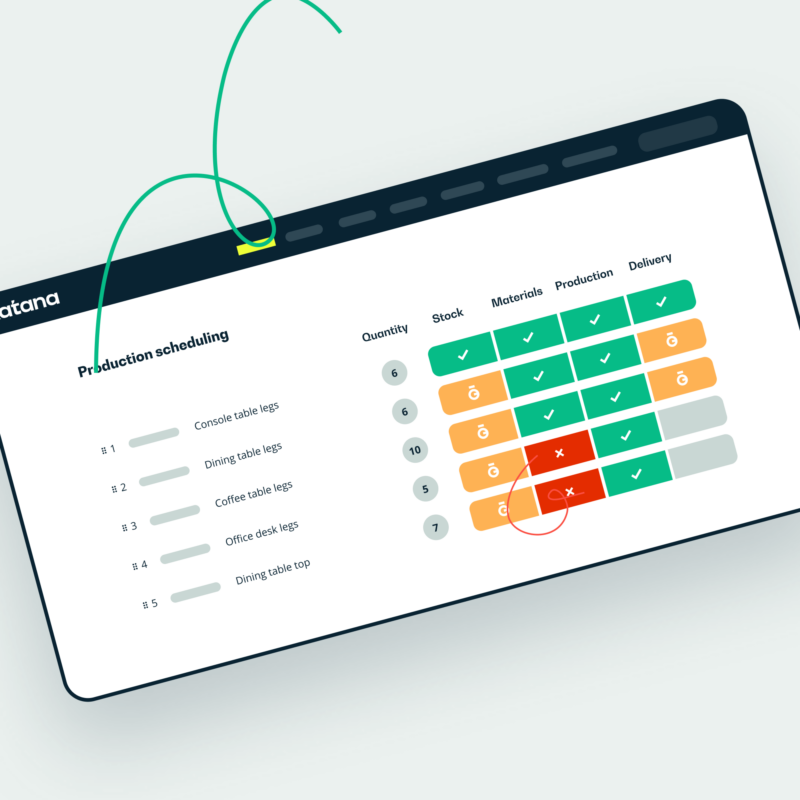 Batch process manufacturing software with end-to-end inventory management  
Farm to table or microchip to computer — whatever items you need to track, Katana's full product traceability has your back. No more confusion when looking between your shop floors and storage units. Katana empowers you with real-time visibility over your entire manufacturing process, from purchase order management to delivering the finished product to the customer.  
Batch process manufacturing software allows you to integrate your favorite e-commerce and accounting tools and automate data collection on raw material costs and finished products.  
Batch tracking for raw materials, expiry dates, components, and finished goods  

Monitor inventory levels with warehouse management features 

Implement end-to-end tracking and traceability for raw materials and products, perfect for those in food distribution 

Stay in control with batch scheduling and expiry tracking 

Autogenerate batch and internal barcodes for improved visibility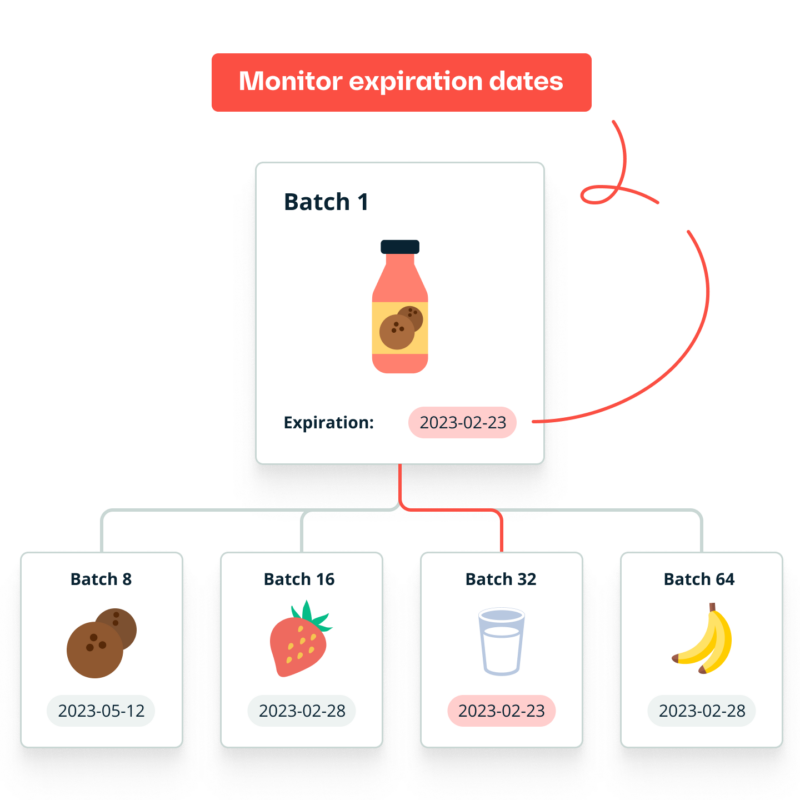 Omnichannel and manufacturing inventory management with batch manufacturing software
Centralize your sales and inventory management with Katana Cloud Manufacturing. The all-in-one cloud-hosted solution means you can access and monitor business activity, regardless of location. Suppose inventory runs low while you're stuck at home with the flu or scaling Mount Everest. You can easily perform a stock transfer from one location to the other, provided you have a connection to the internet.
Batch production allows you to implement and manage omnichannel order management with features for cross-channel item tracking, stock movement updates, and automated inventory and warehouse management.
Consolidate your e-commerce inventory and sales order management 

Synchronize your sales reports for efficient order fulfillment 

Monitor the availability of products and open sales orders will have products automatically assigned 

Simple yet intuitive drag-and-drop system to reprioritize sales and manufacturing orders 

Automatically convert sales order values to multiple currencies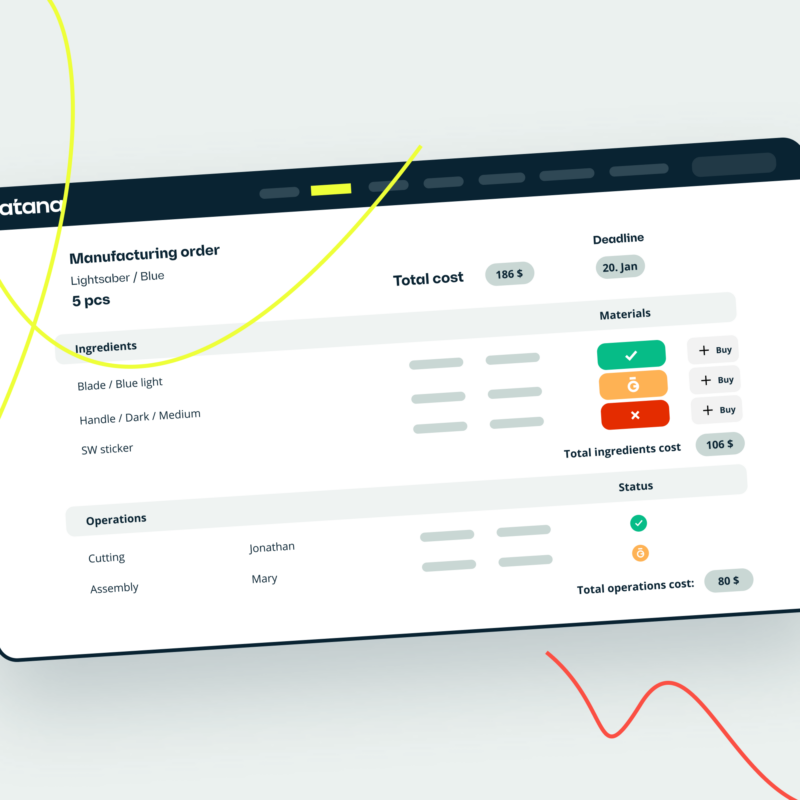 Batch manufacturing software with real-time data tracking from anywhere in the world
Don't let external factors derail your batch production runs. Katana helps eliminate human error by automating the repetitive day-to-day tasks of managing a manufacturing business. Using batch software in your process manufacturing workflow gives you insight into invaluable data such as sales, supplies, products, customers, and other essential departments in your business.
Katana achieves this by giving you access to features designed to make managing your business as easy as pie. This includes barcode scanning, data handling, and integrations with other important business management tools.
Get complete control over all your different inventory types  

Improve inventory management with reorder points and safety stock levels, and automate your inventory transactions  

Total inventory control, including manufacturing and distribution, in real-time  

Manage product variants and materials all in one place  

Implement and use barcodes to receive and track stock  
Batch manufacturing software that integrates with your favorite tools for a smooth workflow
From native integrations to code-less templates or fully customizable API integrations
Katana's batch production features give users access to the API, allowing you to create custom workflows and connect your business apps to manage your sales, manufacturing, and accounting all on one platform. Automate data transfers between the services you use to level up efficiency. Take a look at our API documentation to learn more. 
We also wanted an accurate inventory system for batch planning, warehousing, and sales. Katana fulfills all our needs in a simple, easy solution."
We struggled to know which items are in stock so that we could build a batch and therefore often found extra components lying around […] Katana, we can now know what we have in store and where to look for it."
Katana provides us with all the necessary features for manufacturing order management. Furthermore, we can track inventory usage and incorporate our sales order tracking into Katana."
Having a system track inventory and what stage it is in has been incredibly helpful. It also has helped our team have a more clear delineation of the order of operations for each product in our catalog."
Batch manufacturing software FAQs
Get a demo and discover the power of real-time insights