Use Xero and manufacturing software to make your products and manage your money
Katana's cloud manufacturing platform connects to Xero seamlessly to help you manage your business from production to sales and accounting
Get Xero for manufacturing companies to stay on track and in the black
Katana offers excellent inventory optimization and simple Xero integration, bringing more automation to your production process and organization of your manufacturing inventory and raw materials. Without being made by Xero, it serves as Xero manufacturing software thanks to the smart native integration between both platforms.
With Katana and Xero everything is linked and together in one place. You can type descriptions in and it works really well with an Excel card system and I find it much easier to use – rather than remembering product codes."
We're really utilizing all features Katana offers. It has been a great experience. The staff is excellent — anytime I have a question, I use the chat or Knowledge base, and the team has been an immense help during the implementation and integration of all our products."
I used to spend around 15 minutes per individual order on admin work, and I would be doing it all – preparing the packing lists, labels, and shipping. Now I do not need to touch any of that. Instead, I can put this time into designing new products and developing the business."
The reason why we were very sold on Katana was the how-to and guide videos and walkthrough videos were pretty straightforward. It was simple and we were able to connect to all our online stores and had everything we needed."
Your company connects to Xero in just a few clicks
Every company would love to get paid faster for the products they create, so they could get a clear picture of their business's financial health. Using Xero gives you an excellent view of your company's financials, even if they can't speed up how fast the money comes in. And combining it with Katana means your financial data is sent to Xero, and your company data is then shared between both platforms, so you always know what's going on from production to shipping.
A better view of your business helps you make smarter decisions
With clear company data, you also have an excellent understanding of the balance between your purchases and sales, whether you're operating with the right level of materials on hand, and which bill of materials you may need to update or overhaul for better results. You can assess the financial performance of your products, stock, processes, and logistics and create an improvement or growth plan.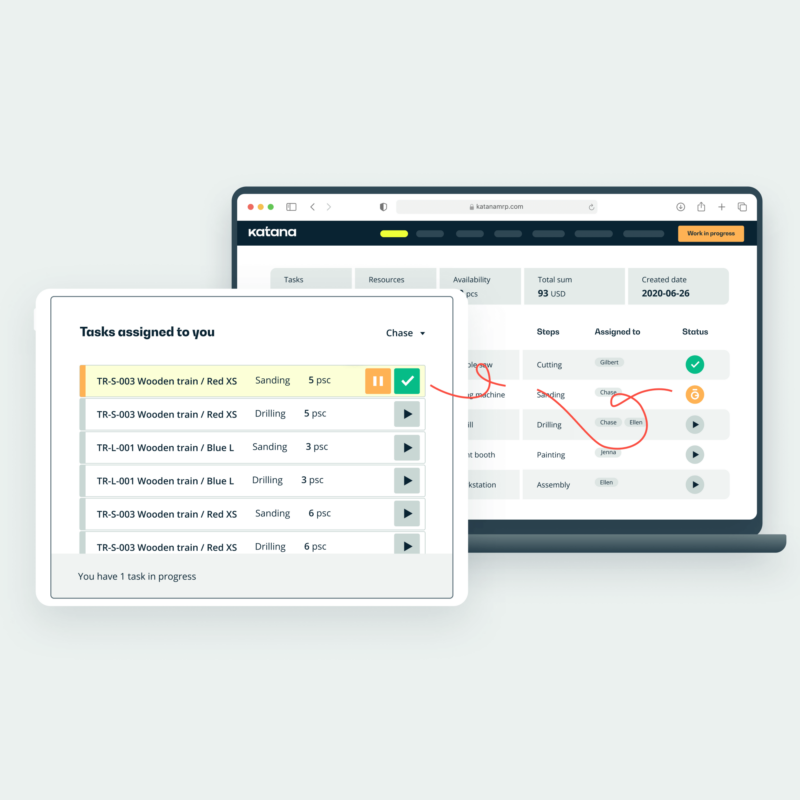 Xero manufacturing software integration should never be difficult
Manufacturing businesses shouldn't need to suffer through multiple spreadsheets and unnecessary manual admin. With Katana and Xero, you get added automation, simplified online invoices, and you save more time thanks to less manual work. With less paper to sift through and a smarter approach to creating your products, you have time to consider how to grow and evolve your business.
Get a demo and discover the power of real-time insights