Manage your business remotely with cloud inventory management software
Use Katana manufacturing ERP to keep your business running smoothly even when you're not in the building, as you can track stock, reorder materials, manage orders, and work with your team remotely and easily.
Use Katana's manufacturing ERP to run your business online from anywhere, and save time and money in the process
You may question if your business needs ERP software, depending on your stage of growth and level of business. The answer is yes, it does. Along with optimizing inventory management, and seamlessly integrating into your business processes, Katana will help you cut down daily admin through powerful inventory automation and smarter organization in a platform that's as pleasing to use as it is to look at.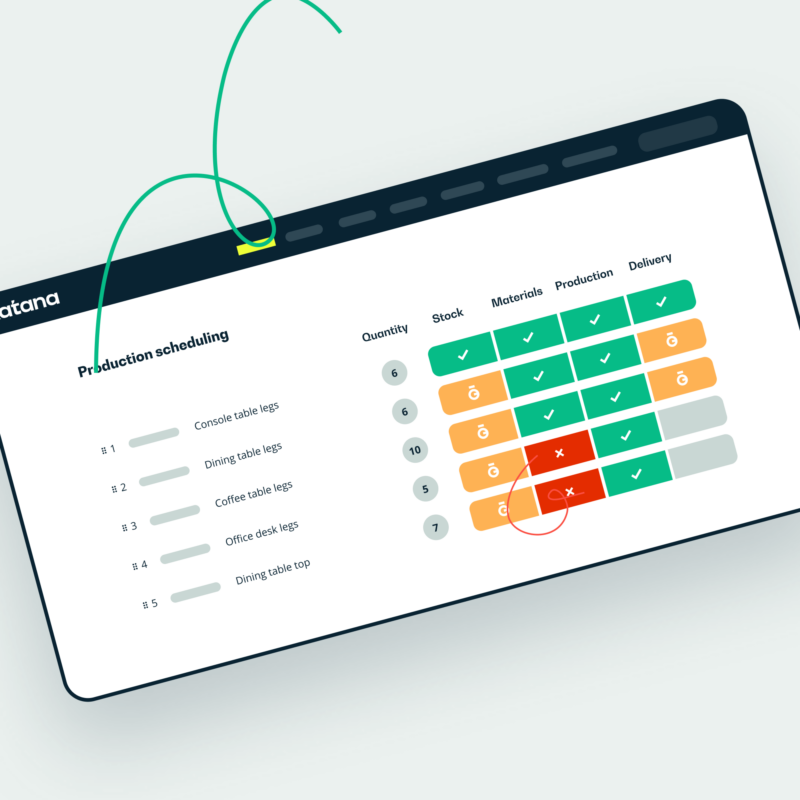 Scale inventory management smartly as your business grows
When you start a small manufacturing business, it can work well to use free tools like spreadsheets to keep track of business. But as production scales, and orders come in, you need a solution designed to meet your needs. Katana is a perfect fit for inventory optimization, helping you automate reordering stock and order fulfillment processes, as well as customize the units of measure for all your raw materials. Here are some of the features that help keep inventory in line:
Import all your existing data to Katana easily and customize units of measurement to your needs
Create bills of materials (BOMs) for each product and their variants
Track stock changes as orders come in, and reprioritize orders to suit your schedule
Set automatic reorder points for all raw materials so you're never hit by a stock-out
Manage everything in a single platform with a clear color system to keep you informed
Keep your online inventory up-to-date and keep customers smiling
Thanks to Katana's integrations with e-commerce suppliers, you'll get real-time inventory updates when orders are made and have a clear picture of the demand for your products. This ability to track inventory closely helps define your reorder points, so raw materials for your most popular products don't suddenly run out. Here's how we integrate our cloud-based inventory management software with the tools you need to get your business in front of potential customers:
We have native integration with both Shopify and WooCommerce to make online sales simple
You can also choose from a range of third-party e-commerce options to increase your online presence
Use QuickBooks Online or Xero for company accounting, also integrated directly with Katana
Take advantage of our API to connect your preferred accounting software instead
Deliver orders on time with one of our excellent shipping partners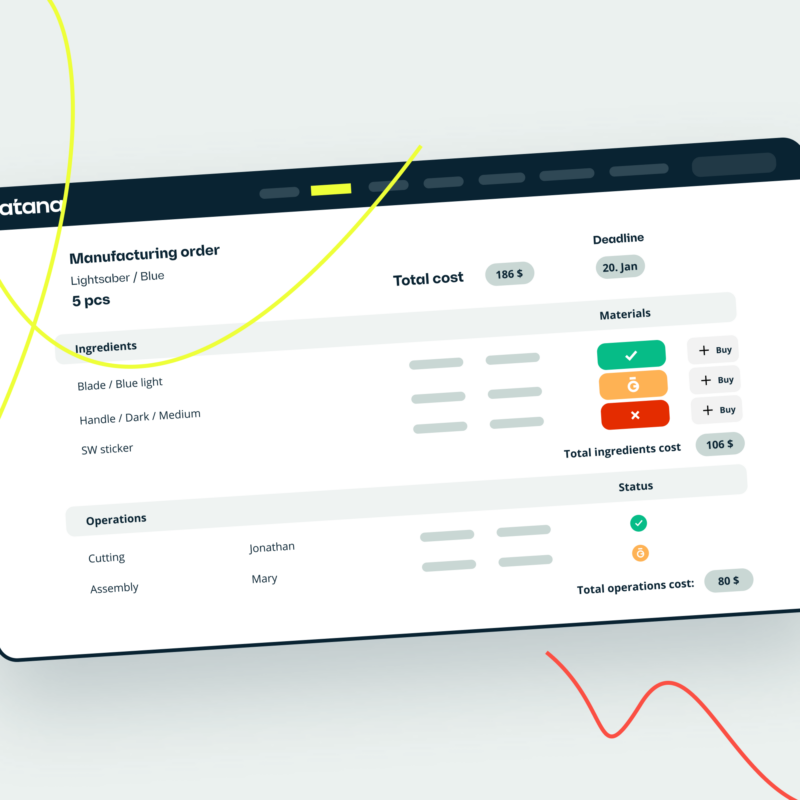 Use your online inventory data to make informed forecasts and smarter decisions
With all of your raw material, stock, order, and accounting data synced up and easily available, reporting and analytics become more straightforward. Use real-time data to create inventory reports, see the true costs of raw materials and finished products, and get a better picture of your overall customer lifecycle and lead times. Here are a few features of Katana's cloud inventory management software which help things run smoothly online and on the shop floor:
Use our Shop Floor App to work remotely with your production team
Set tasks, track completed products, and make sure orders are shipped on time
Get instant insights using your historical order data
Develop custom workflows using our API to make Katana work your way
Inventory management software that integrates with your favorite tools for a smooth workflow
From native integrations to codeless templates or fully customizable API integrations
Katana cloud ERP software's batch production features give users access to the API, allowing you to create custom workflows and connect your business apps to manage your sales, manufacturing, and accounting all on one platform. Automate data transfers between the services you use to level up efficiency. Take a look at our API documentation to learn more. 
With Katana, we can track products, build recipes for materials, and set reorder points as well. That was one thing that was very difficult to manage — raw material inventory — for example, how many black t-shirts do I need to order? That was the main reason why we selected Katana."
With Katana, we can more effectively see and follow inventory levels, and have recipes and bills of materials (BOMs) for our manufactured products that let us follow the manufacturing status throughout the whole production cycle."
I used to spend around 15 minutes per individual order on admin work, and I would be doing it all – preparing the packing lists, labels, and shipping. Now I do not need to touch any of that. Instead, I can put this time into designing new products and developing the business."
We needed something more than just a spreadsheet but we didn't like to pay a crazy amount for a system we wouldn't fully use. Tracking inventory and what stage it is in has been incredibly helpful. It's helped our team have a clearer delineation of the order of operations for each product in our catalog."
Cloud inventory management software FAQs
Can I use barcode scanning to track my stock?
Yes, indeed you can. You can use barcode scanners to conduct inventory counts, with either barcodes or QR codes. You can also use barcode scanning to track individual products, or use batch tracking or lot tracking to keep track of groups of finished products.
You're also able to do this across multiple warehouses, so you're not held down to one facility.
Can my business work across multiple locations?
Yes, you can store inventory across multiple warehouses or facilities, depending on your requirements. 
This means you can scale a growing business with Katana and work with your warehouse manager to customize the platform to your requirements.
How do Katana's shipping integrations work with online sales platforms?
We have a wide range of integrations with different software for e-commerce purposes. If you link your Katana account with one of our native partners, Shopify or WooCommerce, the data from these sales channels is automatically synced back to Katana, and can then be sent to your shipping partner.
We have two options for shipping software, and with your integrations in place, your business will be fully in sync and run smoothly.
Move your inventory to the cloud