Become a
Katana Partner
Expand your value offering with Katana and earn commissions as a verified partner. Our team is on the lookout for agencies, manufacturing experts, and accounting pros.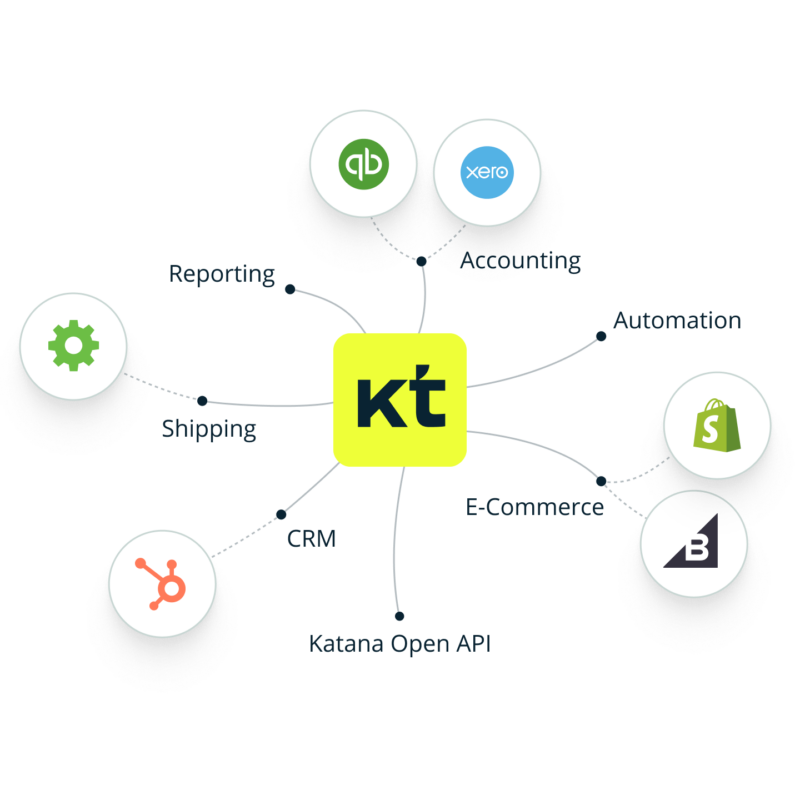 Give your clients an end-to-end inventory solution
Today's small to medium-sized businesses need flexible, powerful, and enjoyable cloud inventory software — the days of desktop solutions are over.
Businesses rely on Katana as a central source of truth, and our software connects with other best-in-class solutions to build the ultimate ecosystem of business tools.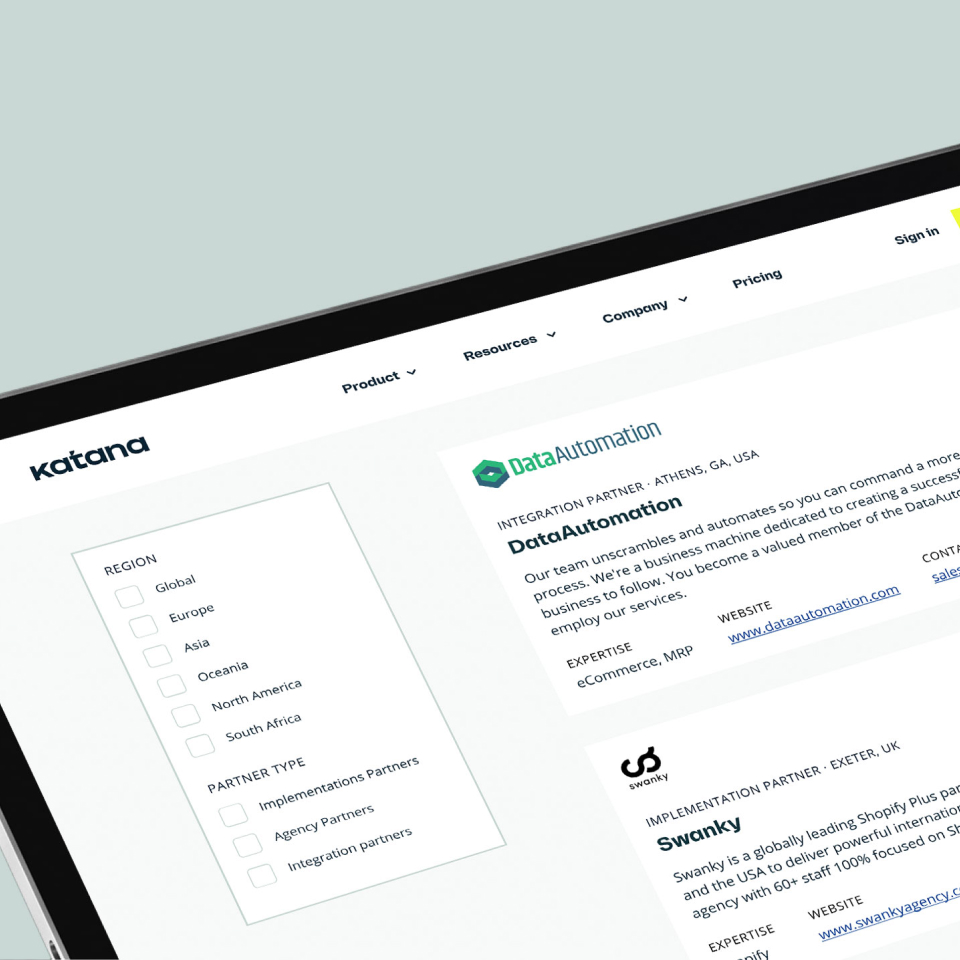 Grow and expand your value offering with Katana
Katana and our ecosystem partners are here to help you serve, attract, and retain clients. Happy clients mean happy partners — and that's what we strive to see.
Our growing network of partners and integrations can give you the edge you need to differentiate your service offering. We'll help you consult your clients on the benefits of moving to the cloud — and how you can take them there.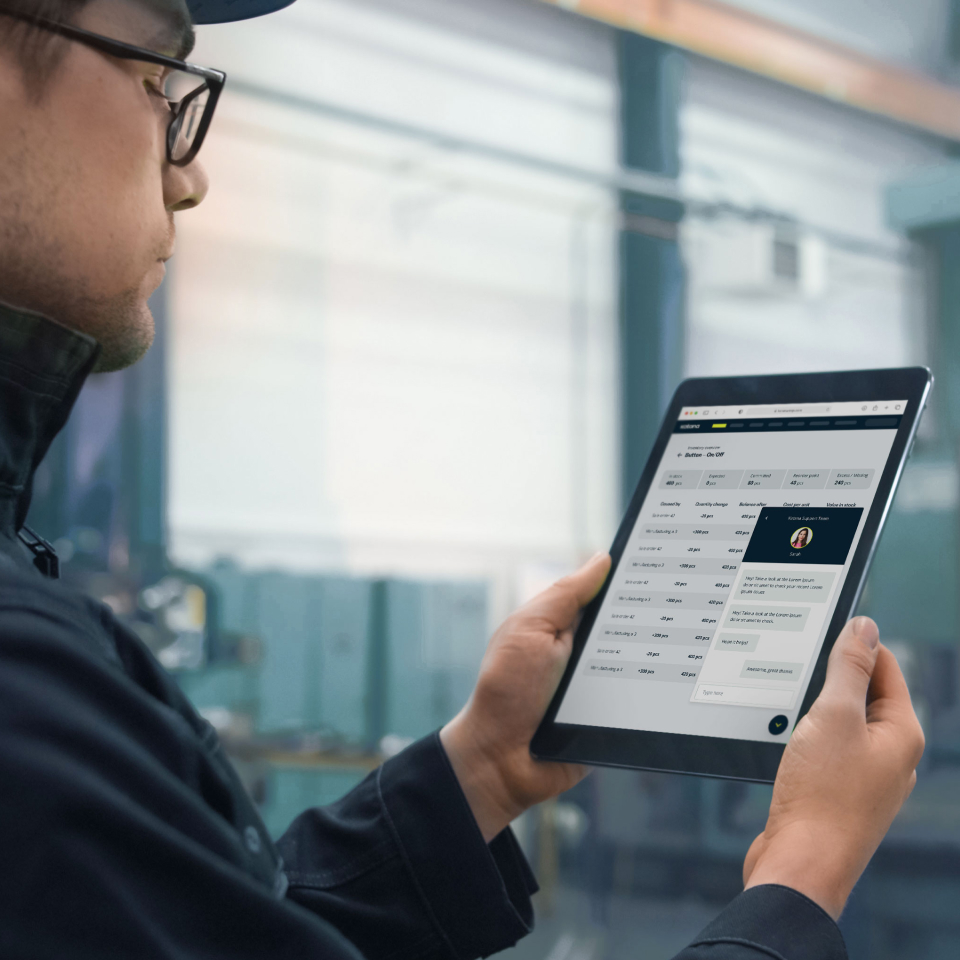 Have a say in Katana's product development
Partners get priority customer support and a front-row seat at product roadmap discussions. As ambassadors for Katana, your feedback plays a major role in helping shape Katana into a product your clients will love.
All partners get access to a demo account and the supporting materials and consultation they need to pitch Katana as the end-to-end cloud inventory solution clients need.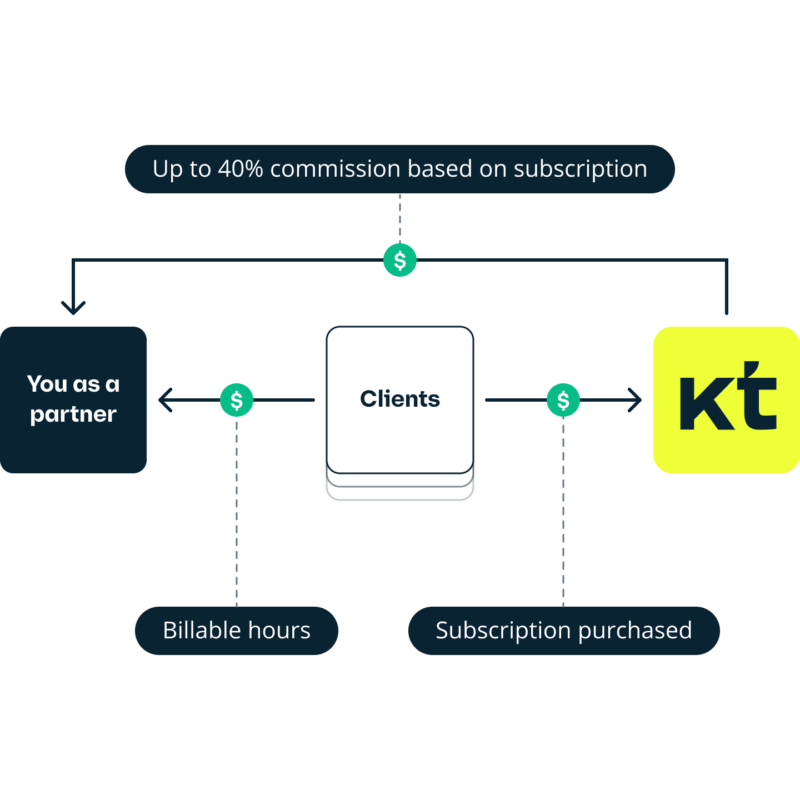 How Katana partners earn recurring commissions
When you represent Katana, you are officially part of our team — and we'll make it worth your while. Commissions are not just a one-time thing. You earn rewards every month for the business you bring to Katana.
Partners earn up to 40% with a revenue share deal for every customer referred, depending on the partnership tier. And you can refer as many as you like. The cloud's the limit.
$1b
Total customer revenue from sales in 2022
From multi-million dollar businesses to hobby makers, Katana helps businesses manage sales and inventory.
40%
Maximum revenue share commission
When Katana grows, so do you. No limits to referrals and you can scale with recurring commissions — the cloud's the limit.
4.8/5
Katana's average customer rating
Why review platforms like G2Crowd, Capterra, and Software Advice list us as an industry-leading inventory software.
Cloud inventory software that
goes beyond the benchmark
Today's small-to-medium sized business needs flexible, powerful, and enjoyable cloud inventory software — the days of desktop solutions are over.
Data that moves as fast as your inventory
Monitor your teams, sales, and inventory in real-time with cloud-based software built for speed and accuracy.
Best-in-class partner and customer support
Your feedback is what shapes our product development, and our customer-facing teams are our greatest asset.
Plug and play with the other business tools you need
Connect Katana to an extensive list of e-commerce, accounting, and shipping solutions — or others via API.
Voted easiest-to-use by customers and partners
Katana is designed for ease of use, and our implementation packages guarantee success — fast.
Want to move your clients to the cloud?
Our partnerships team is ready to help