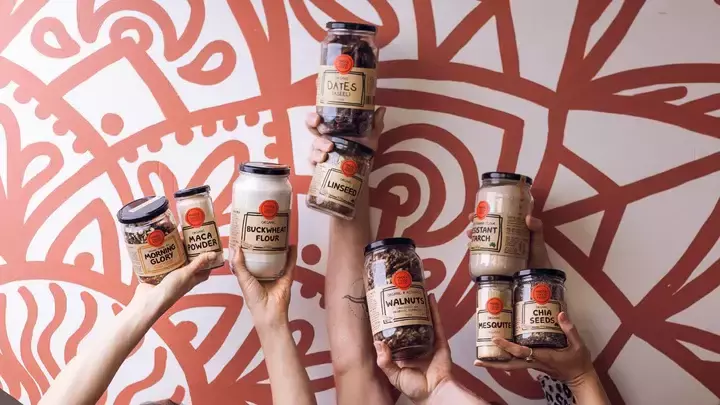 Case Study
From a notepad to Katana: how The Byron Co-op upgraded their mindful food business
The Byron Co-op create mindful food products in the health and wellness capital of Australia. And thanks to Katana, their workflows are running smoothly and sales and accounting are integrated with manufacturing.
I'm very happy with Katana. It doesn't have every single thing I want but you guys are going in the right direction, and I'm really happy. I feel heard by your team, I get good information and I'm told what lies in the future.
The Byron Co-op use Katana as their manufacturing and distribution hub

 

They use Shopify and Xero integrations to link up sales and accounting

Despite it being early days with the platform, they're happy with the results so far

 
About The Byron Co-op
In the words of James Bennett, the co-founder of one of their subsidiary companies, Mindful Foods, "The Byron Co-op is a collective of conscious brands from the Health & Wellness Capital of Australia."
As the name suggests, Mindful Foods manufacture food products with a focus on health, nourishment, and mindful eating. They are one of the 24 member companies who form The Byron Co-op, based in Byron Bay, the health and wellness capital of Australia. 
The challenge they faced
We manufacture mindful foods. It's quite complex manufacturing, by which I mean there are multiple tiers. The manufacturing can take many transformations. Katana handles that quite well." 
Mindful Foods use complex manufacturing processes to create their products, with multiple tiers that are frequently changing and evolving. As part of The Byron Co-op, James also runs a distribution business which buys and sells products to whole food stores and other businesses.
To support these ventures, he needed a platform which could deal with both production and distribution, as well as manage hundreds of SKUs at a time.
We had to do an entire stocktake of our products, we didn't have great overview. And we were basically doing our orders on a notepad." 
With essentially two businesses running in parallel, Byron needed a solution to make stock-takes and tracking far easier and give them more visibility over stock and orders. Katana appeared at the ideal moment. 
The solution they found
As The Byron Co-op (and their companies) are still manufacturing on a local scale, they didn't need heavy-duty manufacturing software. They needed something agile enough to meet current requirements and integrate with their existing tools.
Having found Katana, they took the leap and jumped onboard to test out the software and see if it could work for them in their current set up.
Since then, they: 
Utilized the Shop Floor App to work closely with their kitchen and packaging teams

 

Integrated Katana with Shopify to make and sell smoothly with clear data

 

Connected their Xero account to create a flow between Katana, Shopify, and Xero to track their financial information easily

 
Setting up the Shop Floor App
With around 16 people working in the business, the split sees 8-9 of those in packaging and production. To make running a shop floor more efficient, Katana offers its Shop Floor App, which allows staff on the ground to see the daily tasks, and staff in the office to update as orders come in and track what's been sent. 
Not everyone has an account on your Shop Floor App, I've given it to only two people so far. It works well to have 2 Shop Floor Apps and 2 tablets, and then people can choose from the tablet whether they are in the kitchen or in the packaging. I'm a big Excel lover, so I find the Shop Floor App very useful – at the end of the workday, I like to export the tasks and operations from the Make screen and see what has been done during the day." 
While not every member of your shop floor team needs access, the Shop Floor App can offer great visibility for both your office and floor team – it allows you to assign tasks, include notes on new tasks or bills of materials, and track what's been completed (as James mentions he does above). 
Working with Shopify
Selling online is a must for many modern manufacturers, and Katana makes things as simple as possible in this regard. With native integrations to a host of e-commerce providers, businesses can choose the provider who fits them, with The Byron Co-op selling via Shopify.
An order is created in Shopify, and it immediately comes up on Katana. In many cases someone in the dispatch/packing/warehouse is like "Aah, we need that product!" so they will create a Make-to-Order (MTO) to Make-to-Stock (MTS)."
Shopify is one of Katana's most popular native integrations, and one of the most popular e-commerce providers on the market. This native integration allows Katana users to sync their sales data and information with their manufacturing data to give them a full picture of their business' performance.
For Byron, it also allows them to work using both make-to-order and make-to-stock workflows.
Generally, it's MTO, but sometimes it's MTS. Most of our products are already made, because they are fast moving consumer goods, we can't possibly make everything MTO, it happens many times a day but it's still probably less than 2% of the products that go out the door. It's just capturing those low-frequency numbers."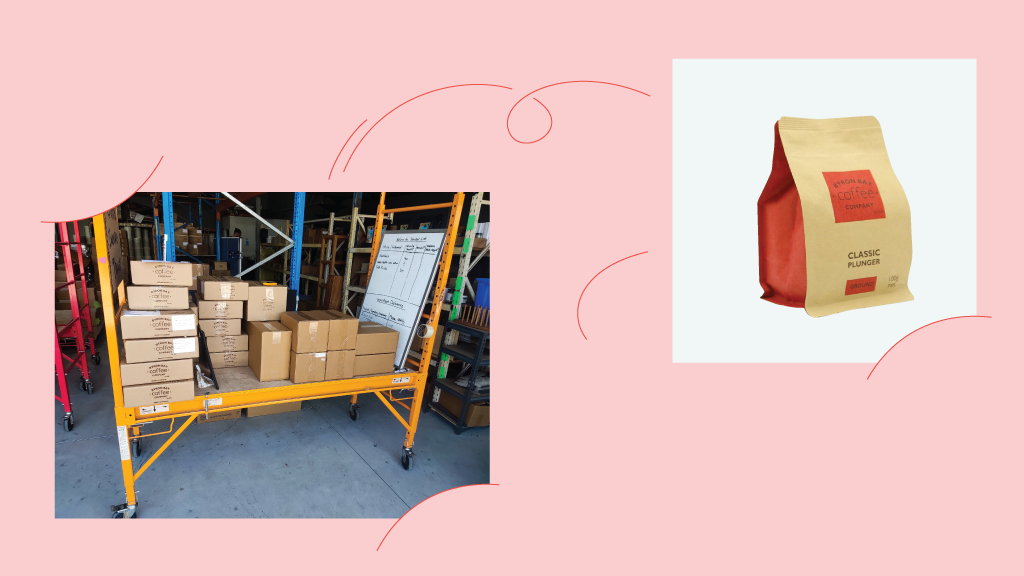 Using Xero for integrated accounting
Along with online sales, it's crucial to manage your money well and stay on top of incomings and outgoings to make sure you're not overspending on resources and manpower or losing out when selling products. 
Byron uses Xero to manage their money, with Katana offering native integrations for both Xero and QuickBooks Online. The link from Shopify to Katana and Katana to Xero means there's still some manual work to make reference numbers line up, but with a lot of paperwork created automatically, it's easier than pen and paper! 
We hacked together a tax invoice from our print templates. When orders are paid, at the bottom of the invoice it shows the "amount paid" and it displays the total order value so it shows it's been paid and then "owing" has the number 0. Our 'unpaid' invoice just has the sales order, and then we have a field on the print templates called "additional information" and that's where the customer's purchase order will show up from the notes as well as any information about out-of-stock products.

From there we have the dispatch print off a hard copy of the invoice that's basically a renamed sales order, and create the Xero invoice, and then each day I go over Xero to manually move over the invoice number and put the customer's reference number." 
So far with Katana
I'm very happy with Katana. It doesn't have every single thing I want but you guys are going in the right direction, and I'm really happy. I feel heard by your team, I get good information and I'm told what lies in the future." 
Despite it being early days in their journey with Katana, The Byron Co-op are happy with the results so far. The convenience of an ERP is having a daily effect, particularly helping with clarity over product stock, and simplifying stocktakes. 
Katana has made some things a lot easier. I think we're still kind of in a transition phase, for example I'm in the middle of doing another stocktake now because we've just been not using the software to its full extent. But we can see it's going to make our lives so much easier in the future, and I know dispatch for example – before, when they didn't have accurate numbers of what we had, they were half-way-through filling an order before they realized they needed to request something to be made. Now they can do it as soon as the order is imported, so the packaging have several hours head start on making products."
If you'd like to join The Byron Co-op as one of Katana's smashing success stories — making food, or anything else you like — then sign up for a free trial today and take us for a 14-day test drive!
Get a demo and discover the power of real-time insights